* Lizzie, Pediatric Nurse, & Neil, Law Student * Photographer: Christina Richards Weddings * Soundtrack for reading: "Froggie Went A-Courtin'" by Bruce Springsteen *
One sentence sum up of the wedding vibe: Like a fun day at summer camp, but with booze, better food, and all your favorite people celebrating you and the one you love the most.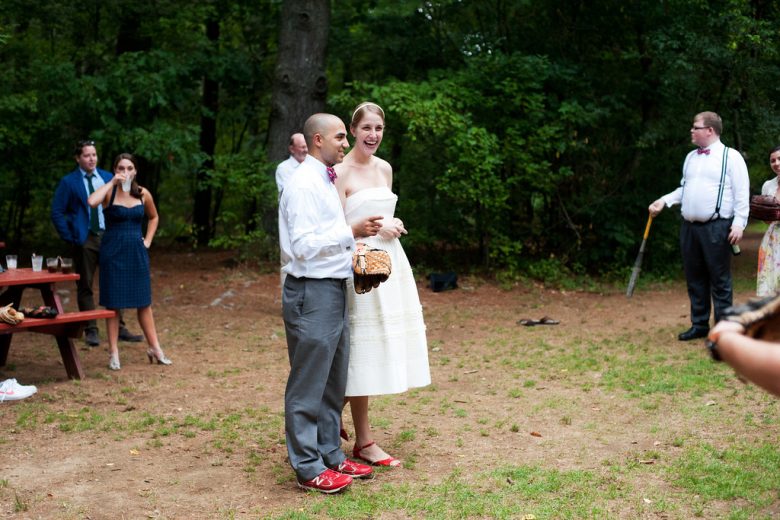 The Info—Photographer: Christina Richards Weddings / Location: Andover, Massachusetts / Venue: Camp Evergreen / Food: Chill Catering / Bartending: North Shore Bartending / Bouquets: Flowers from Whole Foods, arranged by Lizzie's younger sister / Lizzie's Dress: BHLDN / Lizzie's Shoes: Madewell / Lizzie's Sweater: Loft / Lizzie's Earrings: ReneeLove&Co via Etsy / Neil's Suit: Jos. A. Bank / Bowties: Haspel, via Marshall's / Music: An iTunes playlist, with sound equipment from Boston Pro Sound / Ribbon Backdrop: Handmade by Lizzie's older sister and brother-in-law / Cake: Costco (for $10!) / Cake Toppers: Hand painted by Lizzie / Favors: Water bottles made by Discount Mugs / Invitations: Designed by ProspectTalk via Etsy / Programs: Designed by Neil / Printing: Invitations and Programs printed by Kendall Press / Other Decorations: Centerpieces, utensil pouches, signs, and bunting made by Lizzie with supplies from many craft stores and Etsy vendors
Other cool stuff we should know about: Things worked out for this day in ways we couldn't have possibly thought up. No inclement weather plan? Eighteen hours of rain will stop minutes before your ceremony! No wedding planner? Don't worry, a counselor from the camp and your best man's girlfriend will pull off amazing feats to transform a children's day camp into a wedding venue while you are getting ready with your sisters and taking the first few pictures with your groom. Planning to do your own hair? Your wedding officiant will step in when your hands are too shaky and set you up with a lovely summer wedding 'do. Need an awesome, unique surrey to travel around in with your groom? The camp director will pull it out of his shed the night before, and ask, "Oh, would you like to use this old thing?" while you make a little happy squeal. Feel like things could end still up to be a bit of a hot mess? Your photographer will manage to capture the most fun, beautiful, tender moments of a wonderful day, and convince you that you wouldn't have changed a single thing.
Favorite thing about the wedding: Lizzie: Exchanging our vows during the ceremony. We both wrote our own and didn't share them until we read them in front of our family and friends. I was far from composed, but it was an incredibly real and memorable moment. Also, seeing everything we had worked on come together, and our guests having a great time!
Neil: Is it bad if I don't say my bride? No? Then softball.