zia, Federal Government Manager & zakee, Career Counselor
Sum-up of the wedding vibe: A love-induced dream filled with some of the world's most beautiful and amazing people.
Planned budget: $35,000
Actual budget: $45,000
Number of guests: 123
LOCATION: Los Angeles, California

Where we allocated the most funds:
The venue, food and drinks, our rings, and our honeymoon.
Where we allocated the least funds:
Decor: Carondelet House is the perfect venue because it needs very little to enhance the beauty of the space. It's rich in color, full of character, and has so many amazing and beautiful aesthetic features that going overboard with flowers or decorations would take away from the unique and beautiful natural elements of this venue.
favors: We also decided not to go overboard purchasing favors that nobody would use or really want. Instead we opted for chic personalized marble table cards that doubled as a take home reminder of our special day. They weren't exactly cheap, but they were less expensive than a lot of other things we considered. Our guests thought they were beautiful, and I love going into friends' homes and seeing how they are using them and seeing them displayed.
What was totally worth it:
Every single dollar spent was more than worth it. Our wedding experience was incredible, magical, a dream we didn't even know we had come true. From the moment our guests started to arrive early in the week (it was a complete destination wedding for 80 percent of our guests since my entire family is from the East Coast and his from the Midwest), we had activity after activity, and the energy was so explosive, we literally felt like everyone who came truly loved, supported, and was genuinely happy for us. Our venue and caterer was on the pricier side, but everything they offered was truly a great reflection of the personality of my husband and me, our relationship, and the things we love.
We had a premium open bar all night because we wanted our guests to "get lit," but also (and more importantly), we wanted them to feel the true intention we had behind our wedding day, which was not just to have a ceremony and party honoring our marriage, but to truly honor and celebrate all the people who have been there for us over the last ten years, praying for us, encouraging us, and truly believing in our special love story—even when there were times when we were unsure. Seeing the ease by which our two families became one, and just how much fun each and every person in attendance had, made every second of planning, every extra dollar pulled out of a rabbit's hat, every single moment completely worth it.
What was totally not worth it:
Well from the moment we woke up on our wedding day, it was as if someone had their finger on the fast-forward button. The minutes were whizzing by and before we knew it the lights were coming up on the dance floor and we were being politely ushered out. As we headed back to our hotel, slightly on the drunk side and hunger pains setting in, I realized that the food we had the venue box up so we could take back—because it was impossible to really eat with people coming up to talk and congratulate us and with so much activity going on, that food didn't make its way back to the hotel with us. I won't call out names on who forgot the food, let's just say their name starts with a Z and it's not me! Not only that, but the cake I fell so in love with on first bite at my tasting also never made its way into our bellies… We missed out on all that delicious food and amazingly moist cake our wedding guests are still raving about. To this day, when I get hungry my mind wonders to that food I never got to eat on my wedding day *cries real tears*.
A few things that helped us along the way:
Having a wedding planner. We had an amazing team of vendors, but having a planner was one of our best decisions. We both work full time and had somewhat of a vision for our day, but having someone to help us shape the vision and execute on the details was a godsend. Megan from Sweet Peach Planning in Long Beach, California, was incredible. Super patient, creative, and had great contacts with the wedding vendor community. She helped us pull all the pieces together, and on the day of our wedding, my husband and I enjoyed every second because we didn't have to worry about a single detail. If something went wrong, and I am sure it did, we still have no clue about it. Megan and her team were fantastic!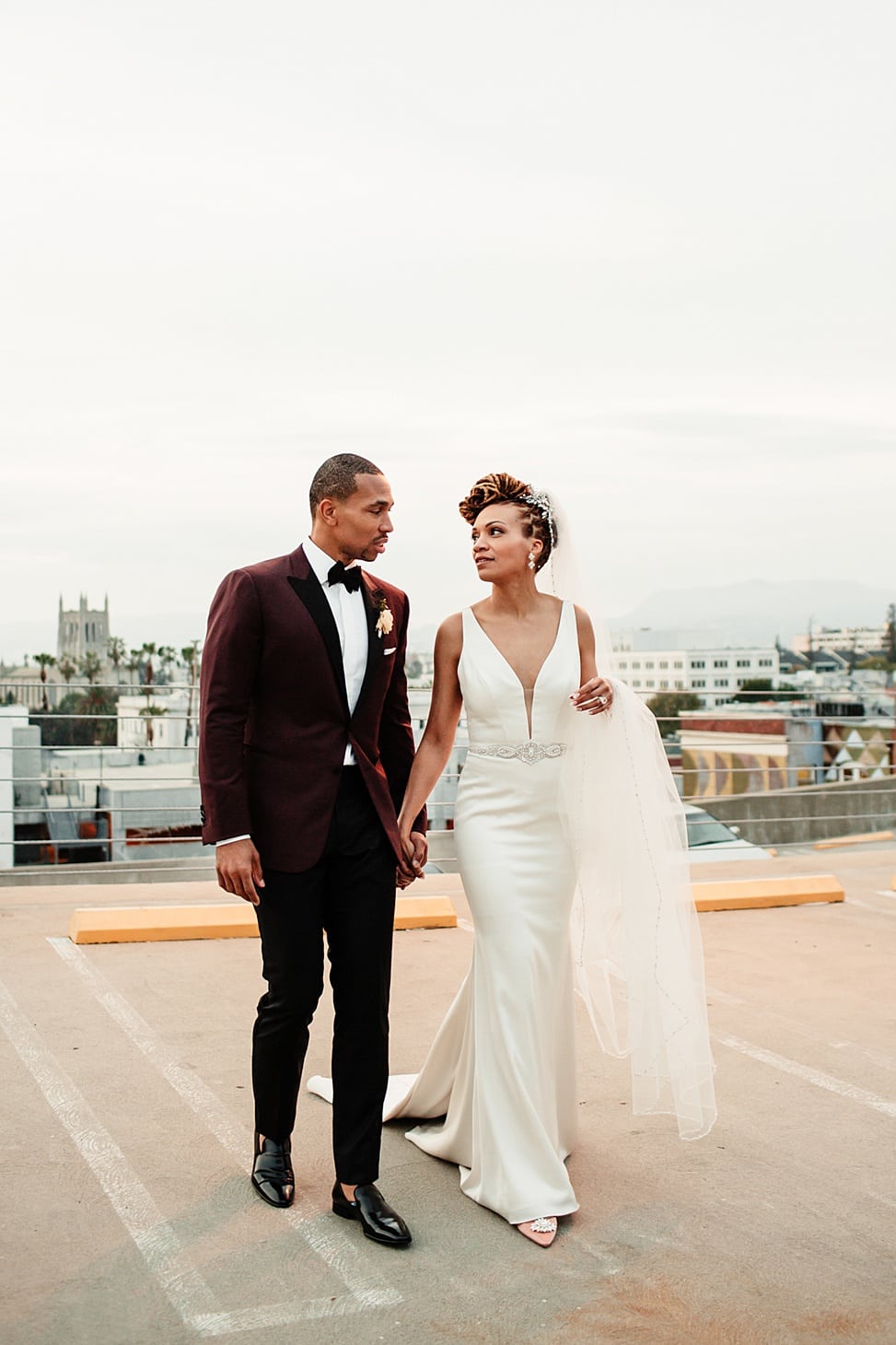 My best practical advice for my planning self:
Relax, stop stressing over every little detail. Even in its imperfections—and there will be some—you're marrying the man or woman of your dreams and your very best friend, and that means your day will be perfect, no matter what!
Favorite thing about the wedding:
Seeing the families we love and admire so much become one. It was as if they'd all known one another for years. So much so that our parents want to use our anniversary as a reunion day so all the people from the wedding can get back together as a new annual tradition.
SOmething Else I'd Like To Share:
If you can afford to, and have the time to, try to honeymoon right after the wedding. You spend so much time putting together an amazing celebration, and it is a lot of work and it goes by so fast, so reward yourselves by giving each other some time away together just to relax and reflect on the amazing wedding you pulled off. No matter how big or small, no matter the cost, the day really is about the two of you and having some time, outside of your normal routine, to celebrate that accomplishment helps to set the tone for the life to come.