Marie, business intelligence & Tom, audio engineer
sum-up of the wedding vibe: A glitzy celebration that doesn't take itself too seriously.
Planned Budget: $25,000
Actual Budget: $32,000
Number of Guests: 65
Location: Culver Hotel | Culver City, California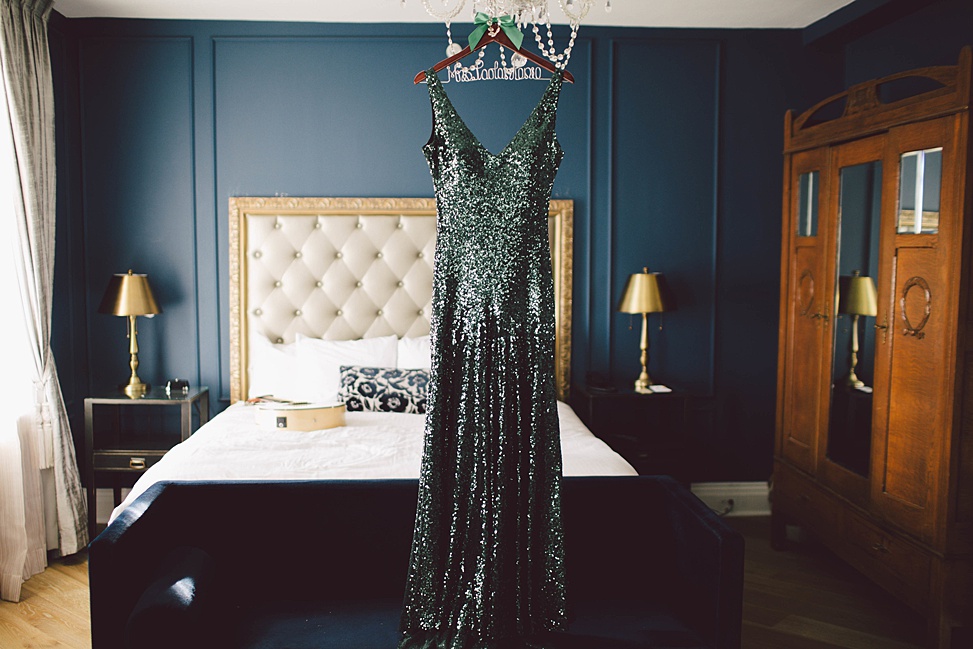 Where we allocated the most funds:
Photography! I really wanted to make sure that the entire day was captured, since I knew it'd all go by too fast. I wanted photographers that could catch all the little details of the day that I might miss as well as the big moments. I will admit that I'm not the easiest model, I have a very short window for the natural smiles and joy and often veer too far into forced smiles and wide eyes, so having someone who knew how to capture the happiness without having to stage us was critical.
[related post id="123305154″]
Where we allocated the least funds:
Centerpieces/Flowers/Venue Decor: To me that all gets rolled together since I didn't want to have to put a lot of effort into decorating. I have a horrible allergy to most flowers, so I knew off the bat that centerpieces and flowers were going to have to be creative. Also, we purposely booked the Culver Hotel because of its amazing architecture and design. It didn't really need much intervention on our part! We ended up going for a mix of candles (with hurricanes to meet the fire code regulations) and oil lamps because it went well with the style of the hotel and because one of my most treasured heirlooms from my mother's side of the family is an antique oil lamp. Mix in some sprigs of eucalyptus that we bought at the flower market downtown, and it was simple and classy without being spendy. And as for flowers, I found an amazing Etsy vendor who does dried bouquets, so I didn't have to worry about pollen and sneezing my way down the aisle.
What was totally worth it:
Is it cliché to say pretty much everything? But seriously, we had over a year to plan the wedding, and having that extra time was so valuable to really home in on what we wanted for the day. The time itself to stop, take a beat, and then come back to the table with clear perspective was the most valuable. We didn't feel rushed or pushed into any of the decisions we made, be it specific vendors all the way down to the dinosaur place card holders. We could discuss what we liked, what we didn't, and work out what the right answer was.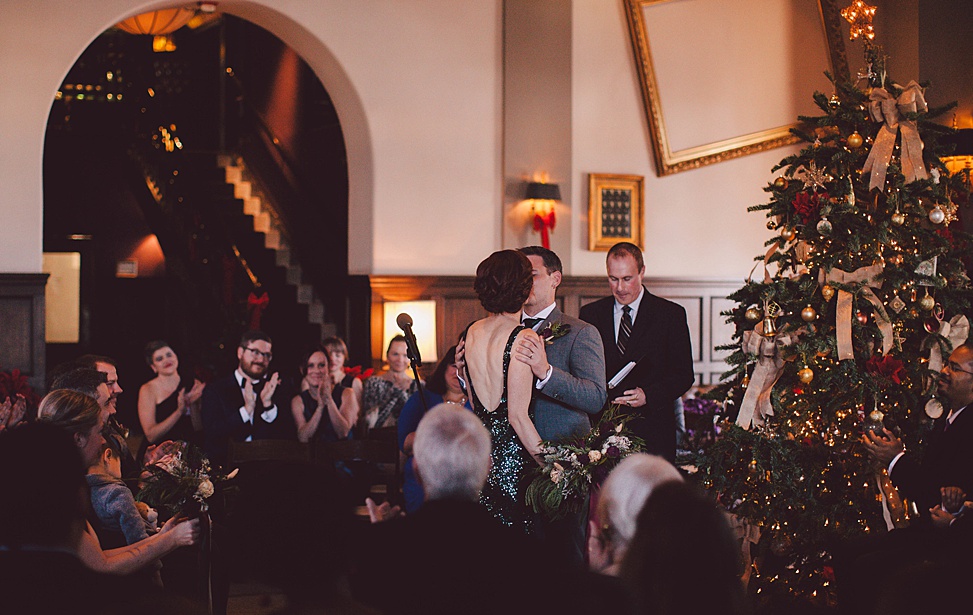 What was totally not worth it:
Getting stressed over pleasing people. We did an amazing job of making sure that the menu had options for all friends and family with dietary restrictions and to make sure out of town guests had good hotel or Airbnb accommodations. I would certainly do those things again, but I would try very hard to take the stress out of it. I found myself starting to stress over details of other people's experiences that we really had little or no impact over. At the end of the day, people are coming to celebrate and be there with you. That's the most important thing.
A few things that helped us along the way:
Hands down, our wedding coordinator Renee. She was the voice of reason for things if we started to freak out, she was beyond organized, and she helped us with things we couldn't possibly think of. She took the time to do Skype session, meet with the venue, send check-in emails, and more. She let both of us vent and never once made us feel silly for getting worked up over whatever little thing it was.
Champagne! Laugh, it's cool, I would. But seriously, we jokingly set a rule at the start of planning to do everything with a glass of bubbles to remind us that it's a celebration. It worked! It helped put us in the right head space of it being a party and fun.
Last but not least, communication. We both had moments throughout this process that surprised ourselves as much as the other person. Like Tom caring about the seating chart for the ceremony, or my need to sleep on everything for a night before committing. We used it as an opportunity to talk to each other on our thought process and our feelings, and to work on compromise. Planning a wedding is stressful, even with the best team of vendors. Doing check-ins with each other on our stress levels and dedicating chunks of time to be "wedding free" were so monumental to making the day itself a breeze.
My best practical advice for my planning self:
Step away from Pinterest! It's a valuable tool for collecting ideas and research, but it can also make the most sane and level-headed person start to spin out on details and things they think they have to do. The wedding is a celebration of two people who love each other, and I promise you, you're the only person who will notice the details. Slight caveat, I get social anxiety, so having details that were personal to me made it less intimidating. The key was making sure the details were mine and not because I saw it on some board somewhere.
Favorite thing about the wedding:
Having a quiet space for our first look prior to the ceremony and reception. I spent months secretly taking guitar lessons to surprise Tom with our first dance song during our first look. It was the first time I've ever successfully managed to surprise him! Plus that was the most nerve-wracking thing I had to do that day, so once that was accomplished, it was on to the fun part of marrying my perfect person and partying the night away. Oh, and the chocolates!
Something else I'd Like to Share:
You do you. Don't feel like you have to do what everyone else is doing. If you wanna splurge on getting a live harpist to play Meatloaf's "I Would Do Anything For Love," do it. Some people might roll their eyes, but if it makes you smile, it's worth it.