When you're planning a wedding, there's a lot of pressure to find ways to entertain your guests. As if throwing a big party with food, drink, and music isn't entertaining enough! Luckily, the tide is beginning to turn a bit these days, and it's becoming more understood in mainstream wedding media that your wedding is not a show. But! If you are going to provide some kind of activity for your guests, then I think this flower crown station (captured in full glory by Megan Braemore) from reader Susan's wedding is probably as cool as it gets. Because if I'm a guest at your wedding and you give me the opportunity to wear a fancy headpiece while getting liquored up and then getting down on the dance floor, you win favorite wedding ever. Maybe even more than my own.
Here's Susan in her own words (who recommends listening to this while reading, which also happened to be her bridesmaid processional song):
I like to say that I have planned four of my own weddings in some form. The first was to my ex-fiancé. The second, third, and fourth were to my now husband, Matt. We both come from divorced parents so wedding planning was pretty fractured and difficult. We were in a tough place with planning from the start.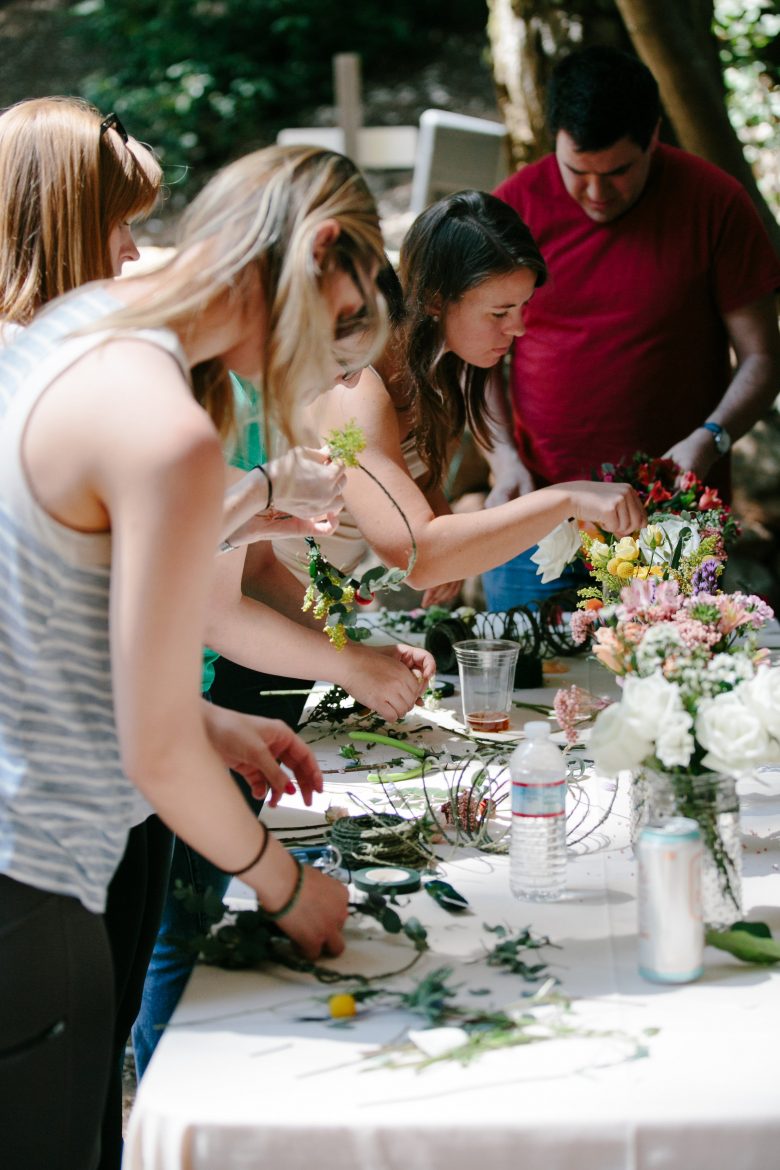 The flower crown station, though? Easy peasy. Susan explains:
The DIY flower crown station was surprisingly easy and took very little money or energy on my part to put together. I can't even remember how I first came up with the idea, but I knew that we would do something basic with DIY flowers for the Welcome Dinner on Friday and I thought a DIY flower crown station would be a great way to recycle the flowers from Friday's dinner. I also wanted—since it was a wedding weekend—to provide people with the option of an entertaining activity while Matt and I were busy with getting ready and portraits.
Here's how you can have your own flower crown station:
1. I used the APW Flower Crown tutorial to create the instructions for our Flower Crown Station—I sent it to the wonderful women at The Romance Between and they created the beautiful illustrated instructions that you see in the photos. Everyone said the instructions were clear and that they didn't feel like it took any special skills.

2. I ordered flowers from Costco for about $120 and had them delivered to our local bridesmaid a day or two before the welcome dinner on Friday.

3. I ordered the floral arranging supplies (floral wire, wire cutters, etc.) from Amazon for about $25.

4. I had originally thought that my family members or bridal party would do the arranging of the flowers on Friday and then set out the DIY flower crown station on Saturday morning, but my wonderful coordinator, Andrea Frankel of Lily & Mint, arranged all the flowers for Friday, brought them in at the end of Friday night and then set up the DIY flower crown station on Saturday.

5. After finishing my lunch, I showed a few of my friends who I knew would be really into the station where it was and encouraged them to start making their crowns since I knew that would attract others. I went back to getting ready and then photos and didn't see what everyone produced until entering ceremony.
The flower crown station was really well received—our friends and family made about fifteen to twenty flower crowns from the supplies we provided. There were a number of really wonderful things about it that I didn't even anticipate in the planning stage. First, everyone's creations were totally different and beautiful. The friends who I asked about afterward said that it was also a nice ice breaker/bonding exercise to meet new people who they didn't yet know before our wedding. It also made them feel really special and included in the wedding.
So… who's with me on wanting a flower crown station at every event I go to from now on? It's like an ice breaker but without all the awkward two truths and a lie business. Thanks for making that happen, universe (well, and Susan too).