* Shana, Current Crocheter/Cubicle Dweller; Soon to be Pro Bono Traveler/Yarn Collector & Jerrad, Current School Nutrition Programs Specialist; Soon to be Pro Bono Traveler/Food Eater Extraordinaire *
* Photographer: Magical Magnificent Maddie of Hart & Sol West * Soundtrack for listening:  "You're My Best Friend" by Queen, or, for the slow scrollers "Mario Kart Love Song" by Sam Hart *
One sentence sum up of the wedding vibe: Just your average fun-having, bus-riding, whiskey-drinking, pizza-eating, gold-sneaker-wearing, twelve-hour wedding party with a side of donuts.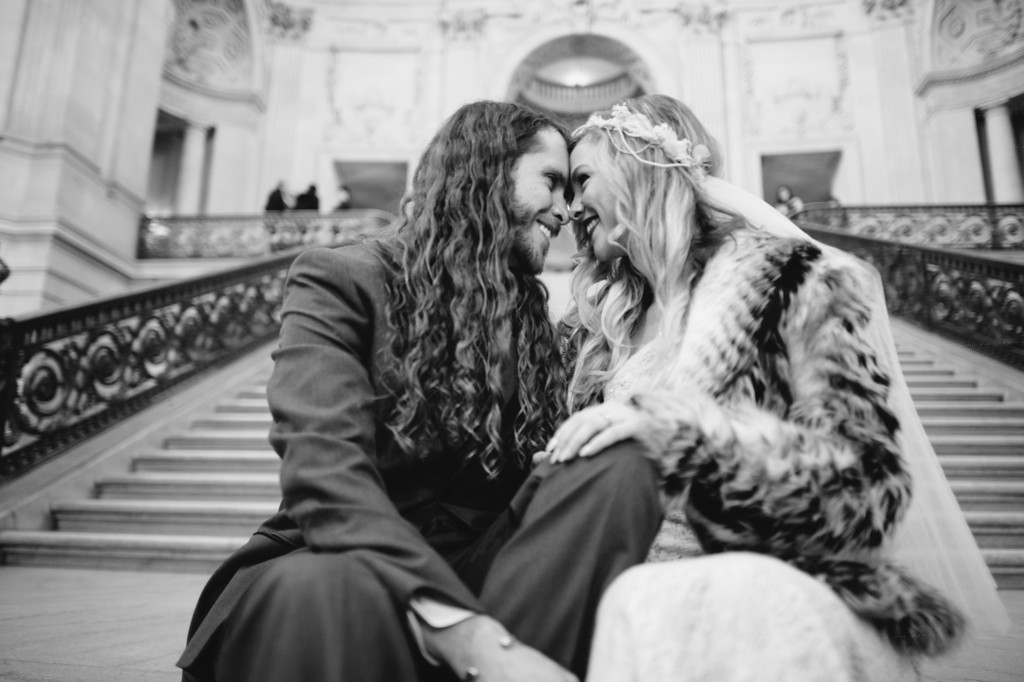 The Info—Photographer: Hart & Sol West/ Location: San Francisco, CA / Venue: San Francisco City Hall / Shana's Dress: Theia, on sale at Saks / Shana's Shoes: Dillards / Jerrad's Suit: Men's Wearhouse / Jerrad's Shoes: Nike / Jerrad's Ring: Kay / Shana's Ring: custom from Krikawa / Shana's Hair and Makeup: Done herself  / Veil & Bouquet #1: Shana's Mom / Bouquet#2: Whole Foods/ Vegan Wedding Donuts: Pepples Donuts / Pizza Dinner: The Pizza Place on Noriega / Party Bus: Million Services / Amazing Hotel: Queen Anne
Other cool stuff we should know about: Because we opted for a smaller elope(ish)ment wedding, we were able to plan an extra special honeymoon: a three-month European adventure. (And for those of you in the audience who want to follow along/find out more, I will be blogging about it from here.)
Favorite thing about the wedding: Shana: The impromptu, hilarious (yet tear jerking) speeches nearly every guest gave at dinner (while slightly intoxicated and using the pizza spatula as a microphone).
Jerrad: Surprising everyone with a party bus tour of the city where we all shared stories, laughed, and passed around a ten-year-old bottle of varnish (AKA whiskey).
Didn't get you fix of Shana & Jerrad yet? You can go see extra photos from Shana & Jerrad and read more about their city hall wedding over on East Side Bride today.