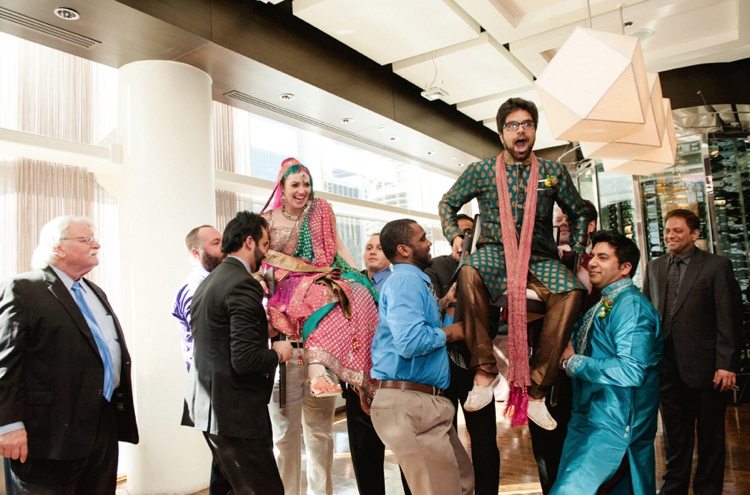 When I started my Jewish wedding blog in 2013, I wasn't trying to change the world. I was on maternity leave looking for an exciting new project to occupy my energy and time, and I had simply spotted a gap in the market: inspiration for contemporary Jewish (and Jew-ish) couples. During my own six-month engagement, I had unearthed the small smattering of Jewish wedding blogs and magazines on the market, but to a girl about London looking to have a chic and aesthetically beautiful wedding, they seemed old fashioned and schmaltzy. None of them resonated in the slightest, and I couldn't relate them to the wedding that I was trying to plan.
There were, of course, non-denominational publications aplenty, but they were no help when it came to finding inspiration for the perfect chuppah design (the canopy under which Jewish couples marry) or what the best songs are to play once the glass has been smashed. When I hit "publish" on my first blog post, I was just trying to turn the tide of cookie-cutter, restrictive ideas and to create the blog I wished I'd been able to read when I was a bride-to-be. What I didn't realize then was that I'd unwittingly stumbled upon something that transcended bigotry, politics, and prejudice.
It was never in question that I would feature interfaith weddings on my blog, which I lovingly refer to as Jew-ish. I have many dear friends who had married non-Jewish partners, and I'd witnessed firsthand how alienating the Jewish wedding world could seem for them. Too often, their choice of partner was treated as a problem to be solved or brushed under the carpet, as opposed to a union that deserved to be loudly celebrated. Many of these Jew-ish couples found themselves feeling overwhelmed and, understandably, didn't have the first idea of where to start when it came to wedding planning. There was no blueprint for their ceremony and nobody to guide them through the endless possibilities that forging their own path presented.
Lesson 1: inclusivity matters
The first lesson I learned about breaking cultural boundaries is that people can feel like pariahs, simply by omission. Inclusivity matters, not to fill a quota, but to give everyone a platform that represents who they are. Inclusivity is where it begins—just saying, "You are welcome here and you are not alone," is the first strike of the hammer against the seemingly immovable wall of prejudice.
From an editorial and creative perspective, this fusion of cultures was, and remains, a delight to witness. Every Jew-ish wedding I see has its own individual look, its own set of unconventional rules, and its own one-of-a-kind take on spirituality. Jew-ish weddings are always, without fail or exception, pioneering. To my immense delight and pride, my blog quickly became a community for Jewish and Jew-ish couples in all their glorious forms. It didn't surprise me that, more often than not, they didn't see themselves as "marrying out" of their Jewish heritage, but, rather, their partner was "marrying in."
What did surprise me was how much support each wedding received: whether it was a Jew-ish wedding in Pride and Prejudice fancy dress, a lesbian Israeli wedding, or a Muslim-Jewish wedding, everything I featured was met with nothing but love, excitement, and support.
Lesson 2: create communities
The second lesson I learned about breaking cultural boundaries is the importance of creating communities in which the message of love and unity is so strong and pervasive that it simply takes up too much space for hatred to feel, even fleetingly, welcome. When I consider just how strong the forces of division can be, it's heartwarming to think that, when it comes to someone's wedding, even the most virulent of haters on both sides of the conflict kept a respectful distance. One might think that even the mere mention of the word "Israel," or the union of a Jewish and Muslim couple could descend a comments section into irrelevant point scoring and unpleasantness, but it never happened. Love really was more important than hate.
Yes, it sounds corny to say that love conquers all, but in this topsy-turvy political climate, where love often seems to be at the bottom of the agenda, isn't it worth shouting it from the rooftops when it happens to be true?
Lesson 3: Leaders give others the courage to follow
Pretty soon, the blog became a living, breathing entity when it came to influencing people's lives in a positive way. Another key lesson for me was that, when you see someone else forging the path that you, one day, hope to walk, it becomes that much easier to take the first step. Cultural boundaries are broken by those who are willing to lead by example and encourage others to follow in their footsteps.
One of my proudest moments came after featuring an incredible Jewish-Hindu-Russian-American lesbian wedding. The wedding itself celebrated every facet of diversity. It was, of course, warmly received by the community of brides, grooms, and wedding suppliers who read the blog, but then something especially amazing happened. I received an out-of-the-blue email. It read:
You don't know me, but I'm reaching out because I am an Indian girl who recently came out to my parents as gay and they are having a lot of trouble dealing with it and imagining that I could have a happy life with a woman—especially in India (they currently live in Bangalore). I believe that part of it is because our extended family, and all our friends, are a conservative community. I was hoping that if they could see, or speak to, happily married Indian lesbians, they might believe that happiness is possible, even for me.
The woman then asked to be put in contact with the couple, and, with consent, I immediately obliged. It was a strange and wonderful feeling. What had started as a blog to inspire and guide Jewish couples to have the creative and interesting weddings of their dreams had evolved into a safe space for people who had previously felt isolated. My wedding blog had helped somebody along their journey to being themselves, and this is something I never could have anticipated.
Lesson 4: People will always fall in love with characters
Those pioneers who bravely charge forward to break those oft-mentioned cultural boundaries have one trait in common: they are unashamedly and unapologetically themselves.
Take Danny and Aaron, for example, a gay Jewish couple whose L.A. wedding saw them make the grandest entrance of all—on the back of a unicorn (dubbed Jew-nicorn) to the soundtrack of Madonna's "Like A Virgin." Not only does the love couples have for one another transcend cultural and religious barriers, but, equally, the love they display themselves as they showcase their phenomenal personalities to the world, feels like it can smash through anything.
Through my blog, people like Danny and Aaron are seen, in the eyes of the world, as the shining and wonderful individuals that they are, first and foremost. Their background and upbringing is just one facet of that multidimensional picture. They don't define a person, or who (or how) they should love.
Lesson 5: Celebrating differences is immediately disarming
The biggest lesson of all, for me, has been this: the more you celebrate things that are different, the less "other" they seem. I think that part of the reason the weddings I feature on the blog, no matter how groundbreaking, don't receive backlash or criticism, is because they are presented with pride. I don't tiptoe around the fascinating blends of cultures that I see, because they're precisely what make the wedding so irresistible in the first place.
Instead, I shout about them: I recognize them as instrumental to the couple's journey and personalities, as part of the whole picture of what makes this couple so special and how they came to be together. I also celebrate the similarities when two cultures come together. I marvel at the formidable force of a Chinese and Jewish union, I am awestruck over the incredible visual of a couple wearing colorful saris under their chuppah.
I simply leave no room for manufactured outrage. I, and the community built by my blog, am too busy celebrating.
Lesson 6: People love a Jewish wedding
From Fiddler on the Roof to Sex and the City and beyond, Jewish weddings have earned a special place in the zeitgeist. People adore a Jewish wedding, regardless of their perspectives or politics. It may seem lighthearted when I've spent so much time talking about people's immensely personal journeys, but it's true—a Jewish wedding never fails to bring a smile to the face.
I never expected to learn so much about cultural integration and breaking the barriers that keep us separate from my blog that was designed, initially, to celebrate Jewish culture. Religion and open mindedness aren't always the most obvious of bedfellows, but I'm proud that my blog is playing its small part in making waves to change this.