Lindy West, Writer &  Ahamefule Oluo, musician/composer/performer
One sentence sum up of wedding vibe: It was an easygoing, love-filled picnic vibe that I think we called "log cabin semi-formal."
SOUNDTRACK FOR READING: "True Colors" by Cyndi Lauper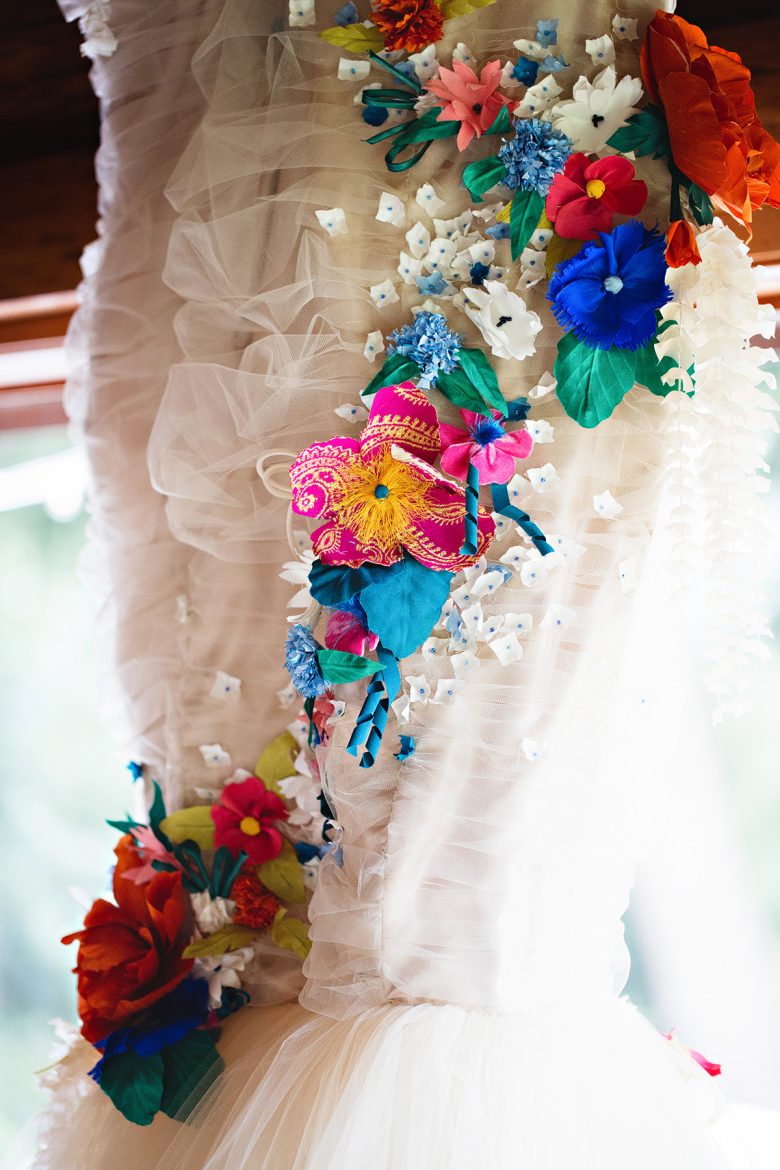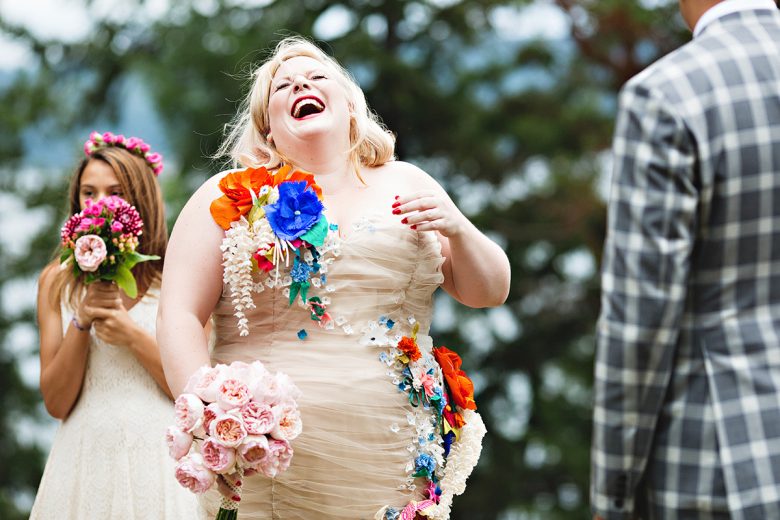 Favorite thing about the wedding
There's just nothing like getting to see and hug and eat rice krispie treats with all of your favorite people at once. We had friends and family in town from New York and L.A. and San Francisco and Phoenix; my sister got to meet my step-kids for the first time; Aham's 101-year-old great-grandmother came from Wichita; his half-brother Basil—whom he'd never met before—came all the way from Port Harcourt, Nigeria (Aham actually did a This American Life segment about it, called "The Wedding Crasher"). People camped out in the woods and stayed overnight to have bagels and coffee and leftover desserts in the morning. My career has been incredibly hectic over the past couple of years, and I don't see people as much as I want to. So it felt really wonderful to get to reconnect with everyone I love in such a joyous, fun way (and capture it all on film!).
Other cool stuff
1. As a body-positive activist, it occurred to me pretty much immediately that my wedding was an opportunity to make a really bold (and potentially viral) political statement. Growing up, I never saw anyone with a body like mine in the kind of relationship I wanted. Thin girls were chosen, treasured, treated like a prize. Fat girls were settled for at best, and we settled, in turn, for whomever would take us. I never thought I'd be able to marry my hot best friend and have fun and feel wanted every day of my life. There just was no model for that. Aham asked me to marry him at a surprise party in front of all of our closest friends and family. I'd been kept secret by so many men throughout my dating history, and he wanted to make sure I understood that he was proud to be with me. It meant a lot.
2. I never really considered dieting for my wedding. I stopped letting diet culture control my life years ago, and it was one of the best things I've ever done for my mental health. There was no way I'd go back into that headspace for a day that's supposed to be about happiness and unconditional love. I wanted to spend the months before my wedding celebrating with my fiancé, traveling, eating and drinking, and fully enjoying the beautiful life we've built together. I ate the foods I normally eat, worked out the way I normally work out, and was able to spend those important months focusing on the things that were really important to me instead of just obsessing over my measurements. I arrived at my wedding feeling fully myself.
3. I wanted to make a statement with my dress—I didn't want to hide my body the way fat women are taught to. My friend Mark Mitchell and I came up with a strapless mermaid gown that hid nothing, simply because I thought it was beautiful. I wanted to be the role model I never had as a fat teenager—a fat, happy, unselfconscious, beautiful bride. I wrote about my wedding for the Guardian, and it went viral, just as I'd hoped. I hope every fat girl in the world reads this. You are allowed to be you, even at your wedding. Especially at your wedding.
4. During the pre-ceremony cocktail hour, we had a live jazz quartet. I walked down the aisle to a recording of my dad playing "Someone to Watch Over Me" on the piano (he passed away in 2011). During the ceremony, Aham's mom sang "True Colors" with our friend Bryant on guitar. At dinner, we played more recordings of my dad's music. Then, my childhood friend Claire sang "You Are Too Beautiful" for the first dance. Aham's band, Industrial Revelation, played a few songs, and we closed out the night dancing to a DJ set by our friend Larry Mizell Jr. (who is also an incredible writer, check him out).
5. After about two months of uninterrupted blazing sun, the skies opened up and poured on our wedding day. I'd been watching my weather app all week, alternating between rage, agony, and disbelief. But when the day finally came, I was happy. The temperature, which had been in the eighties, dropped to a nice sixty-five-ish, so I wasn't sweating in my dress (and photos!), and, magically, the only real rain fell during dinner when everyone was under the tent. It POURED for about twenty minutes, but we were all dry and happy.