When I first saw Joey and Libbie's wedding photos, my initial reaction was, "Oooh! So pretty!" The couple slays, the wedding location makes my forest-loving heart happy, and photographer Catherine Abegg is one of my favorites (she legit shoots film, y'all). As I kept scrolling through the gallery, I made little mental notes: "Oh, cool van," or "Oh, nice, there's a river nearby," and then I realized that, whoa—Libbie and Joey swam in the middle of the day, wedding hair and makeup be damned. I mean:
I've seen (and shot) a lot of weddings in my day, but nobody ever thought to get soaking wet mid-wedding day. At least, not on purpose. So naturally, I reached out to Libbie—my new wedding hero—to ask her how she and Joey came up with the idea (and how it all panned out)! Turns out they were juggling a lot of different faiths and opinions on what a wedding should look like, so they decided to get creative with the day.
Here's Libbie in her own words:
Ultimately we decided to have two events. A ceremony with a brunch, then an evening of cake cutting and dancing. Lubrecht is a forestry training center with an incredible big timber pavilion thirty minutes or so from downtown Missoula, Montana, nestled along the legendary Blackfoot River. It had a summer camp vibe I wasn't sure about, but then I found myself explaining it to friends, and saying that we were going to get married in the middle of the forest, and it felt perfect. Throughout the planning process we of course had to make compromises, and bend to the requests of others. After all of our decisions to please others, we really needed a moment to relish in the excitement of being married, so we turned our sights on the river near our venue with the intention of cooling our nerves, literally. A dip in the cool running water seemed like the perfect way to spend some quality time with well-traveled guests, and just a grand way to spend an afternoon in Montana.
Well, all of that sounds perfectly fine in theory, but I was dying to know how it went in reality:
Planning a swim in the middle of your wedding day isn't too accepted in the way of flawless beauty techniques. I would be lying if I said I didn't care about my hair and makeup on my wedding day, but it wasn't high on the priorities list either. When considering the midday dip, I didn't want to mess up professionally done hair, but I also didn't want to miss out on the fun (at the river), so I did my own hair and makeup for both events. Taking my time with a swept updo for our morning ceremony, and quickly running a curling iron around a few times before the evening (yes, my hair was river-soaked and sun-kissed in between). I needed to feel beautiful in my own way, and the fresh air and river water got me there. It might have been unconventional, but to us, it just felt good.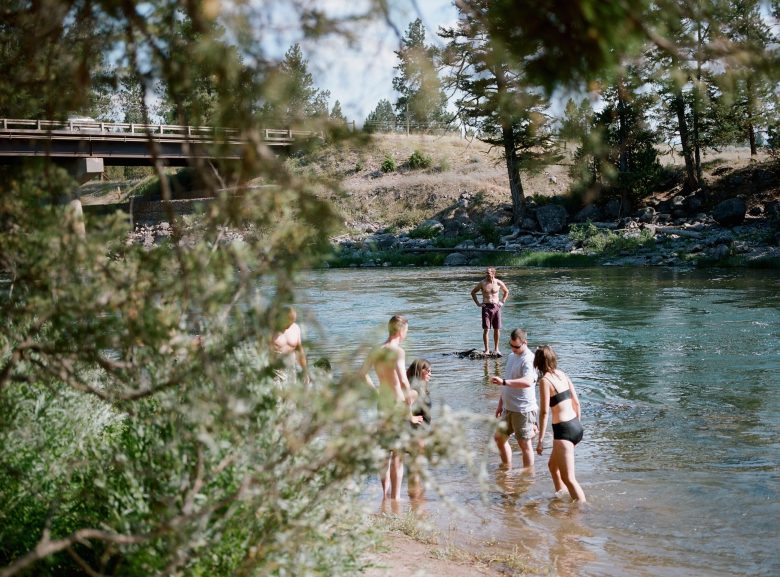 The moment I went to put my fancy shoes back on before our reception and felt sand rubbing against my skin, I realized we had been successful in creating a day that was totally, completely us. We love our families so dearly, and needed them there, and needed them happy for our day, and it was such a special thing to be able to make ourselves happy too… The river dip did that for us.
And to judge by the photos, it looks like Libbie and Joey managed to get right back to into dressing up and having a grand ol' rest of the eve.
You know how at APW we always say, "You do you"? Well, I'd say Libbie and Joey nailed it.