When I was a little girl, I hated fabric stores. Hated them. It felt like I spent every Saturday in one fabric store after another while my mom and grandma perused pattern books, had fabric cut, and spoke a language I couldn't understand for hours. Even though my mom made me tons of cute clothes when I was young, I just got so bored in fabric stores. It wasn't until I was in need of a semiformal dress for my eighth grade graduation that I realized just how amazing it is to have someone close to you who can sew, and sew well. Since then, I have enjoyed going to the fabric store with my mom and grandma, because a trip there means I'm about to get an amazing Halloween costume (my mom's specialty) or a fancy dress (my grandma's).
I was on the fence about having my grandma make my wedding dress. I didn't want to take advantage of her generosity or make her feel like she had to make it. Plus, making my dress when I was living twelve hundred miles away presented some challenges. At the end of 2012, I tried on a few super wedding-y wedding dresses to get an idea of styles I liked, and earlier this spring I tried on a short lace one that I actually thought about buying. But ultimately, I just couldn't bring myself to buy a dress. This was due in part to the fact that I couldn't really afford any of the dresses sold in stores and then there was the fact that I didn't really love any of them. (Why doesn't anyone make long-sleeved, off-the-shoulder wedding dresses?! Oh, wait, because it's not 1989 anymore, Rachel…) But the main problem was that buying my dress just didn't feel right. Because my grandma sewing wedding dresses for women in our family and even close friends (and now their daughters) is just…what we do.
So last week, on a very cold and rainy day (weather I have missed terribly since moving to Houston!) my mom, grandma, and I headed to Haberman Fabrics in Royal Oak, MI to get the fabric for my wedding dress.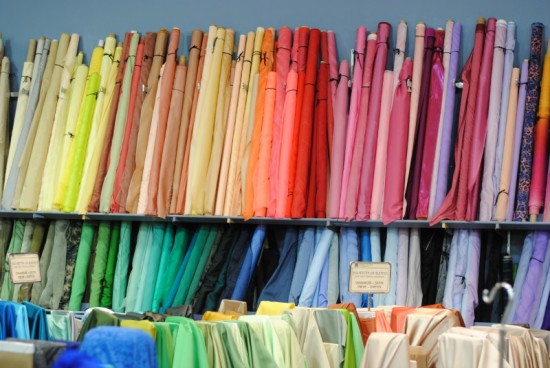 I had ordered the circa-1990 pattern for my dress off of Etsy several months ago, in three different sizes because I had no idea what would fit. It was the only pattern I could find for a knee-length sheath dress with long sleeves and an off-the-shoulder-neckline—a silhouette that feels perfect for me and for a winter courthouse wedding. A few weeks before I flew home, my grandma made a prototype of it out of cheap fabric so we could see how it fit and I could find out whether this style looked the same on me as it did in my head. (Good news: it did.) When it came to the fabric, I knew I wanted something heavier, not terribly shiny, and not bright white. But when we walked into the store, I was immediately overwhelmed by all the shiny, white pretty things.
Because despite the awful weather, it was warm and cozy inside the store and the bridal section felt like it was lit by candlelight. Everything just glowed. There were bolts of gorgeous fabric in every shade of white, glass cases filled with sparkling crystal trim, and all different types of lace. Everything was just so pretty.
One of my New Year's goals was to learn to sew, and I had been working on finding a sewing class in Houston before I left town; as I looked around at all the amazing materials at Haberman's, I was so motivated to carry on the family tradition and learn to sew like my mom and grandma. I stood there just… petting all of the gorgeous bridal fabrics at the store, thinking about what a dumbass little kid I had been to hate fabric stores, until my mom zeroed in on an ivory silk dupioni and gently dragged me away from the tulle so I could see it. It was exactly what I'd had in mind, so we showed it to my grandma, who liked it too. (This is a huge change from the traditional bickering that usually takes place when my mom and grandma are working on something together.)
After holding the material next to the pristine winter white fur stole that my mom had bought me from an antique store in Holly earlier in the week (something old!), we were sold. We had it cut, chose a lining and a zipper, and that was it! After browsing the other parts of the store for a couple more hours, we left with a small stack of fabric that my grandmother will eventually stitch together for me using her mother's sewing machine. Because in my family, that's just what we do.
Photos from Rachel's personal collection