Maura, Teacher + J.T., Beverage Buyer
One sentence sum up of the wedding vibe: A warm and intimate wedding made possible by the amazing skills of family and friends.
Planned Budget: No plan
Actual Budget: $9,000
Number of Guests: 28
Location: J.T.'s Parent's Backyard. Saint Peters, Pennsylvania
Photographer: Hannah Yoon and Rebecca Aranda of Rebecca y Las Otras
Where we allocated the most funds: Our wedding attire.
Where we allocated the least funds: The tent rental!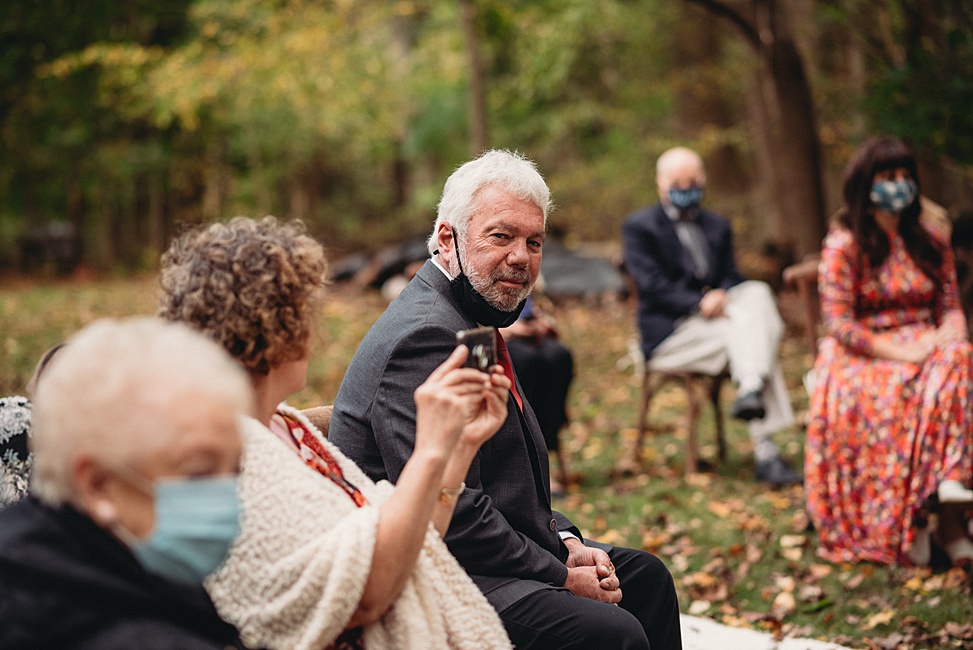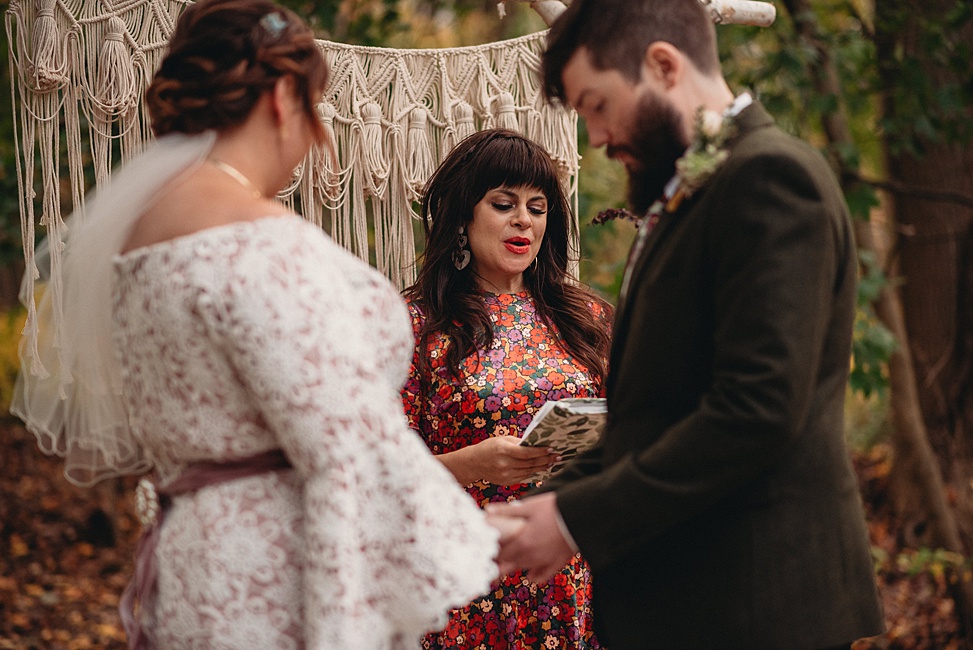 What was totally worth it: Having a small wedding. We were planning a significantly larger wedding (over 200 people) prior to COVID, but always thought a smaller event would be nice so it was lovely to be able to get that. We were able to spend time with our family and friends and enjoy the slow pace of the day. It just felt like a relaxing low key party which we loved. This also brings us to the other thing that was so worth it—letting people help. The day was so relaxing for me because I let our friends and family help and they did so much.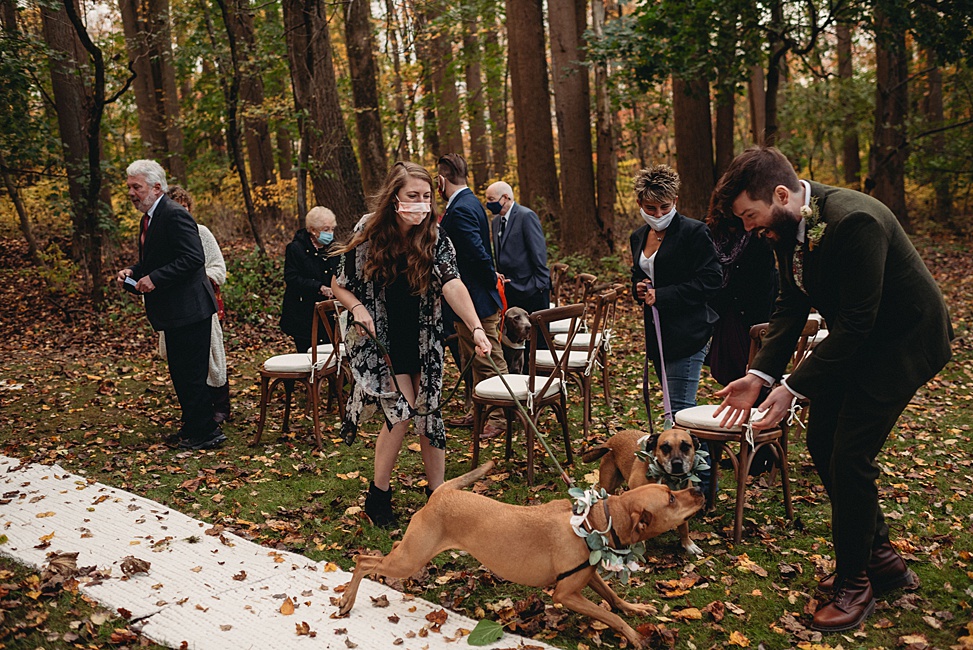 What was totally not worth it: The only thing not worth it was stressing about whether we should downsize or not. It was 100% the right thing to do and I wish we didn't worry about it.
A few things that helped us along the way: Reading a range of websites that helped give inspiration and advice. Joining wedding Facebook groups to bounce ideas off of strangers. And honestly, having to re-plan it in a short amount of time was actually really helpful. It forced us to make decisions that worked for us and move on instead of hemming and hawing over them.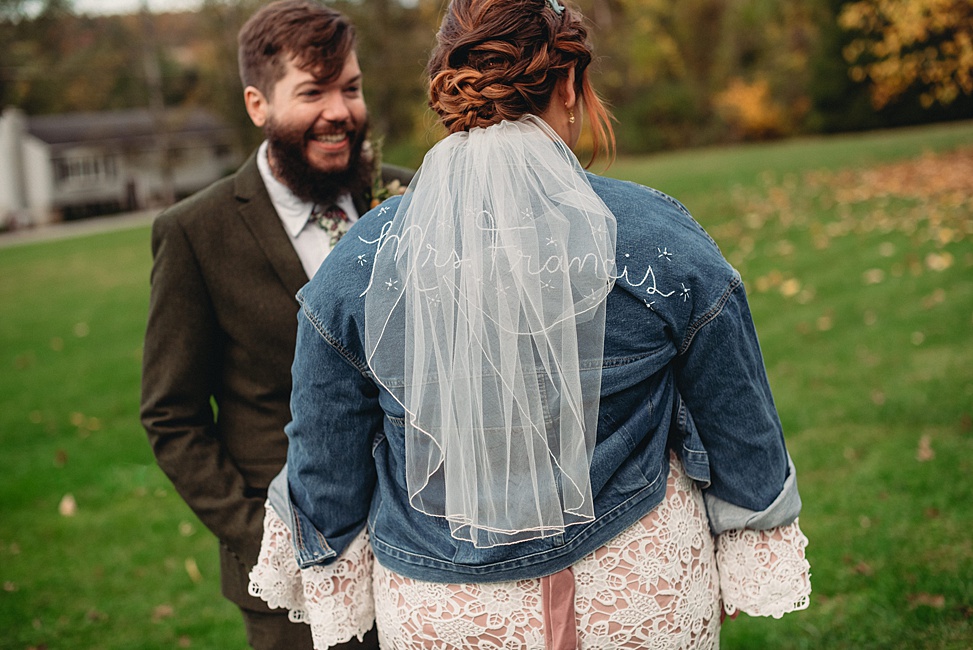 My best practical advice for my planning self: Find a balance between doing what you want and understanding that it's a huge day for your family too, and take that into consideration. Make decisions and move on. I wish I would have done that more from the start.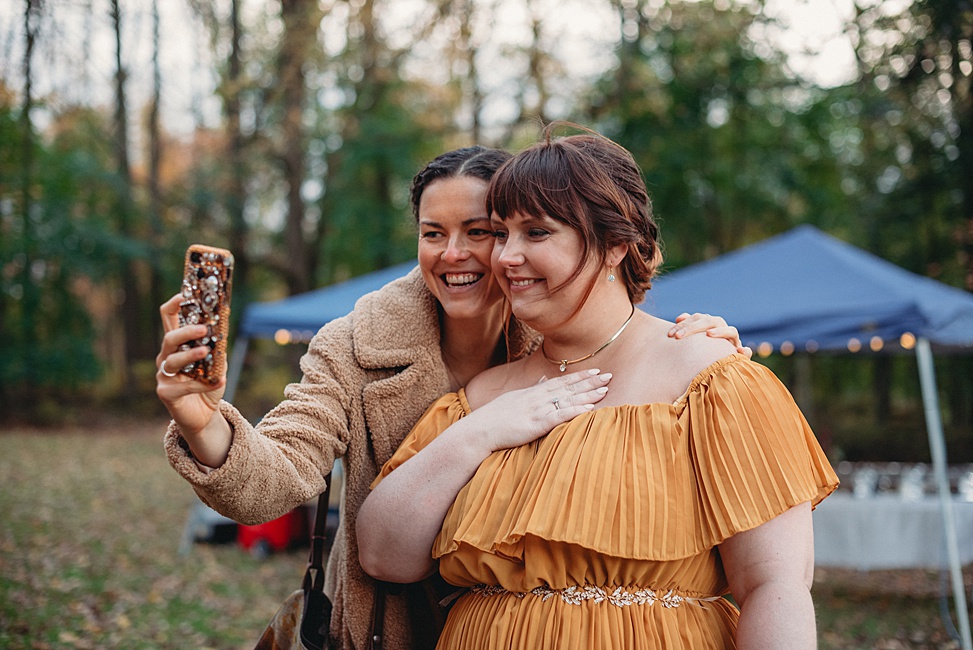 Favorite thing about the wedding: All of the personal things that made it feel so genuinely intimate. My mom hand picked all of the plates and glass wear during her almost daily trips to Goodwill the month leading up. She also made s'mores kits for everyone and pulled most of the decor from her home. J.T.'s best friend married us, he is so sweet and a big crier and made the ceremony so heartfelt. His fiance did a beautiful reading. They also did all of our flower arrangements, made one of our cocktails and made apple butter favors.
My best friend recorded a cover of the Talking Heads song This Must Be the Place for me to walk down the aisle to. Our friend made all of the ceramics decor and cake stand and even made a set to match my gown. My mom's best friend and her daughter (my oldest friend) made our amazing carrot cake with edible flowers. My godmother made the banner for our sweetheart table and cookies. J.T.'s parents lovingly hosted us at their home. I made the birch flower arch and macrame for the ceremony. It was truly a labor of love and the whole thing was my favorite part! But honestly, if I really had to pick one favorite it would be J.T. in his overalls!
Anything else: J.T. had mentioned how much he loved his late grandfather's wedding band, however he is so practical and decided to just get a very cheap simple band. I was able to pull off the greatest surprise and had my cousin who's a jeweler make a perfect replica of his grandfather's band and slipped it to our officiant the day of the wedding. He and his grandmother are incredibly close and this was just such a cool way to bring them closer.