Nick, finance Director & paolo, reservations manager
sum-up of the wedding vibe: No frills and heartwarming
Planned Budget: $10,000
Actual Budget: $15,000
Number of Guests: 65
Location: Palace of Fine Arts, San Francisco, California
photographer: Zoe Larkin

Where we allocated the most funds:
We live in Manila, in the Philippines, and by planning a destination wedding with most of the guests flying in, we knew we had to make it memorable not just for us, but for them as well. We thought about recent weddings we attended and which ones stuck out the most to us. We agreed that a stellar venue and amazing food and drinks create a truly unforgettable wedding experience for everyone. We first looked at getting married at the City Hall to make things easier. However, their biggest area could only accommodate forty guests. But as more and more people confirmed attendance (even a year ahead of the date!), we had to look for a bigger venue. We found and went through the list of venues on the San Francisco Recreation and Parks website. The Palace of Fine Arts was one of the options, and definitely the best one for us—we didn't even think it was possible to do it there.
It was also one of the more expensive ones on the list: we spent about $1,300 in total for the permit and three-hour rental (including a refundable $500 security deposit). We knew that the ceremony was not going to last an hour, but accounting for the setup to the wedding photoshoot, we wanted to give ourselves enough time. What made things really convenient was that everything was done over the phone and through email! The folx from the Palace of Fine Arts administration made it easy for us to understand the requirements, coordinate schedules, and make the payment. We also spent an additional $700 to dress up the venue with white chairs and a red carpet from All Seasons Event Rentals. However, holding the reception in the same place would have meant an additional $5,000, without catering, so we had to look for alternatives where we could get more value for our money. That's where the hotel came in.
We went on Yelp and looked through what seemed like hundreds of hotels just to see the reviews related to weddings. We chose the Hotel Majestic because its aesthetic fit into our overall theme. Only a few days after reaching out, we got a comprehensive response with their rates, menu options, and even a video that showed an event with eighty people, just so we could get a feel for the space. We secured the venue, which included table setup; lighting; video wall; sound system; pre-reception cocktail hour with hors d'oeuvres, wine, and scotch; a three-course meal for all guests; and unlimited after-party liquor.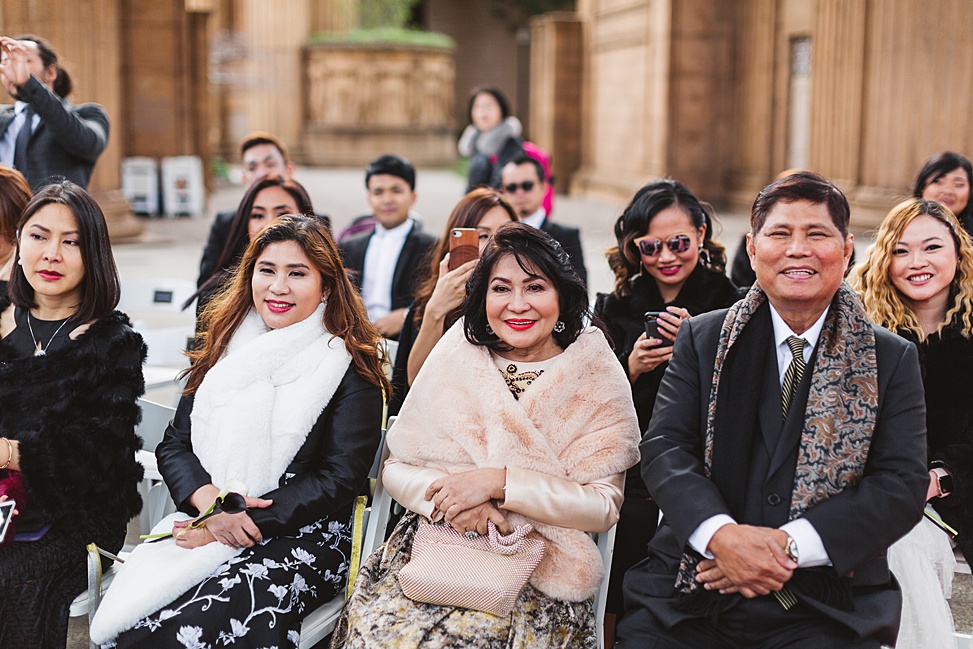 The entire reception party lasted seven hours. The entire package cost $8,500, all-in. We couldn't be happier, because the staff of the Hotel Majestic really took care of us and ensured that everyone had a great time that evening! Because we held the reception at the hotel, we also stayed there and encouraged our guests to do the same. Since the ceremony and reception venues were separate, and most guests were visitors, we arranged transportation between both sites for everyone's convenience. The extra $1,400 for shuttle services helped make sure everyone was comfortable (and on time).
Where we allocated the least funds:
Since we knew that we wanted to spend most of our budget on food and venue, we had to be smart about our choices for everything else. For the flowers, we opted for black and white calla lilies at $200 for the package, courtesy of Kimberley Schultz, as recommended by our photographer, Zoe Larkin. Desserts from Gerhard Michler Fine European Desserts included 240 assorted petit-fours and a princess wedding cake for $455. For decorations, we enlisted the help of our wedding entourage to make DIY decorations made of chopsticks and gold and silver ribbons that we bought on Amazon.
What was totally worth it:
Having the ceremony at Palace of Fine Arts immediately elicited a sense of grandeur around the wedding, despite all the heavy-lifting and long-distance coordination we had to do ourselves. During the reception, we had nothing to worry about because the staff of the Hotel Majestic took care of everything, so we and all our guests could just relax, have fun, and enjoy the festivities. The venues were beautiful, the food was amazing, and there were enough drinks to go around for everyone—just the way we wanted. A late-in-the-game decision to hire musicians two months before the wedding was also worth it. The music of the Amethyst Trio helped frame the ceremony from start to end.
All the beautiful photos of the event from our photographer, Zoe Larkin, continually remind us of that very special day. She made sure to capture all the important moments, and her bright and casual style really embodied what the day meant to us. After the ceremony, she stayed with us for quite some time for more photos, took us around the Palace of Fine Arts grounds and even out onto the Marina, and ended our first photowalk as a married couple with the Golden Gate Bridge in the background. She was very encouraging and allowed us to be ourselves, even as she gave slight direction to make sure she was able to reflect our personalities in the photos.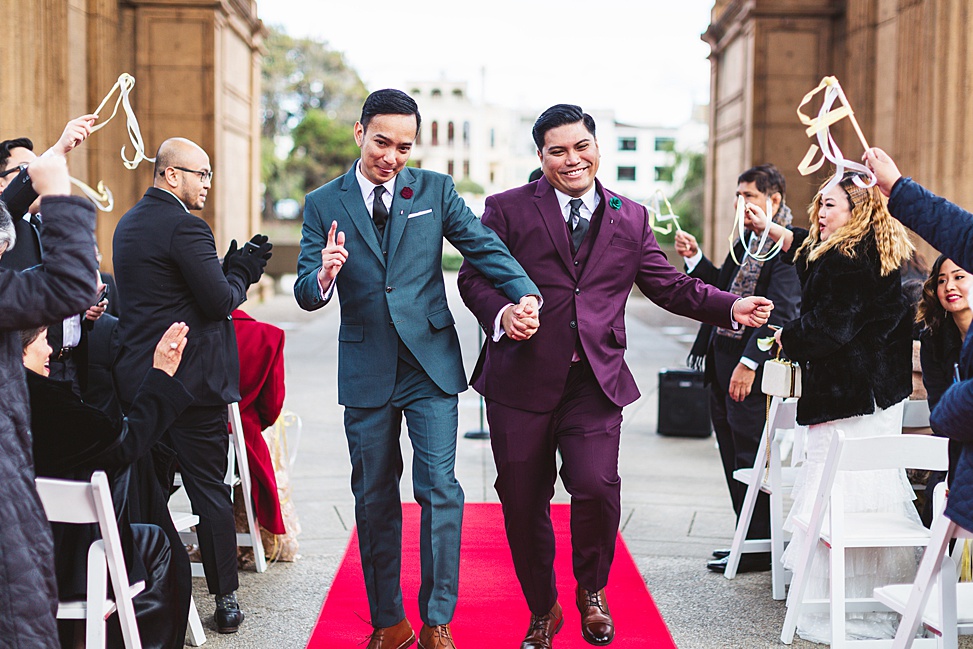 What was totally not worth it:
If there was one thing we could have done without, it would be the wedding invitations. We wanted to have traditional wedding cards designed, printed, and sent out to everybody because that's what everyone else did for their weddings. However, with Facebook event invites and other avenues of communication, it seemed like an afterthought more than anything else. Because our wedding required time, effort, and advanced planning for everyone involved, we told them all details even before the invitations came out. It's a nice keepsake and highly traditional, but if we hadn't done it, it would not have changed anything about our wedding. Other than that, it's weird to say that nothing was not worth it because thinking about it, to this day, we would not have done anything else differently. We were extremely happy with all the choices we made in order to pull off this wedding.
A few things that helped us along the way:
Given that we were planning from far away, Nick's sister in San Francisco was a big help in doing walk-throughs and getting a few things done on our behalf. She was also our wedding officiant. Paolo's married sisters also gave insights on what worked for them during their own weddings. Family and friends who traveled with us ahead of time (from either Manila or elsewhere in the US and Canada) also helped with making decorations, doing last-minute errands, and overseeing setup activities during the day. This included the sister of Paolo's matron-of-honor's husband, who was our day-of coordinator. We were also fortunate that the people we sought out for our wedding requirements were easy to reach, highly responsive, and supportive—whether it was answering our questions, planning logistics, negotiating costs where we could, or showing up on the day!
My best practical advice for my planning self:
It started out as a daunting task, especially since communication was always subject to time difference and distance, but the waiting and the uncertainty in the beginning added to the excitement. Find a way to enjoy every moment of the planning. Don't let stress get to you, and have faith that you will make the right decision. Plan out which allocations are important to you (in our case, food and venue), and be ready to opt for simpler alternatives for other areas. We worried about the weather because the days leading up to the wedding day had rain every afternoon. We realized that even if we worried, there was nothing we could do about it, and it would not have been wise to think that all our efforts would end up in vain. Instead of focusing on that stressful possibility, we just made sure that everything was set—and left it to circumstance to dictate how we were going to address it if that challenge came up. On the day itself, the skies were clear and we enjoyed the sun the whole day!
Don't be afraid to ask for help. The people whom you want at your wedding, and who want to be at your wedding, will always be willing to help. The family and friends who have witnessed your relationship grow through the years know how important this day is to you, and they will be more than willing to help, even with the smallest things. They understand that it's about you, not them. It never hurts to ask!
Favorite thing about the wedding:
The wedding speeches that made everyone cry… and of course, the after-party! It was a truly memorable day, and we have the photos to prove it. Most of our friends have already promised that for our five-year anniversary, we will all make the trip out to San Francisco again, stay at the same hotel, and celebrate in the city that was the setting of one of the happiest days of our lives.
Anything else:
In the beginning, it seemed like a challenge to plan a wedding from 7,000 miles away. Early on, we asked ourselves if we were really going to do it and if we could pull it off. However, communicating clearly and maintaining open communication channels allowed us to choose the right wedding suppliers and service providers that were a good fit for what we wanted our wedding to be. We were initially concerned about not inviting too many people to save on costs, but we realized that if people wanted to go to our wedding, then we definitely wanted them to be there. We were able to lean on them for support when it mattered, and they all had a great time. At the end of the day, knowing that you gave it your all—and that you were true to yourselves with what you wanted and how you envisioned that special day—you'll never go wrong!