* Brooke and John, Physicians, Educators and Global Health Advocates * Photographer: Hart & Sol West (APW Sponsor) * Soundtrack for reading: "We Belong" by Pat Benatar *
One sentence sum up of the wedding vibe: A celebration of community, life, and love.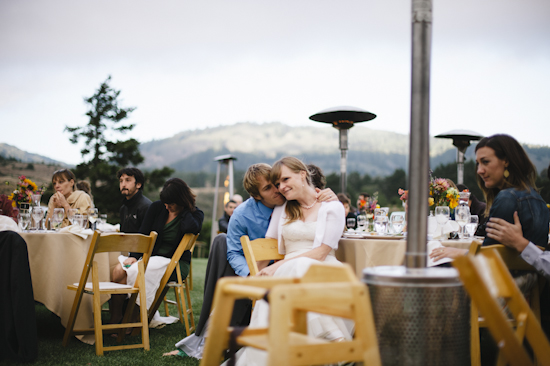 The Info—Photography: Hart & Sol West (APW Sponsor) / Venue: Costanoa Lodge and Campgrounds / DJ: Services donated by amazing friends Mike and Colin / Flowers: Blue House Farms, arranged by everyone; Gerber daisies from Trader Joe's / Friday Night Puppet Show: Blue Sky Puppet Theater / Brooke's Dress: Sample dress from Jinza Bridal / Brooke's Ring: Recycled and reconstructed from old family rings from both sides / John's Suit: DKNY from Macy's
Other cool stuff we should know about: This was truly a group celebration; and looking back, we would not (and could not) have had it any other way. We searched for a venue within biking distance (that was a prerequisite for John) where everyone could be together the whole weekend, bumping into each other on a hike or hanging out by the campfire. And we chanced upon this gem on the California coast.
The day before the wedding, John led a crew of fifteen bikers on the forty-five mile bike ride over from our house. We all met up at a local farm (Blue House Farms) that was kind enough to cut whatever flowers happened to be in season in their fields and we arranged them in jars as centerpieces. The night before the wedding we had a barbecue, s'mores by the campfire, and my amazing uncle, aunt, and cousins put on a puppet show for all of the guests, complete with Brooke and John look-alike puppets. The morning of the wedding our friend led a yoga class overlooking the ocean and then we all went on a coastal hike. One friend did my hair, the other my makeup, and another ironed my dress which I failed to notice was completely wrinkled until minutes before the wedding. Getting ready amidst a game of cornhole and our closest friends was… perfect.
We wrote the ceremony ourselves (with the help of APW links of course) and my wonderful uncle led it. My brother read a poem, John's brother read a community statement of support, we recounted some of our favorite patient quotes, and recited our vows. But the most amazing part was the storytelling. We love stories and are fans of the Moth podcast—which shares live storytelling on a given topic. So we asked three friends to tell stories on the topic "love." We gave them two weeks notice and free reign, and had no idea what they would say. And, you know what? They rocked it. They were touching. They were funny. They were perfect and imperfect at the same time. They were better than we could have ever hoped for. And we have never felt so lucky. Or so loved.
Everyone who was invited to the wedding was asked to send in a photo of themselves with their loved ones, and we hung them in the background—so those who could make it, and those who could not, were all around us. John, his siblings, his parents and my aunt made all of the desserts. Our friend was the volunteer day-of coordinator. Our other friends decorated John's bike with a "just married" sign and tin cans that clattered all the way across highway one when we biked away. We pulled off the modified dirty dancing lift we've been practicing for years and everyone danced the night away, full of wine, firelight, and homemade pies.
Favorite thing about the wedding: All of our community, together and happy, made for a weekend full of memorable moments. But, if pressed to choose just one, the ceremony itself was the beautiful culmination of them all. In an instant we were awash in our friends and family and at the same time suspended, just the two of us, outside, with the sun, and wind, and our promises.