The Site and our mobile application may contain links to affiliate websites, and we receive an affiliate commission for any purchases made by you on the affiliate website using such links. We are also a participant in the Amazon Services LLC Associates Program, an affiliate advertising program designed to provide a means for us to earn advertising fees by linking to Amazon.com and affiliated websites.
---
Here's what I know about shopping for plus size wedding dresses as a plus size womxn: what you want from your dress is not necessarily what all other plus size womxn want from their dresses. You may want a fit-and-flare dream, I may want a rhinestone studded bodice with plenty of tulle. You may prefer to channel the '20s and I may prefer to be a bohemian queen.
The one thing we all have in common, though, is that we want to have options for expressing ourselves fully on one of our most important days, and God knows the bridal industry hasn't always been great at giving us those options. The messaging from the wedding industry can feel like plus size brides are forgotten, or not deemed worthy of a special day where we're showered with love and attention. But I'm here to tell you that we are so worthy and that, while the wedding industry catches up to us, we're still planning bomb AF weddings and rocking dresses that make us feel like the best versions of ourselves.
So let's talk about what's a requirement when it comes to plus size wedding dresses. Our bodies need designs created specifically to flatter our shapes. This can mean more structure and support. It definitely means not just taking a gown designed for a size two body and scaling it up. We also want dresses that aren't going to make us feel frumpy or like our bodies are weirdly shaped. (Hello tight armholes! Hello dresses that seem designed to create back fat where none previously existed. )
But beyond needing support, and a fly AF dress, plus size brides want all different kinds of wedding dresses. So we've included gowns here for all kinds of women—from the bohemian bride, to the vintage honey, to the drama queen channeling her inner Beyoncé. We've got plus size wedding dresses for minimalists, for anyone who has ever just wanted lace sleeves, for the modern romantic, and for the bride who wants to buck tradition, but just a little bit by wearing a subtly colorful dress.
Modern Romantic Plus Size Wedding Dresses
These dresses create a V at the neckline and clearly define a line at the waist, two elements that combine to create a romantic and feminine silhouette. If you like to create an hourglass figure with your wardrobe, these are the dresses for you. They all feature intricate romantic detailing that will make you feel like your dress, and your day, are really something special.
The Juliette via Lace & Liberty X APW
This dress was designed by the APW team in collaboration with Lace & Liberty, for womxn who want some classic romance, but still want to feel hip and fresh. The bodice literally makes everyone look good, and the café colored under layer keeps things fresh.
The Tyler via Lace & Liberty X APW
This dress was designed by the APW team in collaboration with Lace & Liberty, and it has everything to do with the amazing hand-pieced lace that brings bohemian whimsy (and a touch of color) to the dress. While strapless can be touch and go with plus size dresses (because you gotta have that structure), this dress has a built in corset that delivers and then some.
Brecklyn Lynette via Maggie Sottero
This dress from Maggie Sottero puts all of the focus on your face first with its pure white sweetheart neckline and barely there lace sleeve. A close runner up for attention is your hot bod… which this mermaid shape and chapel train will show off to its best.
The Semira via Lace & Liberty X APW
Plus size brides deserve all of the hip styling other womxn get, plus dresses built for our bodies. This dress designed by the APW team in collaboration with Lace & Liberty delivers that off the shoulder '90s referential look we're all digging right now with some of the best lace around. The sweetheart neckline delivers cleavage for days, and the waistline does all the right things.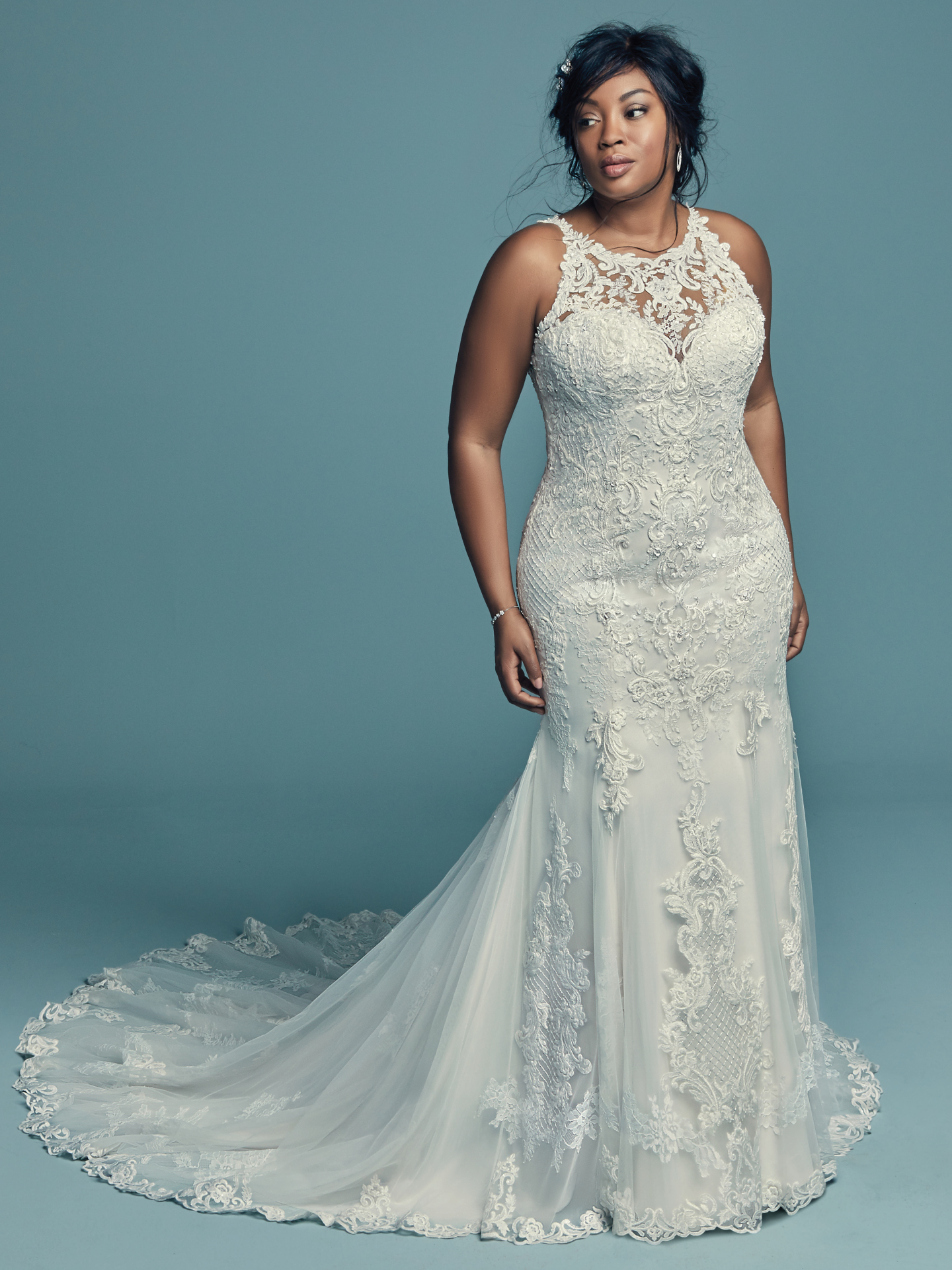 Kendall Lynette via Maggie Sottero
This Maggie Sottero gown is so gorgeous I can't even think. The chapel train lined with lace that repeats throughout the length of the dress and at the bodice is so beautifully pieced and elegant. The peekaboo of skin above the sweetheart bust visible through the high halter lace is supremely flattering and sexy.
Lace Sleeved Plus Size Wedding Dresses
Long lace sleeves are the one thing I really wanted seven years ago when I got married. It just wasn't in the market back then, but you get to benefit from the time plus size brides have spent asking for more. Options for plus size wedding dresses with long lace sleeves abound now. These are some of the prettiest out there.
Plus Size Off-The-Shoulder Wedding Gown via Essence of Australia
The trick with lace sleeves is making sure they give you the style of sleeves, without having so much extra fabric that they end up making your arms look swathed… instead of stylish. These sleeves know what's up. They're sheer with lace accents (which is particularly good if your arms are a sensitive spot for you, and you want, you know, clothes on them.)
Amour Lace Wedding Gown via Kiyonna
This Kiyonna lace wedding gown gives you all of the loveliness of lace with none of the discomfort, because this is a stretch lace. This gown is so simple and flattering, not adding extra bulk, and emphasizing exactly in the right places. Plus, it could go so many directions with the right accessories.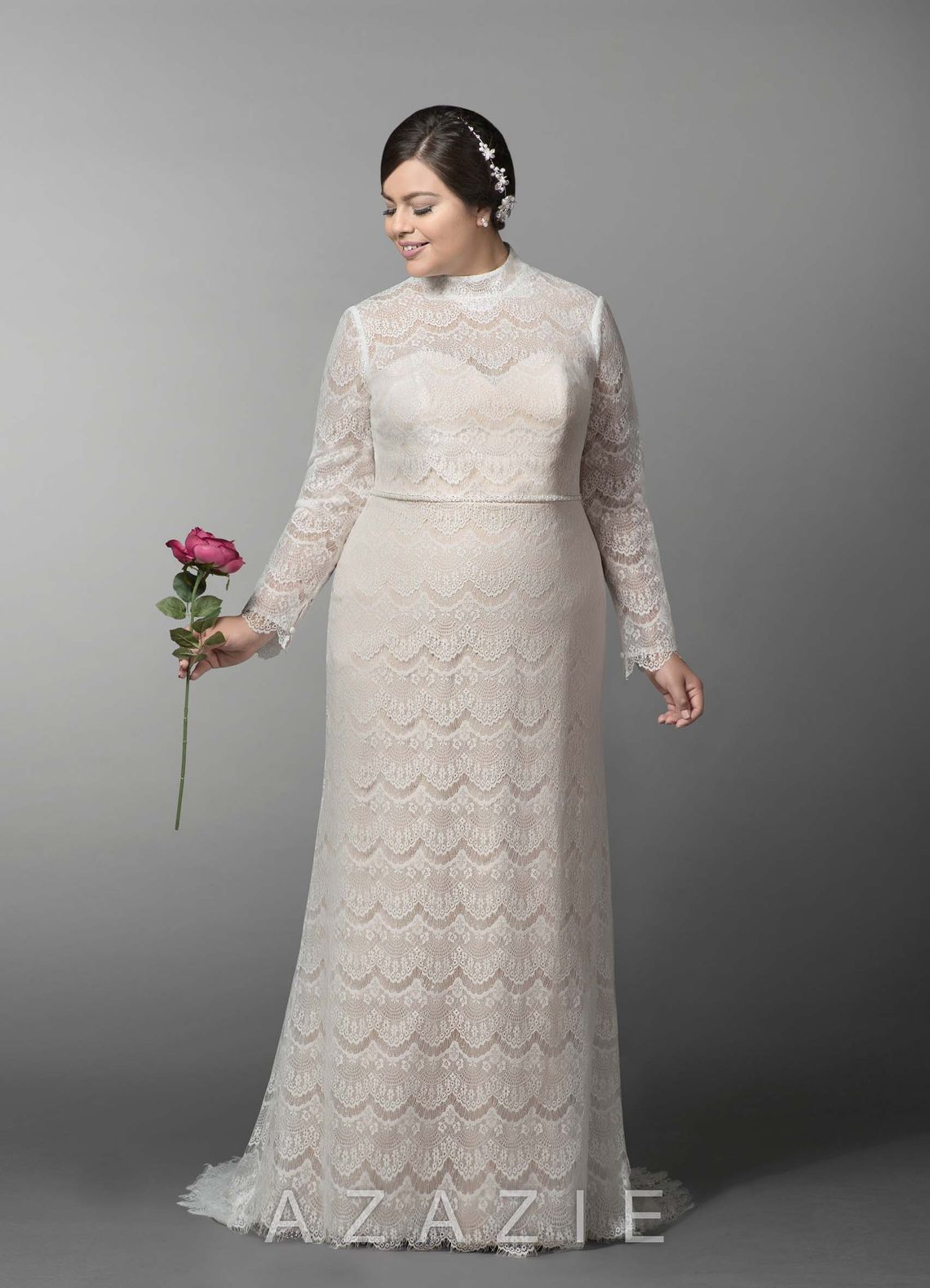 Azazie Ozette BG Wedding Dress via Azazie
I don't know if fully covered has ever looked so good. The tiny bit of skin revealed by having the arms and décolletage covered in transparent lace is so elegant. My favorite detail is the frilled edges of lace at the sleeve with the satin covered buttons. It reminds me of my favorite details of my mother's wedding gown.
Gilded Grace Lace Dress via Modcloth
Our team has seen this dress in person, and it's cute AF (with a great price tag). Be aware that at a lower price point, you will need to provide your own support with good undergarments.
Vintage-Inspired Plus Size Wedding Dresses
Channeling vintage vibes for your wedding is not a new idea, and often plus size women are pushed into a vintage '50s style fit-and-flare silhouette because it's nearly universally flattering on curves. But it's not the only way to do flattering or vintage. Embrace the unexpected with the art deco dresses below, featuring repeating lace patterns, glam beadwork, and art deco silhouettes. A little party never killed nobody.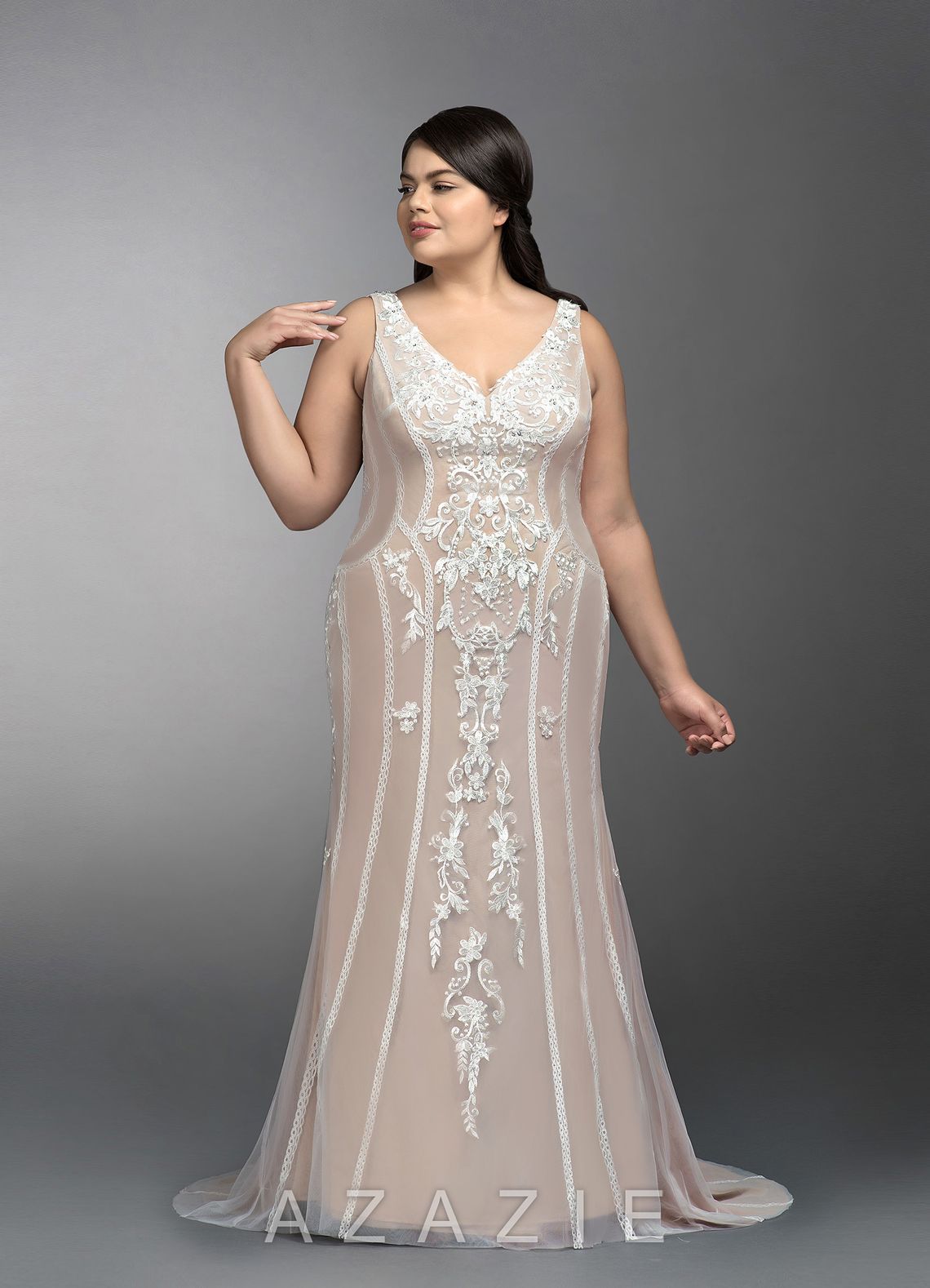 You know what's really taboo with the plus sized body? Sexiness or implied nudity. But girl, we are all about it. This dress combines structure with a tease of skin, and we'd like more of this, please.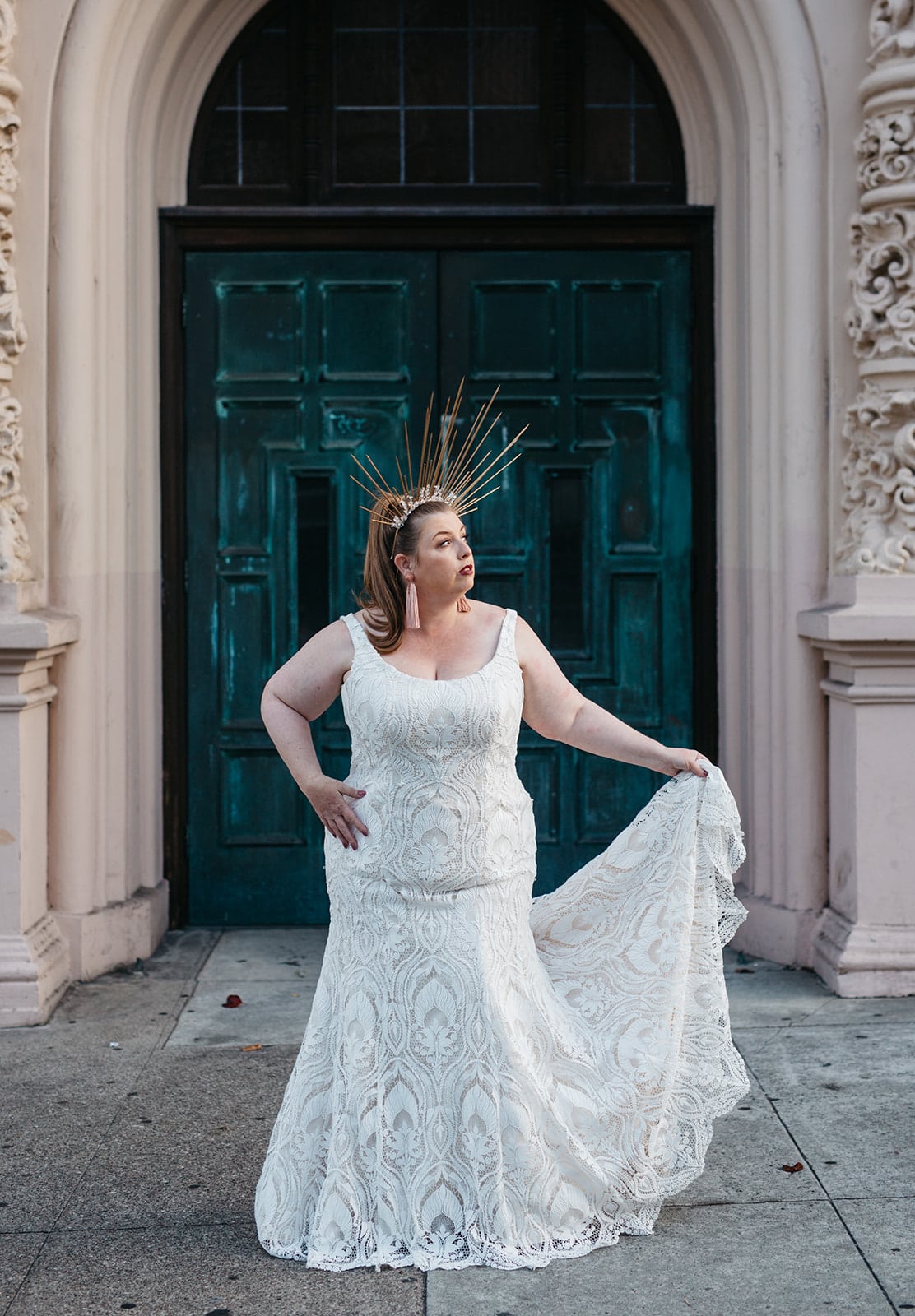 The Meg via Lace & Liberty X APW
You know who's in love with a lace sheath always and forever? Meg, APW's EIC and Founder. So when APW got a chance to design a line of plus size wedding dresses with Lace & Liberty, delivering a lace sheath with lots of flattering structure was always going to top the list. This one is made with a heavyweight art deco referential lace (not that thin lace that you're sure you'll rip by the end of the night). Its understructure will hold you up, and its outer styling will make you look smokin' hot.
Charlene Lynette via Maggie Sottero
This dress by Maggie Sottero checks all the boxes. Plunging V-neckline, sexy side panels, flattering waistline, and a slit, be still my heart.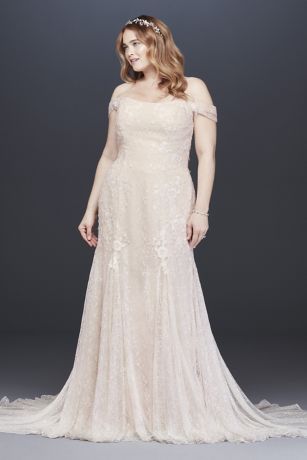 Melissa Sweet Swag Sleeve Layered Lace via David's Bridal
While the off the shoulder sleeves and cream lace evoke Ever After daydreams a la '90s Drew Barrymore, the princess seaming and fluted hem of this David's Bridal dress are all art deco flair and ever flattering.
Embellished Plunging V-neck Sheath via Couture Candy 
Glittery glam in silver and gold gives you so many accessorizing options. The plunging V and Capelet sleeves are endlessly flattering. What more could we ask for from this vintage inspired frock from Couture Candy?
Bohemian Plus Size Wedding Dresses
Bohemian, with its easy airiness and sometimes exaggerated shapes, is an aesthetic that plus size women often get left out of. As a plus size womxn, I love the bohemian aesthetic, but I also don't want to be swamped in a mumu that does nothing for my figure. These dresses strike the balance between enough structure to show that "Yes, I do have a body under here!" while still channeling all of those earth goddess, free spirit, witchy womxn vibes. Pair with flower crown and dance till sunrise.
This sheath from Lovely Bride is a glam bohemian plus size bride's dream. The cap sleeves and scoopy V-neck are so simple that the hand beaded design that perfectly accentuates curves really shines.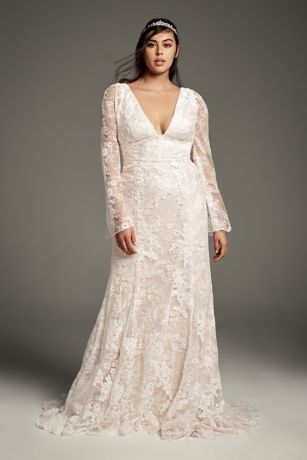 White by Vera Wang Bell Dress via David's Bridal
Vera Wang how do I love you? Let me count the ways: Airy dreamy lace, deep V-neck, fancy relaxed vibes, gorgeous lace bell sleeves. I want to be a bohemian queen forever in this dress from David's Bridal.
I love how Studio Levana has styled this sweeping lace deep plunge dress with a fun hipster hat (though you of course can go with a more traditional, say, veil). The deep V and bodice are just perfectly accentuated by a contrasting texture trim.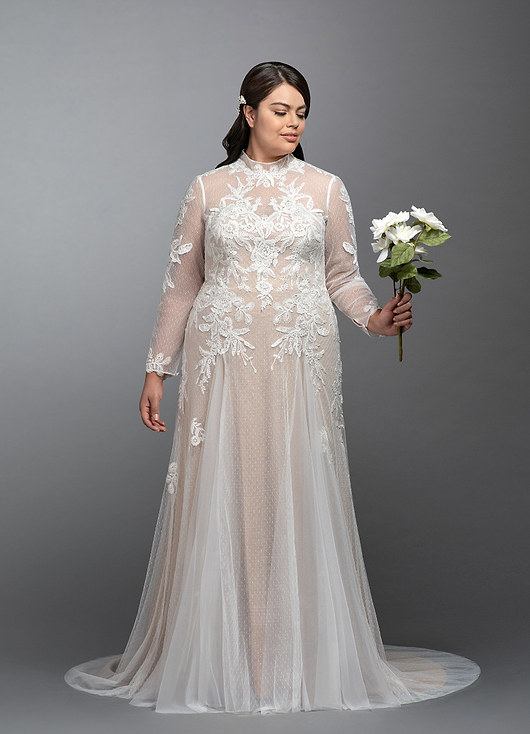 This Azazie number is giving me seventies wedding vibes in the best way with its dotted tulle fabric accentuated with lace appliqués. The high neck and chapel train make it one long line on your body, and I love, love, love the subtle pleat in the skirting that creates definition from the hip and elongates.
Dramatic Plus Size Wedding Dresses
These plus size wedding dresses all scream "Look at me!" and honestly, what else should your dress say on your wedding day? If you are the person who wants to be the star of the show and never balks at a fashion challenge, these are your looks. Channel your inner Beyoncé with capes, sheer lace, mermaid fit, high necklines, and everything else your fashionista heart could desire. These might be my favorites of the bunch, and if you wear them, your wedding look is going to be memorable AF.
The Maddie via Lace & Liberty X APW
Little discussed fact: halter necklines are very flattering for boobs. Most of us with curves default to highlighting our cleavage with the ever-flattering V or scoop neck. But the halter offers support while pulling everything up and in, in a way that looks good. When the APW team collaborated with Lace & Liberty to design a line of plus size wedding dresses, we took our very best lace… with more lace hand pieced over it (obviously), and applied that to a halter neckline, and damn Gina.
Remember what we said about sex appeal? This dress from Watters has it in droves. The illusion neckline studded with rhinestones and a rhinestone belt is tantalizing and risqué. The elegance and piles of dramatic tulle balance the skin shown and make this an utterly eye-catching and romantic wedding dress.
Let's talk about this dress from top to bottom. Beaded straps, beaded bodice, mermaid fit that flares out into beautiful falls of tulle all around you. It's basically drama embodied.
Tyler Cape via Lace & Liberty X APW
Sometimes you just need a power cape? Amiright? Man repelling or no, when the APW team designs a line, they always add a cape. Let's make bridal capes the new universal, yes?
ColorED Plus Size Wedding Dresses
I like to walk a line between traditional and modern. My inner feminist loves pushing historical boundaries that have been placed on womxn, and these subtly colorful dresses are one way to do that without earning your mom and grandma's disapproval. They have just enough of a hint of color to feel like you're balking tradition, but they are still romantic and delicate enough to be perfectly wedding appropriate by anyone's terms. Every single one of these dresses feels special but unexpected. Bonus, you might even be able to wear it again.
Miss Jessica Maxi Dress via City Chic ($149)
This dress by City Chic is your classic wrap dress. Which is great because, it's universally flattering. The things that make this one wedding worthy are the chiffon fabric, lovely color, and adorable double-layered sleeves.
Metallic Lace A-Line via David's Bridal
This plunging sweetheart A-line from David's Bridal is covered in shimmering lace appliqué over blush tulle accentuated with a rhinestone belt. So really, it has all the things, and you should get it on your hot bod now.
MacDuggal Fabulouss via Couture Candy
This floral number with embellished, deep plunge bodice is both fun and romantic.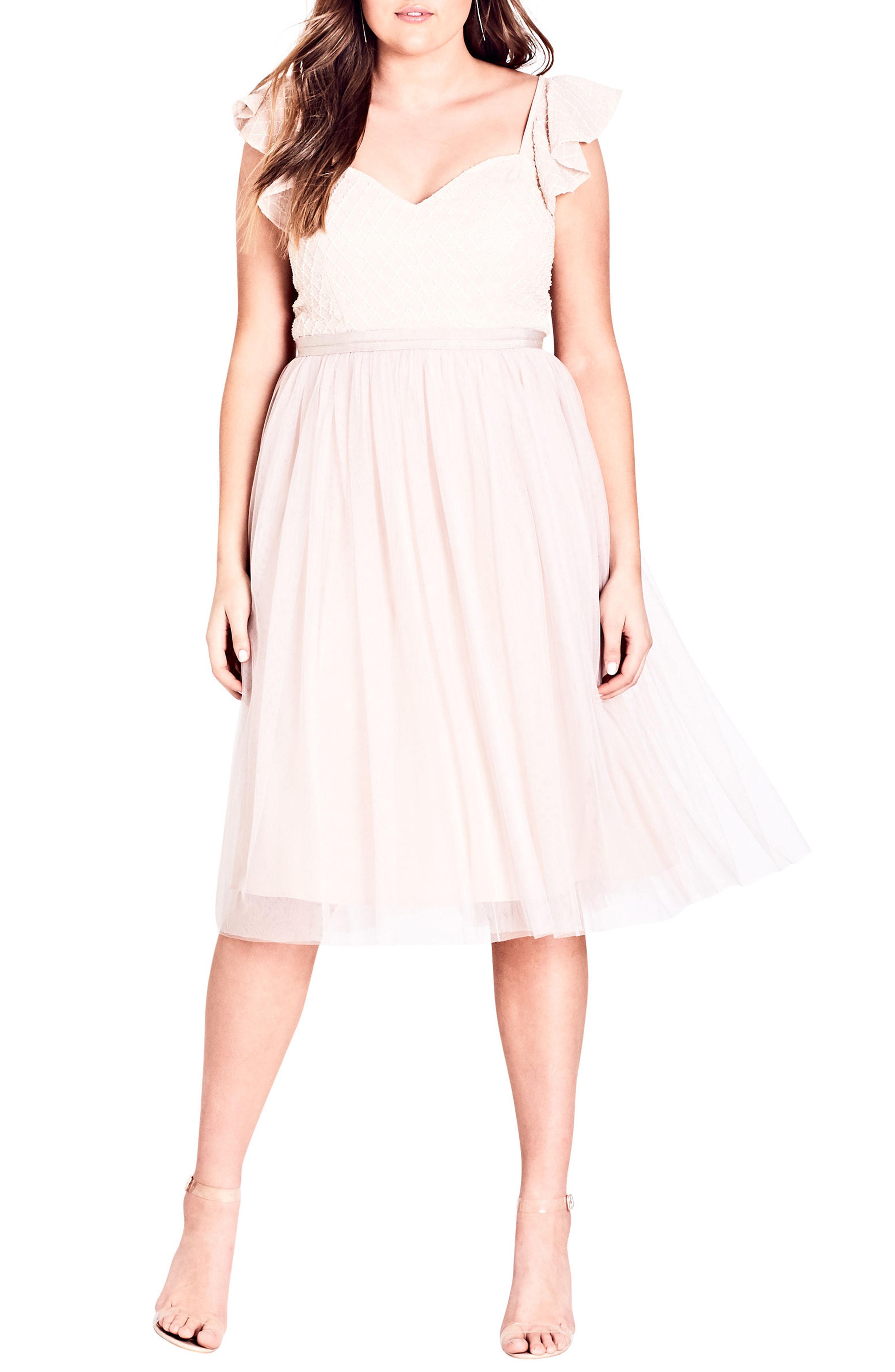 City Chic Textured Fit & Flare Dress via Macy's
The sweetheart neckline and satin ribbon defined waist create great shape here while the ruffled cap sleeves and layer of tulle on the shorter skirt provide great movement for dancing!
Sparkling Celebration Midi Dress via Modcloth
This butter yellow lace over white under dress by Modcloth is a winner. It feels fresh and summery and the sheer lace neckline highlights your décolletage with a tease of skin. The tea length is classic and fun, and you'll be free to move around with ease.
Pleated Bodice Maxi Dress with Flutter Sleeve via ASOS
Pleating and crisscross shapes at the waist are textbook flattering for curvier tummies. But unlike some dresses for plus size womxn where flattering seems to be the only concern, this dress from ASOS is also stylish. The draping and beautiful chiffon-y fabric are elegant, the price can't be beat, and we're seeing the trendy café color here again! This is another one where you'll need to provide your own support in undergarments as well. We're lookin' out for you.
Minimalist Plus Size Wedding Dresses
The aesthetic and the philosophy of minimalism don't always overlap, but I still picture these dresses as being for the bride who has Marie Kondoed her apartment, whose invites were e-vites, and whose wedding is in an art gallery. These dresses aren't crafted to hide anything; their simple lines say, "I'm proud of my body. I am loved and love myself." Is that a lot for a dress to say? Maybe, but isn't that the point of fashion? Plus, two of these dresses have pockets, and what's more modern womxn than a wedding dress with pockets!?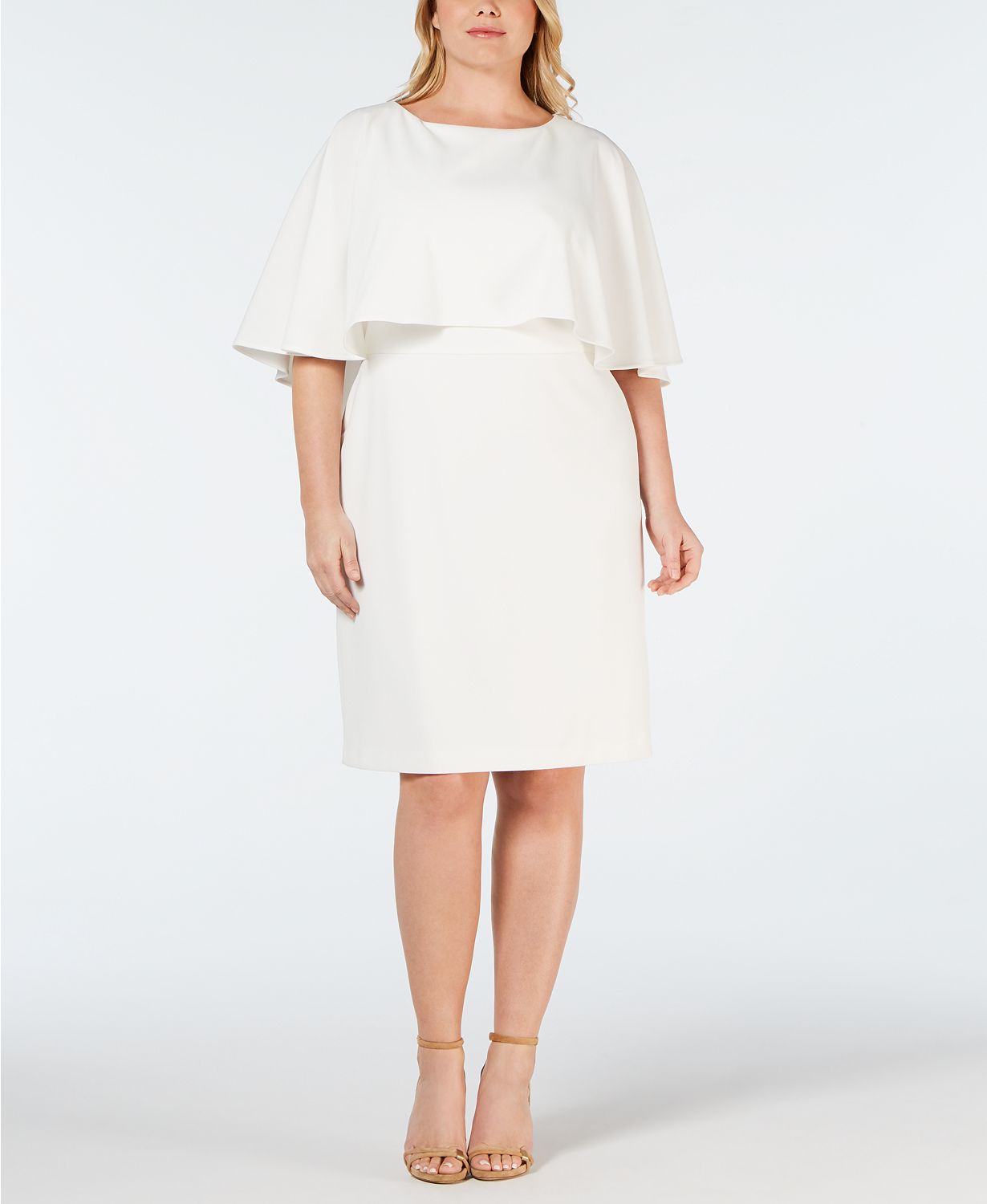 Calvin Klein Plus Size Tiered Dress via Macy's
I'm getting serious Solange vibes from this Calvin Klein dress. The of-the-moment capelet is so crisp and clean, the shorter hemline and sheath shape make this flattering for any plus size womxn. Whether you continue to lengthen your leg visually with a skin tone shoe or opt for a bold statement is up to you!

Paloma Ruched Dress via Kiyonna
Ruching, deep V, and elbow length bell sleeves are a plus size womxn's best friend. This dress from Kiyonna has all that and doesn't shy away from showing off your banging figure either.
This Anne Barge dress is so clean, classic, and relaxed. The smooth white accentuated with subtle hits of white lace for texture gives depth without compromising the clean lines, and hello pockets!
Have you found a plus size wedding dress you love? Struggling with the plus size wedding dresses on the market? Sound off, and give us your best tips in the comments.