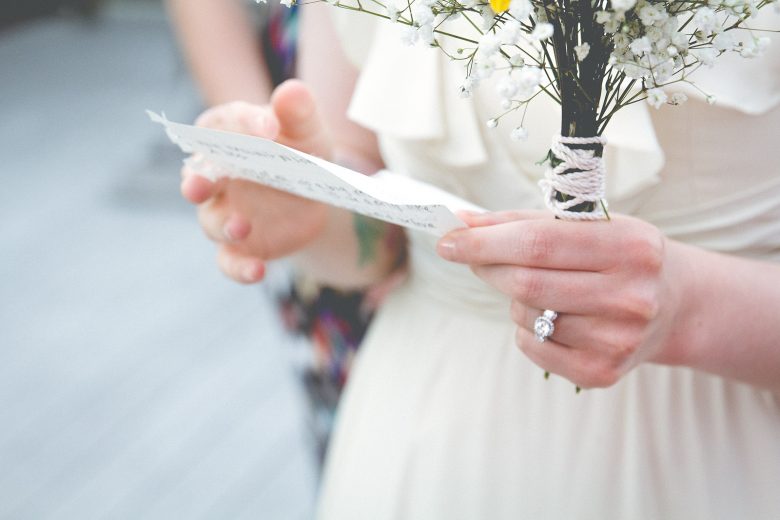 A few weeks ago, I had the great pleasure of standing by two very good friends for their wedding. During the ceremony, another friend read from A Year With C.S. Lewis, which, as it happened, we'd selected to be read at our own wedding back in 2012. It's a peculiar and rare feeling, when someone reads aloud the same words that were once read at our wedding. It was hard to keep myself inside the current moment when the pull of wedding zen nostalgia beckoned. But I did, because I didn't want to miss anything—especially when I was on point for passing vows and holding bouquets, and God forbid my mind wandered and then I'd have bitchy resting face in all the ceremony photos. I digress.
I remember choosing that C.S. Lewis reading, in part for the words, but also for the connection that the reader, my best friend and maid of honor, and I had to it. In our senior year of high school, I sat behind my best friend, and day in and day out, we pored over various works by C.S. Lewis. In between the usual high school dramatics that follow any close teenage friendship, we picked apart The Screwtape Letters and wondered about the nature of true evil. Nine years later, when I read over that passage from A Year With C.S. Lewis, I knew it would be perfect—for outlining our feelings about the marriage we were entering into, and for the connection my best friend and I had to it.
And that's the thing I love about wedding readings. While the words may stay the same when used in multiple ceremonies, people bring their own meanings to them. With that in mind, this is the first of a few open threads dedicated to prose wedding readings. We've given lots of attention to wedding poems, but now I want to know:
What passages are special to you? What Readings are you considering including in your ceremony? Share your inspiration in the comments!