When it comes to simple wedding dresses, the old mantra holds: less is more. And while everyone knows that the APW team loves all things glitter, fringe and embellishments, I am the secret minimalist on the staff. I love it when lines and proportions are so on point that you don't need anything else. (Plus, if you keep it simple, that gives you the perfect excuse to add that wild bridal headpiece or cape… and minimalist or not, I'm always down with a cape.)
The wedding industry has long had a problem with going overboard. Wading through racks of wedding dresses can make you feel like somewhere along the line, someone got the misguided idea that because you were getting married, you wanted to cosplay as a sparkly white cupcake… or maybe dress up like a bridal Barbie. And that has never been my vibe. I like being ExtraAF sometimes, but when it comes to what I put on my body, I love something that's simple, but perfect. And to feel like myself on my wedding day, I knew that I needed a simple wedding dress.
A decade ago (gasp, I can't) when I got married, simple wedding dresses were damn hard to find. Thankfully these days, finding a dress that's low-key but just right has gotten a lot easier. And when we went to bring out the best wedding dresses out there, we were clear that simple doesn't (and shouldn't) mean boring. In this case, simple should mean flawless.
So for the other minimalists out there, we've rounded up our favorite simple wedding dresses at every price point from all across the internet. No cupcake dresses need apply.
Simple Wedding Dresses

Iva Crepe Maxi Dress via BHLDN ($298)
With a full-length, minimal silhouette, the textured crepe skirt coupled with a split-back bodice is perfection done right.
Bradley Cutout Trumpet Gown via Nordstrom ($1980)
Confession: I love a side cutout. Love. This dress mixes it up perfectly with the combination full-length trumpet skirt plus a little skin on the sides.
Strapless Maxi Dress by Adrianna Papell via ModCloth ($100)
This dress takes a giant bow to a structural and modern place. Feeling it.
Gathered Belt Gown via Fame and Partners ($499)
Take the prairie dress trend, dial it all the way back, and add a belt, and you've got this unique dress.
Serena Gown via Mon Cheri Bridals (price varies upon vendor)
Looking for flowing and curve-hugging, plus SLEEVES? Get. It.
Crystal T-Back Crepe Gown by White by Vera Wang via David's Bridal ($528)
Nearly backless but not.
Lafayette Dress via Anthropologie ($230)
A little flamenco, and a lot of movement. Minimal with all the right moves.
Ashton Plunge Back Gown by Jenny Yoo via Nordstrom ($1100)
Did we mention it has pockets? This dress is classic while still feeling of the moments. Also, again, pockets.
Strip Applique Column Gown via Halston Heritage ($297) 
If this weren't white, it would just be an amazing modern dress. Since it is white, you can make it a cutting-edge wedding dress. (Also: I stan forever and always for Halston Heritage. Cannot go wrong.)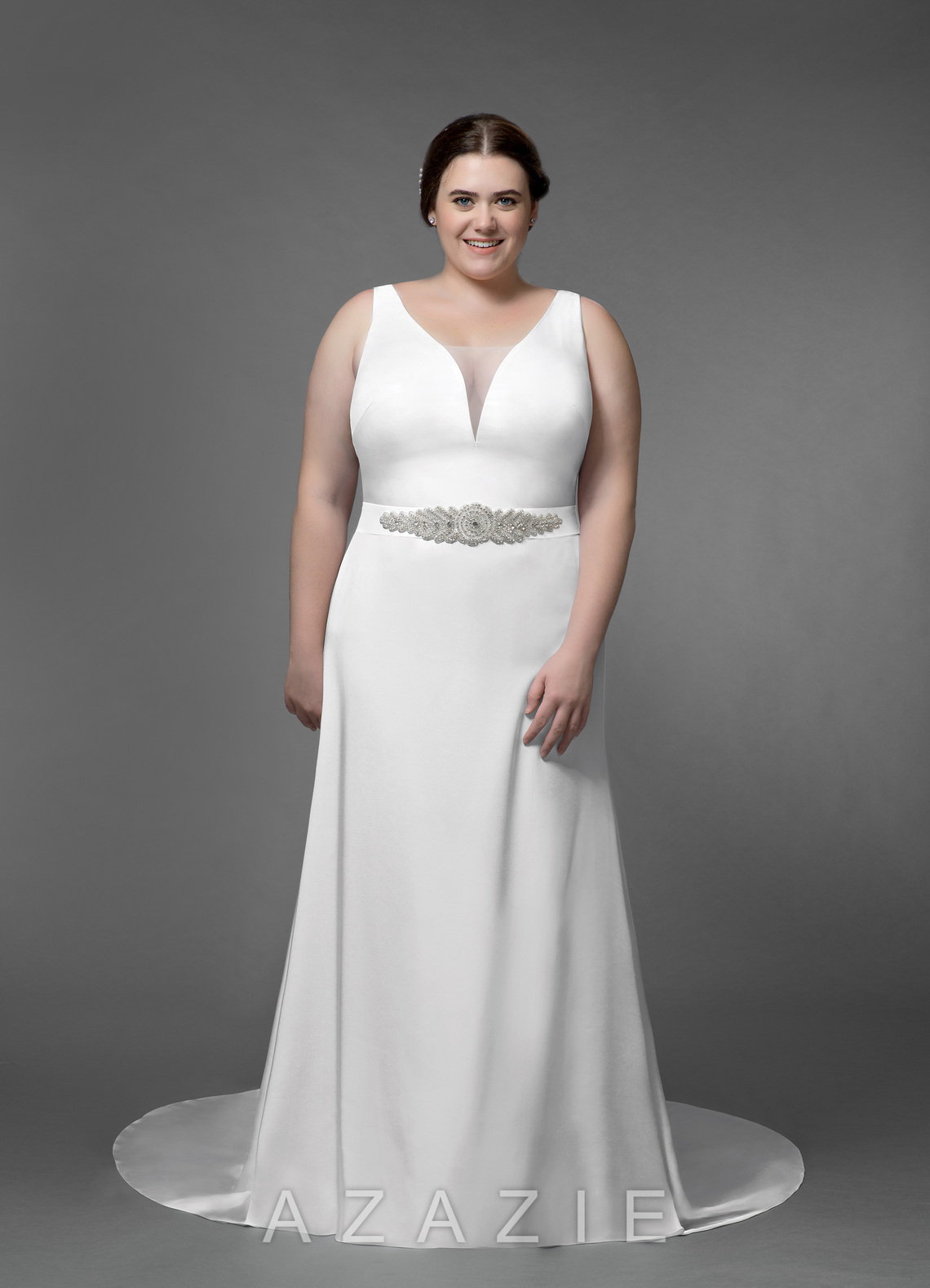 Destiny Dress via Azazie ($199)
If you want something more traditional but just a little… less… of all the things, this dress is it. Plus, the price is amazing.
White Off-the-Shoulder Maxi Dress via Lulus ($94)
Off the shoulder with a thigh-high slit. Girl, get it. I mean, literally, you should get it.
Safiyaa Crepe Gown via Net-a-Porter ($1815)
If you're here for the early '90s referential thing, but like it sleek, this dress pulls off both.
Poppy Dress via Reformation ($388)
I love Reformation, period. Their dresses are cut properly, and they make you look like a million dollars, always and forever. Plus, they're made ethically. Please buy this dress before I do.
Under the Stars Maxi Dress via ModCloth ($249)
Stars and… ok, no stripes. But lots of personality.
Nothing beats a good line… except good lines and pockets. The asymmetrical hemline adds interest, while the neckline makes it work.
Drape Front Satin Gown via Halston Heritage ($475)
Again, Halston Heritage, always and forever. If you're looking for a dress that will make everyone gasp when you walk in, this is it.

Crepe Halter Dress via Nordstrom ($148)
An above-the-knee, halter-top wedding dress with a thick belt? Found it.
Tremaine Dress via Chi Chi London ($224) 
For when you're looking for traditional, with sex appeal, without a million bedazzlings… and works on curves.
Zion Overlay Dress via Leanne Marshall ($1595)
Not all of us can wear this dress #boobs. But for the person who can, send pictures. It's something else, in the best way possible.
Classic but modern at the same time, with… you guessed it… pockets. Pockets forever.
What are your favorite simple wedding dress styles? Do you have a retailer or designer that should be on our radar?