Debbie, program officer in the arts & Angela, primary care physician
Sum-up of the wedding vibe: Honoring our distance traveled as raised by hardworking immigrant families, celebrating with our community of friends and colleagues who love and support us and our love, and centering our celebration rooted in social justice and equity.
Planned Budget: $15,000
Actual Budget: $20,000
Number of Guests: 100
Location: Stable Cafe, San Francisco, California
Where we allocated the most funds:
We allocated most of our funds to catering. It was important to us to serve healthy, delicious food that nourished our guests, as well as provide impeccable, seamless catering service. We had a fresh, plentiful family-style supper served in big bowls and plates to facilitate conversation and interaction among our guests. We were so glad that we chose Fogcutter Catering. The food was so amazing that we are still talking about how good it was and wish we had eaten more of it that night.

Where we allocated the least funds:
That morning, we had a simple civil ceremony in iconic San Francisco City Hall. We are not formal people, and we wanted to have an intimate ceremony with our immediate family and a few of our closest friends. Plus, we knew the photos would be gorgeous!
We were incredibly fortunate to have talented and generous friends and family jump in to help with whatever was needed and to keep our costs low. The beer was donated; my sister paid for the flowers as our wedding gift; Angela's aunts assembled and set up the reception flowers; I used my own vintage cloth napkins instead of rentals; Angela's sister designed our guest book with our beautiful engagement photos as a gift; we borrowed event supplies like sign holders and frames; and we hired friends to DJ and curate our music, as well as do our hair and makeup.

What was totally worth it:
It was totally worth hiring a day-of-wedding coordinator. I have extensive professional event-planning experience and initially thought that I would not need to hire a wedding professional or could just ask a few friends to help. After feeling overwhelmed with the planning, I had to be convinced that I needed help and, more importantly, that I needed to enjoy my day and not worry about any of the logistics. As queer womxn of color, we definitely wanted to find a professional who not only could do the job, but also shared our values and had experience honoring and celebrating the love of queer womxn so that we could entrust them with our vision and let go of the details. The Bay Area is full of event-planning professionals, and we interviewed a number of them. Chanda Daniels, owner of A Monique Affair, was the only one that had worked extensively with LGBTQ couples and understood the challenges that we face. Thank goodness we found her, because she was incredibly patient and implemented our vision perfectly. Our wedding truly felt like a big party that was thrown just for us.

What was totally not worth it:
Nothing. We loved everything about our wedding!

A few things that helped us along the way:
It is so easy to get caught up in the Wedding Industrial Complex. We remained pretty grounded by talking with our community of friends who had San Francisco weddings. They provided tips on pricing, venues, caterers, and logistics. I did a lot of online research on Pinterest and wedding websites. In the end, we created all of the elements that felt right for us. And we were intentional about how we wanted to focus on sharing this day with our community of friends and family, rooted in social justice, equity, and the issues that impassion us. The main thing for us is that the process of designing and creating our own day brought us closer and was truly a reflection and celebration of both of us.

My best practical advice for my planning self:
As a Type A person, my advice to myself is to remember to breathe and to let go, knowing that we have thought of every detail. We also were very fortunate to lean on an amazing team of folx, who worked towards the same vision for our special day, and on our community of family and friends who rally for us on the daily! We knew that if something were to go wrong, it would get fixed, and that we could trust our people to make it so that we would never notice!

Favorite thing about the wedding:
Our favorite thing about our wedding day is that it reflected our individual identities and the intersectionality of those identities, as well as our shared values and commitment to social justice and equity. As queer womxn of color, we are extremely grateful for the support and love of our community of family and friends. We know that many individuals who identify as LGBTQ continue to face discrimination and rejection of who they are as individuals and who they love. We were extremely intentional about every aspect. It was important for us to incorporate both of our cultures, so we decided to have elements of both, including the Filipino money dance where Angela wore a traditional Filipino barong (an embroidered formal shirt), and Debbie wore a red Chinese cheongsam (dress). We matched the funds that were raised during the money dance and donated them to our favorite nonprofits doing important community work: RYSE focuses on providing safe and brave spaces for young people in Richmond, California, and the Center for Asian American Media (CAAM) showcases the diverse narratives and lived experiences of Asian Pacific Islander communities.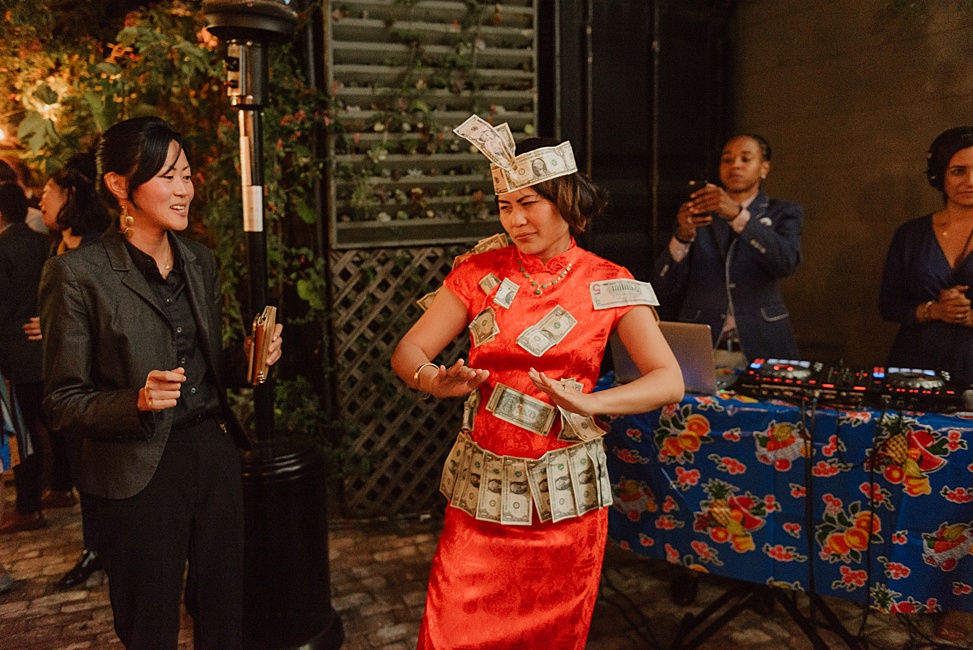 For our Savory + Sweet Bar, we had Chinese mini pork buns and egg custard tarts, as well as Filipino lumpia (egg roll) and polvorón (shortbread).
Almost 100% of the vendors we hired were owned or managed by womxn, LGBTQ folx, or people of color. We believe it's so important to invest, support, amplify and shine a light on the talents of people of color, particularly since many do not have access to multiple opportunities, resources, and networks. This included everyone from our fabulous wedding coordinator and my good friend who DJ'd, to the chef and catering manager, the vegan lumpia chef, and our photographer.