Rosa, freelancer interior/floral designer & Liberty, mental health therapist
Sum-up of the wedding vibe: A romantic evening filled with love, laughs, excellent food, and lots of cocktails.
planned budget: $15,000
Actual budget: $17,000–$18,000
Number of guests: 80
Where we allocated the most funds:
Food from Native Catering in San Francisco. Our top priority was good food and drink, and we wanted a combo of a plated and a buffet dinner, and it turned out to be fantastic. We had just the right amount of fancy while still being just good-ass barbecue.
Next was the photographer, Vivian Chen, whom we just loved from our first phone meeting. We chose to add an engagement session to our package because we wanted to practice, since neither are super comfortable in front on the camera. Vivian's confidence and super chill attitude made it so easy to just be ourselves and have fun, aka make out in front of the camera (let's just say Liberty was a total natural).
The last major expense was the venue; the Trocadero clubhouse at Stern Grove. The setting was gorgeous, in the midst of huge redwood and eucalyptus trees. We wanted a space that was flexible and allowed us both an indoor and outdoor space. Given our budget we did not have a ton of options in San Francisco, but it ended up being the first and last venue we visited when scouting. We fell in love just driving down to the clubhouse and that was it.
Where we allocated the least funds:
Our cake was tiny and delicious from Noe Valley bakery, we supplemented that with 160 mini donuts from Donut Savant in Oakland and spent under $250 for both. We chose to do evite save the dates, but we paid for beautiful invitations from Minted with a cash gift before wedding. We did not want party favors, but our lovely friend gifted us a photo booth rental for the day, and guests had hilarious photos to take home. Rosa's mom bought her dress from BHDLN, and Liberty's dress was a great price from The Reformation in Los Angeles.
What was totally worth it:
Food, cocktails, DJ, photographer, venue, and definitely hiring someone to coordinate the day of. Also choosing not to have a wedding party except for our niece being the flower girl.
What was totally not worth it:
The "Welcome BBQ" we had at our newly purchased home the day before. We felt we had to do this since we were not having a "rehearsal" dinner and because we had so many out-of-towners who had not seen our new place. Although our family took care of everything for the day, it just caused a great deal of stress with all the last minute things left to be done.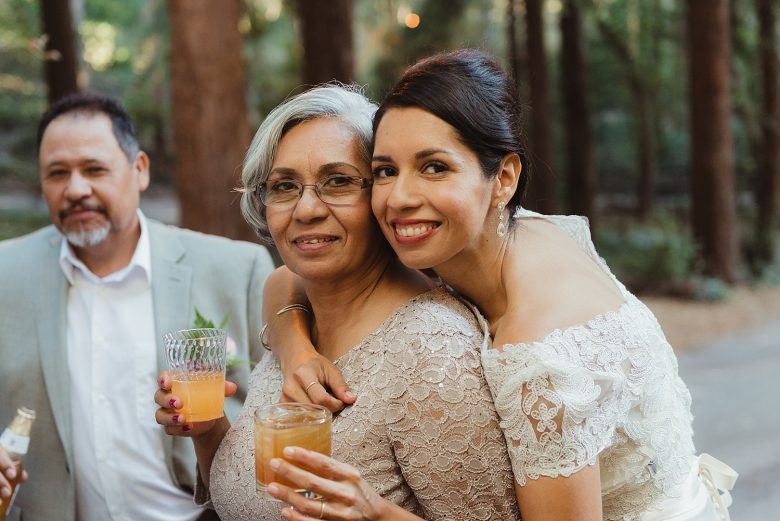 A few things that helped us along the way:
Supporting each other and checking in to talk about our ideas for the day. Also, not letting wedding planning consume our lives for a year. Things definitely got stressful with wedding planning toward the end, but through out our engagement we just kept reminding ourselves that this was just a party, a pretty huge party!
My best practical advice for my planning self:
Don't worry about perfection! Most things will work out, but some won't and it's okay. Most people won't notice, except your other designer friends.
Favorite thing about the wedding:
Rosa is from Chicago and Liberty is from Los Angeles, so definitely having all of our favorite people in one place at the same time. Everyone at the wedding, with the exception of two plus-ones, are people who have influenced our lives one way or an other, and at the end of the night absolutely everyone was family! Also our good friend officiated wedding. He is a poet and writer and his words had everyone in tears.