LINDSAY & BRIAN 
ONE SENTENCE SUM-UP OF THE WEDDING VIBE: A relaxed celebration filled with so much laughter, love, and friends and family from all over the globe.
PLANNED BUDGET: Living in super expensive San Francisco, we knew having a wedding in the city was also going to be crazy expensive, even if it was a low-key one. We didn't set a specific budget, we're fortunate enough that we knew we could afford a pretty wide range, and we just decided to spend our money on the things we wanted.
ACTUAL BUDGET: $28,000
NUMBER OF GUESTS: 88

WHERE WE ALLOCATED THE MOST FUNDS
Venue and dinner. We knew the venue was going to super expensive in the city so we tried to find an offbeat, low-key place to get married. The Verdi Club, an Italian-American Men's Social Club from the 1930s was just the place. The wedding was in January so we needed somewhere that we could have the ceremony and the reception inside and provide a full meal. Verdi Club has an onsite chef who makes incredible Italian food so we took that option and were very glad that we did.
We also spent equal amounts on photographer, videographer, and a day-of coordinator and decorator. Initially we thought videographer was too much but Brian's family said we'd enjoy having a video, and I'm glad we did.
WHERE WE ALLOCATED THE LEAST FUNDS
There were so many places where we didn't spend a lot: we didn't have a wedding cake (Chef Sean's tiramisu is AMAZING), we had minimal flowers that our day-of coordinator got from the flower market, my bouquet was fake, the place settings were very minimal, we did all of our invites electronically.
Clothing was another area where we didn't spend a lot. I was so happy to find my dress at the only second hand bridal salon in the bay area, Emerald City Gowns, who sells vintage and consignment. I bought it for $400, got my shoes at Nordstrom Rack, and Brian wore a suit that he already owned.
WHAT WAS TOTALLY WORTH IT: Paying for a day-of coordinator. Lauren was invaluable as she coordinated day-of and also did all of the decorations. I would absolutely recommend a day-of coordinator to anyone who is on the fence or knows that they'll have trouble enjoying the day if they have to organize it all. The entire week before the wedding Brian and I had nothing to do because it was all taken care of, so we were almost stressed out that we weren't stressed out! Best. Decision. Ever.
Dance lessons!! I have always wanted to take dance lessons with Brian and we also wanted to avoid the typical awkward first dance. We took five lessons with Val Cunningham who choreographed a dance to Amos Lee's "Won't Let Me Go" and it was one of my favorite moments of the wedding. Everyone was so incredibly surprised and even the DJ commented on how lovely it was.
My one DIY project. I absolutely love crafts in my normal life but wasn't really feeling a DIY urge for the wedding. I did tackle one project though. I really love photography and had seen a project where someone used photos of the guests as table place cards. I had a feeling that I could actually collect a photo of me or Brian with every single guest and somehow ended up pulling it off! I mounted them on white cards and it was so cool to see them all displayed in the hallway as people walked in.
Not writing our own vows. I was terrified that if I wrote my own vows I would sob the entire time and not be able to make it through them. When my friend who married us said that people don't usually write their own vows for Jewish weddings, I felt a huge weight lifted off of me. The ceremony was incredibly touching in so many other ways, and I was so much more relaxed.
WHAT WAS TOTALLY NOT WORTH IT
Worrying that our venue wasn't super nice or classy. Initially it was our last choice (in the most loving way, it kind of looks like a high school gym without decoration) but we had to make trade-offs based on price, time of year to have the wedding, size, etc., and in the end it was just fine. No one judged us, it did exactly what we needed it to do, the wedding went perfectly, and the staff was really phenomenal.
A FEW THINGS THAT HELPED US ALONG THE WAY
Being willing to spend money on things that we didn't want to stress about (like having someone else decorate) and not spending money on things we didn't care about (it would have been $1000 to swap out for nicer chairs). When options came up for us to spend more and more money on things, we tried to remember what we were after: a really chill party with all of our friends. I think doing all the invites electronically also made it incredibly easy to keep track of everything and follow up with people where needed.
MY BEST PRACTICAL ADVICE FOR MY PLANNING SELF
Once you find one vendor, ask them for recommendations of who they like to work with! We were looking for very low-key, chill people to work with, so recommendations from our lovely photographer as well as the chill venue owner worked really well to get a great team on the day.
I struggled with the fact that I didn't actually enjoy the planning process, at all, whereas every single woman I spoke to really enjoyed it and had been thinking about their weddings for a long time. I hadn't ever imagined what my wedding would look like and I felt so much pressure and so many expectations from the Giant Wedding Machine. To anyone else who feels the same way, you are not alone. Get through the planning the best you can and focus on how you can be joyful on the day.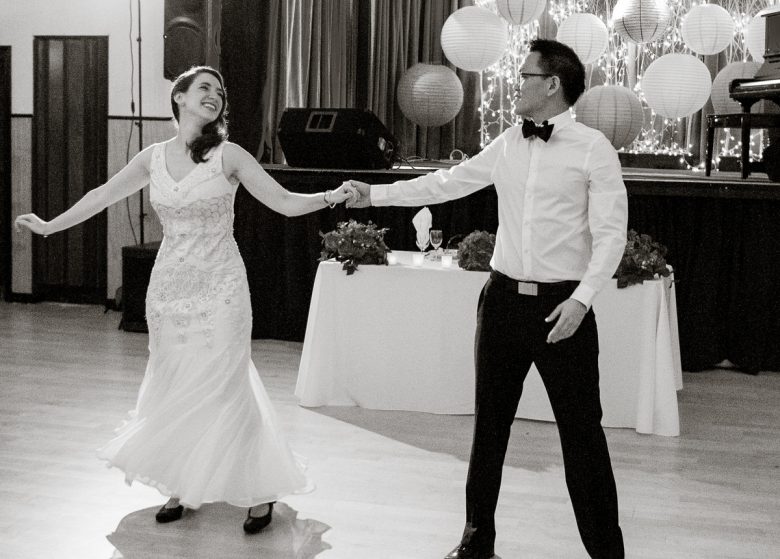 FAVORITE THING ABOUT THE WEDDING
The ceremony was so special because my friend Jen, who I have known since seventh grade married us. She's a rabbi, which meant that she does this all the time and knew exactly what to do for the ceremony (we would have been so lost without her). She also suggested one of the sweetest parts of the ceremony; in a Jewish wedding there are usually seven blessings and since we had six people in our wedding party, they each wrote a blessing for us and Jen wrote the seventh. It was so touching and such a lovely way to involve our friends and family.
After the speeches were over and we were about to have dessert, my brother jumped up and grabbed the microphone from me and said that my family had a surprise. The DJ started playing the karaoke version of "Ob-La-Di, Ob-La-Da" and they started singing a version that they wrote with lyrics about me and Brian. My maid of honor had sneakily passed out lyric sheets to all the tables so everyone was singing along and it was such an incredible moment.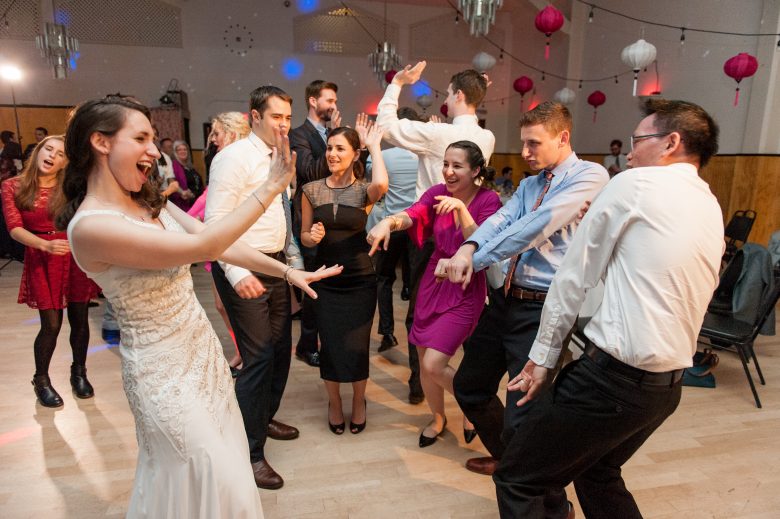 ANYTHING ELSE
We wanted to combine both our Jewish and Asian cultures and it was fun to design the wedding around both. We had a Jewish ceremony with a lovely chuppah, we had a beautiful wall hanging with the traditional Chinese "double happiness" sign with a dragon and a phoenix, we had a ketubah (a Jewish wedding contract), and for little "thank you" gifts we had pineapple cakes, a traditional Taiwanese pastry, and tea tins. We like to joke that our wedding was a Jewish Chinese Australian wedding at an Italian men's club on MLK weekend.
We were so touched by how many overseas guests made it, even from Melbourne, Australia and Taiwan. Some people even flew in just for the wedding, as in flew in that afternoon and left that evening. It just showed us how much our friends and family care about us.
One of the biggest things we wanted was an awesome dance party. Brian is an amateur DJ so I thought we could save money if he made an awesome playlist but he really wanted to hire someone awesome and our DJ ended up being fantastic. We were planning on leaving before the end of the evening, but we couldn't pull ourselves off the dance floor until the last song had been played. To finish the evening, in true San Francisco style, we took an Uber home!