After ten years in this gig, I know what the people want: cool, delightful, I-never-would-have-thought of that wedding ideas.
It's not always the information I want to impart. I want to help you keep your wedding planning organized, to make sure that you have a wedding day timeline and a wedding stage manager to implement it. I want to make sure you don't cry when you build a realistic wedding budget. But I get it. All of those things are like eating your vegetables. They're important (so you don't end up a crying mess of disorganization on your wedding day). But they're not the delightful things that you can build a Pinterest board around. You're not likely to wake up in the middle of the night feeling excited about your wedding pack list. But wedding ideas? Those are what makes this whole thing worth doing.
Plus, I'm on the record as being SUPER, SUPER pro making your wedding fun, not just pretty. And the best wedding ideas are things you haven't thought of yet that are going to make your wedding a little more fun. So today, after a deep dive of the internet and our own archives, we present you with forty-six of our favorite wedding ideas to make your own. (And if you have a wedding bounce house, invite us please.)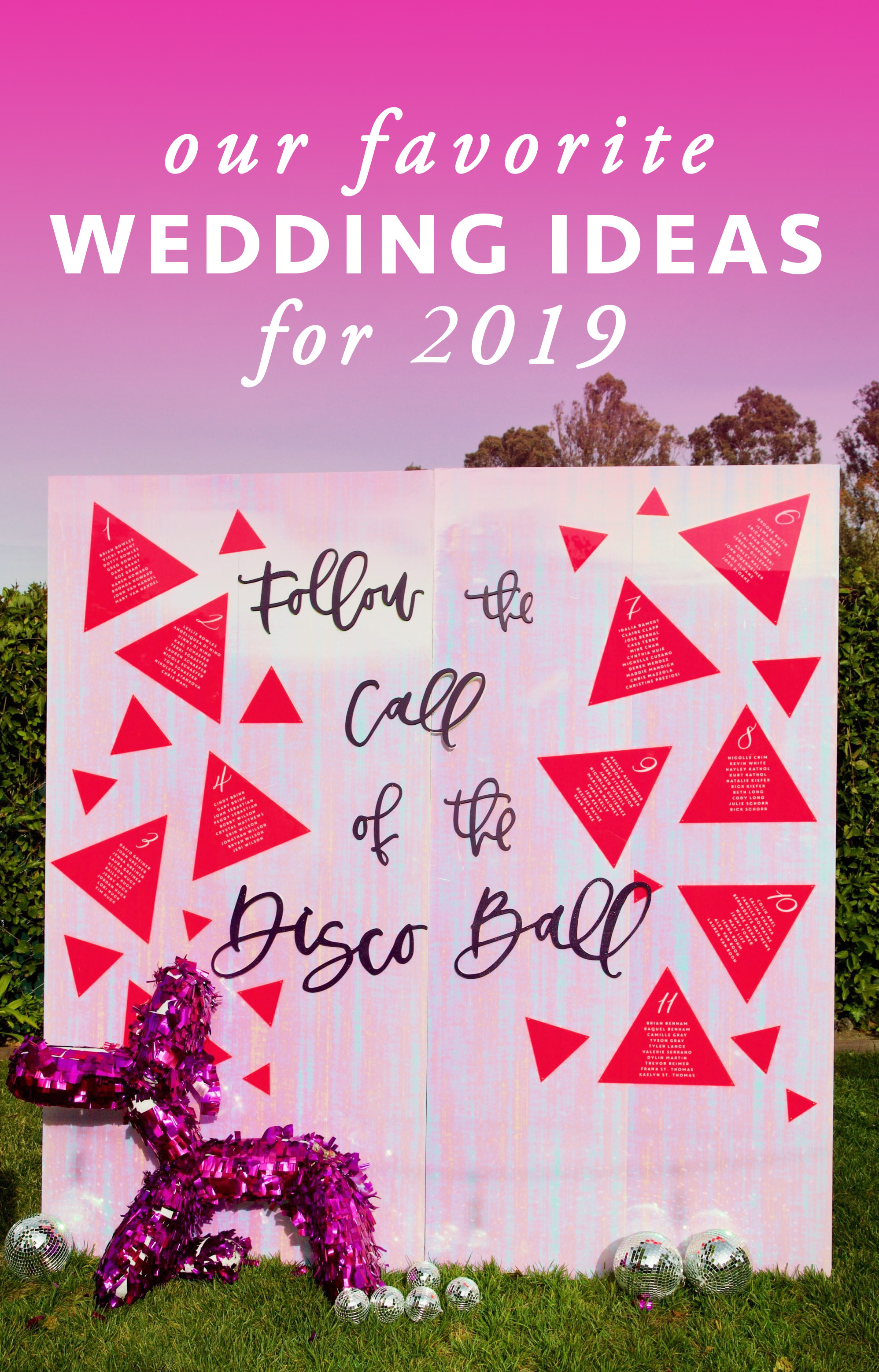 46 Unique Wedding Ideas We Love
DIY Burger Station
Bouncy Castle
Cozy Blankets
Beer Canoe
Beach Ball Toss
Abstract Centerpieces
Advice Coasters
Wooden Coasters
Bridal Jumpsuit
Video Booth
Unity Painting
To-Go Boxes
Soundtrack
DIY Confetti
Shot Seating Chart
Shoe Valet
Shell Crown
Potted Plants
Industrial Candles
Family Picture Table Numbers
Photo Strip
Painted Cake
Mason Jar
Midnight Snack
Memorial Candles
Memorial Pins
Mail Box
Legos
Hangover Kit
Hair Jewelry
Better Together
Fuzzy Cake
Pressed Flower Table Numbers
Bouquet Press
Flower Grannies
Emoji Cake
Drink Saving Coaster
DIY Tattoo Parlor
DIY Flower Comb
DIY Clouds
Crystal Crown
Cookie Cake
Confetti Bar
Charging Station
Live Artist
Caricature Artist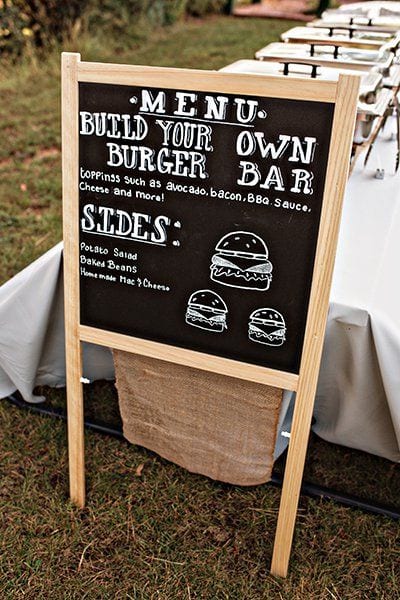 Photo by Amilia Photography via Bridal Guide
DIY burger Station: Give your guests the gift of choice with a build your own burger bar! This budget-friendly menu option is also perfect for guest with dietary restrictions.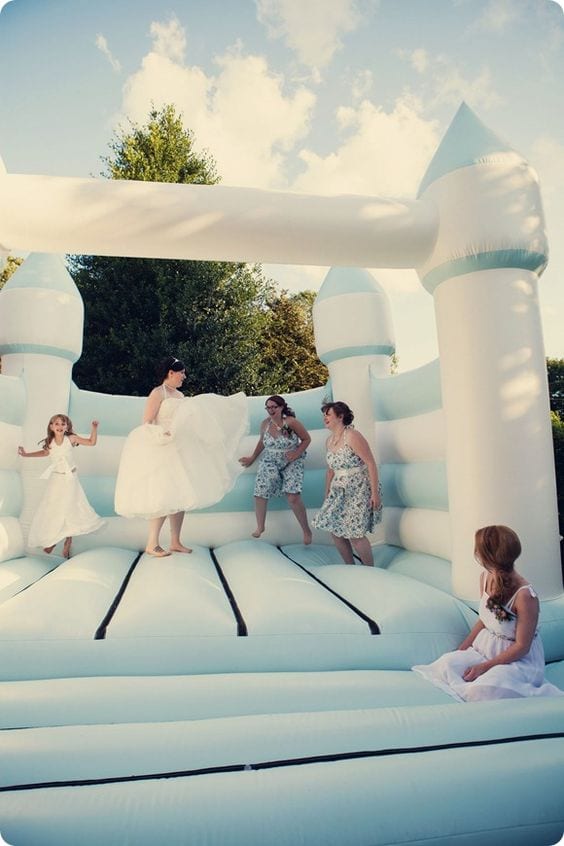 Photo by Asassynation via Brides Up North
Bouncy castle: You'll be able to unleash your inner child with a bounce house at your reception. Plus it'll keep any kids at your wedding busy while the adults get down on the dance floor.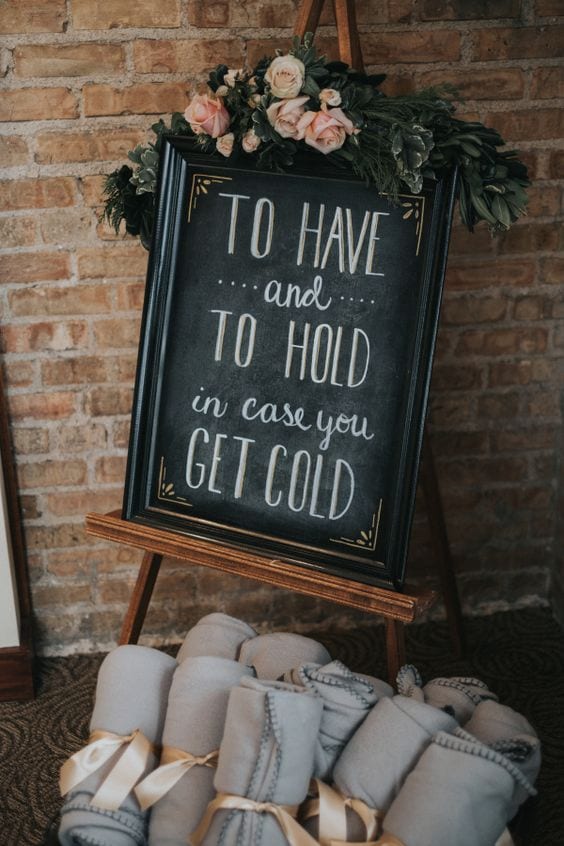 Photo by Uttke Photography & Design via Style Me Pretty
Cozy Blankets: Keep your guests warm and snuggly at your outdoor winter wedding with a ceremony blanket basket!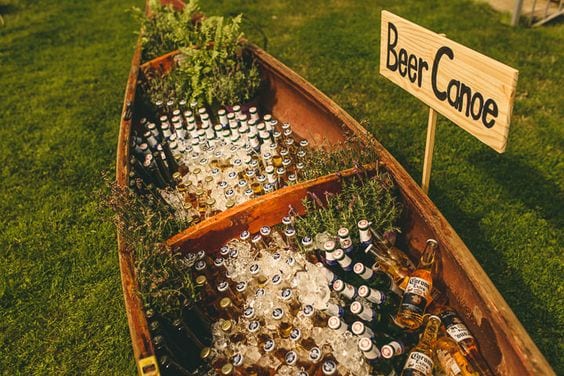 Photo by Ashley Davenport (associate of Miki Photography) via Boho Weddings
Beer Canoe: This beer canoe is a laid-back couple's dream—plus who doesn't love fun(ctional) decor!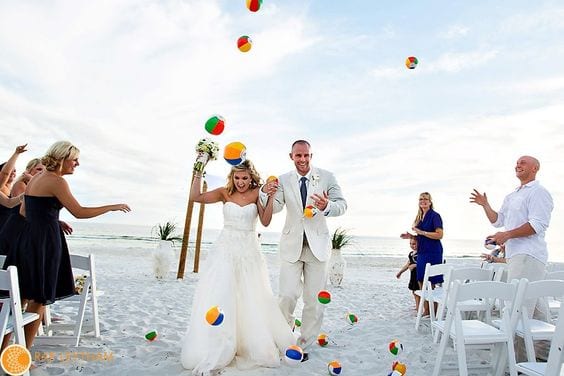 Photo by Rae Leytham Photography via Every Last Detail
Beach Ball Toss: Turn your beach wedding into a party with a mini beach ball toss.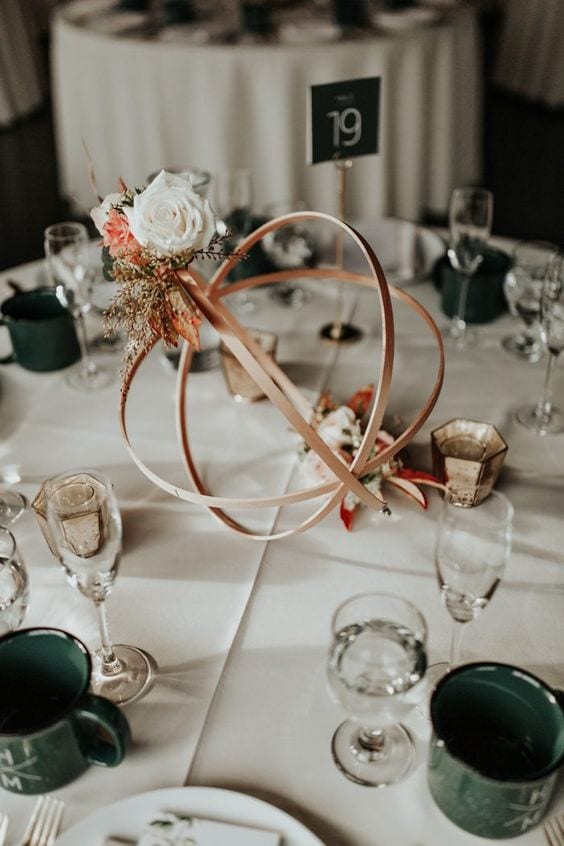 Photo by Karra Leigh Photography via Junebug Weddings
Abstract Centerpieces: Incorporate your wedding ideas artsy side with one-of-a-kind centerpieces.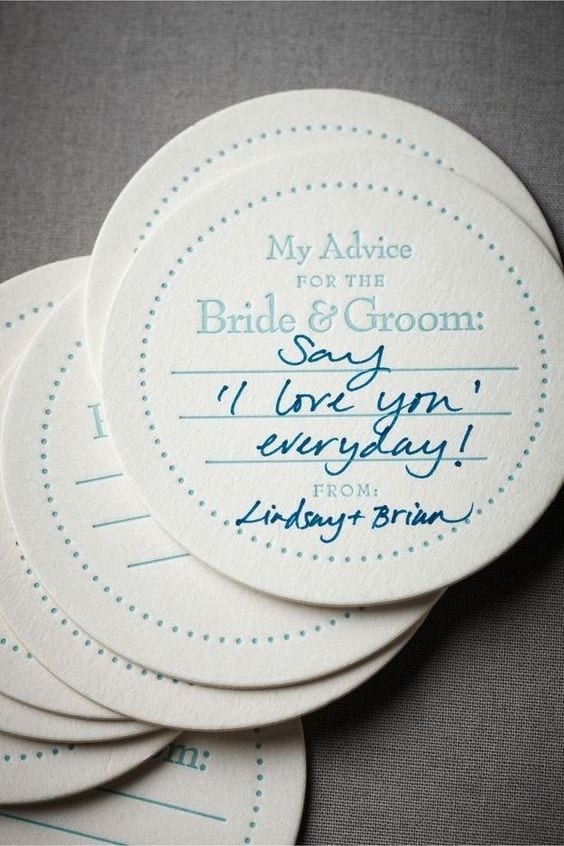 Photo by Two Cents Coasters (Currently Sold Out) via BHLDN
Advice Coasters: Get the advice of all your wise friends and family members with these adorable coasters. Post-wedding you can keep all your favorites and read them with your boo!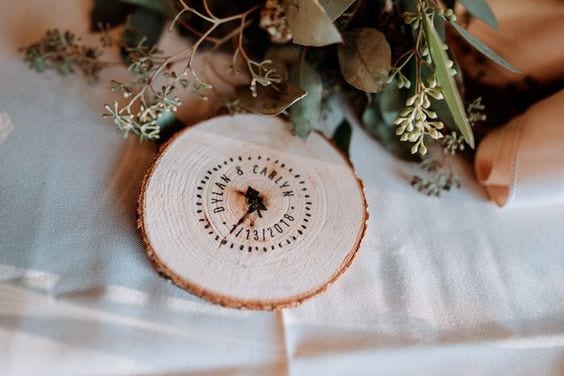 Photo by EarthMark Photography via Junebug Weddings
Wooden Coasters: Add a rustic touch with these monogrammed wooden coasters. You can DIY them with a nifty wedding stamp, or you can buy them premade here!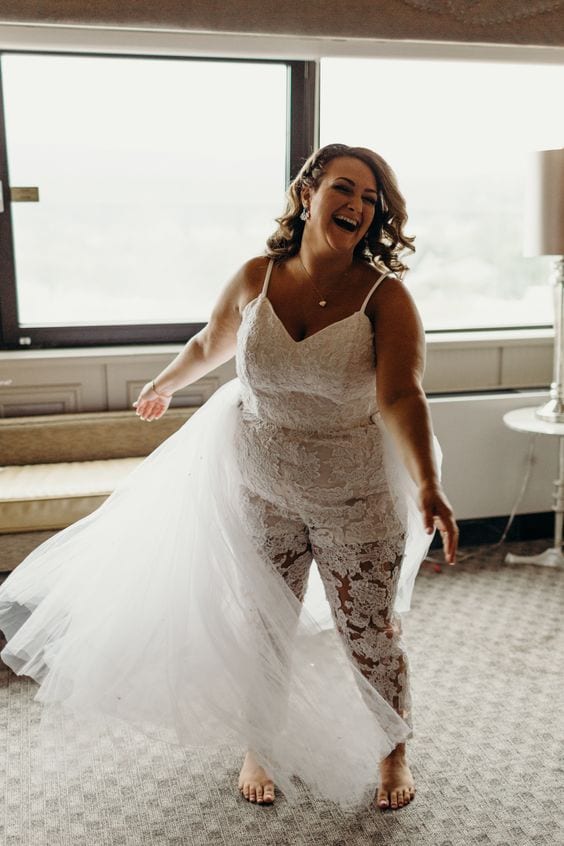 Photo by Tara Beth Photography
Bridal Jumpsuit: The time for a wedding jumpsuit is now. Don't let a bulky gown get in your way on the dance floor!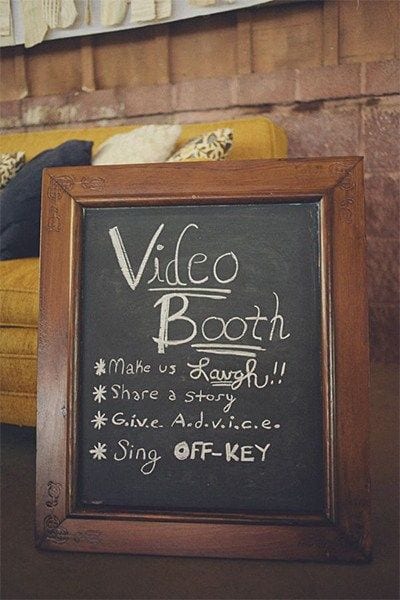 Photo via Pinterest
Video Booth: You might get a drunken ramble, an impromptu karaoke session, or a sweet message from your grandma. Regardless it'll be a message you'll remember forever.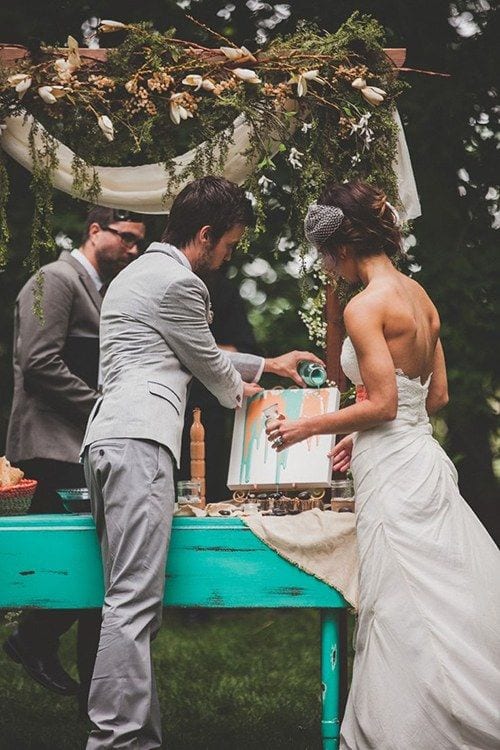 Photo by Gracenote Photography
Unity Painting: Put a twist on your vows, and paint a unity picture. When you're done, you'll have a unique painting made by the two of you to display in your home and remind you of your wedding day, every day.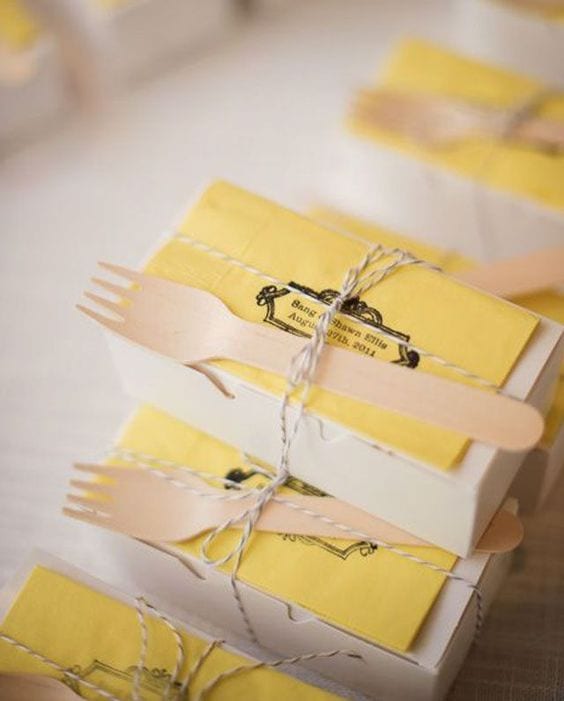 Photo by Bliss Weddings & Events via Mon Cheri Bridals
To-go boxes: Don't worry about cutting your dance time short to grab a slice of cake before it's all gone. To-go boxes will ensure that you and your guests will have your cake and eat it too.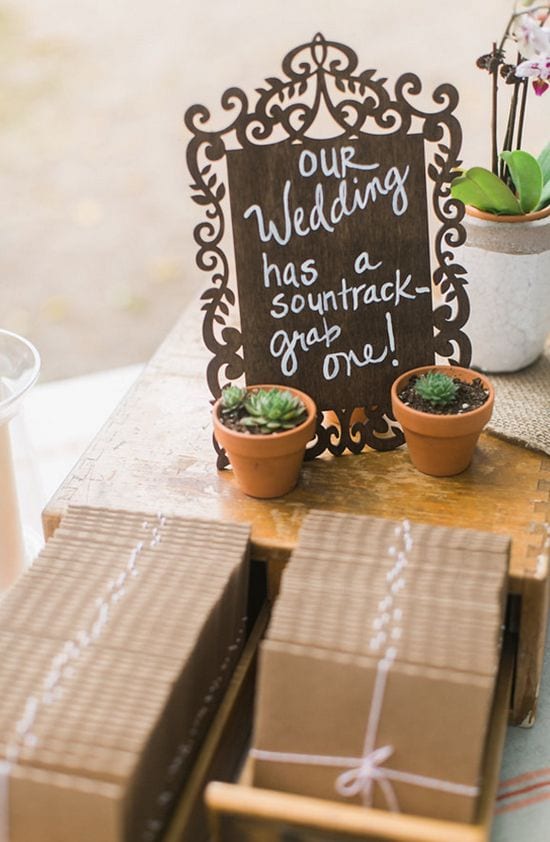 Photo by Catherine Rhodes Photography via Wedding Chicks
Soundtrack: Load CDs with all your love story anthems and favorite sentimental songs so your guests will think of you every time they're rockin' out in the car.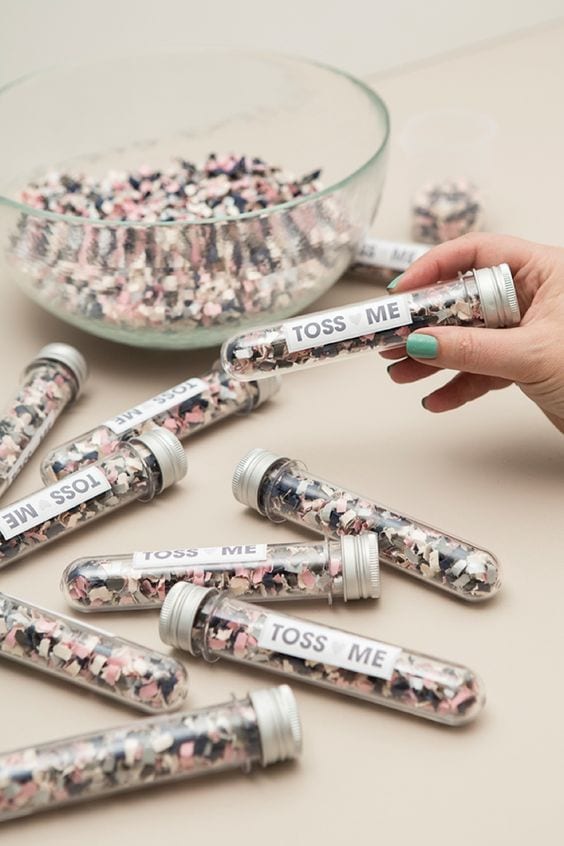 Photo by Jen Carreiro via Something Turquoise
Diy confetti: Take this opportunity to shred all your old mail (or colorful flyers and coupons) to create your own confetti. More on how to make these wedding ideas and others here!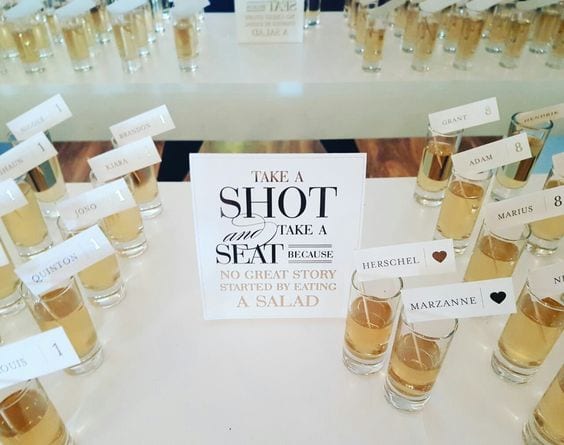 Photo by AndStory via I Do 4 U
Shot Seating Chart: Get your guests in a festive mood early with a shot seating chart. Of course, everyone doesn't have to take one (i.e., your grandma or your sober friend), but theirs can easily be switched out with another tasty beverage. Just mark their escort card so they know it's safe to imbibe.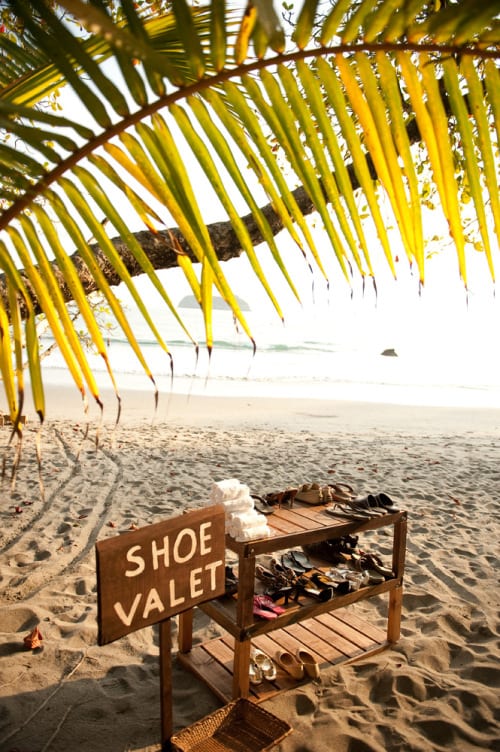 Photo by Comfort Studio via Weddings Costa Rica
Shoe Valet: We all know that heels and soft surfaces don't mix, so save everyone the struggle at your beach wedding with a shoe valet. Bonus points for small hand towels to wipe down feet after the wedding.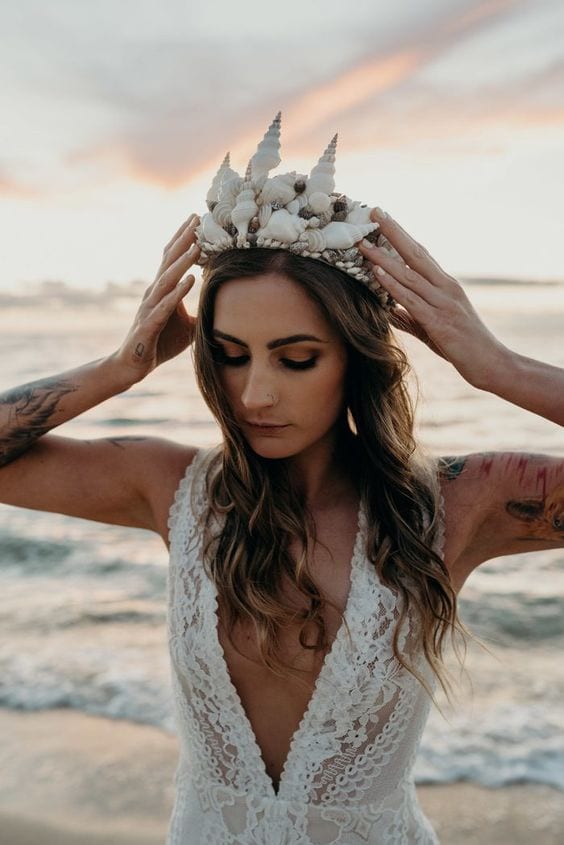 Photo by Tahnee Jade Photography via Junebug Weddings
Shell Crown: Embrace your inner sea goddess with your very own shell crown. Find a handmade one on Etsy, or DIY it with your bridesmaids as a fun bachelorette activity. You can go as simple or complex as you'd like.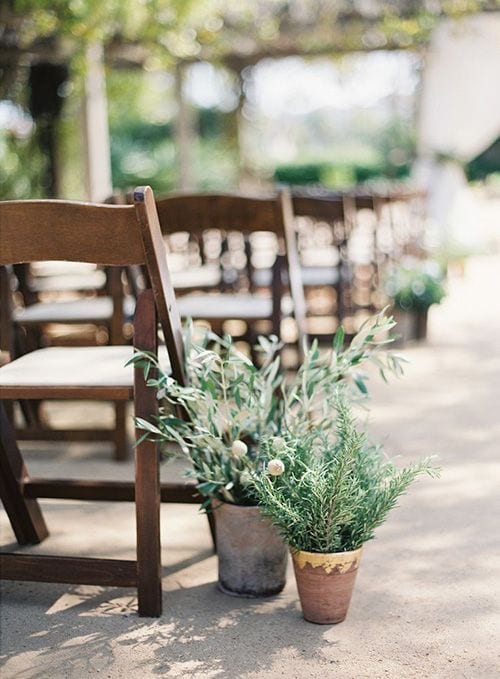 Photo by Jonathan Canales via Brides
Potted Plants: Line your aisle with potted plants to create a laid-back natural vibe for your ceremony.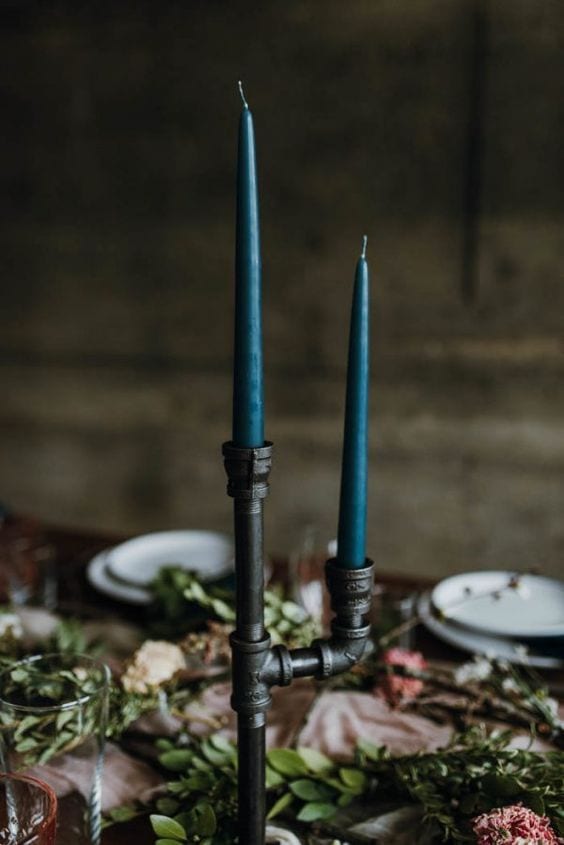 Photo by Jessica Heron via Junebug Weddings
Industrial Candles: Colored candlesticks and dark metal pipes are an absolute dream combination to execute your romantic industrial wedding ideas.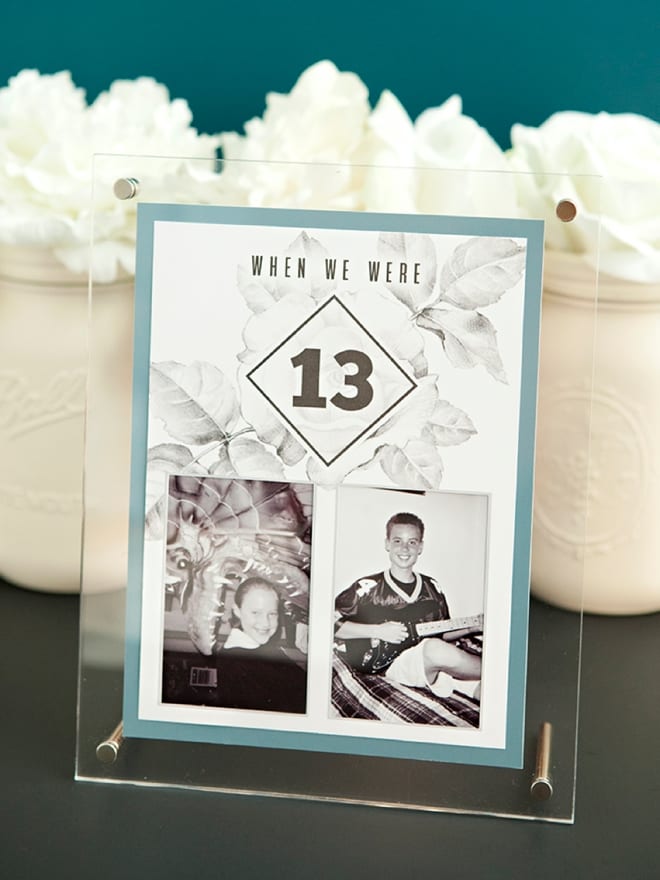 Photo by Jen Carreiro via Something Turquoise
Family Picture Table Numbers: Break out your most adorable (and most embarrassing) baby pictures for these photo table numbers. You can space them throughout the tables, or you can correspond your age in the picture to the table number.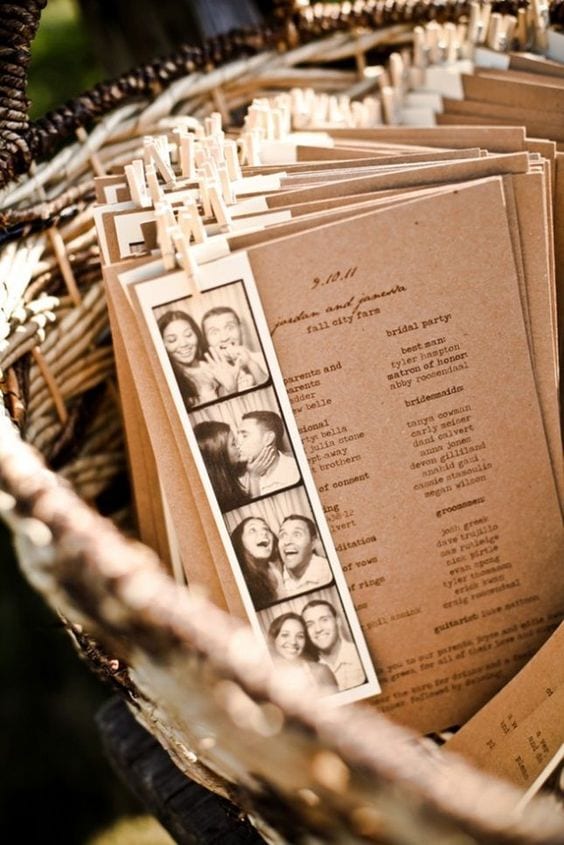 Photo by Becca Howell Photography via Rustic Wedding Chic
Photo Strip: Add a personal touch to your ceremony with a simple a photo strip (or a copy of one) of the two of you.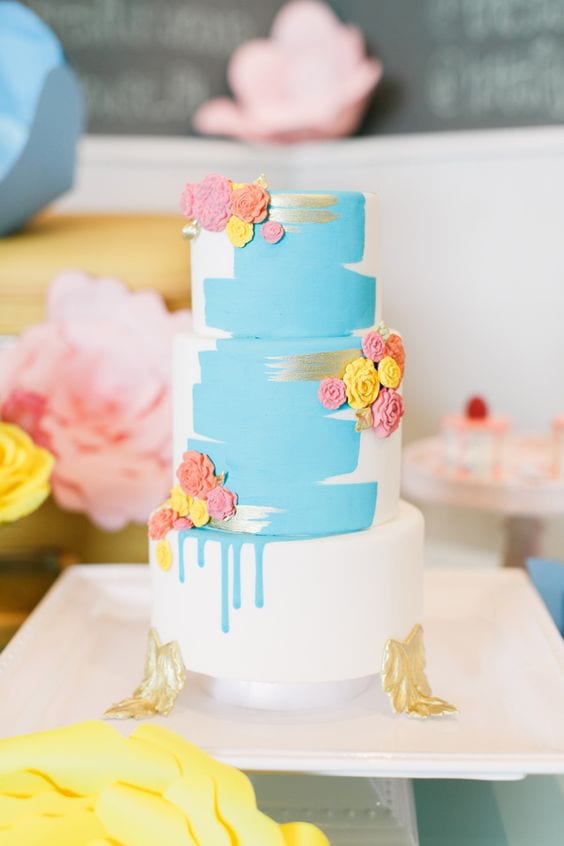 Photo via Deer Pearl Flowers
Painted Cake: For a gorgeous mix of polished meets handcrafted, consider a brush-stroked painted cake.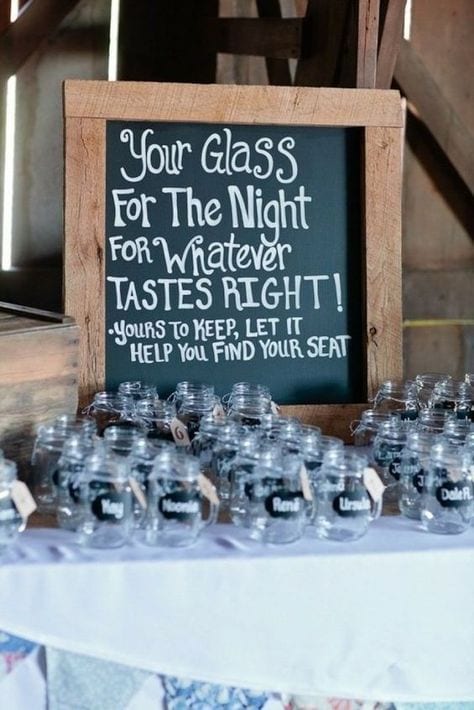 Photo by Andrea Paradowski Photography via Style Me Pretty
Mason Jar: This is one of those wedding ideas your guests will be grateful for: a favor they can use before the wedding's even over. These labeled mugs will get your guests seated, drinking, and thankful that their cups won't get swiped or cleared away before they're done.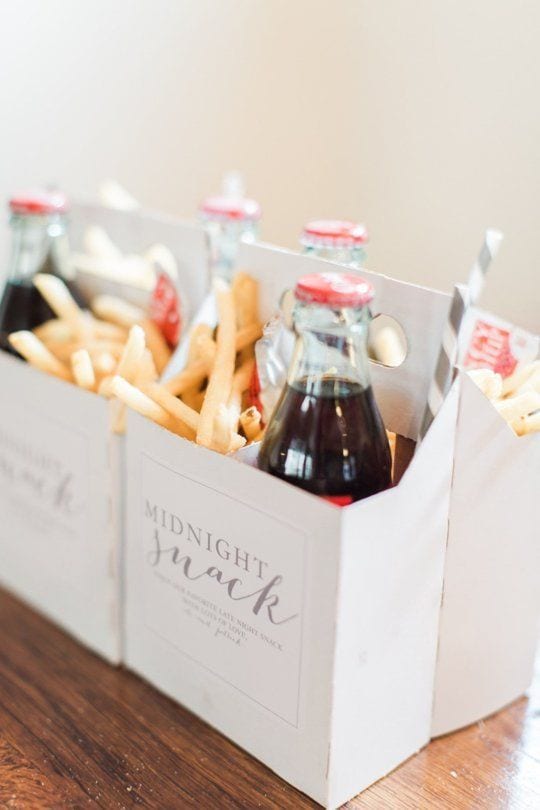 Photo by  Elyse Hall via A Dash of Details
Midnight Snack: Dancing takes a lot out of you, and fun midnight snacks are the perfect way to make sure you and your guests can keep going all night long. We've seen everything from In-N-Out, to pizza, to popsicles, to milk and cookies, and beyond!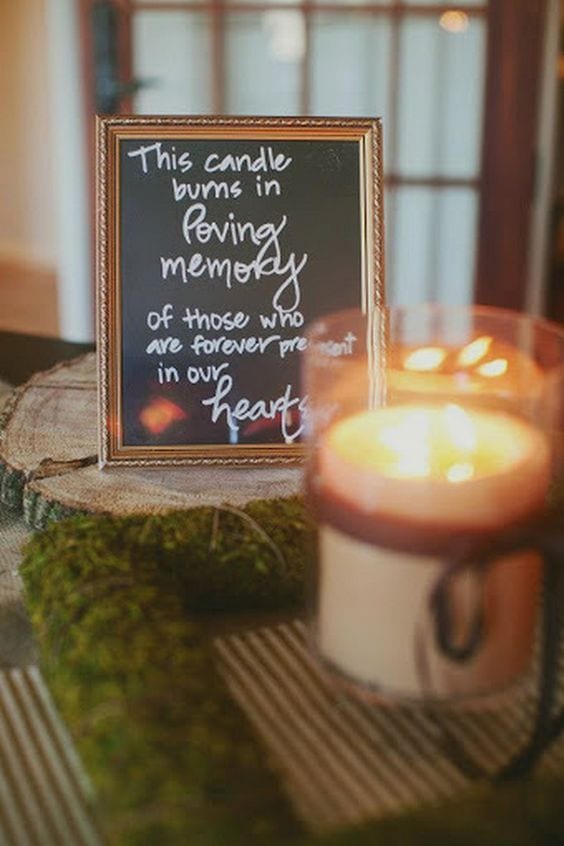 Photo by Heidi Geldhauser of Our Labor of Love via Amanda Macy Hall
Memorial Candle: Pay tribute to your lost loved one with a memorial candle at your reception.
Photo by Shea Christine Photography via Easy Weddings
Memorial Pins: Or if you'd like to add a more personal touch to your memorial, you can customize lockets with pictures of loved ones and pin them somewhere close to your heart. Pinning to the ribbon of a bouquet can also be beautiful.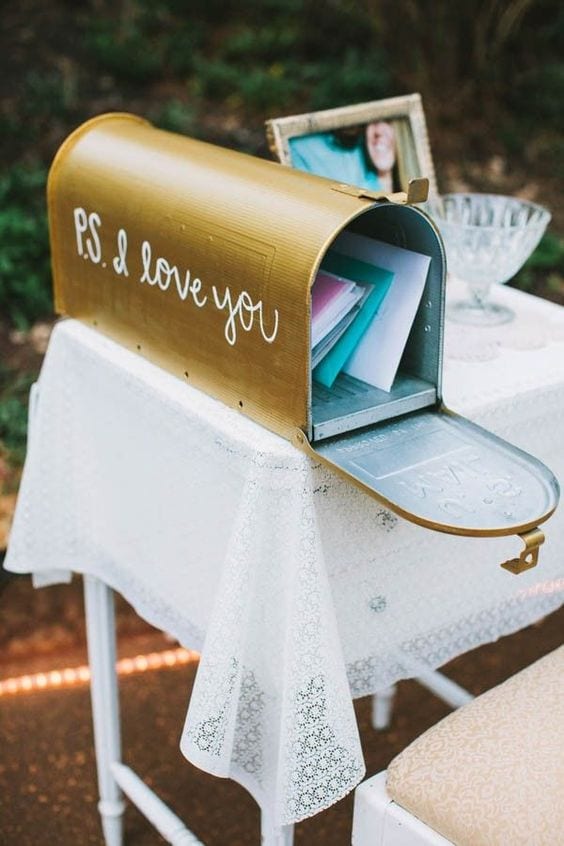 Photo by Let's Frolic Together via Junebug Weddings
Mail Box: DIY your card box with a hand-painted or vintage mailbox. Guests can slip their cards inside and the mailbox doubles as decor on your gift table.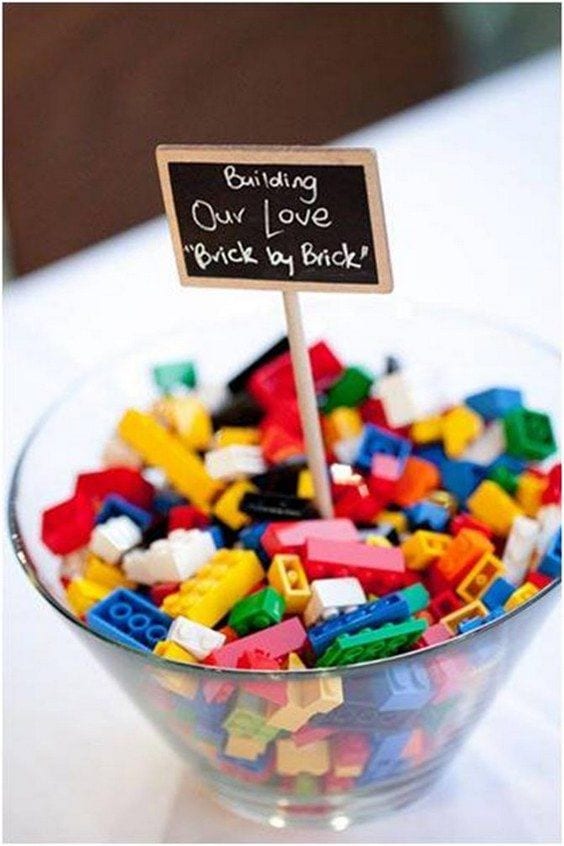 Photo by Gemma Clarke Photography via Woman Getting Married
Legos: A fun addition to the kid's table, Legos are sure to keep the kids busy long enough for their parents to get a few dances in (your adult guests might get a kick out of them too).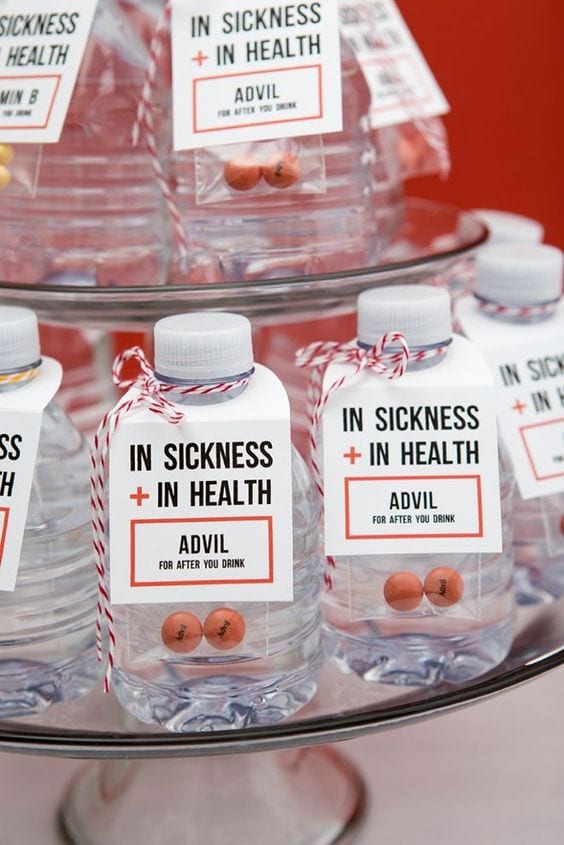 Photo by Jen Carreiro via Something Turqouise
Hangover Kit: If you know that your friends and family might go a little hard at your reception, consider putting together Hangover Kits for the bridal party or out of town guests, or as a wedding favor for everyone. Tutorial for this and other wedding ideas here.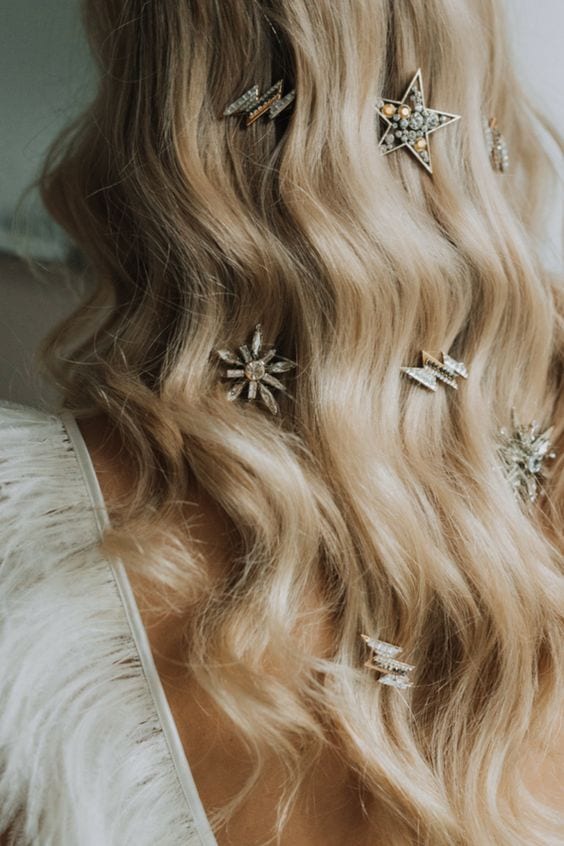 Photo by Tilly Thomas Lux via Vogue Paris
Hair Jewelry: Wedding day bling isn't just for your hands. Add a little sparkle to your hair with hair jewelry.
Photo by Renée Hollingshead via Style Me Pretty
Better Together: One of the less typical wedding ideas is instead of getting ready for your wedding with your bridal party or alone (if you don't have a bridal party), get ready with your soon-to-be spouse. It can help ease your nerves and give the two of you some much-needed alone time before the festivities begin.
Photo by Alana Jones-Mann via Instagram
Fuzzy Cake: The frosting effects on a fuzzy cake makes it just look so touchable! This colorful confection will add texture to your cake table.
Photo by Apryl Ann Photography via Brides
Pressed Flower Table Number: An alternative to flower centerpieces, try pressing flowers in your table numbers.
Photo via Pinterest
Bouquet Press: Press your bouquet into a frame with your wedding pictures to create a lifelong keepsake.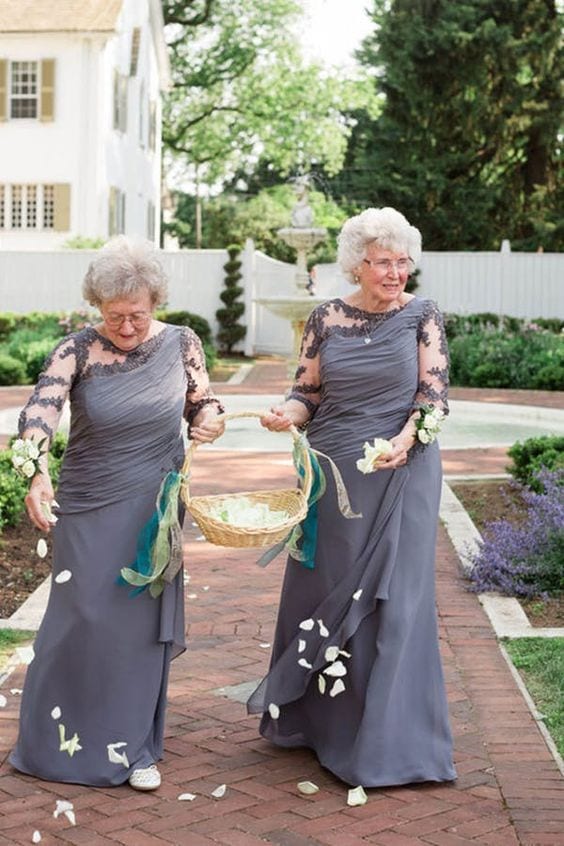 Photo by Ashley Elizabeth Photography via PureWow
Flower Grannies: Honor the wisest ladies in your life with a floral processional entrance.
Photo by Tortik Annushka via Instagram
Emoji Cake: Give your cake some personality with fun edible emojis.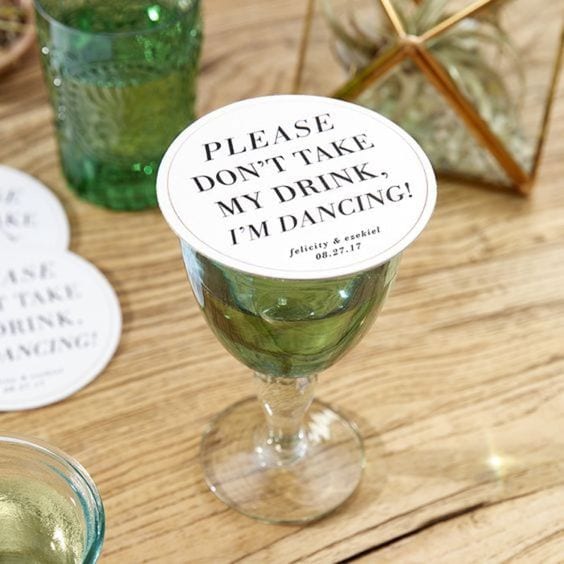 Photo via Pinterest
Drink Saving Coaster: Make sure your drinks are safe while you're dancing the night away with these handy coasters. Find something similar here!
Photo by Moment Studio via Junebug Weddings
DIY Tattoo Parlor:  Create your own DIY tattoo parlor with customized temporary tattoos for a fun and easy reception activity.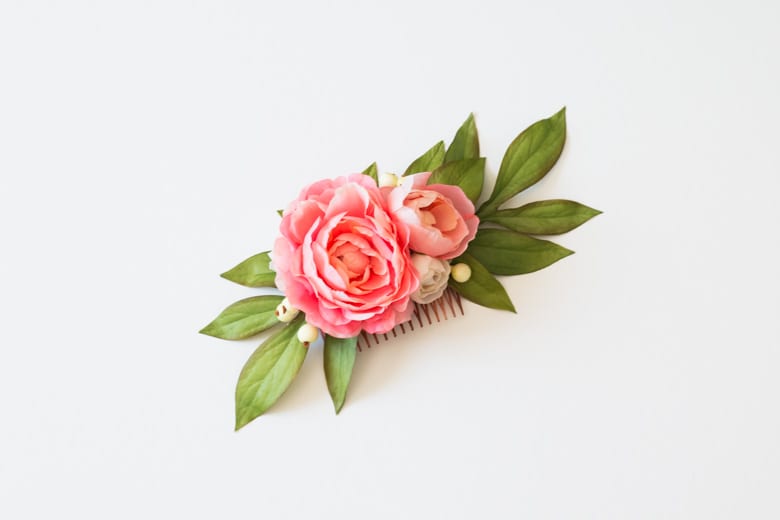 Photo via Style Inspired Weddings
DIY Flower Comb: Create your own headpiece with fresh or silk flowers to add a floral detail to your wedding hair.
Photo by Allison Andres via A Practical Wedding
DIY Clouds: Make your ceremony or reception space extra dreamy with a DIY cloud backdrop. (Confession: We created this wedding idea ourselves, and it's amazing IRL.)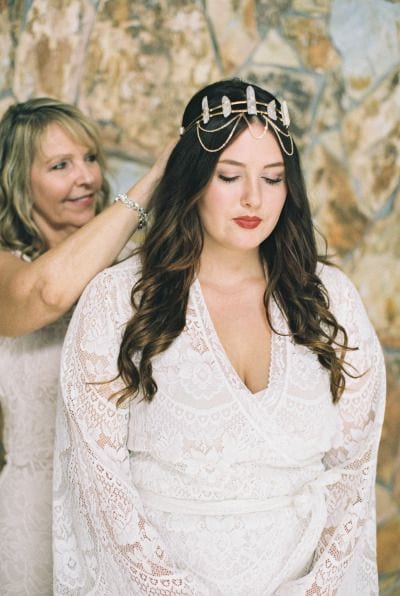 Photo by Kati Rosado Photography via Style Me Pretty
Crystal Crown: Invite in the good vibes with your own crystal crown. Quartz, amethyst, rainbow, and beyond—your options are nearly unlimited.
Photo by Great Dane Bakery via Instagram
Cookie Cake: Cookie lovers rejoice, finally a wedding cake to satisfy your wildest wedding cake dreams.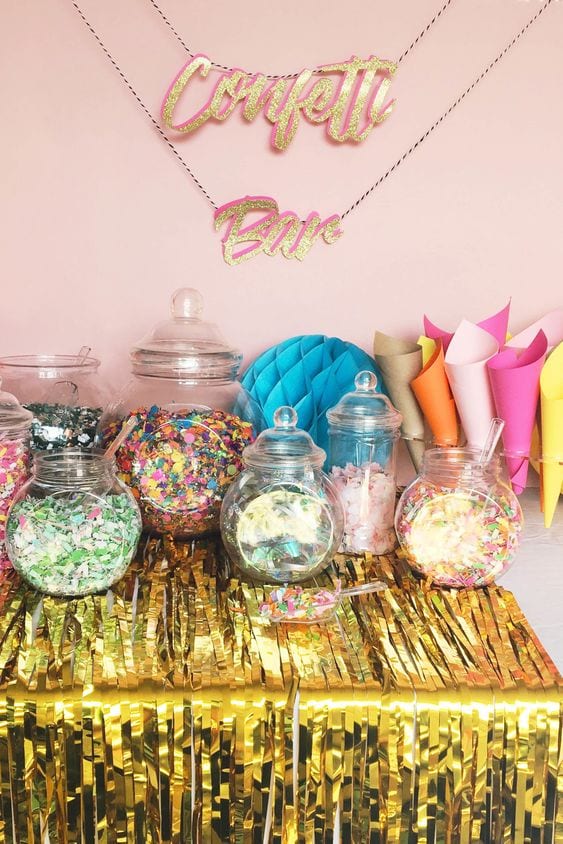 Photo by Rachel Emma via Rachel Emma Studio
Confetti Bar: Is this our very favorite of all the wedding ideas? Possibly. Let your guests mix their own confetti concoction for your exit toss!
Photo by Capture Photography via Bridal Guide
Charging Station: Keep your guests charged and ready to go for your selfie-filled night.
Photo by Emily Delamater Photography via Junebug Weddings
Live Artist: For this wedding idea, hire a live artist for a twist on the traditional ceremony picture. While you exchange your vows, have a pro create a timeless piece for your mantle.
Photo via Wedding Mix
Caricatures: Skip the photo booth and incorporate a little bit of carnival into your wedding with a caricature artist.
Did you have any fun/weird/creative wedding ideas at your party? Planning any surprises? Want to know if that thing you saw on Pinterest is really realistic? Let's meet up in the comments!