Everyone has an issue or two that grabs them in the gut, and make them want to shake the world and get it to change. For me, it's the family name issue. It's not that I think there is one solution for everyone. It's that it angers me that women are left to deal with the whole complex situation, while men get a free pass. You change your name, it's your mourning process. You keep your name, it's you fighting relatives until the end of time. You hyphenate, it's you who caused the clunky solution and stripped your partner of his pure family name. (Note: We need a Remember The Lesbians post on this one…) Men who change their names have a special place in my heart (you can see two past posts on the subject here). Today's post by Dan (Doucet) Nicholson, takes it a step further. He not only shares the burden with his partner, he willingly makes a choice that is profoundly personally difficult. On behalf of women everywhere, correcting people who address them by their husband's last name, Dan, I salute you. Welcome to the team.
—Meg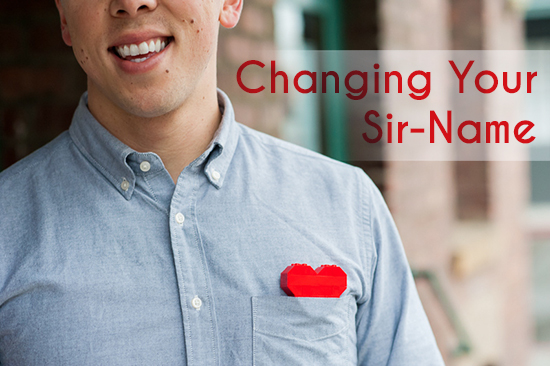 Equality. It's a very broad stroke. For myself, it means that everyone is equal regardless of their race, gender, sexual orientation, disabilities—anything. It's a goal that I firmly believe in, and I believe that the world would be a much better place if all people were treated as equals.
I've been dating a wonderful woman for nearly four years. She is my best friend and I would do anything for her, as she would for me. Early on in our relationship we discussed the topic of equality and what it meant to both of us. In particular, we discussed equality in a relationship and the importance of teamwork, communication, and cooperation—a small list of values that I would hope is relevant to every relationship.
She and I talked about marriage a lot in our relationship; it was something we wanted, but wasn't feasible at the time. We were living in a city with little job prospects (a simple dishwashing job had over two hundred applicants—seriously). In order to build our family, our only option was to move from the city we loved and look elsewhere.
When I started my professional career, my dream was to work at an advertising agency. The one thing I understood very well about advertising is that it's all about brand—personally and professionally. During our talks about marriage, we discussed a family name (something that usually arises when a couple talks about getting married). We talked about each option in great detail:
She takes my last name: The tradition here is that she is handed off as her father's property to my property. While she values traditions, we both hated this thought. She isn't my property, she's my partner.
Hyphenate: This is somewhat modern, but what happens when our son/daughter meets Jane Doe-Smith and they get married. They'll be named HerName-MyName-Doe-Smith. No dice.
Keep our names: This is another somewhat-modern solution but for us, we wanted one family name. We didn't want to have to choose which last name our child takes, leaving the other parent as a bit of an outcast. Not only that, but practically it leaves something to be desired—the rules have become far more stringent when traveling to other countries with children; the parent who shares the child's last name would have to provide written consent.
Create a new name: This is another modern solution that's picking up, but our last names do not merge well. That, and we hated that idea. Continue reading Changing Your Sir-Name