Today I am jumping around the living room, because I'm that excited to introduce you to a new series for Reclaiming Wife. Long time readers will remember Sara & Stof's rather amazing South African wedding (Sara is also a regular commenter, who comments as Saartjie). Well, the wedding was just the tip of the iceberg with those two. Since then they've been cooking up plans to sail half way around the world together and documenting it all on their blog Stofnsara. I've been excited by this project, and thrilled at the way the Hillratts are breaking the mold of what a marriage can be, and expanding my horizons. Because of that, I asked Sara if she'd write a little series about what she's learning along the way. Well, actually, I planned to ask Sara to write the series, and the very same day she emailed me with a question about money and marriage, that we'll tackle on Thursday. But today, Sara is introducing the project. The Hillrats leave at the beginning of February, and she'll report in as she can. That way, all of us get to learn what she's learning, and follow along as she sails around the world. What could be better?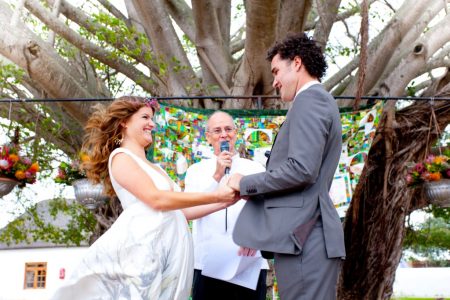 Stof and I married last year in September. Like so many of the people who read this blog, I stumbled upon APW looking for wedding inspiration. Within a couple of weeks, I'd practically stopped even looking at all the "wedding porn" I'd been addicted to for months of wedding planning. I realised that our wedding would look like no other wedding out there (or, thankfully, that no other wedding would look like ours). I stopped being interested in what other weddings looked like, but in how other brides felt and thought.
We had a four-day wedding extravaganza at a venue that had never been used for a wedding our size (the reception hall had not been used as anything really for about 50 years). 180 of our friends and family trekked out to a nature reserve at least three hours away from their homes for a celebration that was full of copious laughter and memory-building. It felt like we had pulled off a party that was both spectacular and unassuming and so close to our personalities.
I re-hash the wedding story, because we felt like, together, we could do anything we set our minds to.
So we began to talk about the life we want to live: the family we want to grow into. Adventure, tolerance and the pursuit of fresh perspective were (are) central to many of those discussions. We want to introduce our children to a certain kind of life-philosophy for which travel will be the tutor of many lessons. But we decided that if we want to travel as three or four or more, we'd best be in the habit of adventuring as two.
At about the same time as we started mulling about these things, we were inspired by friends who had taken their own year-long adventures as couples. One couple lived in a small town in Argentina learning Spanish, another rode around India on a classic motor bike and another took off around Africa in a 4×4. Two more friends are just now coming to the end of a two year sailing circumnavigation. If our friends could do it, we reckoned, so could we.
We dreamt the craziest dreams about the trip we could take. We fantasised about the places furthest away from home (South Africa) and, on a semi-whim, we decided to travel around the Pacific Rim using all manners of different transport. Continue reading Reclaiming Wife: Introduction to the Hillratt's Voyage