You just got married, congratulations! The dust is settling, and hopefully you've had a moment to finally chill out. And before you know it your photographer is giving you your wedding photos, and just like that, all the chill you have in you goes right. out. the. window.
Your photos are amazing and you want to share them with everyone you know, so what's the first step? Share your faves on social media, duh. And then what? Now you have a million pictures from your wedding taking up space on your phone or the cloud or wherever they are, and they're just there.
(And even if you didn't just get married, I know you have a bunch of photos from a recent vacation or you know, that super cute pet of yours waiting to be seen.)
Gone are the days when personalized photo gifts meant coffee mugs for Granny with your face on it or the regular old coil-bound photo calendar. Now there are a bunch of options from fancy-shmancy photo books with gold foiling to super warm woven blankets with that pretty face of yours (or your pet's) on it. (Too extra? No such thing.) Now anyone with a camera or a smart phone can get unique and stylish customizable gifts that look like a million bucks that won't break the bank.
And on that note, the holiday season is right around the corner, and it's the perfect time to do something tangible with those photos. I know I say this every year, but seriously, where has the time gone? December is fast approaching. If you're in need of an easy gift that doesn't involve leaving your couch to purchase, look no further. I've rounded up all of my faves right here. And I threw a present in there for you. A free little present that you can make DIY projects with (yes, for real). More on that below!
Social Print Studio Giant Photo Strips (2 for $20)
Giant Photo Strips: Tired of gallery walls? Me too. Freshen up a home office or family room with a modern take on nostalgic photo strips. They may not be candid or small enough to fit in your wallet, but you're sure to hit the recipient of this gift right in the feels when they unwrap this sweet present.
Artifact Uprising Brass & Wood Display Boxes (starting at $55)
Brass & Wood Display Boxes: Sometimes you just need to switch things up, and with this photo display box you can do just that. Tired of the photo in the frame? No problem. Easily switch it out for another photo in your collection. And trust me, you'll have plenty of photos to choose from, these display boxes hold up to fifty-five of them!
Mixbook Acrylic Photo Blocks (starting at $49.99)
Acrylic Photo Blocks: We're BIG fans of acrylic photo blocks here at APW, and it's easy to understand why. These photo blocks look great no matter where you put them, and they are super minimal with a big impact. Pro-tip: Use photos with bright backgrounds, and consider placing them on a windowsill or another place where light will flood through them.
Shutterfly Woven Photo Blanket ($120)
Woven Photo Blanket: When in doubt, take a page from Meg's book and plaster your best friend and her new fiancé's faces on a woven blanket! For those of you wondering how this gift actually went over, they laughed, they cried, and it's now the favorite house blanket, known affectionately as "the face blanket." Of course you get bonus points if you have your friend's faces super-imposed onto Brad Pitt and Gwyneth Paltrow like in this particular blanket, but it's a win in literally all forms.
Minted Stacked Year Hanging Bar Calendar ($22)
Hanging Bar Calendar: Okay, I might be biased on this one. I got this calendar as a gift for myself last year because I was looking for a calendar that was A) simple and chic and B) not too chunky. And well, we're almost all the way through the year and I'm still not tired of it. The hanging bar made it easy for me to hang on the wall. Later, I moved it to my refrigerator, and it looks great there too. It also helps that the bar is magnetic and reusable (even after the year is over)! Extra Credit: This gift requires picking exactly one photo, unlike most calendars which involve hours of culling through your phone for the perfect twelve pics.
Artifact Uprising Everyday Photo Book (starting at $49)
Everyday Lay-flat Photo book: Maybe you just got married, or had a baby, or went on an epic vacation. You know all those photos you have now? Well, this is a perfect and beautiful way to store those memories. These lay-flat photo books come with fabric bound covers in multiple colors and even have the option for metallic foil titles too!
Shutterfly 16 Square Framed Photo Collage ($59.99)
Square Framed Photo Collage: Share your travels with your loved ones, or with your parent who isn't on Instagram, with this sleek framed photo collage. All you have to do is upload your favorite or most colorful photos from your adventures and get ready to tell everyone how amazing your journey was.
Adoramapix Metal Print Clusters (starting at $159)
Metal Print Clusters: Go big or go home, amiright? If you're looking for a bold, statement-making gift, these metal print clusters make it super easy to create your own triptych—no paint necessary!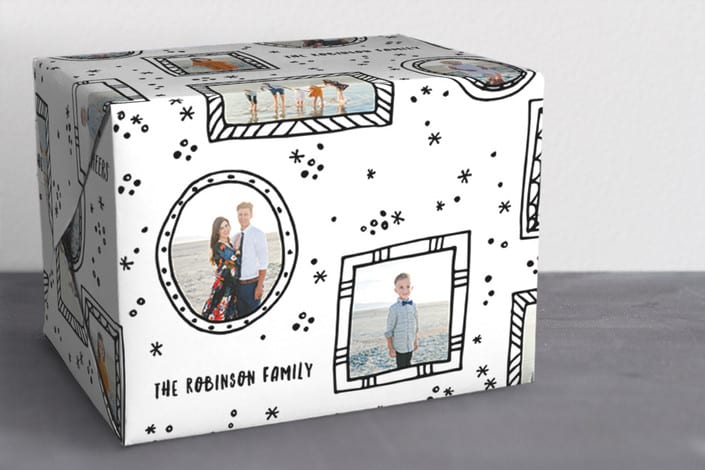 Minted Funky Frames Wrapping Paper (5 sheets for $15)
Wrapping Paper: Meg swears by personalized holiday paper (here is her favorite, which she does every year in all black and white.) Personalized wrapping paper is a surprising hit with parents and kids. Plus, it looks so good  that Meg's family just straight up puts a sheet on the wall sometimes.
Parabo Press Square Prints (first set free!)
Square Prints: Told you I left you a freebie in there! These prints can be gifted in SO MANY WAYS, and that's why I get them year after year. Last year I used photos from my travels, and when I received my prints I used them as gift tags and wrote a sweet note to my loved ones on the back (they are the only gift tags my family has ever kept)! Parabo Press also shows how you can use them as recipe cards like the photo above, what a heartfelt gift!
Artifact Uprising Brass Easel Photo Desk Calendar (starting at $55)
Brass Easel Desk Calendar: Say goodbye to old-school tear-away desk calendars, and say hello to this sleek and modern brass easel desk calendar that's sure to stop coworkers dead in their tracks. I like this so much, I just might have to get one for myself!
Social Print Studio Square Magnets (10 magnets for $14)
Square Magnets: When you're in need of something small, or even some stocking stuffers, magnets can be the perfect way to personalize trinkets for your family and friends. And don't worry, I won't judge you if you get all ten magnets with your pet's face on it. My love for my cat knows no bounds, and I would totally pass out magnets with her face on them like candy.
What photo gifts have you given or received? Which ones were your favorite? Do you have any tips or tricks for DIY projects with photo prints? Share them in the comments below!