This is a paid post from an APW sponsor. For more about APW and how we make money, please click here.
---
Look. I'm never going to be one of those people with a bunch of perfectly organized photo albums, and an annual portrait session with my partner. In fact, we are constantly scrambling to find pictures because, uh, I hate having my picture taken, so it doesn't happen very often. But the most amazing thing about APW vendors is that every time I meet them in person, I find myself thinking "ooooooh, I get it! I would totally vamp it up in front of their camera!" Because these photographers are seriously brilliant at putting people—even us please-don't-take-my-picture-people–at ease. And you don't have to be getting married to get these photos! Because here's a trade secret: if you don't want to spend all the moneys on a professional photo of you and your partner, fall is the best time to snag a deal. Many professional wedding and portrait photographers set up "mini-sessions" in late fall or early winter, which are short portrait sessions that you can get for a fraction of a normal sitting fee. We're talking starting prices of $75 for absolutely stunning photos that only require about fifteen minutes of your time.
So, to save you from searching, here are a handful of mini-session specials being offered by APW vendors and sponsors. And if you're not seeing anything in your area below, you can always cruise the vendor directory to find someone who's nearby. And if you are, in fact, planning a wedding (I mean, this is a wedding planning site)? We've got some great deals for you, too, including 20% off packages that could save you, oh, $600. Which is great, because I can think of about 50 things I could do with an extra $600 right now, and only ten of them are new shoes.
And photographers aren't the only vendors who offer specials this time of year. Officiants and florists are also starting to book their calendars for 2020, which means you can plan ahead and get a great price from great vendors—meaning you can cross that item off your list, and move into the holidays knowing you've gotten a deal.
WHO: STudio A Images
WHERE: NEW YORK AND NEW JERSEY
WHAT: If Adena of Studio A Images is cool enough for these two smoking hot brides and members of Beyoncé's crew (not even kidding), then she defo is for the rest of us. Seriously, we're pretty proud of our eye for talent because we've been singing Adena's praises for hers—and she's definitely been singing yours. She loves working with APW readers so much that she's offering $350 off all packages booked by December 31st. (And her most popular package is already a very reasonable $3,800 for 8 hours of coverage, so no need to worry that it's like, Beyoncé prices. 😉)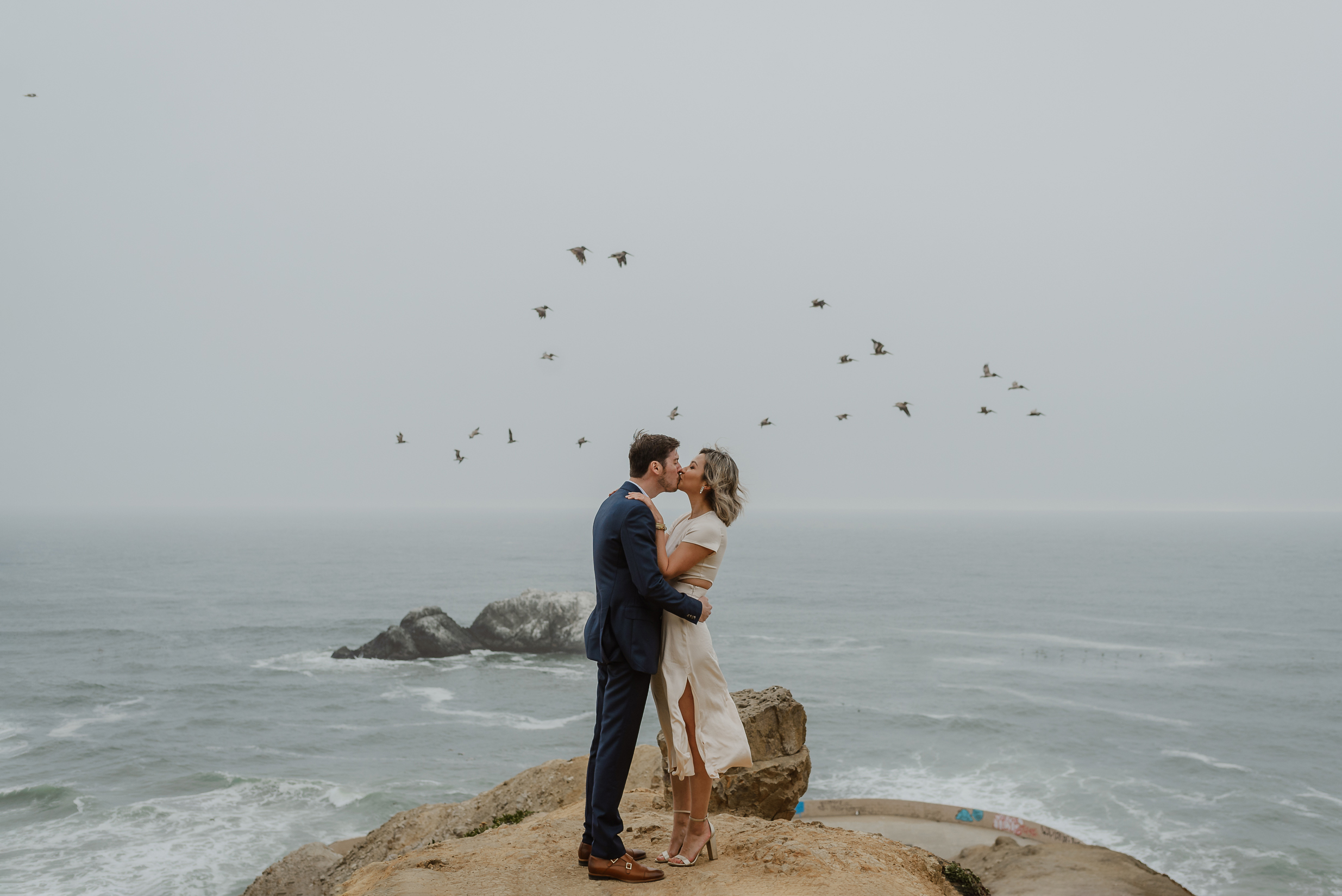 WHO: Vivian Chen Photography
WHERE: San Francisco, California
WHAT: Vivian Chen, longtime APW fave and master of the San Francisco City Hall wedding, is offering holiday mini-sessions and elopement packages. Mini-sessions are $350 for 20 minutes, and she's offering an additional hour for free on elopements to allow for portraits in a secondary location. Because who says you can't have skyline city glamour and redwood groves in one elopement? Not us, and not Vivian. Vivian's calendar to book these is right here!
WHO: Leise Jones Photography
WHERE: Boston, Massachusetts
WHAT: Leise is offering 20% off any wedding photography package booked before January 31st. All packages include a "Get to Know You Portrait Session" (hot tip: this is a great time to get some fun pro holiday portraits and get to know Leise), high resolution digital files, and online gallery. Packages start at a very reasonable $2,200, which means if you book now you could be spending less than $1,800 for some of the most natural, joyful wedding photos out there. 
WHO: The Commoneer
WHERE: Harrisonburg, Virginia
WHAT: Katie and Adam are offering their Carportrait sessions at their home in Harrisonburg, Virginia. These locally famous, easy-peasy outdoor sessions are 15 minutes, and cost $75. You read that right: $75! You'll receive an online gallery full of images from your session, and have a choice of a natural canvas or indigo backdrop. New dates are added at the start of each month. Trust us, everyone can handle having their photo taken for 15 minutes. Even your grumpy uncle or squirmy toddler.
PLUS: They are offering a killer deal on winter weddings (November – March) across the U.S. Just $2,900 with no travel fees includes 6 hours of coverage with two lead two photographers, and hi-res images delivered via online gallery. Book by December 15th to score this sweet rate. More info can be found here.
WHO: Hedonia Flowers
WHERE: Chicago, Illinois
WHAT: Hedonia Flowers is offering 10% discount for 2020 couples who book before December 31st, 2019. Their pricing is super transparent, with bridesmaid bouquets starting at $50 and bridal bouquets starting at $135. 
WHO: Noelle Williams Photography
WHERE: denver, Co
WHAT: Noelle is offering $250 off elopements and intimate wedding photography in the Denver/Colorado area, with coverage starting at $1,500, plus either $500 off or a complimentary engagement session ($550 value with 40-60 images) to first couple to book and mention APW. Wedding coverage starts at 6 hours for $3,000.
WHERE: New York
WHAT: Are you finding your ceremony a little overwhelming? Yeah, it happens, and it's okay! Claudia Meyer, chaplain and officiant, is offering all APW readers getting married in 2020 25% off ceremony coaching, ceremony planning, ceremony writing, or personal vow consultation services. So even if you've already asked a friend to officiate, Claudia can help walk them through all her tricks for making sure everything goes well, and making sure your vows and service are written…and not the night before the wedding (true story, some of us did that).
WHO: Julie Laflamme Photography
WHERE: MENDOCINO COAST-BASED and serving NORTHERN and SOUTHERN CALIFORNIA
WHAT: Julie is offering limited-time bananas-amazing rates for all weddings and elopements booked by January 1st! $2,600 gets you 8 hours with 2 photographers (Julie and her husband!) in Northern California or $3,000 for Southern California. Elopements are $1,500/$2,100/$2,500 for Mendocino Coast/NorCal/SoCal respectively. All packages include printable digital photographs and planning assistance. More info here! 
WHO: Rachel Epperly Film & Photo
WHERE: Maine & Oregon
WHAT: Rachel is offering 20% off any wedding photo, video, or combination package booked by January 1, 2020. All of her pricing is completely transparent and listed on her website, which is obviously part of why we love her. Special wedding photography pricing starts at $2,240, videography starts at $2,400, and combination packages start at $5,200. Pricing will increase January 1st so this is an excellent time to lock in a good rate for 2020 (and seriously! Photography and videography for $5,200! Get. On. It.)
WHERE: Savage, Maryland & Washington, DC
WHAT: Calling Maryland and DC area! Want to look cool as ice in your portraits this fall? Kelci Alane is offering mini-sessions in studio with three simple backdrop options on November 9th at Savage Mill in Savage, MD and November 10 in Georgetown. It's $250 for 20 minutes and 20 images, all of which you'll want to hang on your wall and send to everyone you love. Book 'em here!
WHO: Christina Richards Weddings
WHERE: Boston, Massachusetts
WHAT: Long, long, longtime APW soul sister Christina Richards is offering $500 off all-day wedding coverage in New England for winter and spring weddings. She is also offering $150 off for the first couple to book a city hall wedding or elopement in Boston or New England. Full day coverage begins at $4,200, city hall weddings begin at $1,500 and elopements begin at $975.

She is offering thirty-minute sessions for $350, or $500 for a one hour mini-session, in the Boston area this fall. You will receive 40 to 60 high-res photos in color and black and white, and sessions are available for families, couples, or individuals. Contact Christina for dates and specific locations.
WHO: Heather McBride Photography
WHERE: Philadelphia, Pennsylvania
WHAT: Heather is offering 15% off any type of session that you book with her if you mention APW. That's right, she love you that much. She does it all: families, couples, and weddings, and these family sessions are warm, authentic, and pretty much the dream, so get on it. Sessions start at $350, and wedding coverage is totally custom to your needs.