When we first decided to collaborate with Lace & Liberty on a plus size wedding dress line, we knew one thing for certain: the wedding fashion industry is currently failing plus size brides. (I mean, really, it's failing anyone above a size six with boobs, but I digress.) But as we dug into the problem we wanted to solve, we realized the issue goes much deeper than a lack of available dresses. It's really about how the wedding industry marginalizes plus size women altogether. It starts with the lack of dresses, and the fact that the styles that are available were never created with plus size bodies in mind (hello every backless dress ever). Then if a plus sized wedding dress is even created, good luck seeing one of those dresses featured on anyone larger than a perfectly proportioned size sixteen. And God forbid you actually want to try one of them on, in a store, on your actual body.
But then there are the styles themselves. As Lauren Chan wrote so brilliantly in her recent op-ed for Brides:
It was so much harder than I thought to find something that was more couture-ish than it was princess-y. It's like they think being above a size 12 means you automatically have zero fashion sense and that you would never want to stand out from the crowd.
This to me has always been the crux of the plus size wedding dress issue. It's not just that the dresses aren't there. It's that when dresses are available, they seem to say, we assume you don't care about how you look, so we didn't put much effort into this. Which is a special kind of way to twist that knife.
Plus, they've got no boob support. And you know the APW team is passionate about boobs.
What We Wanted To Create
So when we set out to create this collection, we didn't just want to make a plus size wedding dress collection. We wanted to make a dress collection that showed the kind of thought and attention that plus size women deserve. And that meant a few things:
First, we set out to create designs that didn't assume plus size women want to be invisible. Maybe you want drama, maybe you want romance. But at the very least, we assume you want, well… just good taste, dammit.
Then the brilliant ladies at Lace & Liberty did a ton of research and trial and error to create dress structures that were designed specifically for plus size bodies. This meant constructing an amazing inner corset to support bigger boobs, and including thoughtful design details like illusion backs that still allow for bras and the like.
We knew we wanted to give our customers the opportunity to try our dresses on in person, so we are taking our show on the road this fall in partnership with Brideside (more on that in a minute!).
And then finally, when we release the collection into the world, we want to show plus size women in a way they don't normally get to look: fun and high fashion.
How A Dress Collection Comes Together
So here is what it looks like making that come to life. First, it starts with designs and materials. For us, this is the most fun part because everything works on paper. Do we want a plunging neckline and a cape? Great, let's make a sketch!
We did several rounds of sketching to make sure our ideas were considerate of the design issues y'all mentioned in our survey from earlier this year (like straps and sleeves). And then once we finalized those, we ordered samples from the manufacturer. And that's when the real work starts. It turns out that just because you have an awesome idea, it doesn't always mean that a manufacturer is going to be able to translate it into a physical product. For example, we really wanted to include a pair of pants using the lace above and match it up with a strong shouldered cape (and we're still pushing for it, shhhh) but the manufacturer that Lace & Liberty normally works with is obviously… for dresses. And they were basically like 🤷‍♀️ "How do you pant?" (Well, to be more specific, bridal gown material doesn't translate super well to pants, and it's a riddle they haven't solved yet.) So our pants and cape combo got turned into halter sheath and cape combo (for now.)
Getting samples made also means we get to check the fit of our dresses on different body types, since obviously not everyone has the same proportions. We started with our size 18 models, and will be testing out our size 28 dresses next month. (We have to order one at a time so we can troubleshoot any design elements before we spend a ton of money on a whole line of dresses.) For example, we love this off-the-shoulder number (the lace reminds me of the ocean):
But it became clear during our fittings that we were going to need to work more support into the bust if we were going to be able to serve our brides with more ample bosoms: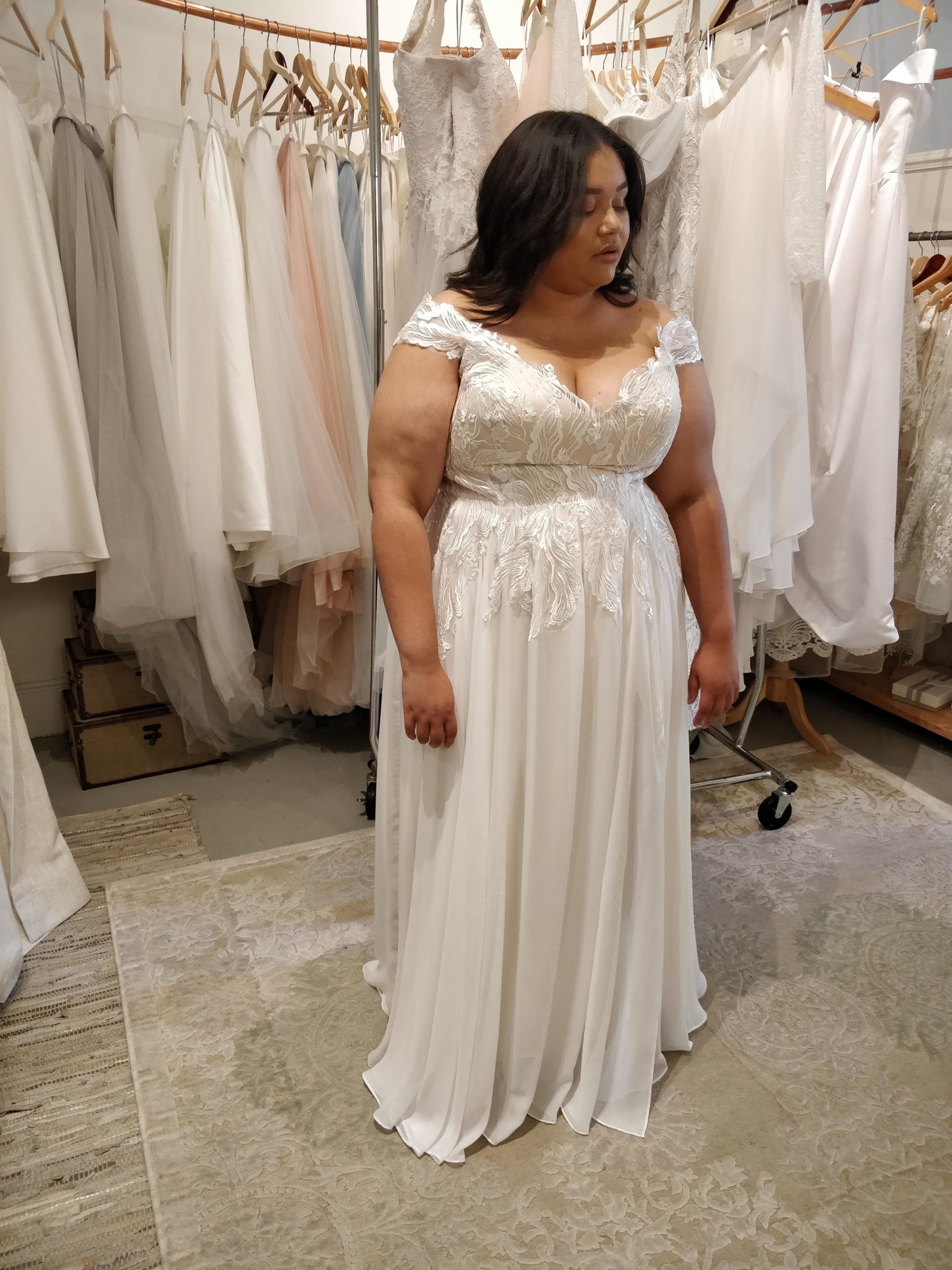 And then sometimes the designs just flat out don't translate. In sketches, the sheath dress below was a sexy, modern silhouette. But in person? It was just kind of boring (though our model Cori is serving piping hot look y'all).
So we slipped the straps off the shoulder:
And added a little capelet:
And voila! I think it's going to be a 🔥🔥🔥 dress.
what you can look forward to
Are you thinking to yourself, "But where can I get these hotAF dresses for myself?" Well I thought you'd never ask! We're currently working on some exciting new updates to the collection. (More dresses! Plus a little lookbook so you can see them… not as iPhone photos.)
And then starting next month, we are rolling out trunk shows! We are partnering up with our favorite bridesmaid dress store, Brideside (who you may remember from here and here), to bring our collection to a city near you, and you'll have an opportunity to try on our dresses for yourself. We're really thrilled Brideside will be joining us for our world(ish) tour. They're giving us the run of their showrooms, so you can try on dresses in a laid-back, pampered environment. Plus, they have been working behind the scenes on their own business all year to live up to the mission of our collection. In fact, they just told me that one of their suppliers agreed to stop charging extra for plus size bridesmaid dresses after they pushed back on the practice. 🎉 Here is the lineup so far:
Chicago: October 19th, 20th, and 21st
Charlotte: November 2nd, 3rd, and 4th
New York City: December 14th, 15th, and 16th
We're also planning on adding Washington, D.C., and Los Angeles dates in November, so stay tuned for an update there! We'll have a post very soon with an RSVP sign up, but if you want to get on the list now, go here and sign up for our mailing list. You'll be the first to know when slots are available.
Bay Area Folks, We Want You
But if you're Bay Area–based, you can come see the collection next month! On Saturday, October 6th, we're hosting a sip-and-see at the Lace & Liberty studio in San Francisco, from 4–7 p.m. You don't have to be shopping for a wedding dress; we're looking to hang with our people and get your opinions about the collection. You can RSVP for that right here.
I am so excited to show you guys the rest of the collection. And I hope to see you all on our trunk show tour this fall. In the meantime, Meg and I are putting on our best Heidi and Zac faces at the Lace & Liberty showroom next week to see the rest of the dresses and plan out our lookbook. Stay tuned on stories for more. Auf Wiedersehen.
This post is part of our ongoing series chronicling the creation of our new plus size wedding dress collection with Lace & Liberty. To read more about the upcoming dress line head here. And if you'd like to sign up to learn more about the collection, including when you can try on dresses for yourself at one of our upcoming trunk shows, you can do that right here. And don't forget to sign up for our October 6th party at the Lace & Liberty showroom!