This is a paid post from an APW sponsor. For more about APW and how we make money, please click here.
---
Raise your hand if you're someone who thought that thanks to quarantine you'd finally make some progress on those organizational, creative, nesting type goals this year? Goals like, say, making a wedding album. Now keep your hand up if you… did not. 🙋🏻‍♀️ I'm really hoping it's not just me. Every year—pandemic or not—I start off with intentions like these. And every year, I don't get very far. Which is why, when it comes to crafting wedding albums, I always say that Albums Remembered is doing the Lord's work.
Because unlike all the tempting DIY printing options out there, Albums Remembered pairs each of their clients with a professional designer who will design your album for you, at a price that is very similar to those sites that only do printing and will make you struggle with their DIY design software first. (And if we've learned anything over many years of making photo books from a variety of services, it's that designing albums is usually not fun. And the software usually, um, sucks. And that's probably why you don't have an album right now.)
When I say that Albums Remembered will take all the hassles of designing a wedding album off your plate, I mean all the hassles. See, a few years back, Albums Remembered's co-founders, husband and wife Paul and Monica, offered to make a wedding album for an APW staff member so that we could write about the process of working with them firsthand. Surprisingly? Not surprisingly? Not one, but three of us at the time had been married for 5+ years but still didn't have an album. (Cue quote about the cobbler's children going without shoes.)
At the time, I selfishly volunteered as tribute, read up on Albums Remembered's helpful instructions regarding selecting photos to include in the album, opened up my folders of wedding photos, and… starting crying. Whittling down hundreds of photos to 80 felt… impossible? Feeling like a failure, I ceded the opportunity to a teammate who had the time and wherewithal to actually sort through her photos—and the results were gorgeous.
But now! Now even I don't have an excuse because Albums Remembered will literally even select your photos for you. As they told us:
We understand one of the key reason for many couples to hold back on their album project is simply due to the lack of time. And based on eight years of design experience working with newlyweds, we know what photos couples tend to want to include in the album! And so we are excited to announce the launch of our photo sorting service. For a small extra charge, our staff of professional designers will help you sort through up to 800 photos. Pricing is as follows: Under 400 images you'll ONLY pay $39.99. Between 400 to 800, $89.99.
LITTLE HUGS:
Another new offering from Albums Remembered is a line of mini albums called Little Hugs. If you decide to make designing an album your pre-holiday undertaking, these make great gifts—and they're also perfect if you had to postpone your large wedding and had a small celebration this year that you don't need a full-blown album for. Past customers have also ordered them for new born babies, family vacations, engagements and even to showcase their fine art work! Little Hugs come in 4X4 inches size with 30 pages/30 photos. They are fully customizable just like the normal size album. Each Little Hugs is handmade by one of Albums Remembered's artisans with the same amount of attention and care they put into their normal size albums.
THE IMPORTANT DETAILS:
Albums Remembered's price range is from $350 to $800, which includes the album and design service with unlimited revisions. Since they offer total pricing transparency, the easiest way to find out what your ideal album would cost is to check out all the options yourself.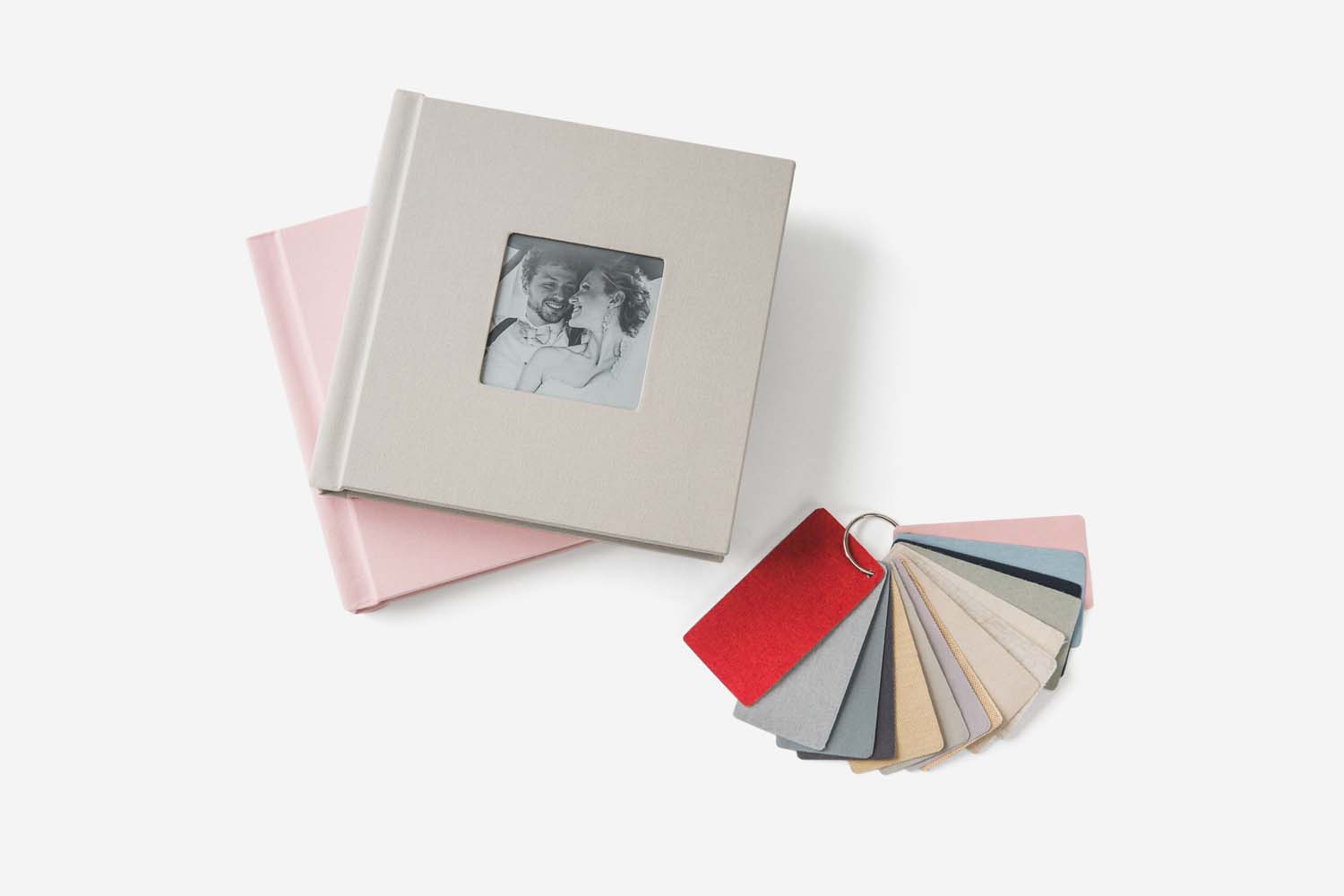 Albums Remembered is offering two special sales on wedding albums and Little Hugs albums just for APW readers, from now until November 10th. Here's how to jump on that:
APW readers receive 30% off on all wedding albums plus two free Little Hugs albums—perfect for holiday gifts. Click here for more details and to redeem.
OR, receive 50% off Little Hugs albums. Click here for more details and to redeem.
KIND WORDS:
"They respond so fast, very creative, such good quality for the price. All my family albums are being done or will be done with them. So happy I found them!
It's a great option for weddings. Save money with the photographer upfront and still get your professional albums after! No design fee it's wonderful."

"The designer did a fabulous job. The wedding album is soooo gorgeous. She saved me so much time and money. Thank you so much! "
WHAT NOW:
See more of Albums Remembered's beautiful options, find out more about the process of working together, price out exactly what your album might cost, check out their hundreds of 5-star reviews, or reach out with any questions!
ALBUMS REMEMBERED IS OFFERING 30% OFF YOUR ALBUM + 2 FREE LITTLE HUGS ALBUMS OR 50% OFF LITTLE HUGS ALBUMS JUST FOR APW READERS UNTIL NOVEMBER 10th