This is a paid post from an APW sponsor. For more about APW and how we make money, please click here.
---
When we first wrote about Albums Remembered five years ago, the world of wedding albums had basically two unhelpful choices: You could order a verrrry expensive heirloom-quality album through your photographer or make a non-heirloom quality photo book through a couple of DIY sites. In fact, the comments sections of that post turned into an entire lesson on archival paper and printing techniques and why you might want one over the other. (TL;DR: Professional albums are made to last, and the average photo-book… is not. The one I snagged through Groupon to commemorate my trip to Costa Rica is 2010? Yep, those pages are definitely yellow. 🤦🏻‍♀️)
And that's why Albums Remembered swooped in to provide a much-needed third option: A more affordable archival-quality album that's available to couples directly, and is designed for you by a professional designer. (Because what we've learned through many years of making our own photo books is that designing albums is… not fun. And the software usually, um, sucks. And that's probably why you don't have an album right now.)
Founded in 2012 by husband-and-wife team Monica and Paul, Albums Remembered has always focused on:
Craftsmanship. A skilled artisan handcrafts each heirloom-quality flush mount album.
The art of storytelling. Each client is paired with a professional designer (for free!) to ensure your album tells the story you remember and take away the hassles of designing it yourself.
And while over the years those photo book companies have begun to get on board with #1, point #2 is mostly not so much. And the thought of either forking over a ton of cash or figuring all that out alone is what keeps most of us procrastinating on an album for years. (True story: APW's own Managing Editor Kate put off making an album for eight years, before Albums Remembered helped her out. You can see her actual album right here.)
Which is why Albums Remembered's clients tend to say things like:
I had lots to learn about designing and producing a beautiful wedding album, as I am not a professional photographer. Albums Remembered provided step-by-step advice and simplified the process of compiling a selection of meaningful photos. My designer's layout choices really wowed me. I highly recommend this company!

—Janet
Albums Remembered's price range is from $350 to $800, which includes the album and design service. And let me tell you what right now: that is actually super affordable in the album game. You can get a wedding album from some of the major online players for that much and you'd still have to design it yourself. You can see all the album options (including lots of gorgeous leather and linen colors, matching boxes, custom monogram embossing and more), price out the exact album you'd like, and learn how the design process works right on the newly redesigned and very user-friendly Albums Remembered website.
PLUS! APW readers can use the code APW30 to get a huge 30% discount on the album of your choice from now until the end of March. And if you're not ordering an album, everyone reading this post can also enter to win a 10″ x 10″ leather or linen album—click here for all the details and to enter to win!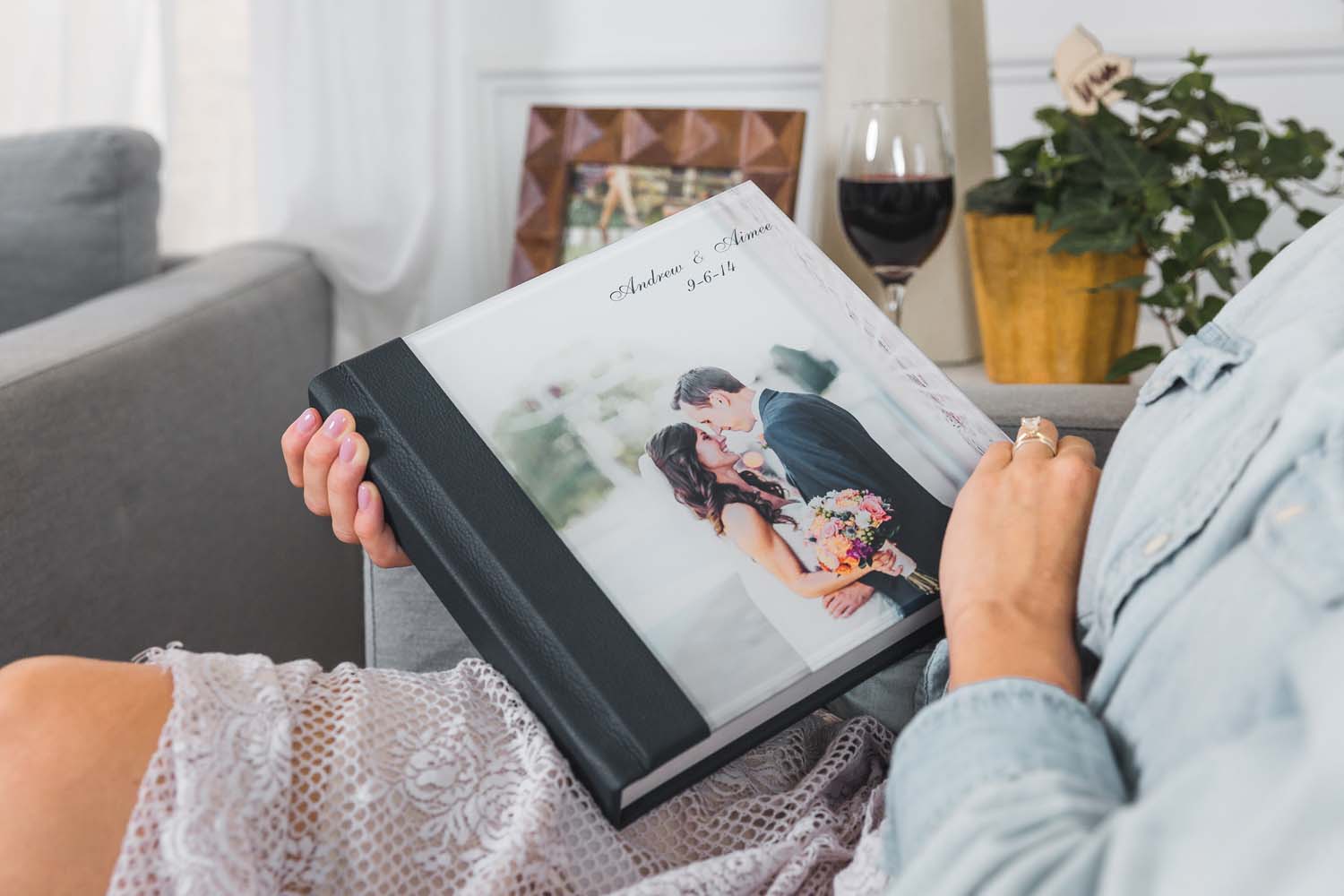 So if you, like most of us, don't want to spend more money and do more work on your wedding after it's over, Albums Remembered will make your wedding album beautiful and stress-free. Free design plus unlimited revisions means the final product will look super professional, while you still get the exact layout you want. It's almost like a perfect solution to your problem. (Spoiler alert: It actually is.)
And don't forget:
USE APW30 to receive 30% off thE album of your choice from now until March 31, 2019,
and enter to win a free album right here!