The Site and our mobile application may contain links to affiliate websites, and we receive an affiliate commission for any purchases made by you on the affiliate website using such links. We are also a participant in the Amazon Services LLC Associates Program, an affiliate advertising program designed to provide a means for us to earn advertising fees by linking to Amazon.com and affiliated websites.
---
We often talk around here about how womxn need to brag about themselves more. And the person who talks about that all the time? That's Meg. But it turns out, she doesn't exactly love the taste of her own medicine.
So when the second edition of her book came out… you know… the one with her face on it…. she said she was busy. Her to do list was long! She didn't have time to celebrate! Party planning takes time! Besides: who would want to party with her anyway? I mean seriously. Girlfriend had a list of excuses a mile long.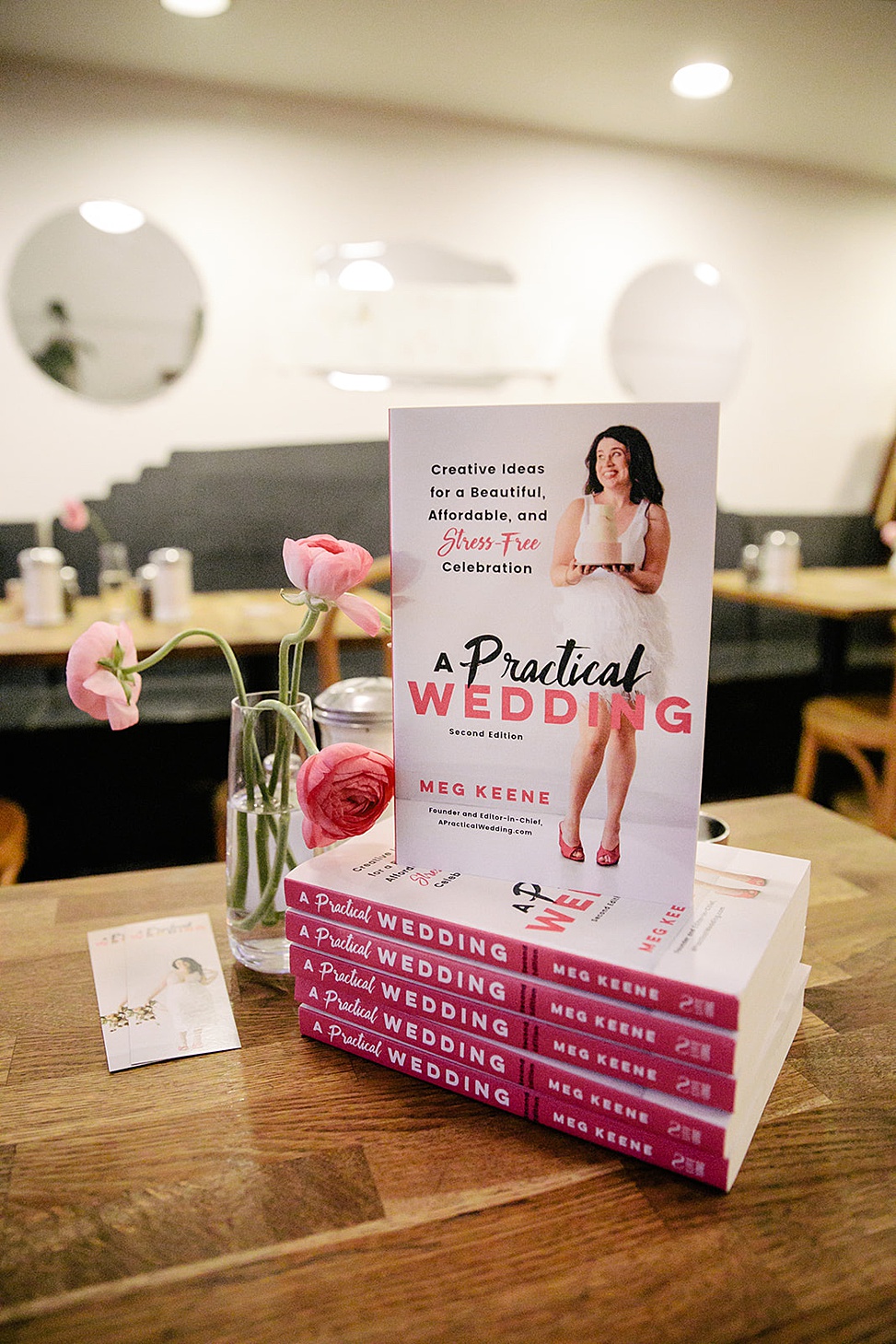 But after almost thirteen years of running a successful company, writing two (and a half) books ,and launching various projects in between, Alyssa and I were pretty determined to throw a party to celebrate the launch of the second edition of the book. And guess what? Meg was still hesitant about celebrating. But that's why you hire a team that will lift you up (hi!) and make sure you cue some confetti and raise a toast to your own successes (but also, we love any excuse to celebrate so why would this be any different?).
After a little bit of pushing, Meg finally agreed to let Alyssa and I have total control over the book party with the caveat that she only wanted two things. The first was that she wanted to be able to invite the people that had supported her through the last thirteen years, instead of having a public event. And two, being the theatre kid that she is, she wanted a life-size cardboard cutout of herself from the book shoot, and a large scale cardboard book cover with her face cut out so guests could "be" Meg.
SIGN. US. UP.
We very quickly decided to host the party at APW fave (and our sometimes second office location) Sequoia Diner because the staff is like family, for real. We've had some of our best and worst days broken up with lunches sitting in a booth at the diner, so it just felt right to have this celebration there too.
After watching Meg's first book tour from afar, then working with Meg on the second book, Alyssa had some ideas in mind. What started as grandiose visions of huge magenta balloons, and very specific flowers, the plan got scaled back a bit. Frankly, Sequoia Diner is literally the cutest place in town, and just doesn't need much to look perfect.
So, a few details, like an edible cake topper replica of the book, hand chosen flowers in APW colors, custom napkins… and boom, you have a party. (Well, after Alyssa ran around town for a few hours collecting everything and literally arranging flowers in the back of her car.)
This was a time for Meg's community to come together and celebrate her accomplishments (and to eat the best biscuits in town, extra jam please). Launching a second edition into the world is a big deal y'all. So we packed Sequoia Diner full of family, friends, industry peeps and a bunch of APW collaborators and filled that room with so much love.
One of my favorite parts of the night was when Meg's loved ones made toasts to her and the book. David's toast was witty, sarcastic and super sweet (seriously the heart eyes he was giving Meg were everything). Her editor, Renee, took the cake with not one, but three limericks for Meg. All of them were heartfelt, personal, and truly spoke to who Meg is as a person.
There was also a quick attempt to get the kids up to do a speech (How can you forget her seven year old's speech at the 10-year anniversary party?) but it's hard to get up and speak when you're busy playing with a life-size cardboard cutout of your mom. (Her four year old kept hugging it.)
All in all, it was a wonderful way to celebrate Meg and the second edition of the book with many champagne toasts, lots of pasta and her nearest and dearest. And don't be surprised if you see those cardboard cutouts again. If you ask me, they might be one of the best (most hilarious) investments APW has made!