This is a paid post from an APW sponsor. For more about APW and how we make money, please click here.
---
This weekend I was down in LA, watching the Emmy Awards red carpet from the first row, thanks to the lovely team at Keurig. While it's true that when it comes to my passions red carpets and good TV rank right up there with whisky and politics, what I was most excited about was reporting back on what the red carpet is really like. In all the years I've spent live tweeting from my living room every red carpet ever, I learned that you, like me, love a good show. So while I was super grateful to Keurig for their hospitality (they put me up in a seriously amazing hotel room, hooked me up with a Rent The Runway dress, and gave me all the coffee and tea I could ask for), I really wanted a chance to show you all what happens behind the scenes of a huge production like the Emmys. Awards shows, like weddings, are basically the story of the duck that looks all calm on top of the water and is paddling furiously underneath. Unlike weddings, awards shows have a metric ton of publicists.
As someone who used to work in show business, and who now has a public facing job, I'm super aware of the fact that work is always work. Sometimes work involves fun things, like getting all dolled up and walking on a red carpet, but it's still work. In short, I expected to report back that the red carpet was not all that fun. I figured I'd see tense celebrities, and be in a strictly policed uncomfortable bleacher environment. Turns out, this was not the case. The Emmy pages who were in charge of us were super nice, and also hilarious. They brought us water, let us stand up to take pictures when we weren't supposed to, and made jokes. Which was a nice match, because by the time the celebrities got to us, they generally seemed to be having a pretty good time as well.
The way the red carpet was set up was that A-listers got out of their cars at the end of what was basically press alley lined with TV booths. Once they were done with press, around the corner there was a long narrow carpet and us, the "bleacher fans." That meant that by the time they made it to our section, they were mostly off duty. And that is where it got really interesting. With that in mind, here are five things you've always wanted to know about the red carpet.
1. The part with the cameras is all a bit of a performance. The press portion of the red carpet was a zoo. Lights everywhere, production teams, and photographers. But what was fascinating to observe was the sheer amount of off-camera people that it takes to run that part of the show. The carpet was swarmed with production people in black jeans and t-shirts, publicists mostly wearing off the rack dresses, and network staffers who mostly seemed to be wearing black dresses and black flats. What that meant is that the celebrities and on-camera news anchors in their designer gowns and full hair and makeup looked like they were in costume. That part of carpet wasn't any kind of fancy dress party, it was a production zone, and the actors were the ones dressed up.
2. Celebrities (most of them) actually are a bit like you and me. When the celebrities got to us, they were more or less off stage. And that meant we saw a bunch of authentic behavior, which was fascinating. First, everyone was on their phones. The most photographed people on the planet were taking pictures of themselves with their friends or dates on their cell phones, or snapping pictures of other celebrities or the crowd. One (not particularly famous seeming) couple passed their cell to someone in the crowd and asked them if they would mind snapping a picture of them together. Then they thanked the person profusely. Apparently a picture you want is different from a picture the paparazzi takes. But mostly, everyone was just catching up. Someone would yell someone else's name, and then they'd all run over and give hugs and introduce dates and chat.
The cast of OITNB spent forever just hanging out in a group while various members of the tribe got photographed in the 360 glam cam.
By a stroke of luck, we happened to be sitting at the end of the fan section, which means people would round the corner and be totally offstage, but we could still hear them. Favorite outtakes include, "What the hell was that?" (After some woman told a star she loved her husband… who she was in the process of divorcing). "That was actually really fun." (From the cast of Silicon Valley, who had just finished two minutes of silly posing for the crowd.) And "You know, he helps run the prison. The one with the mustache." (As celebrities struggled to place other celebrities.)
3. There is huge diversity of experience on the red carpet, and the big movie stars seem to not be having very much fun. From the time I was in acting school, my theory was that you didn't want to be a big star, because the trade off between no privacy and super success was not even close to worth it. The goal, as I saw it, was to be a successful niche actress. (I later just revised that to "being successful in a niche," because, details.) My friends called it "Meg's starlet dreams." My nineteen-year-old plan for life success was proven to be exactly correct on Monday afternoon. Nobody looked like they were having less fun on the red carpet than the big stars. They looked fragile (possibly because they were drastically more underweight than anyone else, and being permanently hungry is awful). They looked jumpy, and removed, and wanted nothing to do with anyone but their handlers. (Kerry Washington being a notable exception. She seemed happy as hell to be rocking that red carpet.) But the TV stars, the ones that you love if you watched The Wire, or Mad Men, or Orange Is The New Black, or Modern Family, but might not know otherwise? Those people were having the time of their lives. Their friends were there, their fans were there, and it was time to take selfies. Let's not even get into the moment where Wendell Pierce and Clarke Peters started taking photos of my section of the bleachers on their phones and telling us to wave our hands in the air. I nearly died from the perfection of the moment. (Wendell and I even shared a pick for best dressed.)
4.Your perspective on best and worst dressed is different in person. First up, some of the best and most interestingly dressed people are ones that are not going to get much airtime. Some of my personal favorites were  Teyonah Parris, Samira Wiley (whose girlfriend was wearing a silver sequin circle skirt, a black crop top, and fancy mohawk? My people), and Sunshine Coigney—Mark Ruffalo's wife, whose style always kills. (In other news, Mark Ruffalo just keeps getting hotter, AMIRIGHT?)
Second, what looks good in person doesn't always translate in photos. I thought Sarah Paulson's black and red explosion was a daring stunner. After it kept showing up in worst dressed lists, I realized it just didn't look that great in photographs, which was a shame. As for Lena Dunham's outfit? Well. In person I just thought it was Lena doing Lena, with a little Man Repelling thrown in the mix.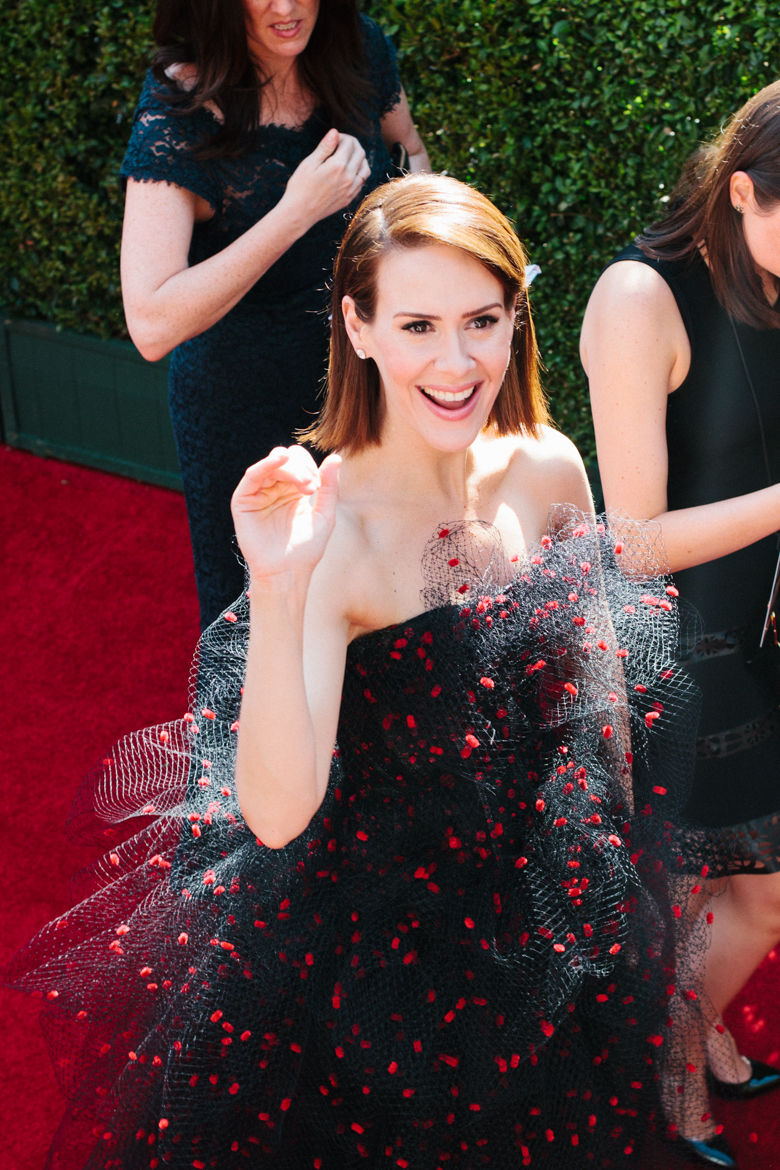 5. Celebrities are herded like cats. The red carpet is all glamor, right up to the point that it's really not. By the end of the red carpet hundreds and hundreds of people—super big stars included—were tromping by us in a huge crowd, while the loudspeaker kept announcing things like, "The lobby bar is now closed." "You really don't want to miss the show." "Please find your seats immediately."
And then just like that it was over. We were quickly ushered out, and on our way to the car we walked past an airport-sized parking lot, full of hundreds and hundreds of black cars. The drivers were all grouped in circles, hanging out and shooting the shit. They were going to be there till the end of the show, when they had to shuttle the stars to parties.
As for us, we were off to watch the Emmy's on TV, wearing Rent The Runway dresses, in a glam hotel suite rented by Keurig. And that was damn pretty nice too.
More reading: What Lena Dunham is doing with her carefully scripted red carpet looks. Why the Emmy's is on repeat. (or: FFS, why is Modern Family still winning every year?) Sarah Paulson on life when you're permanently dieting and lying about it.
Ok, dish. What else do you want to know about behind the scenes? Any red carpet VETERANS in the crowd? What did we think of Lena's Outfit? How much do we love the OITNB girls? Let's chat.
This post was sponsored by the new Keurig 2.0 brewing system. Thanks Keurig for making our Emmys trip a possibility! More on the Keurig 2.0 coming next week.