Back in the late '80s when my parents got married, they had a backyard wedding. They didn't have a backyard of their own that would do the trick, so they threw it in the backyard of a friend-of-a-friend's house. Were any of their other friends having backyard weddings? Definitely not. Were they ahead of their time? Maybe. Budget savvy? Most definitely. Was it an intimate occasion with their closest family and friends? Yes and yes.
While they were planning, there wasn't the luxury of the internet for them to collect tons of hip backyard weddings. So they just used what they already knew about weddings, which, in the late '80s was… pretty traditional. And much to their surprise, the perks of having a backyard wedding worked in their favor.
Here are a few things to keep in mind while planning a backyard wedding.
Concerned about late night noise? Invite the neighbors! No one will complain about noise when they're joining the fun too. (And if you're not going to invite the neighbors, at the very least discuss it with them first. You don't want your wedding broken up by a visit from the cops.)
Keep facilities in mind. When there's an old plumbing system in the house that can't handle all your wedding guests, think about renting porta potties. There are some real fancy ones out there these days, if that's your thing.
Don't be afraid to hire help! Moving trash the day after your wedding is no fun. Hire younger family members, friends, or task rabbits to help take care of excess waste and general clean up.
But enough with the logistics! (If you want more on that, get the APW Planner, which covers every single thing you could possibly need to know about non-traditional venues and backyard weddings.) But today isn't about how you're going to dispose of the trash. It's about all those backyard wedding ideas and inspiration that my parents didn't have at their fingertips.
So in their wedding's honor, we compiled our favorite at-home and backyard weddings so you can have all the best ideas, right at your fingertips.
Backyard Weddings
1. Lean into the strengths of the space
Who: Moriah and Steven | Where: San Juan Islands, Washington | Vibe: Island backyard with Moroccan flair
Moriah and Steven worked with the space they had by switching things up with a chair-lined aisle instead of rows of seats during their ceremony. Moroccan rugs lined the aisle, creating the perfect setting for their ceremony while also sticking to their own vibe.
2. ARRIVE BY BICYCLE, JUST BECAUSE YOU CAN
Who: Kari and Duncan | Where: Mamaroneck, New York | Vibe: Handcrafted backyard New York wedding
Why wouldn't you pull up on a tandem bike filled with flowers?
Who: Emily and Laney | Where: St. Paul, Minnesota | Vibe: Karaoke, giant puppets, and tacos FTW
Most backyards don't come equipped with dance floors. DIY your dance floor like Emily and Laney, and dance the night away on your latest creation.
4. Make It A Fancy Dinner Party
Who: Jenn and Clarence | Where: Palm Springs, California | Vibe: Once in a lifetime mid-century modern tiki dinner party with a ceremony before appetizers.
Hey, foodies. Hire your favorite chef or catering company to treat your backyard wedding guests to a fancy dinner party. Bar included!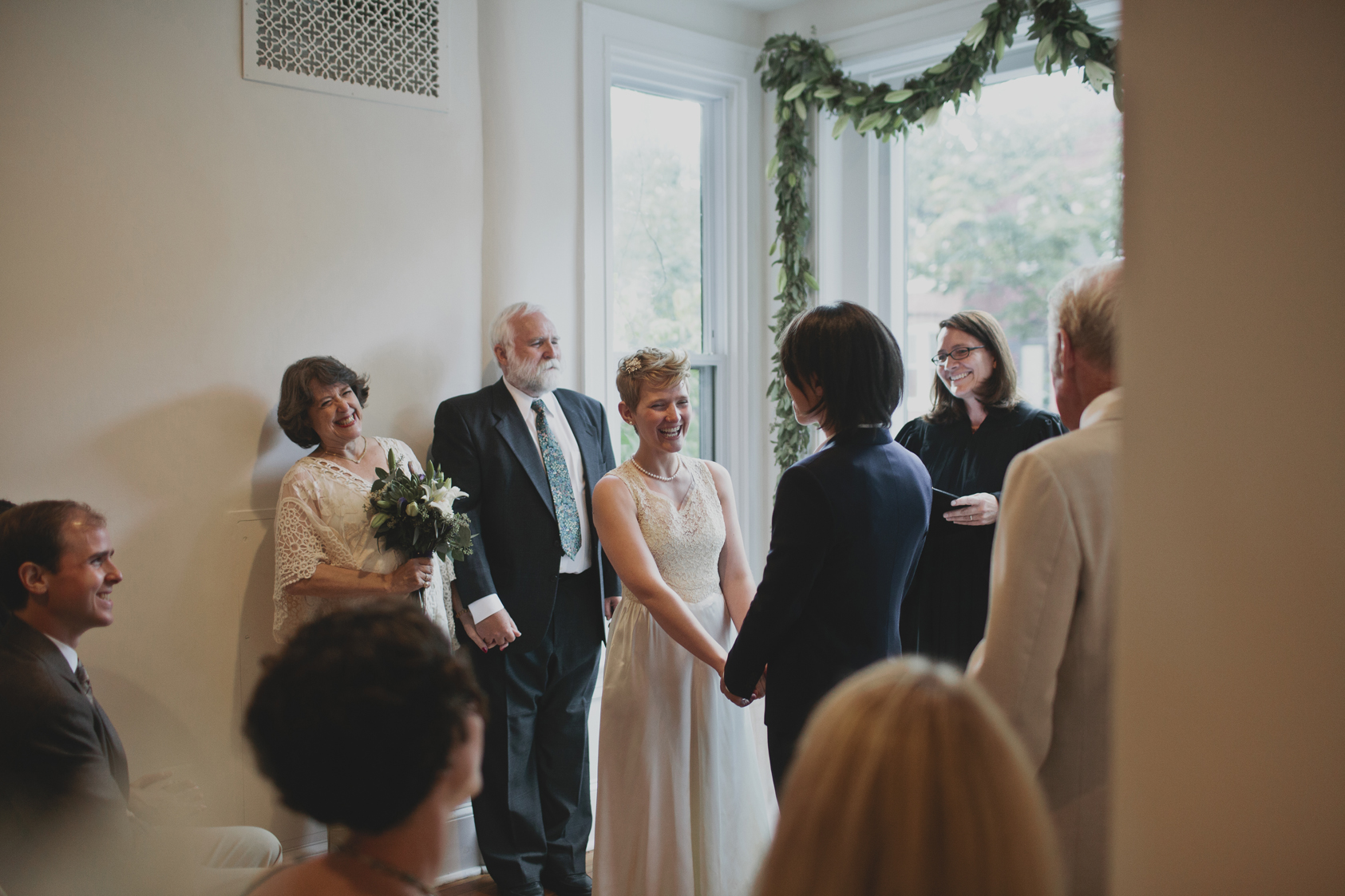 5. ANY NOOK CAN BE A WEDDING NOOK
Who: Sarah and Selena | Where: Washington, D.C. | Vibe: Relaxed elegance
You're comfortable at home so why not invite all your people into your most intimate space?
Who: Laura and Graham | Where: Petaluma, California | Vibe: Rustic gothic wedding meets Halloween party.
Create a theme and stick to it. In this case Laura and Graham had a Halloween-themed backyard wedding: black wedding dress, guests in costumes, and coffin cooler (skeleton included)!
7. PARK A FOOD TRUCK IN YOUR YARD
Who: Nat and Juni | Where: Miami, Florida | Vibe: A forty-person at-home wedding planned in twenty-one days
Maybe a fancy dinner party isn't your vibe. Whether you're looking for something more casual or just something that's not a buffet line, mix it up and bring a food truck to your house. Heads up! Depending on the type of food your favorite truck offers, your guests could be waiting in a line for their food. Consider staggering dinner time or opt for food that is quick and easy to assemble. Looking at you tacos 😉.
8. Make it a destination Wedding
Who: Brooke and Chase | Where: Mariposa, California | Vibe: A handmade, vintage, backyard wedding in the woods.
When you think of backyard weddings, one would automatically assume that it's at the couple's home. But that's not always the case. Brooke and Chase rented a home with a backyard in the beautiful Yosemite Valley and made their wedding a backyard destination wedding.
9. BREAK OPEN A MATRIMONIAL PINATA
Who: Kaitlyn and Nick | Location: Edmonton, Alberta, Canada | Vibe: A romantic and intimate backyard wedding
Piñatas aren't just for birthdays! Bonus points if your matrimonial piñata is filled with confetti (and candy of course).
10. Use tHE Backyard at your Favorite RESTAURANT
Who: Kate and Oliver | Where: Windsor, Ontario, Canada | Vibe: Cozy backyard dance-party wedding at our favorite neighborhood restaurant!
Share your favorite neighborhood restaurant and their awesome backyard with all of your wedding guests like Kate and Oliver.
11. End the night with a Bonfire
Who: Jenny and Will | Location: Staten Island, New York | Vibe: Fancy and nature-inspired backyard bonfire
Build a fire pit, enjoy some s'mores, and celebrate all night!
12. Have A cARPORT dANCE pARTY
Who: Mirella and Alan | Where: Aldinga Beach, South Australia | Vibe: Casual beachside backyard romance meets a carport dance party (with glitter)!
What do you do if your backyard has a great sunset view but no room for a dance floor? Move the party to your carport and dance the night away!
13. TAKE PHOTOS IN a sentimental spot
Who: Brian and Genevieve | Where: Santa Rosa, California | Vibe: A raw, poetic, family-filled, at-home wedding
It's the details that matter, right? Do like Brian and Genevieve and take photos under the your favorite tree in the backyard and revisit that space with special memories in your mind for years to come.
Who: Mary and Michael | Where: Seattle, Washington | Vibe: A laid-back community-made block party
When it's your own house, the rules that apply at a typical wedding venue don't necessarily apply to you. Pull out your sparklers or, in this case, paper lanterns and end the evening with a bang.
15. Have it at Mom and Dad's House
Who: Emma and Mike | Where: Brooklyn, New York | Vibe: A small, intimate ceremony with our closest family and friends at my parents' house
While not technically a backyard wedding (though the reception was held in the tiny townhouse backyard), New York Times bestselling author and co-owner of Books Are Magic Emma Straub had a truly magical wedding in her parents' New York townhome, back before she'd sold zillions of books.
Who: Cat and Jonney | Where: Silverlake, California | Vibe: Spontaneous and loving and exciting and FUN.
Planning a wedding in seventeen days is no easy feat, but Cat and Jonney pulled it off like absolute pros. They originally weren't planning on have a last-minute backyard wedding, but having an ailing family member made them speed their planning process up—and they wouldn't change a thing about the wedding.
did you get married at home? What worked for you? What tips and ideas do you have for other APW couples who are planning their own backyard weddings?