This is a paid post from an APW sponsor. For more about APW and how we make money, please click here.
---
Between you and me, sometimes I think we've lost the plot on bridesmaid dresses. While I'm generally happy we've moved away from the truly embarrassing dresses of yesteryear and into a more mix-and-match vibe with wedding parties, I worry we may have swung the pendulum a little too far in the other direction and turned bridesmaid dress shopping into a chore disguised as mismatched, relaxed fun. Which is why I was really excited last year when our longtime partner, Brideside, announced that they were going to tackle the challenge of bridesmaid dress shopping with an exclusive line of not just super flattering but also super affordable bridesmaid dresses. And why I'm even more excited that this month they've announced that all the dresses in their exclusive collection are just $150.
Why "Pick Anything" Isn't Always Easiest
Even though it's nice in theory to let your bridesmaids pick "anything you want in coral!" in reality, that often means five Pinterest boards worth of ideas, a lot of clarifying texts about whether you meant pink-ish coral or orange-ish coral, and several hours spent scouring fast fashion stores for last year's "it" color that is no longer available, only to buy a dress you might still not wear again again anyway (because let's be real: coral is not everyone's color.) Which is why a lot of times the real gift to your wedding day crew is letting them pick and buy a really flattering, affordable bridesmaid dress that they feel good in, and only takes a few minutes to pick out.
Gorgeous Bridesmaid Dresses Under $150
But that dress can actually be harder to find than you'd imagine. The standard traditional bridesmaid dress often costs $200 or more and is designed in such a way that the default expectation is you then also have to spend an extra $50 altering it. And don't get me started on when those dresses cost $35 more for plus sizes. 😡
For a long time, my solution to the bridesmaid dress shopping conundrum has been the online dress shop Brideside. They've always been my favorite thanks to their modern dress collections, variety of price points, and at-home try on service (stylish #lazygirls unite). But when they launched their own collection of bridesmaid dresses last year all for under $200, I was like:
In order to design the best possible bridesmaid dress collection, Brideside did a ton of research on which dress styles are the most well-loved among bridesmaids, then they tweaked those designs to be more universally flattering. Namely:
Designs that are specifically cut to fit a diverse range of body types based on feedback from thousands of bridesmaids. There really is a flattering style for everyone (including those of us who would like to wear a bra with our dress).
38 dress styles in 25 colors, all the same price. So you can mix and match, and your bridesmaids can pick dresses based on what they like, not just what's most affordable
Zero upcharge for plus size dresses or maternity styles
Dresses that are made from really nice chiffon so you aren't sacrificing style for affordability
An inch seam allowance in every dress to help with alterations (because they know bridesmaids aren't identical replicas of each other)
And just when I was convinced they couldn't improve on things any more, this month Brideside announced that all those gorgeous dresses are going to cost $150. And y'all, the dresses are cute:
Brideside's dress collection looks 💯 in a traditional matching wedding party:
Styles: Brideside Ashley, Brideside Phoebe | Color: Ice Pink
Or mixed and matched:
Styles: Brideside Veronica, Brideside Tina, Brideside Monica, Brideside Samantha,
Brideside Charlotte, Brideside Cher, Brideside Carrie, Brideside Mary-Kate |
Colors: Moonstone, Charcoal, Earl Grey | Photographer: Taylor Ann Photography
Styles: Brideside Samantha, Brideside Dionne | Colors: Macaron, Sugar Plum, Eggplant
| Credits: Tom Daly Photo, Amore Event Co, The Proper Petal, Schone Bride, Avenue 42 Style, Pippin Hill Farm
And they really shine in the in-between: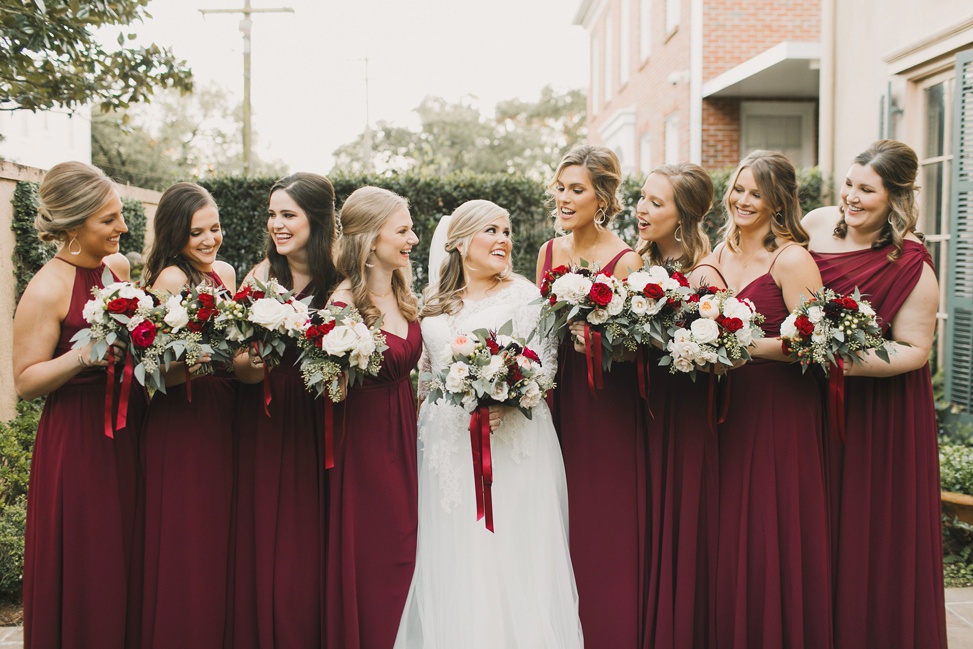 Styles: Brideside Samantha, Brideside Cher, Brideside Mary-Kate, Brideside Tina
Color: Pinot | Photographer: Kim Boyd at Kimbrali Photography
Styles: Brideside Dionne, Brideside Blair, Brideside Mary-Kate,
Brideside Samantha, Brideside Serena, Brideside Carrie, Brideside Tina
Colors: Frose, Blush | Photographer: Jenny Clark from Don't Blink Photography
Why Brideside is My BFF
While cute bridesmaid dresses under $150 puts me firmly in the category of never buying a bridesmaid dress anywhere else again, Brideside was already my go-to bridesmaid dress shop long before they launched their own bridesmaid dress line. Because unlike your standard brick-and-mortar bridesmaid dress shop, with Brideside you get:
But the real hero of Brideside is their in-house (and free) personal stylist whose job is to make sure everyone in your crew ends up with a bridesmaid dress they love (and that they actually order it on time. Cough, me, cough.) In addition to helping find dresses everyone likes, your stylist will work directly with your wedding party to get sized and ordered in time. So you never have to worry if that one procrastinator friend waited until two weeks before your wedding to buy a dress. I've used their concierge service myself when I needed a very specific dress for my sister's wedding, and my consultant went out of her way to make sure I got samples in time to try them on with my family while I was traveling back home. And pssst? You can skip the rest of this post and just let your personal stylist help you pick out dresses by clicking here.
Styles: Brideside Cher | Color: Powder | Photographer: Beth Joy Photography
So basically, it's like Brideside knows all the reasons being a bridesmaid can be time consuming, expensive, and frustrating and has set about fixing them one by one. And their dress collection is just icing on the cake. Here are a few of my favorite dresses from the collection:
"The Samantha" Bridesmaid Dress
"The Cher" Bridesmaid Dress
I mean, right? I would feel like a million bucks in most of these (and is it just me or do the majority of the designs appear to either boob friendly or bra friendly? 🙌)
So thank you, Brideside, for creating the bridesmaid dress I think all of us are secretly looking for. And if you're one of those people who has four Pinterest boards dedicated to bridesmaid dress ideas, but quietly wants to just pick something and move on? Let me just point you right here to meet your wedding party's personal stylist. Your wedding party will thank you, I promise.
This post was sponsored by Brideside, the complimentary styling service dedicated to making bridesmaid dress shopping a piece of cake. With a selection of hundreds of dresses, in size 00–30, and a team of dedicated style consultants, Brideside hopes to make the dress shopping experience a more positive one for all your wedding party members. Shop online using their Try At Home program, or visit one of their IRL showrooms. Click here to check out all of the gorgeous $150 bridesmaid dresses Brideside has to offer.