This is a paid post from an APW sponsor. For more about APW and how we make money, please click here.
---
As a New Yorker, I live in endless awe of y'all Bay Area people's ability to have a city hall wedding that looks like this:
(Because no, that's not what city hall weddings look like other places.)
I can honestly think of no easier way to have a jaw-droppingly beautiful, very on-budget wedding than heading here. Which is why I was so thrilled that longtime APW sponsor Manali Anne Photography asked me if she could share some of her favorite San Francisco City Hall weddings with you all—and most importantly how these couples made them totally their own. Manali has been photography couples at City Hall since 2014 (her rates start at just $900—what did I say about on-budget?), and here's why it's an amazing place to get hitched, in her expert opinion:
It's easy and practically stress-free.
It's a stunningly gorgeous location.
It's an amazing option for having a private elopement or micro wedding at a very reasonable price.
It's a fantastic way to legalize things first while you plan a bigger celebration later—without feeling like your legal wedding was any less special or beautiful.
And in terms what kind of San Francisco City Hall wedding to have, #YouDoYou, and it will all turn out amazing…
5 UNIQUE SAN FRANCISCO City Hall Weddings
There are two ways to have a wedding at San Francisco's City Hall. The most common way is to book the standard civil ceremony. This can be booked 90 days in advance and will cost you about $200 all said and done.
LOCAL ELOPEMENT NOW + BIG BASH LATER
This couple chose to have a small wedding reception in front of their families at city hall. A month later they threw a party to celebrate with friends, where they also announced they were pregnant.
THE STRAIGHTFORWARD BAY AREA ELOPEMENT
This hella stylish couple straight-up eloped —OK, they did forewarn their parents. (That flapper style dress is everything, right?!) Having no one to worry about besides themselves they decided to visit the beach afterwards, where they kept their sunglasses on and danced with each other with the Golden Gate Bridge in the background.
CELEBRATING QUEER RIGHTS
This couple chose city hall for its beauty and convenience. It doesn't hurt that the first legal same-sex marriage ceremony in the United States happened when in 2004 the mayor of San Francisco ordered city hall to issue marriage licenses to queer couples. #loveislove
FULL-OUT GLAM
You can also reserve a private one-hour ceremony for up to 100 guests for $1,000. These can take place on the Mayor's Balcony or the Fourth Floor Balcony, and can be reserved much further in advance than 90 days. Because just because you're having a city hall wedding doesn't necessarily mean you don't want to plan in advance.
These two got married on the Mayor's balcony in a glamorous ceremony, complete with live music and an actual veiled entrance before heading off to a luncheon with their guests. As Manali said: "It's such a classic thing one imagines to see regularly at weddings but I could probably count the number of times I've seen a groom lift a veil from a bride's face on one hand, even after years of photographing weddings. I loved it and it felt fitting for the church-like grandeur of the setting."
THE FULL SAN FRANCISCO TOUR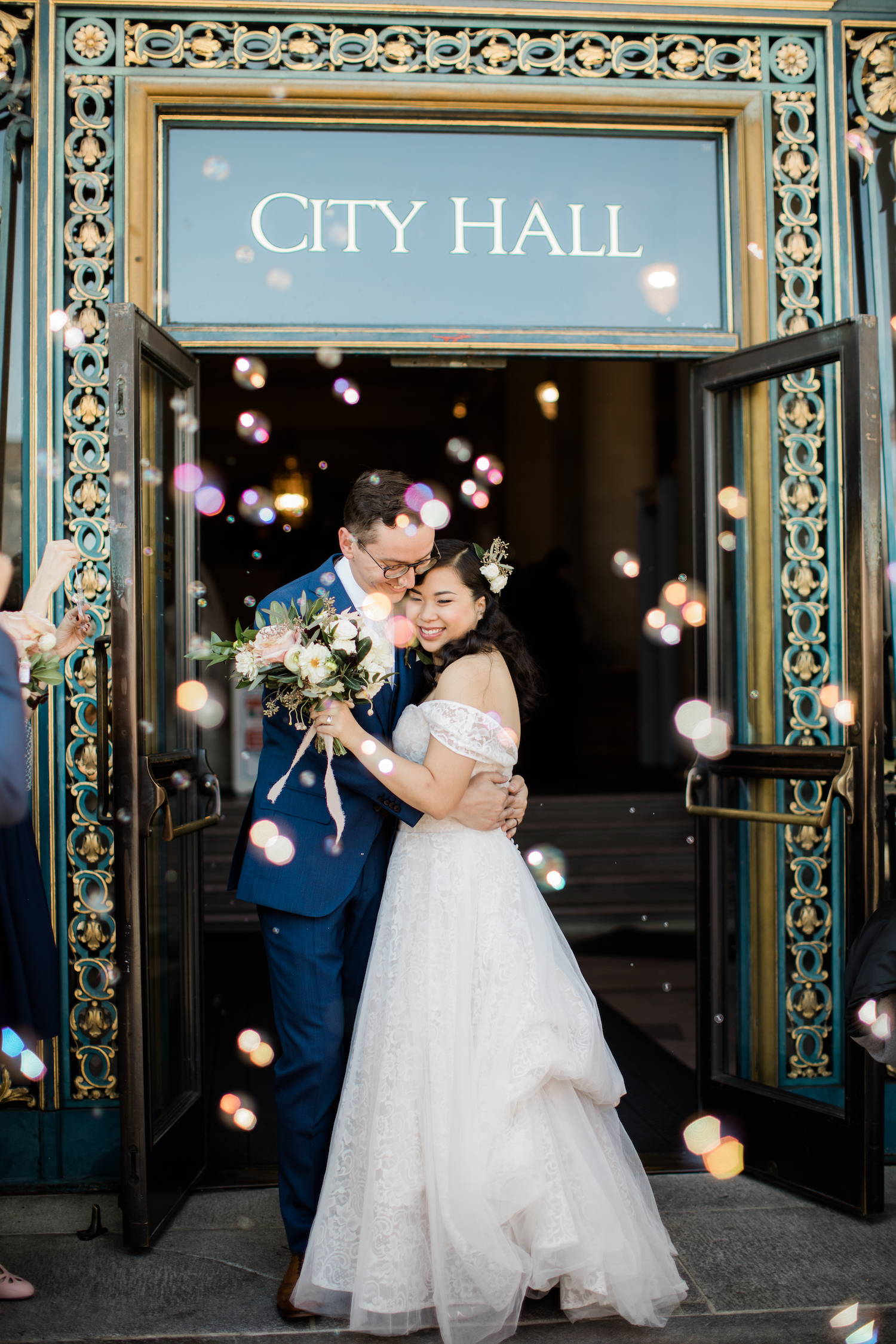 This couple planned a super-fun San Francisco wedding adventure for about 25 guests. They kicked the day off with a private ceremony on the North Fourth Floor balcony at San Francisco City Hall, followed by an epic bubble exit. Then the whole party boarded a cable car trolley bus for a tour of San Francisco that included the Palace of Fine Arts, the Golden Gate Bridge and another architectural gem in San Francisco, Fort Point. But as Manali says,
"As wonderful as all of the places were that we visited, I think that the most fun they had was simply being in the company of their loved ones on the trolley! They laughed and partied, and danced and sang along to their favorite songs– they really made the most of their wedding day. And of course, they finished the day with flair by having the trolley tour drop them off at Trou Normand for their beautiful private dinner on the covered patio."
And if you're looking for a photographer who will be an absolute pro at making the most of your San Francisco City Hall wedding—or your complete SF wedding adventure!—check out Manali Anne Photography today. Manali's rates start at just $900 for weekday city hall weddings, which is amazing considering her fifteen years of photography experience. Speaking of which! Manali has even more insider tips and info to have a super-smooth stress-free city hall experience right here. Go check that out, then contact her with questions or book her here.
CLICK HERE FOR EVERYTHING you need to know ABOUT GETTING MARRIED AT SF'S CITY HALL