This is a paid post from an APW sponsor. For more about APW and how we make money, please click here.
---

Often when we talk about being a bridesmaid, the focus is on the things you can see: special dresses, coordinating shoes, etc. But there's so much more to it that's invisible. Fielding a dozen phone calls when your MIL keeps questioning venue choices. Running interference when people try to ask you invasive questions about wedding planning. Grabbing armloads of clear umbrellas the morning of the wedding because the forecast said rain. And it's really nice to acknowledge those efforts from your people. But when you start adding up the cost of thanking, say, half a dozen people in your wedding party, bridesmaids gifts can get expensive quickly (and if, like, my sister, you have fourteen bridesmaids, you might suddenly find yourself spending more money on them than on your wedding dress). But you don't have to spend a fortune to make an impact. At all.
Just last weekend at The Compact Camp, a longtime APW contributor-turned-friend handed me a thoughtful card with a star-shaped sparkler inside and a kind note that amounted to "you are a shining star." It couldn't have cost more than $10, but it was so thoughtful and considerate, and it meant so much to me to be seen like that by her. And I'm quite sure to your best people, that kind of acknowledgement matters so much more than a $100 tchotchke.
So today we are partnering with Minted to celebrate their new Color Library, with a roundup of wedding party gifts that are both thoughtful and affordable. If you don't stalk Minted on the regular like I do, the Color Library is a selection of color-coordinated gift packaging that is personalizable, affordable, and way more stylish than it has any business being. You know that time you stood in the wedding section of the craft or party supply store feeling frustrated that all your options were silver, gold, or primary colors? This is the solution to that, in ten gorgeous modern colors like blush, sage, indigo, and lavender. So if you were looking for a way to acknowledge your wedding party, here are some options that will give them the warm fuzzies they deserve. (Pro-tip: Don't forget to pick up a pack of thank you cards while you're at it.)
Glass Deco Bottles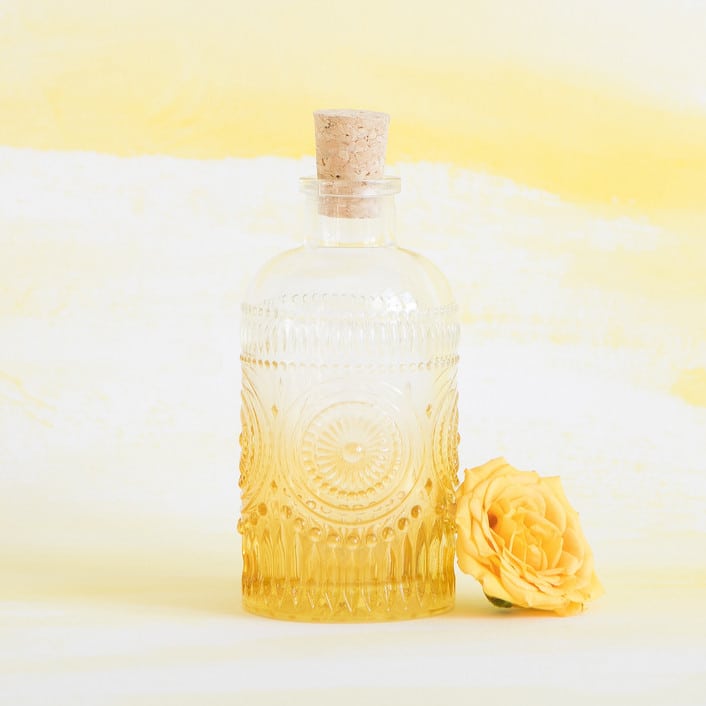 DIY Booze: Homemade limoncello is pretty simple to make (and delicious). While traditional recipes require you make it a bit in advance, this one seems perfect for last minute gift-makers, and the lemon-colored glass deco bottle seems made to show off some limoncello. 
INFUSED OLIVE OIL: I'm not one to turn down homemade booze, but if your crew isn't into alcohol, an infused olive oil is great. Here's a recipe for a rosemary and lemon infused version that would look amazing in the moss-colored glass deco bottle, but there's really no shortage of fancy DIY olive oil variations.
Glass Candles
Lavender Glass Candle with Warm Gray Dip-Dyed Pouch
AT-HOME SPA KIT: I love the idea of pairing one of these lavender essential oil infused glass candles with your fave sheet mask and a DIY body scrub for a relaxing spa bath. Bonus points if the scrub matches the candle like this grapefruit recipe and the blush candle.
Journaling Kit: For your friends who are more likely to sit down for an hour of introspection than an hour soak in the tub, I love the idea of pairing a nice candle with a good pen and a journal. I'm a sucker for a seven year pen, and anything with my name on it. We just handed out these personalized Minted journals at The Compact and they we loved them.
Personalizable dip-dyed canvas Clutch
Merlot Personalizable Dip-Dyed Canvas Clutch
Treat Yo' Self Kit: These clutches are beautiful. And legit useful. So basically the exact kind of gift you are pressuring yourself to find for your people. Pop in a nail polish in their favorite color (these let you preview the shade in a fun way), this mini glow tonic, and one of these cool crystal soaps (or DIY your own) in whatever color matches the clutch. That is, if you're matchy-matchy like that. And I am.
Hand Dyed Muslin Pouch
Hand Dyed Muslin Pouch in Navy
Personalized Crystals: Most of shopping for your wedding party is knowing your crowd. And I know my crowd is deep into the woo woo. Give us a tarot deck and an astrological meme, and we'll stay busy for hours. In fact, when I was about to give birth, my BFF showed up at the hospital with a handful of crystals and Jamaican Jerk patties because she knows me. Inspired by that gift, I'd pick up one of these crystal oracle decks and then divine a set of crystals for each of my friends, and gift them in one of these hand dyed muslin pouches.
FAVOR BOX
Edible Treats: When I was in college, I made friends by walking through my dorm, knocking on doors, and passing out homemade cookies. Because nothing says gratitude like refined sugar. If you're feeling inspired, I can't say anyone would ever turn down homemade macarons in a lovely dip-dyed box, but I'm lazy so I vote for Milk Bar B'day Truffles. Basically you can never go wrong with a nice card and something to snack on tipsy at 2 a.m. in the hotel room.
BFF Swag: At summer camp, one of my colleagues made me an old-fashioned friendship bracelet, and I was immediately flooded with memories of sitting on my floor, memorizing knot patterns and making jewelry for everyone I know. You can do the same for your best people. Grab yourself a copy of the holy grail of friendship bracelet making books, some letter beads, and a few hours in front of your TV. Or skip the crafting and get a few of these BFF bracelets from Madewell. Then pop them into a dip-dyed box tied up with friendship bracelet string for all the nostalgic feels.
Personalizable dip-dyed canvas TOTE
Seafoam Personalizable Dip-Dyed Canvas Tote
Just a Really Nice Little Bag: And finally, if you find yourself picking out a few too many goodies, you might want to spring for one of Minted's personalizable dip-dyed canvas totes, and at $12 (or $7 if left unpersonalized), you probably do. Considering that whenever I've been a bridesmaid, all I've ever really wanted is something bigger than a clutch to lug around all the extra crap needed for a really long day, it definitely fits the bill for beautiful, useful, and affordable.
This post was sponsored by Minted. Minted sources designs from independent artists all across the globe, meaning you get affordable art in your life and artists can make a living doing what they love. Besides loving their Wedding Color Library for decor and gifts, Minted is easily one of our favorite destinations for wedding invites (the designs are just so good, y'all). Click here to find everything from save then dates to invitations, decor, and more.