This is a paid post from an APW sponsor. For more about APW and how we make money, please click here.
---
Did I ever tell you guys about the time I got so overwhelmed by the 5,780,500 potential options for wedding bands, that I ended up ordering what was supposed to be an ethical band from an Etsy jeweler, and later discovered was a cheap made-in-China stock setting that broke four years later? Yeahhhh, that was… not my finest Internet shopping moment. With more wedding vendors trying to be environmentally responsible these days (and the lines around what ethical really means getting blurrier), it can be hard to discern if what you're getting is an actual quality ring or actual quality marketing skillz. Which is particularly stressful given that your wedding bands are, y'know, the one thing besides your partner that's going to be a part of your daily life after the wedding. Gulp.
Enter Good Gold, the new sister company of longtime APW sponsor Ash Hilton Jewellery (we posted all about Ash's family business last month and you can read about it right here). Good Gold was started by Ash Hilton and his sister Siggy with the goal of creating the world's most ethical wedding bands—that also happen to be simple, classic-yet-modern, super comfortable, affordable, and easy to order. Because, you guys, they get it. As they told us:
There are so many choices when planning a wedding. SO MANY. And while we've been working with couples for 15 years designing custom rings, we've learned the vast majority of people really just want something super simple. That's why with Good Gold, we've stuck with the most classic designs.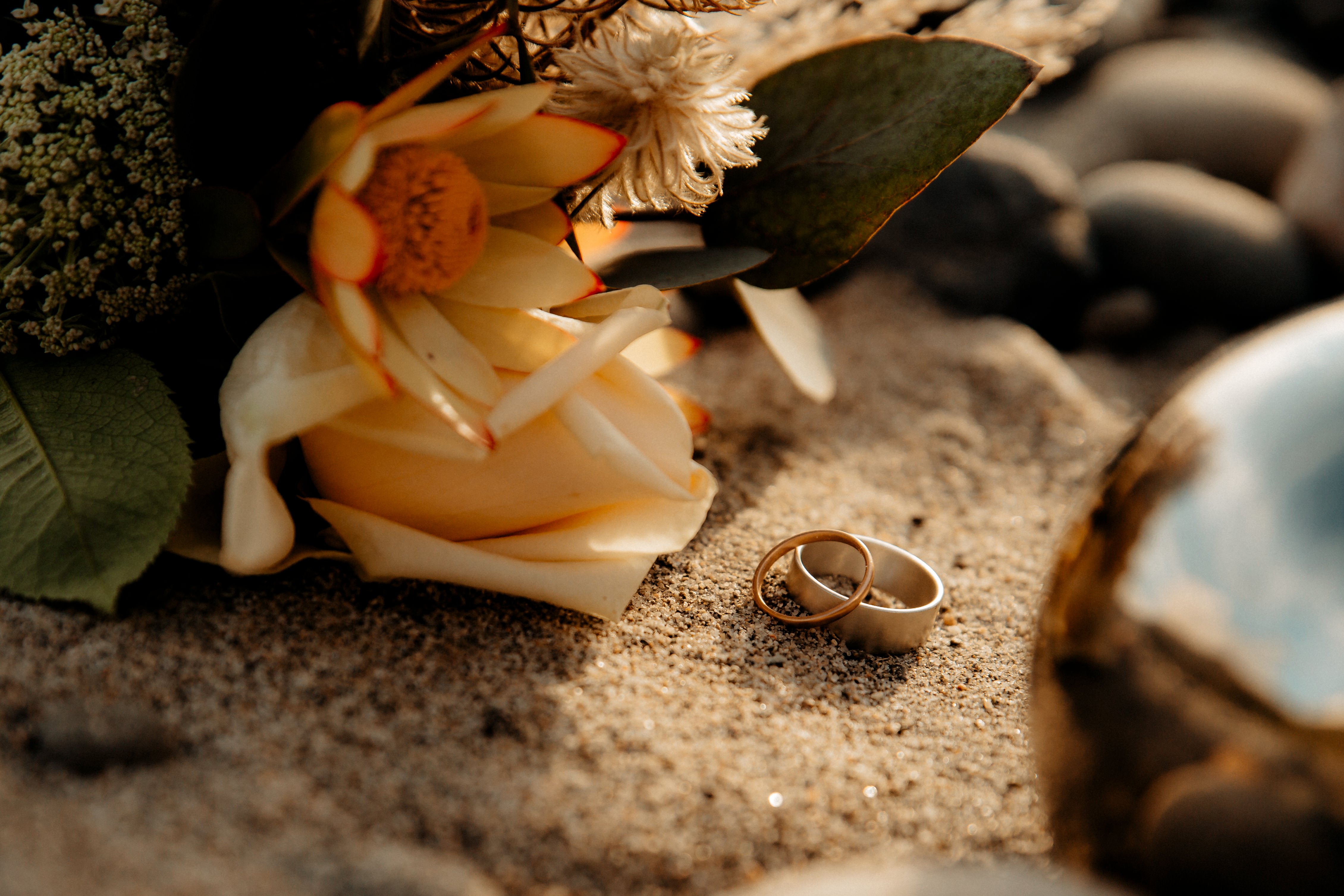 But just because your ring is simple, doesn't mean it can't be incredibly special. Every Good Gold ring is made to order in the Hiltons' little workshop by the sea in Nelson, New Zealand. They use only locally sourced alluvial gold, which starts off as grain-of-sand-sized pieces on a beach near where Ash and Siggy grew up. (Seriously, don't miss these beautiful images and interviews with the folx who collect the gold that goes on to become Good Gold's rings.)
And here's why this is so special: most wedding rings produce 10 tonnes of mining waste to create. Good Gold's rings produce none. (You can learn more about different ethical gold options and what each entails right here.) Basically, Good Gold takes the idea of jewelry as a handmade work of art to a whole other level, with the gold for each ring coming straight from nature, passing first through the hands of small-scale local miners to the artful hands of the Hiltons, then finally to your hand forever and ever. I mean, I'm not overly sentimental, but there's something about how there's literally nothing but love every step of the way that makes even me a little verklempt.
At this point you're probably thinking, "Okay, but gold this special has to cost like, twice as much, right?" To which I'm bouncing in my chair and clapping, because nooooo. Good Gold's designs range from $195 to $1,195 USD, depending on karat and size. You can even build your own band with different widths, finishes, and other options right here to see the exact cost.
Oh, and also, APW customers get 10% off, always and forevs, because the Hiltons love you guys:
We've advertised our sister-company (Ash Hilton Jewellery) on APW for years. We love it and we love APW couples because we all share similar values. We believe in inclusivity! We love having fun! We know how to have that fun without wrecking the planet! We've had the pleasure of working with lots and lots of APW couples over the years and you guys are just the greatest. You get our quirky sense of humour, give us big ups for finding the most ethical materials to work with, and you really include us in the excitement of your wedding (the best part is seeing the pics after).
Plus, Good Gold provides amazing customer service:
They ship worldwide for free. (Rings are made to order but are usually ready within 1-2 weeks.)
They offer free resizes and returns.
You can even return your ring at any time if it's not working for you—no time limits, no worries if you've worn it for a few years. (AKA, what I wish I could've done when my own wedding band broke—except with a well-crafted band like Good Gold's, there's almost no way that would've happened in the first place.)
Even the box is beautiful:
We also worked with the super amazing Mat Bogus of Think Packaging to create a super thoughtful box. We love a good packaging moment, but hate things that only exist to get thrown away. Our ring boxes are the size and shape of a wee book. Layered inside are your rings and then a care kit to keep your ring looking its best. You can keep it on your bookshelf—that way when you need a little maintenance, you know where to find it. The coolest part? The boxes are made out of recycled takeaway coffee cups.
All of which leads to satisfied Good Gold-wearers from Texas to Alaska:
My beautiful ring I received from Good Gold is my absolute favorite, I'm so glad I get to wear it every day. Ethically sourced gold, perfectly crafted, and simply gorgeous. It arrived super fast, even though it came all the way from New Zealand.

—from Brydie in Texas
Seriously the NICEST, most WONDERFUL company and customer service. Even from the other side of the world. You can do no wrong ordering from Good Gold. I love my ring so much and they worked with me to make sure I got what I wanted. Thanks again, guys! If I could give you a higher rating, I would!

—from Crissy in Alaska
So, if you've been feeling like all the wedding band options out there are getting super overwhelming (especially in the midst of all the other wedding planning choices), and want to choose instead from a few classic styles that are well-priced, handmade by a small business (with free shipping and returns!) with gold so ethical it makes you want to weep, stop reading and start shopping right here. Learn more about Good Gold's ethical practices here (from their alluvial gold sourcing and beyond!) or reach out with any questions right here.
APW READERS RECEIVE 10% OFF AT GOOD GOLD—JUST USE CODE APW10!