This is a paid post from an APW sponsor.
---
So you're planning a wedding, and you just want it to be fun and beautiful and representative of you both and not budget crushing, but you're starting to realize how much of the conversation around weddings (not unlike, well, everything else) seems set on shaming you no matter what you do. You're either investing too much energy on your wedding or you don't care enough. Your friends encourage you to have a wedding that's completely unique, but they won't stop emailing links to all the trendiest trends. Your families complain that you're being cheap when you don't want to invite your seventh cousins six times removed, but that you're being ridiculously frivolous to spend a $1,000 on a dress.
And so you take to the internet to confirm that your ideas aren't totally off-base, that you fit in somewhere, that your wedding will be beautiful and valid (and therefore your relationship is beautiful and valid), and nine times out of ten you can't find couples who look like you throwing weddings that look like yours.
Imani Photo Co.'s Nadiya Nacorda had that exact same experience as a mixed African and Asian woman planning a wedding that combined three cultures when she got married a few years back, and it ignited a fire under her that her wedding photography business would never make couples feel like that. In the years since we first introduced Imani Photo Co. as a voice for diversity and inclusivity in the wedding industry, Nadiya has achieved her mission (which I dare you not to tear up while reading), photographing all kinds of couples having all kinds of weddings and representing all kinds of them on her site: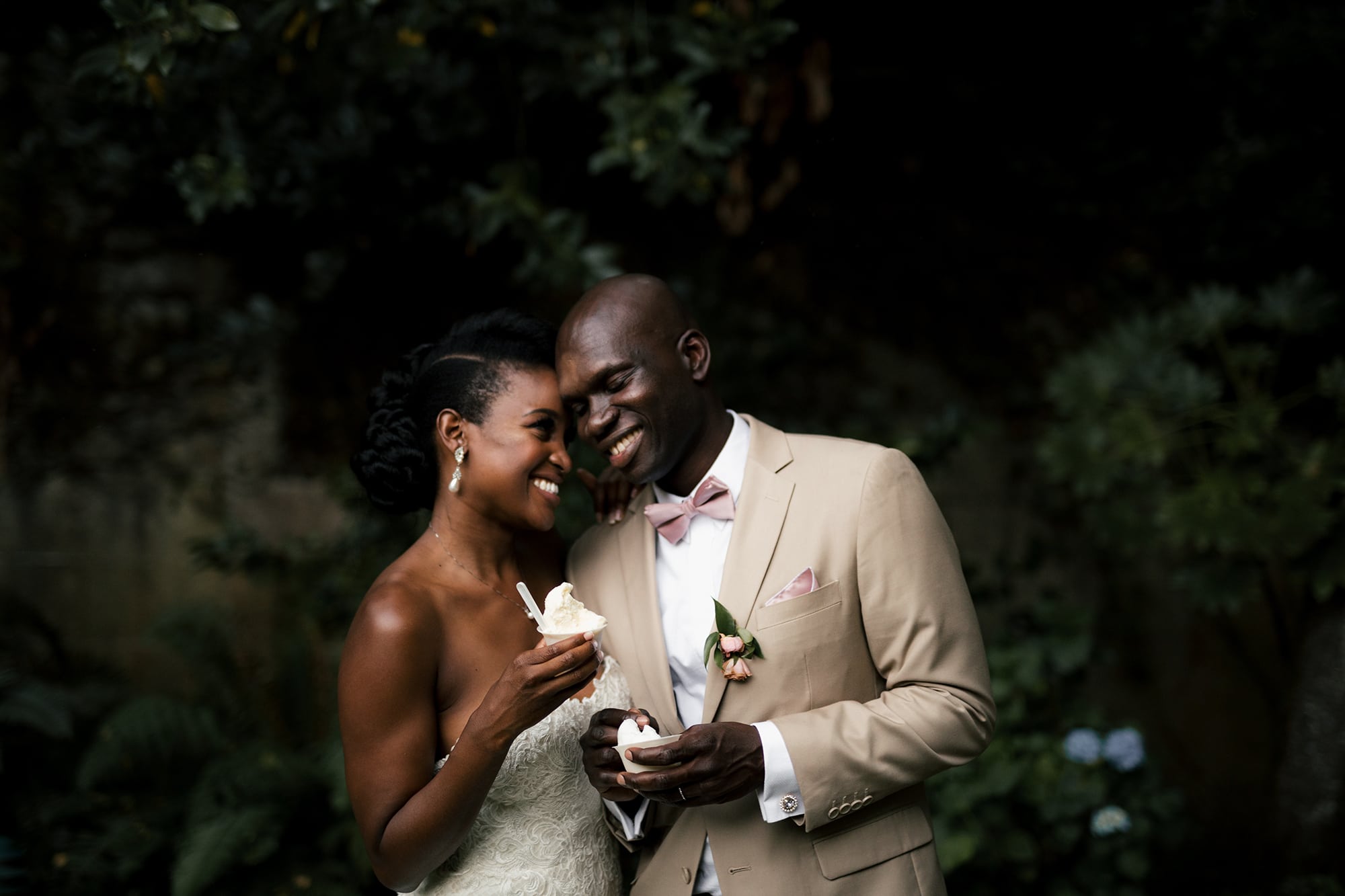 Frankly speaking, no one else in the industry has the type of portfolio that Imani Photo Co. has—not only for its inclusivity but for consistently stunning candids and portraits that look like absolute works of art. And if you, like me, cannot get enough of the killer style and lovey-ness (a word I'm inventing for the sole purpose of how cute they are) of these two below, their entire wedding is here, and each photo is more adorable and elegant than the last.
Nadiya credits Imani Photo Co.'s success right back to her amazing clients:
Imani Photo Co. is a service with a mission. We are firmly dedicated to inclusion and diversity in a way that is demonstrated and true. We are consistently engaged in the conversation of social justice and representation as it relates to the wedding industry and the larger context of media and imagery. Just look at the weddings we photograph and the consistency we are dedicated to. That's what happens when women of color–owned businesses—who work not only for equity but also visibility and celebration—are believed in and supported. They speak for their own but also aim to bring everyone with them within the range of marginalized individuals. There is also ZERO compromise. I would rather go out of business sticking to my truth than compromise.

We are truly a business that seeks to be successful on a personal level. If our clients love our work and love what we are doing, then we're achieving our goals. We need money to operate obviously, but that comes secondary to our values and our mission. We get emails all the time from people that might not even be getting married, but want us to know how important it was for them to see themselves in our work. They speak about not being seen in the industry and how when they arrive to ImaniPhoto.com they feel validated and seen. That is worth everything to us. It's the reason why this business was started and why it is going to continue serving couples in this way as long as it can. I'd also like to thank APW and APW readers for being amazing and active within this community that seeks to subvert traditional wedding norms and also for all the support over the years. Imani Photo Co. wouldn't be here if it wasn't for the APW community. ❤️
MIC DROP, YOU GUYS.
Imani Photo Co.'s rates for full weddings start at $3,750 (with travel included!) and elopements are $2,000. Imani Photo Co. has always been committed to offering free travel to weddings anywhere in the United States. As Nadiya told us, "Because of our perspectives on global diversity and representation, we always want to make sure that we are available to couples from anywhere in the world. With weddings already photographed from all around the world from a diverse range of cultures, our couples know that with us they will always get open minds and hearts. And their photos will be better because of it."
But Nadiya has recently relocated her home base to Upstate New York and New York City, and she is so excited to be able to more easily serve New York, Northeast, and New England weddings and elopements. And to celebrate her recent move, the first 3 APW couples to book a New York City elopement can receive $500 off!
The only catch when you hire Imani Photo Co.? They are taking on a verrrry limited number of full wedding clients in 2019. (There is slightly more availability in both 2018 and 2019 for elopements, but don't hesitate to jump on that $500 off.) But this isn't actually a catch at all—as long as you don't wait too long to book!—because it's just going to make the experience of working with Imani Photo Co. way more special:
We've always focused on the quality of experience and the final images over the quantity of couples, but this year Imani Photo Co. is being more open about it and more deliberate. Taking on fewer clients creates more time and space to have a deeper and more intimate relationship with each couple. Many photographers aim to take on as many clients as possible, sometimes cramming their weekends full of weddings. That might work for someone else, but for our mission and purpose it's unsustainable. Basically, I'm not at my best when the intimate and personal aren't put first. I'm an emotional person and an emotional photographer. Limiting the amount of elopements and weddings allows my most authentic and intimate work to be available to each and every couple.

There is nothing more significant than the power and inspiration of the human connection. During an elopement or a wedding day, the couple gets to take a breather from the outside world and just live in their love with their community. It's an infectious energy that is created on the wedding day of APW couples. They bring their true selves to their wedding day, and it shows.
From friends embracing that haven't seen each other in years, to lovers canoodling in the corner taking a break from the dance floor, to a mother kissing her baby on the forehead as they pass out toward the end of the night, there are so many magical moments that unfold before us on a wedding day, and I love getting to witness them and then make art out of them. It's in those moments that I'm at my happiest in my work. Those tiny, candid moments that mean the whole world. I'm always moved during weddings—from the honest and soul-bearing vows that are quirky and unique to the speeches that warm everyone's heart in the room.

I'm a total romantic. And not in the cheesy heteronormative sense of the word, but the romance of true friendship and community. Of families born and those that are made. The romance of partnership and full acceptance of another human being as they are, with all they are. And APW readers just get that and therefore they get me. We get each other. With my APW couples, we form our own little community and connection surrounding their wedding day. I'm there to support them and be there for them through their wedding imagery. And in turn, they are there to embrace my artistic and creative vision for their photographs. They want to have someone they can enjoy talking to about their wedding photography and who can join in the celebration as well as document it. I always feel at home with my APW couples, and they love me as well!!!
And love Nadiya, they do. Here's what client Michelle had to say:
I can't remember even how I found Nadiya—it may have been through APW—but I'm so glad that I did. I connected to her photos immediately, and I had a feeling that she would be able to capture our non-traditional celebration. Before our wedding day, I had only talked to Nadiya briefly on the phone a couple of times, but she has such a relaxed and comforting presence, I felt like we had been friends for years. She was calm and so easy-going, I really enjoyed having her there while I was getting ready. She was extremely professional during the whole ceremony—she got amazing shots and was so discrete. We are beyond thrilled with our gorgeous photos—they are better than we could have imagined. I would highly recommend Nadiya to anyone, but especially to those who are easy-going and want a photographer who understands and can successfully capture a non-traditional, community-centered celebration of love.

—Michelle Y.
There are ordinary wedding photographers, and then there are the special wedding photographers who maybe check two out of four of these boxes: ridiculously talented artist; amazing person that you'll legit want by your side on your wedding day; reasonably affordable rates (and free travel) and heartfelt service; giving back in some way that you wouldn't necessarily think of when it comes to wedding photography. And then there's Imani Photo Co., who leaves them all behind.
Imani Photo Co. is only taking on a limited number of wedding clients next year—so don't hesitate to make yourself one of them!
IMANI PHOTO CO. IS OFFERING $500 OFF New  York City ELOPEMENTS TO THE FIRST THREE COUPLES WHO BOOK. CLICK HERE TO GET IN TOUCH TODAY.