This is a paid post from an APW sponsor. For more about APW and how we make money, please click here.
---
When APW first started back in 2008, it was a small but fierce contingent of sane, logical folks attempting to take on the world. Or, erm, just the multi-billion dollar wedding industry. Viewpoints that felt sane and logical—like you shouldn't be shamed for wanting a small wedding or elopement and that it's okay to not spend a year's salary on a wedding—were considered "niche." And publishing an LGBTQ wedding was a super-political act.
In the last decade most of those niche ideas have made it into the mainstream, in no small part due to fiercely dedicated wedding vendors who refuse to accept the status quo. From the very beginning one of these people has been Kelly Prizel, an East Coast wedding photographer (working everywhere from Massachusetts down to D.C.) and APW sponsor since 2008, y'all.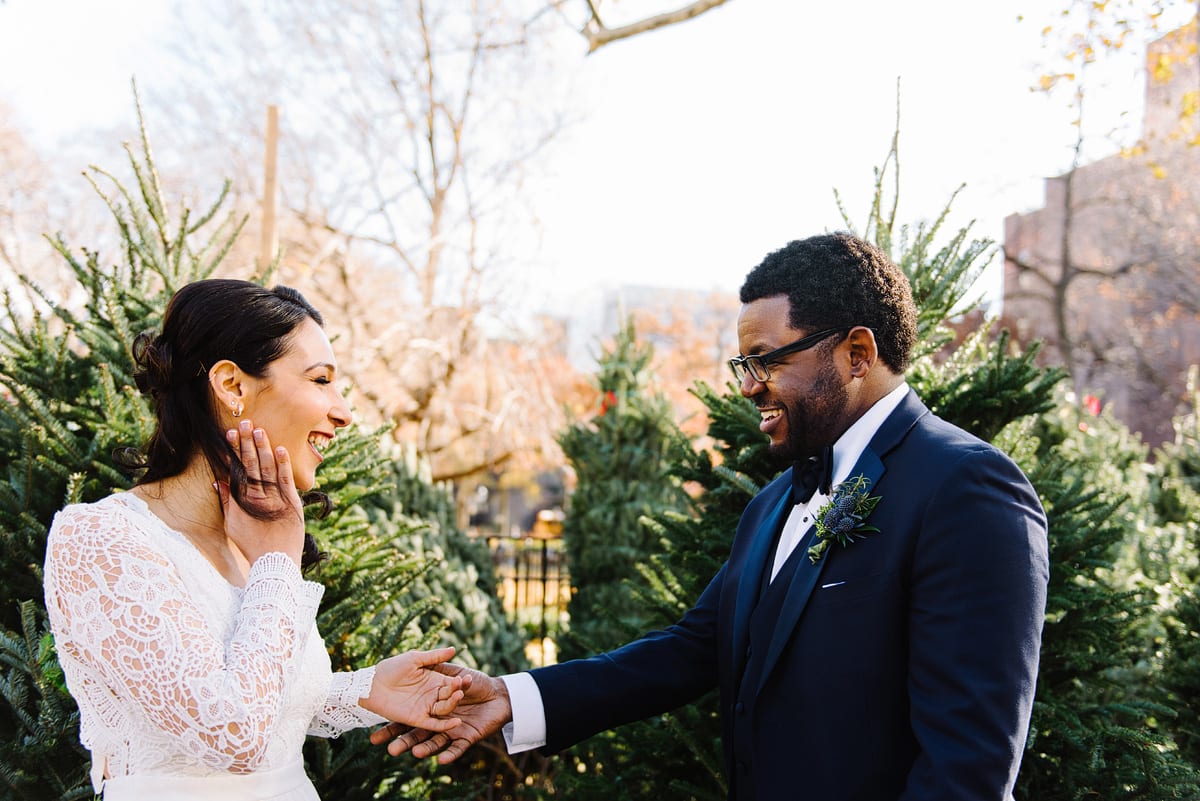 Kelly became a wedding photographer not only because she is so ridiculously good at taking photos that they are the closest thing to "timeless" that I've ever seen, but because she had something to say. Namely:
Where are the f*cking gay people? Where are the people of color? Where are the over-size-two people? I'm not here to show you models in a field with a piano. Yes, it's super-pretty. Yes, it's great portfolio material. But IT'S NOT REAL. I love real people in love. I love people choosing to commit publicly to each other. And in each wedding I shoot, whether the couple is twenty or fifty; gay or straight; black, white or anything else, I strive to tell the story of what your wedding IS about: love, community, and commitment.
Right? As important today as it was ten years ago, but with one small difference. As more and more people are finally finding a seat at the mainstream wedding industry table, where does that leave… all that tradition we feel compelled to escape from in the first place?
Well, Kelly has a few thoughts on that:
It's time for queer folks to take the word tradition back. I've been shooting weddings—mostly LGBTQ weddings—for eleven years now, and my clients are already taking it back. I took it back in my own Jewish lesbian wedding in 2008. Queering tradition is what I do and what I help the amazing couples I work with do as well.

In every meeting I have with a couple, I ask what traditions they are including in their wedding. Sometimes the answer is easy: we're marrying under a chuppah; we're having a drag show; we're jumping the broom; we're having a Pyebaek ceremony. But at other times, my clients go quiet. "We're not traditional," they say. Stated quietly or defiantly, my clients make a statement with these words. Sometimes it's, "I've moved on from that part of my life in which I was rejected." Sometimes it's, "I'm not close with my parents." Sometimes it's "we're secular" or "we're atheists." And sometimes, it's simply, "we're untraditional." These responses have led me to think a lot about tradition and what and whom it is for.
Let me explain: as I say on my info page, We live in a post-Fiddler-on-the-Roof age. No longer must we be bound by the gender roles that make up the bulk of Tevye the milkman's song. We invent our marriages and partnerships every day, whether we are part of the LGBTQ community or not. We revise, reconstruct, and remake traditions every day. And we validate those traditions in front of our friends, families—whether of origin or by choice—and communities.

Tradition has a past but also a present and future. Tradition can include us. Tradition need not be normative. My clients, especially my own LGBTQ community members, come to me searching for a way in which their wedding photographs will reflect them—all their quirks, and idiosyncrasies, all their inside jokes, and all their intimate relationships. For many of them, these things seem to lie outside of the bounds of tradition. But they're wrong.

These are their traditions, and we need to give people permission to claim them as such. I was married under a chuppah. The seven blessings were recited; Natalie and I circled each other. We also played rock, paper, scissors under to decide who would say vows first. We read a children's book to each other. Oh, and we were two ladies engaged in what at the time was an illegal act. In each of these religious and secular moments, in the ordinary and radical, we made our own traditions that day. We shared them with the loved ones surrounding us.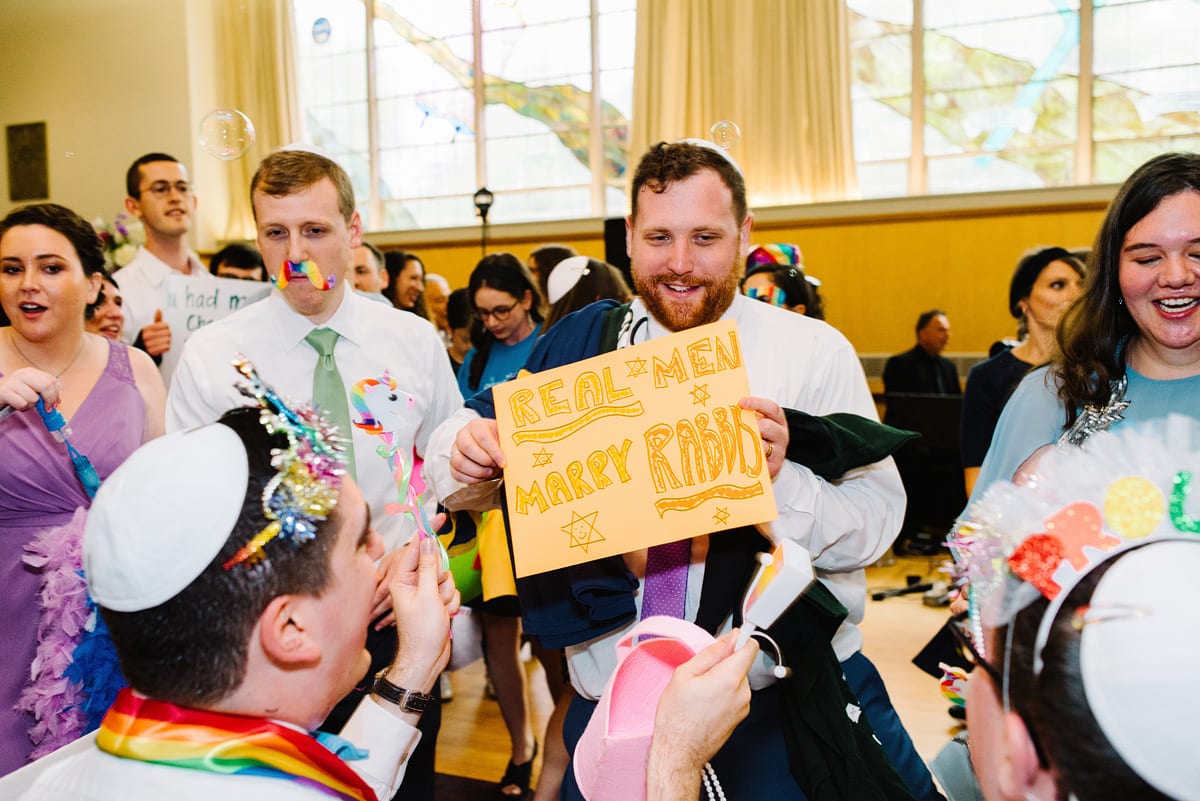 What I want for my couples is to have photos to reflect all the untraditional traditions that encompass their weddings and build the foundation of their lives together. When people see my photographs, I want them to feel the unadulterated joy of a moment in which a chosen family is being made—a chosen family grounded in a past but looking to a future. I want my pictures to show traditions being born. I tell my clients on the phone that I want their photos to look like the most artfully composed family snapshots they've ever seen: with all the authenticity and emotion of those pictures in a shoebox you rifle through when you need to have a good laugh (or cry!). I also want to give my clients romance.

So many of us have been asked to hide, to be discreet. So many of us have learned to kiss in the dark, to make others more comfortable. Fuck that.

In telling you all to embrace tradition, and in helping you do so, I'm not suggesting that you become someone you're not. Rather, I'm asking you to embrace the complexity of your own being and all the messy ways identities collide, bounce off one another, and make you whole.
Kelly Prizel is the big boss lady photographer at the head of Kelly Prizel Photography, established 2007. As she told us:
I'm also the glittery half of a wife-wife team, alongside Natalie, the tweedier half. Because every photography team needs a dapper nerd with a PhD in English, who teaches Victorian literature, queer theory, and disability studies at Princeton, right? She also looks hot in a bow tie. In case it's not clear, we're huge nerds who like hanging out with other huge nerds, like all of you over here at APW!

I've moved a lot (#becauseacademia), so I shoot from D.C. to Massachusetts, with special love in my heart for D.C.; Princeton, New Jersey; and New Haven, Connecticut. My prices start at $3,450 for full wedding packages with a wide range of options from there. New York City elopements and intimate weddings—and the occasional rooftop proposal—are also my special jam.
To find out if Kelly is available to shoot your wedding, just text her. REALLY! 203-513-9377. (Kelly is available by text from 8am to 8pm everyday except Friday eve through Saturday eve.) Or do things the old-fashioned way and CLICK HERE TO GET IN TOUCH.