Elze, biologist & Louis, engineer
sum-up of the wedding vibe: A sparkling and golden day in San Francisco.
Planned Budget: $9,000
Actual Budget: $11,701
Number of Guests: 28
Location: Shakespeare Garden, Golden Gate Park | San Francisco, California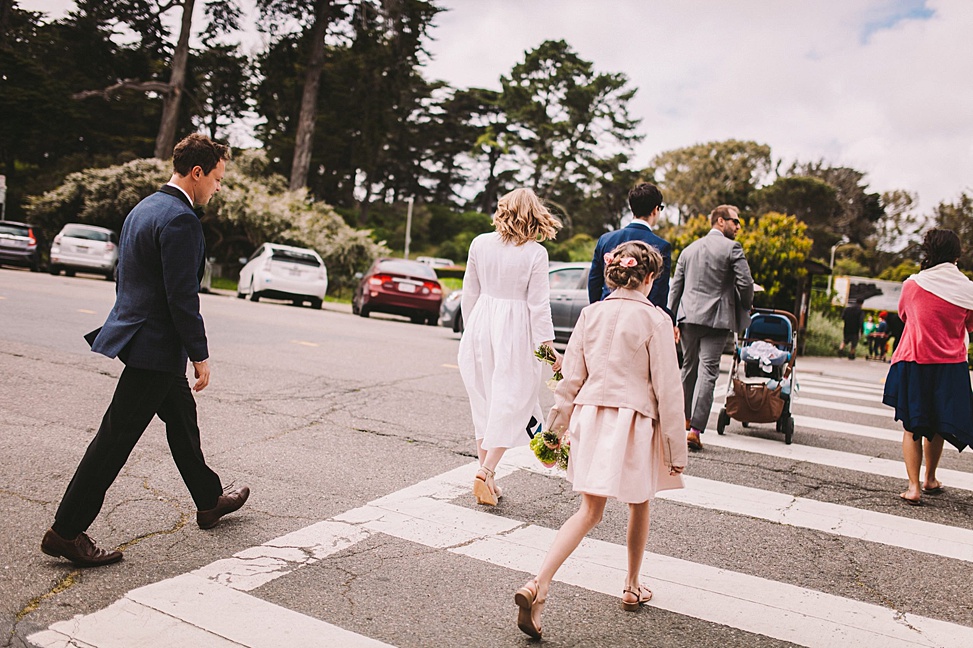 Where we allocated the most funds:
Our photographers and our caterer (who also managed the rentals) were our only two vendors and the biggest expense. We followed APW advice and only worked with people who felt right. We met a few vendors who were not interested in working on a small event like ours or within our small (for San Francisco) budget. When we found Stag Dining Group, everything changed. They made us feel like our apartment wedding idea was actually possible, and we really connected with everyone who worked there. They came over several times with measuring tape and we sketched out maps of just how we would fit twenty-eight people in our living room and dining room (pro-tip: circle tables apparently fit more people). Aside from taking us seriously and being the cogs of the entire event, they created the most incredible dinner.
We hoped that the meal would be the central part of the wedding and feature both of the countries where we were born. We had a cheese course with a wild ale home brewed by Louis and rye bread as a nod to Lithuania and a croquembouche instead of a cake, the traditional French wedding dessert. Stag also recommended some wineries in the Sonoma region and we went on a trip to taste and buy in bulk directly from the winemakers. That part of the wedding "planning" was not so bad.
We felt awkward pretty much the entire time of planning the wedding, partly because we were busy with our careers and partly because neither of us had strong opinions about much of the event. For these reasons, we thought it would feel even more strange to have a person following us around and taking pictures. Jana and Jamie were anything but that! From our first conversation, we felt their warmth, and on our wedding day, they had a lot of tricks to help us relax. They were such a positive presence in our event.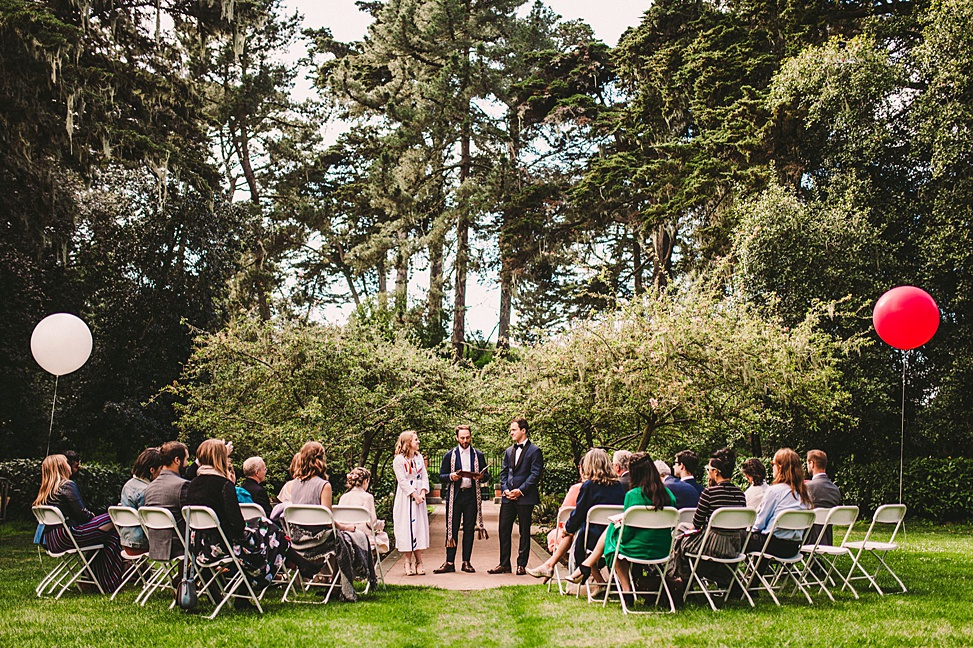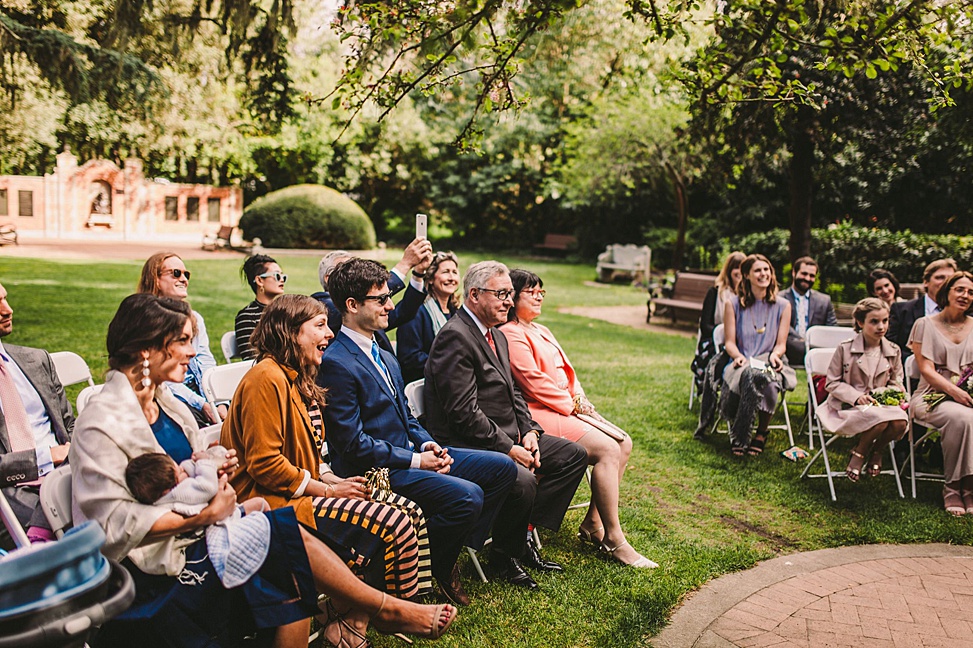 Where we allocated the least funds:
We can't say that our venue was free, because we do pay outrageous San Francisco rent here, but we were very happy with our decision to have the event at home and avoided a lot of expenses associated with venues. We worried that our apartment wasn't luxe enough—we don't have nice art or furniture or rugs, and to be honest our kitchen was medium clean for our chef—but I'm glad that we didn't spend much money on decorations. I had so much fun going to the flower market with my mom and sister and picking out whatever flowers we liked that our friends lovingly made into their own creations the morning before our wedding. We are so grateful to our parents, who paid for the catering and wine.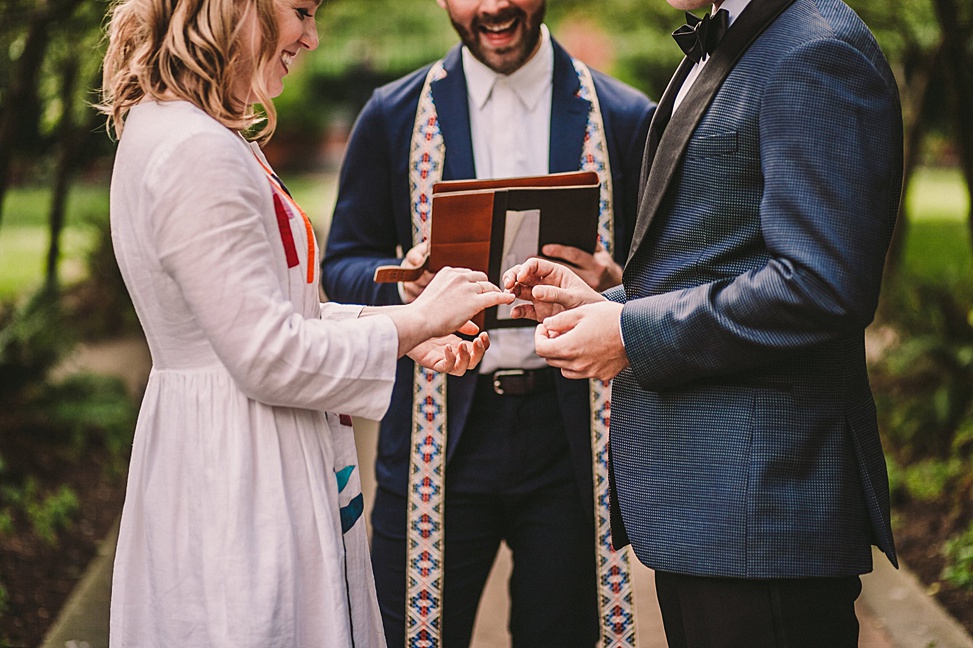 What was totally worth it:
Having a (small) wedding, which wasn't a given for us. We weren't sure if we wanted to have a public celebration of our relationship, but we are so glad we did. We learned so much about ourselves and about how we fit into the hearts of so many that are close to us. Most of our family lives in Europe, and we knew that there was not a location that we could choose where everyone could come. We felt that limiting the wedding, both physically by having it in our apartment, and to those that are in our most immediate world at this moment in our lives, would be the best compromise for us. Despite having to make some very tough calls in the guest list, we don't regret this decision at all!
What was totally not worth it:
Building a wedding from scratch. We felt that we had to reject weddings completely and only choose the traditions that made sense to us. Looking back on it, we only now understand why certain traditions exist. For example, after our wedding dinner, our wonderful caterer basically told us we had to say something before the croquembouche was cut into pieces, as we didn't want to do the traditional cake cutting. We realized that in some ways, the reason people make a show of cutting the cake is to signal the vanishing of a beautiful dessert to a less appealing morsel on the guests' plates. Had we just accepted that some of these traditions are not horrible wedding industrial complex/patriarchy, we would have had an easier time.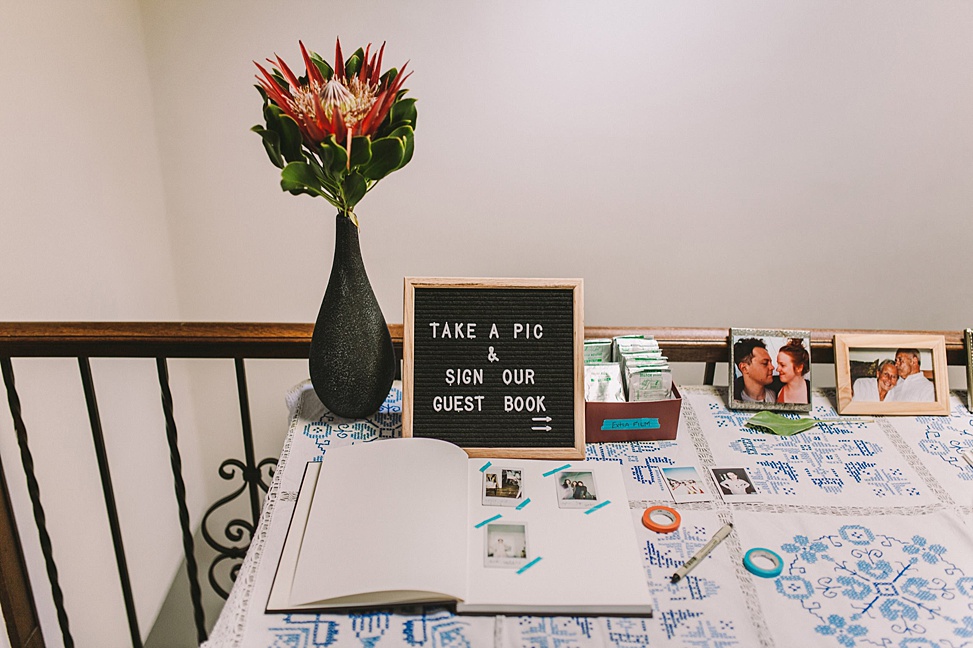 A few things that helped us along the way:
Our friends and family came through in such significant ways in helping prepare our apartment for the event. I'll always remember my lanky brother careening out of our front balcony to clean the windows from the OUTSIDE and my sister trimming the grass that was a little overgrown in our back garden with scissors (because that's all we had). Our families especially, helped with all of the unsightly parts of cleaning for the wedding, for which we are so grateful. Even though we planned the event, I couldn't have foreseen just how beautiful all of the additions of our guests would look to me. Our garden, transformed from a barren plot of brick, was sparkling in the setting sun, decorated (completely without any direction from us) by our friends and family. And when I woke up the next morning, I couldn't stop marveling at the flower arrangements that were made by OUR friends.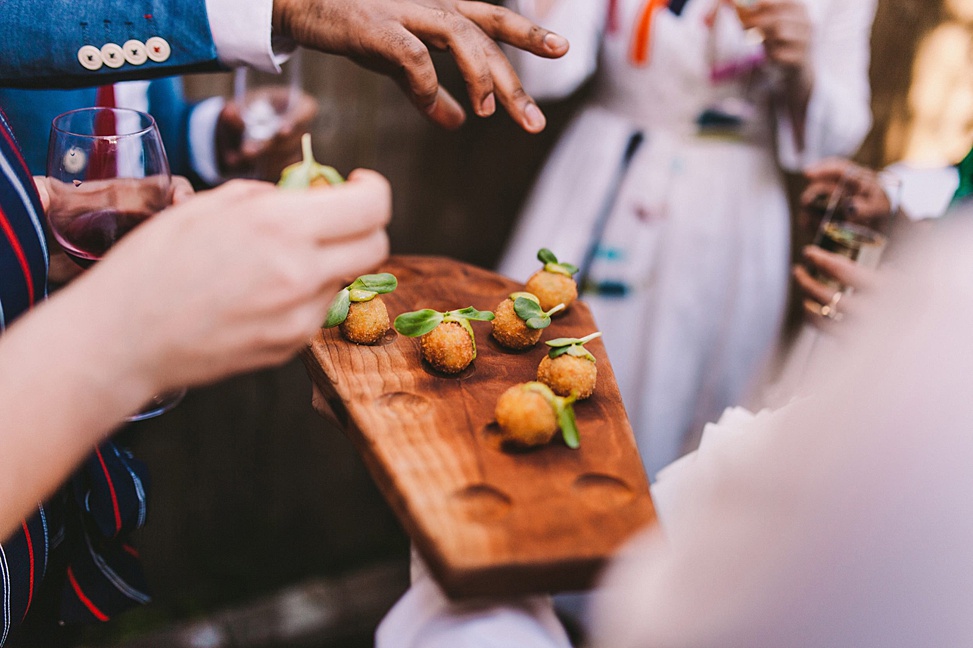 My best practical advice for my planning self:
Having a wedding in our rental apartment also meant that we moved all of our living room furniture to OTHER parts of the apartment (including bedroom), I woke up and cleaned the bathrooms on the morning of our wedding, and our family and out of town friends were over at our house basically for a week. Hosting such a big event at your own house is not as easy as it sounds.
Favorite thing about the wedding:
We felt so loved the entire day. Our friend who officiated our wedding somehow exuded so much love while reflecting our intentions. We saw such happiness in our parents' faces as we said our vows. Another friend surprised us with a toast that brought us to tears. We were given so much by so many. Just before the ceremony while we were waiting to start, Louis and I were standing under a big tree in Golden Gate Park, where we had our ceremony, and we looked at all of the people that had gathered to be there with us. They were talking, taking pictures with our newborn nephew, laughing, and my little sister was dancing. We felt so grateful and so touched. Then we held hands and walked down the aisle together. And everyone hummed the tune of "Here Comes the Bride," which was both silly and awkward, but felt just right.
Something else We'd Like To Share:
Shout out to our housemates (yes we have housemates), who let us take over the house!