Turn Down For What Cake Topper via Host & Toast Studio
A few years ago, I got really into making fancy cakes. Or at least, I got really into the idea of making fancy cakes. I had a cousin who was sidelining as a semi-pro baker, and I'd watched her work just enough to convince myself I could totally do it. I even made some for an event that APW hosted. However, after a few epic fails in the kitchen that involved me sobbing into a pile of confectioners' sugar at three o'clock in the morning, I learned something important: making cakes look pretty versus making cakes tasty and structurally sound (and also pretty) are two totally different beasts. Also I'm officially not allowed to attempt anything more ambitious than Betty Crocker anymore (it's for my own good).
If you're DIYing your wedding cake to save money, the best advice I can give you is to make sure that your plan is actually going to save you money. My cake efforts were ambitious, to say the least, and I'm pretty sure I spent more on supplies than I would have if I'd bought a modest yet pretty cake for whatever occasion I was baking for. But, you know, bragging rights. If you just want to save a few dollars and have a pretty wedding cake, then here's my advice: buy or make or ask a friend to make an inexpensive (but tasty) small cake, and then decorate the heck out of it. (Assuming you want a wedding cake to begin with. Obviously it is not required.) The best part? If you do a small cake for a symbolic cutting, then you can feed your guests tasty sheet cake and no one will be any the wiser. So with that, here are fifteen wedding cake ideas that give small cakes a big dose of pretty:
Put a Flower On It
1. One of the easiest ways to take a simple cake from boring to wedding is with edible flowers. You can buy them fresh or dried. (Styled by Healthfully Ever After; photo by Bit of Ivory Photography via Swooned Magazine.)
2. Or if you're not planning on serving your cake (that's what sheet cake is for, right?) you can always ask whoever is helping with your flowers (which could be… yourself) to make a little something extra just for the top, like the above. (Cake by Earth and Sugar, photo by Jessica Lorren via Snippet and Ink.)
3. Or to hell with flowers. Use herbs to decorate the sides of your cake. (Photo by Amanda Berens via Toertchenzeit.)
4. Sometimes less is more. There's a great tutorial for a DIY naked cake made from grocery store cakes right here and you can get a flat icing spatula for less than $10 right here. (Photo and cake recipe via Tú Eres El Chef.)
5. I never liked any of the beach-themed wedding ideas we found when planning our beach wedding, but I would make an exception for this. Mussels are the flowers of the sea, no? (Styling by Joy Thigpen; photo by Erich McVey via OnceWed.)
Sweeten the Deal

6. Flowers aren't your only edible decor options. Add dried or candied fruit for a colorful cake topper (which you can make or buy). Also, it goes without saying that white cakes are not the only cakes deserving of the wedding cake title. Chocolate cake is delicious. (Cake by Heritage Organic Cakes; photo by Michelle Able Photography via The School of Styling.)
7. Or whole fruit. Which you can then eat. (Cake by Sweet Haus; photo by Rachel May via 100 Layer Cake.)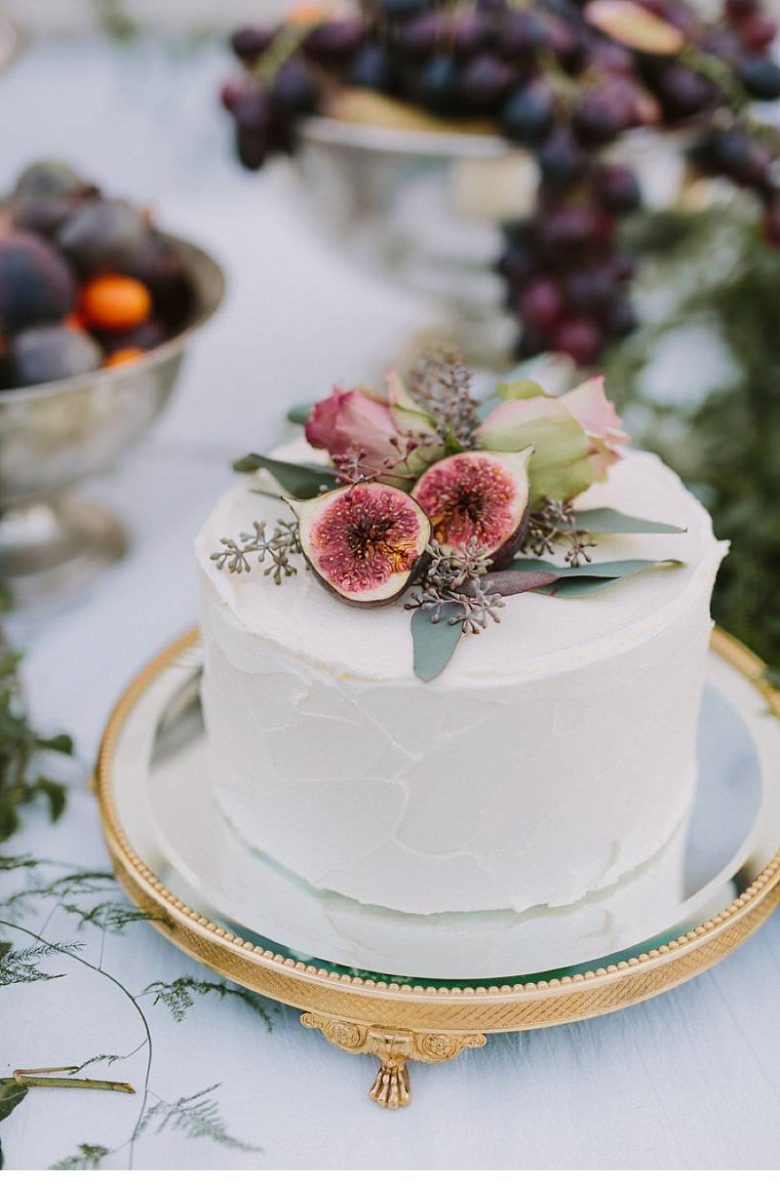 8. Or combine fruit and flowers. Bam. (Cake by Kuchen mit Stil; photo by Thomas Steibl via Wedding Chicks.)

9. P.S. Florals and fruits can mean big ass coconuts and tropical flowers. Just saying. (Cake by Heritage Organic Cakes; florals by Forêt Design Studio; photo by Ruth Eileen Photography via The School Of Styling.)

10. Who said edible cake decor has to exist in nature? Arrange other confections artfully on top of your cake to make it double the dessert. You can even buy ready-made heart-shaped macarons right here, and as you can see here, regular macarons would also work just fine. (Photo and macaron cake recipe via Raspberri Cupcakes.)
11. Or live out my childhood dreams and create an ombre effect using rock candy. You can buy rock candy at most candy stores and online, or make it yourself using this recipe. (Cake by Sweet and Saucy Shop; photo by Erin Hearts Court via 100 Layercakelet.)
Top it Off
12. You can give a short cake some extra height with a tall cake topper, like this geometric design from Host & Toast Studio. (Geometric cake topper via Host & Toast Studio; also available in teal, pink, gold, and silver.)
13. Or if you prefer something a little more nature inspired, Etsy is filled with cool customizable twig cake toppers, or you can make the featured above using these instructions. (Styling by Megan Forbes; photo by Christina Hussey via Gold Mine.)
14. Make a statement with tiny Mylar balloons. These look surprisingly easy to make, and the DIY is right here. (DIY Mylar balloon cake topper via A Joyful Riot.)
15. Or just throw everything at the wall and see what sticks. (DIY naked cake recipe by Cake Walk Bake Shop; flamingo cake topper by BHLDN; photo by April Ann Photography via 100 Layer Cake.)
P.S. If traditional cake expectations have you stressed out, read this post by Meg and it will make you feel better.