This is a paid post from an APW sponsor. For more about APW and how we make money, please click here.
---
The sad but true joke at APW is that if you want to change the wedding industry, come up with an idea and wait ten years for it to take hold. Because unless you've got something truly game-changing up your sleeve, the industry is an old fashioned bird wearing a fancy hat, and she likes things the way they are.
Chief example: engagement rings. Because I live in a progressive wedding bubble where we challenge the industry status quo on the daily, I kind of assumed we'd all moved past the idea that engagement rings need to be big shiny rocks. Maybe they could be small shiny rocks. Or multi-colored rocks. Or no rocks at all. So I was taken by surprise last year when several of my sister's friends started getting engaged and demonstrated that the pressure to uphold the traditional engagement ring standards is alive and well. And the most absurd standard of them all, in this modern day and age, is that we still expect diamond engagement rings to originate from the earth. Even when we talk about ethical rings, it's often expected that we're still talking about natural diamonds (just with higher standards of certification). And y'all, that shit is bananas. B-A-N-A-N-A-S. Because lab-grown diamonds and diamond alternatives are legit. And affordable. And the only reason we aren't buying them is because it's a cultural taboo.
So when Walmart.com invited us to partner with them during engagement season this month, I wanted to take the opportunity to challenge the status quo around engagement rings. (Feel free to come back in ten years and tell us how we did.) Walmart has an extensive selection of beautiful alternative engagement rings, so naturally part of our research involved… buying several of them. Again, for research. Here's what we discovered:
shine bright like a diamond
When I started to dig into the differences between mined diamonds and synthetic diamonds, I figured there had to be some discernible difference in quality. Cut to my surprised look when that myth was summarily busted. It turns out lab-grown diamonds and mined diamonds share the exact same chemical makeup. Which is just fancy speak for #twinning. They look the same under a microscope. They look the same to the naked eye. And while the diamond industry really wants you to think there's a difference (you should read some of the literature I found), most of the logic points to two reasons why: 1) "Real" diamonds are just more… special-er. Because reasons. 2) The resale value is higher for mined diamonds. So I guess if you're planning on trading in your engagement ring at some point in the future, then go for the gold standard (so to speak). But outside of a microscope, there's no difference.
Note: Moissanite often gets put in the same category as lab-grown diamonds, but they are actually different under a microscope. Moissanite are ever so slightly (like a fraction) less durable than diamonds, and they tend to be a bit more sparkly. However, unless you care about things like what color of sparkle is produced by your engagement ring, you probably won't be able to distinguish a moissanite from a diamond. At least, we couldn't when we were playing dress up with the ring below. Moissanite is incredibly rare, so pretty much any time you encounter it, you'll be looking at a lab-grown gemstone.
Frost Yourself
Which brings me to the dollar dollar bills, y'all. Lab-grown diamonds and diamond alternatives cost a fraction what you'd pay for a natural diamond. As in, this lovely one and a half carat halo engagement ring is just $900. And this is where I'll get petty for a second. If I were getting engaged today, I'd probably get a synthetic diamond and just… never tell anyone. Because outside of the one-of-a-kind artisan engagement rings, there's a lot of similarity out there in engagement ring land. In fact, when I was "shopping" for this post, I found a half dozen that looked really similar to the one on my hand right now. (I'll take this one please.) And in the ten-plus years since I got engaged, maybe four people have ever asked me where my engagement ring came from. So if the trained eye can't tell the difference, then nosy Aunt Deborah is never gonna know the difference unless you want her to. I guess what I'm saying is, if you want to have your cake and eat it too, to buy the lab-grown ring and not have to answer to society's bullshit, I'm not here to stop you. I just hope you take an extra nice honeymoon with the $2,000 you just saved.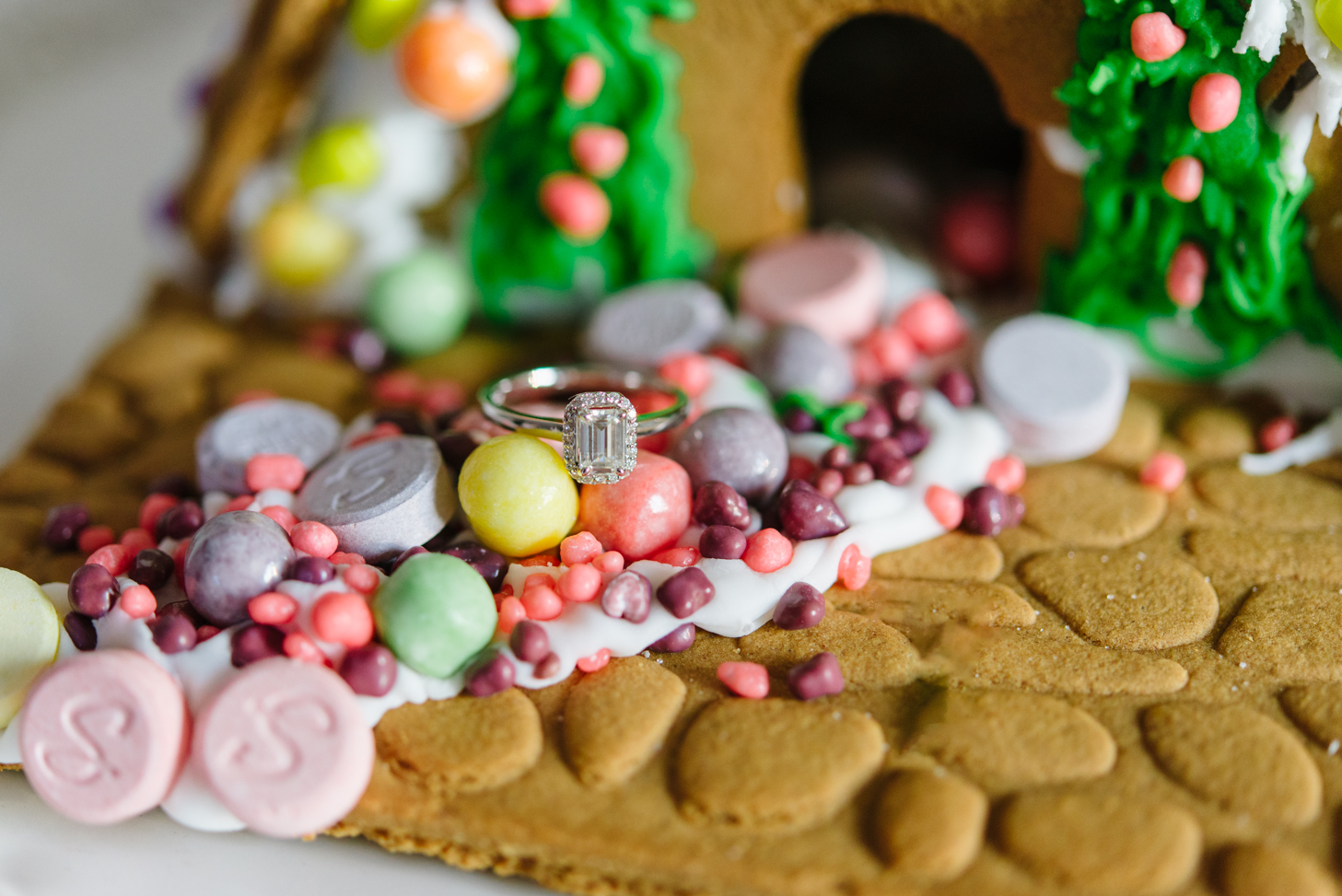 A Diamond is Forever
While there have been lots of advancements in ethical engagement rings over the last decade, I've been in this business long enough to know that it's really hard to guarantee no one was harmed in the mining of a traditional engagement ring. So if you want to avoid the conflict of mined diamonds altogether, lab-grown is the way to go. Not to mention, the environmental impact of your purchase is significantly decreased. It's not very often that the more affordable version of a product is also the more environmentally and ethically conscious one, so take that win where you can get it.
Since we couldn't afford to buy all the sparkles my heart desires (affordable as they may be), I've rounded up ten of my favorite diamond alternative engagement rings for you below:
Now, don't get me wrong. I'm not saying we can't or shouldn't want diamond engagement rings. There's already so much baggage around getting engaged, and I'm not here to add to it. (Frankly, what I want is the opposite.) But maybe we can agree that a twenty-first century diamond doesn't have to come the ground to be "real." Because for couples who do want a traditional diamond engagement ring, but for whom the price tag of a traditional diamond would be out of reach, a lab-grown diamond or diamond alternative is the perfect solution. And I want our culture to accept that as a viable option.
This post was sponsored by Walmart.com. At Walmart's wedding shop, you can find stylish, affordable engagement rings, including stunning and affordable lab-grown and non-diamond engagement rings.
As always, please be sure to read our comment policy before commenting on this post below.