This is a paid post from an APW sponsor. For more about APW and how we make money, please click here.
---
People rarely have lukewarm feelings about letterpress. If you love letterpress (don't kid, you know who you are), then you L-O-V-E letterpress in all caps. (APW readers have even been known to build their own letterpress machines, that's how dedicated to this craft y'all are.) And while everyone else is all, "I don't get it, what's the big deal about letterpress?" you're conducting a hundred different Google searches to try and figure out how to get affordable letterpress wedding invitations without having to sell an organ. Well, kiss off Google, because I have your answer right here: Thomas-Printers, a woman-owned letterpress company in Philadelphia, created by Kseniya Thomas, who learned the craft of letterpress in the print shop at the Gutenberg Museum in Mainz, Germany. Yes, as in the Gutenberg press, the first printing press in the world.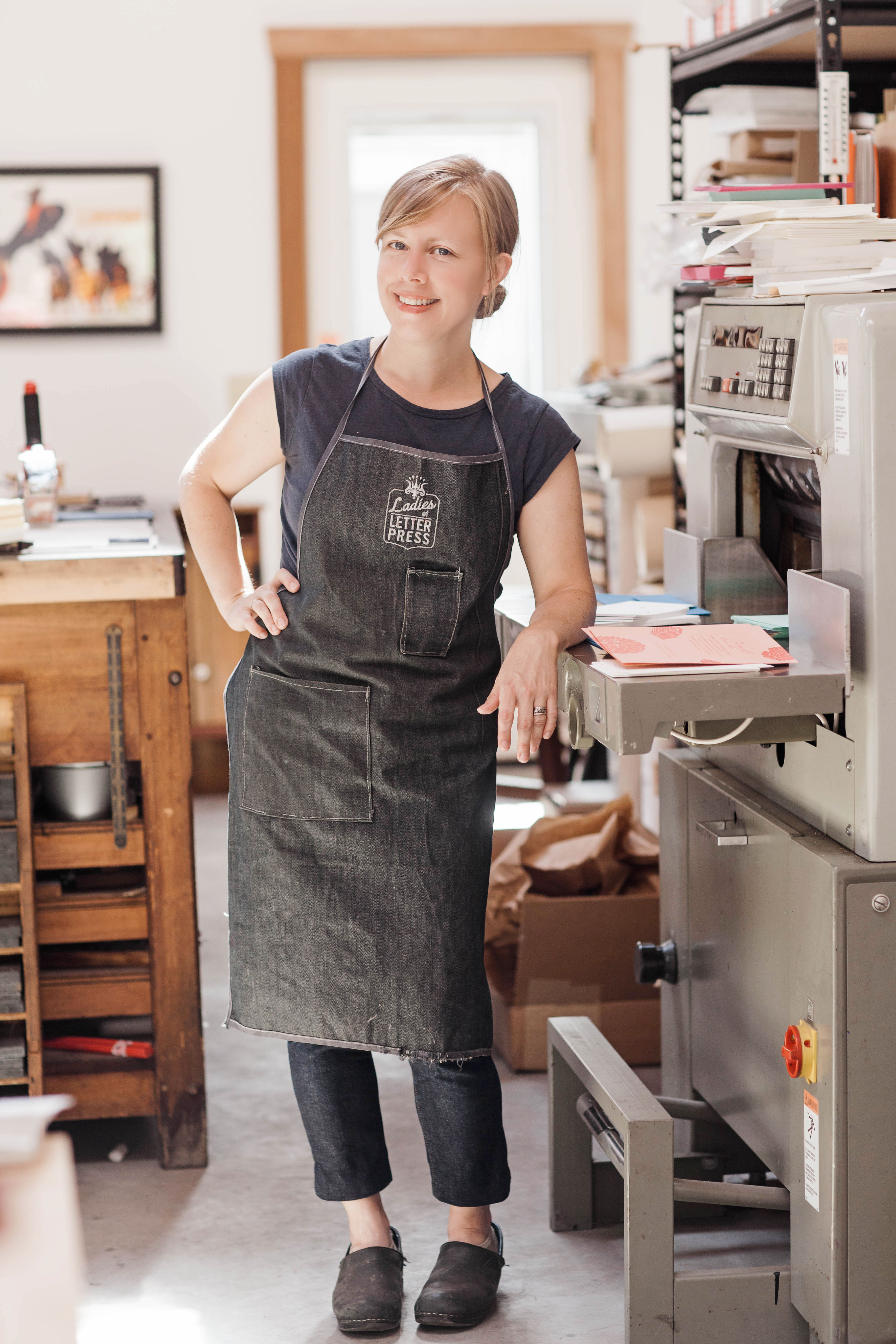 Here's how it works: Thomas-Printers is different from a lot of wedding stationery companies, in that they specialize in printing, rather than design and printing (it's how Kseniya is able to keep such affordable letterpress rates). So you provide the design, and Kseniya prints it for you for less than you'll find just about anywhere else. Which means more options for you: you can either work with a graphic designer in your area, use letterpress-ready DIY printables, or design something yourself. Then, Kseniya will work with you to get that design on paper and out to your guests.
Rates: Every job is just a bit different, so rates will vary depending on your needs. But for example, one hundred invitations printed on pure cotton stock (you supply the design) would run you $340 for a single color (and if you scroll to the bottom, there's a sweet deal for a hundred free thank you cards when you book through APW). Blank envelopes are included, too, yay! And since most people are invited to weddings in pairs, one hundred invites will work for almost two hundred guests. Kseniya says:
We are commercial printers, so 95 percent of what we print is designed by our clients. We are always happy to help you with file prep, though, or advise you on what will work with letterpress and what won't work as well. We pride ourselves on being fast, being friendly, and being fastidious.

Since every job is different, pricing is dependent on the specifics of a given project. We offer foil stamping, edge painting, custom duplexing, die-cutting, and envelope lining, among many other services, and we are always happy to send custom quotes to anyone thinking of making the leap to letterpress. Our project minimum is $195, so contact us with your specifics for a custom quote.
WHAT ABOUT CUSTOM WORK? While the core business of Thomas-Printers is in letterpress printing, Kseniya can absolutely work with you to create a brilliant custom-designed invitation. (Just keep in mind that custom pieces will cut into the affordability factor rather significantly, since design can be a lengthy and time-consuming process.)
There's a rich history to letterpress printing that appeals to smart (okay, slightly nerdy) couples who appreciate beauty. Which is why Kseniya especially loves working with APW couples—you guys tend to understand the value of bookishness. But Thomas-Printers isn't just about the art. Kseniya is also a great businesswoman, with a focus on customer service:
My philosophy: not only do I believe in hard work and quality materials, but I also strive to be the fastest, friendliest letterpress printer out there. Good customer service is paramount with us, and the best part of that printer-client interaction is talking with clients about letterpress, educating them about what we do and how letterpress works best, and working together to make a beautiful finished piece.

Letterpress is so rewarding. And challenging, and probably life-affirming. To get philosophical, it's great to work in a triumphantly defunct industry—one that's somehow thriving—and it's really satisfying to have people want what I make.
So if you're one of those people who L-O-V-E-S letterpress in all caps, then choosing Thomas-Printers for your wedding invitations is a no brainer. Not only do you get to support a woman-owned business, while also supporting an industry that by rights should have died out by now, but you also get affordable letterpress wedding invitations, which until now didn't even seem like a possibility. So get in touch with Thomas-Printers for a custom quote, and then find something else to Google. Because this problem is solved.
APW READERS GET 100 free, one-color thank-you notes with wedding suite purchase.
get in touch with Thomas-Printers for a quote today!