The Site and our mobile application may contain links to affiliate websites, and we receive an affiliate commission for any purchases made by you on the affiliate website using such links. We are also a participant in the Amazon Services LLC Associates Program, an affiliate advertising program designed to provide a means for us to earn advertising fees by linking to Amazon.com and affiliated websites.
---
Parka with AppliquÉs and Printed Skort, from zara ($59.90 and $29.90)
Last week our high-fashion flower girl roundup sparked an interesting debate. Should we keep the word tomboy? And what exactly does tomboy even mean these days? Well, as far as the staff is concerned, tomboy is one word that we are certainly keeping around. To quote Meg, "Tomboy is a badge of honor, and without the word, we have no words with which to discuss (and give pride to) little girls who love activities that are culturally more associated with boys."
However, aside from the usual definition of "girls who love activities usually associated with boys", there's another thing that I think we self-appointed tomboys associate ourselves with, and that is an independence from mainstream style. Growing up, I was the most amicable child you could meet… until you wanted to put me in an outfit I didn't like. I knew what I wanted: t-shirts, sneakers, pants, and anything mostly functional and minimally frilly. All other outfits need not apply. I didn't care if it what I was wearing was stylish, if I looked like a boy, or if it even matched. But what I did care about? Being allowed to make those choices in the first place.
So, perhaps a little differently from our last tomboy roundup, this one is for the girls who know what they want to wear and aren't going to change their minds for anyone. They know what they want out of their clothes, whether it's function, comfort, or a desire to dress up like Katniss Everdeen. Sometimes it's dressing masculine of center, but other times it's just wanting to wear your favorite hat with every outfit for a solid year. It's for girls who hate dresses, but also for girls who love them. And it's for little girls who love blazers and button down shirts, and just don't care that they "look like boys." Simply put, it's for girls who want to choose what they ought to wear. And I think that's basically everyone.

I Just Want to be Katniss: 1. Talia Tulle Skirt Skater Dress from Nordstrom ($82) 2. Dr. Marten's Brooklee 8-Eye Boot from Zappos ($65) 3. Bear Crusader Youth Bow Set from Amazon ($30) 4. Seamless Leggings from Forever 21 ($4.80)

RING BEARERS CAN BE GIRLS TOO: 1. Jacket with Striped Lining from Zara ($55.90) 2. Girls' Crew Cut Garment Dyed Jean from J.Crew ($72.99) 3. Girls' Short Sleeve Tissue Oxford Shirt from J.Crew ($32.50) 4. Kids' Classic Wing Tips from J.Crew ($118)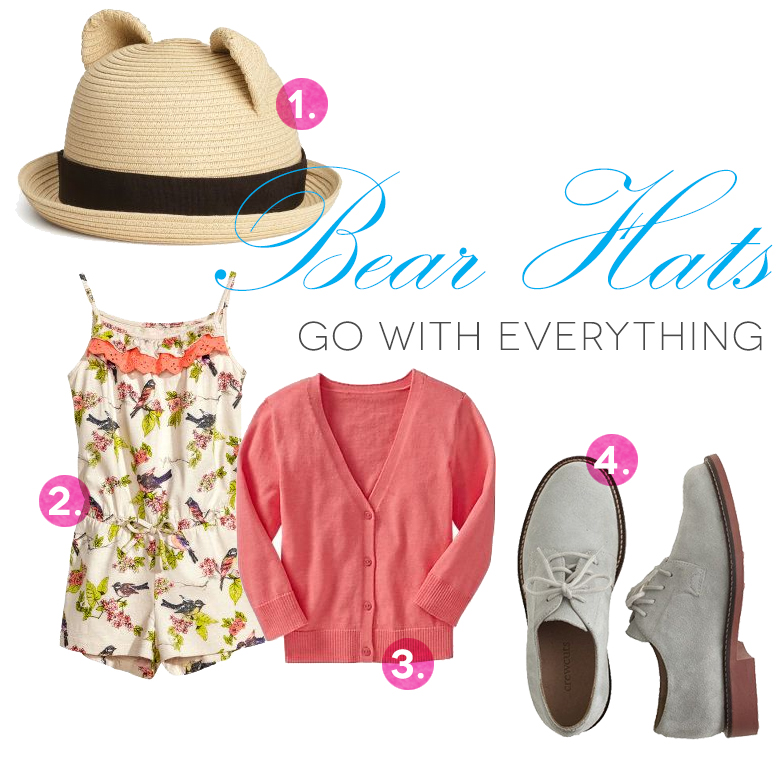 Bear Hats Go With Everything: 1. Straw Hat from H&M ($9.95) 2. Jersey Jumpsuit from H&M ($12.95) 3. Girls' 3/4 Sleeve Cardis from Old Navy ($19.94) 4. Kids' Suede Bucks with Contrast Sole from J.Crew ($98)
SCREW THE FLOWERS, LET'S BLOW BUBBLES: 1. Lace Blouse from H&M ($10) 2. Guess Girls' Lace Shorts from Bloomingdale's ($29.62) 3. Boots from H&M ($29.95)
Ruffles are FINE, BUT I'M WEARING PANTS: 1. Cotton Floral Jacket from Ralph Lauren ($125) 2. Girls' Classic Cafe Capri from J. Crew ($49.50) 3. Summer Ruffle Tank Top from Boden ($24) 4. Ballet Flats from Boden ($44)
And pretty, pretty please, if you had a tomboy flower girl in your wedding, we want pictures!