The Site and our mobile application may contain links to affiliate websites, and we receive an affiliate commission for any purchases made by you on the affiliate website using such links. We are also a participant in the Amazon Services LLC Associates Program, an affiliate advertising program designed to provide a means for us to earn advertising fees by linking to Amazon.com and affiliated websites.
---
In the last six months there has been big buzz around wedding separates—and for good reason. (The APW team has only been waiting for this to happen… forever… and we're here to seize the moment, no crisis will take this away from us.) And in fact, if ever there was a look primed for this moment, it's separates. Why not get two prices that you can re-work and re-wear on their own. (Lace top with jeans, anyone?)
When I think of wedding separates first thing that comes to mind is Bianca Jagger's courthouse wedding look. Is there a more iconic bridal separate than that blazer and skirt combo? Probably not. That look has inspired many people planning their wedding looks through the years because let's be honest, it's classic. An edgy, bad-ass, simple-yet-elegant classic. (You know, basically what we try to do around here.)
As with all things fashion, things always come back around. Celebrities have taken wedding separates for a spin again and again. Just take a look at Zoe Kravitz wearing bridal bike shorts to her rehearsal dinner (Bike shorts may not be for me, but I do appreciate this look. Like a lot.), or Olivia Palermo going the more traditional wedding separate route at her intimate park wedding in New York with a chic sweater pairing. And is any wedding separate compilation complete without the mention of soccer superstar, Ashlyn Harris's beaded argyle suit during her wedding to Ali Krieger (also a soccer superstar)? The answer is no, friends.
One of This Year's Most Practical Trends
Y'all know we love a good gown around here but lately we've been loving glam top-skirt and blazer-trousers situations. While us normal folx may not have the easy access to high fashion looks that celebrities do (like glam bike shorts), we do finally have a huge amount of wedding separate options available to the masses. Retailers and designers are finally taking note that people want options that aren't just dresses. And they are delivering.
If you're on the edge of trying out one of 2020's most practical wedding trends, what are you waiting for? You have all of APW here to support your styling decisions! And if you're not willing to take the leap and commit to wearing wedding separates during the ceremony, you still have plenty of opportunities to give it a go. There is the engagement party, bridal shower, bachelor or bachelorette party and reception. Better yet, wedding separates are perfect for a virtual bridal shower or bach party, and are something that you can restyle again and again. There are so many style combinations with separates, that there is truly something for everyone. So we've rounded up our current faves from across the internet. If you want more inspiration you can take a look at our Pinterest board dedicated to wedding separates here.
White Wedding Separates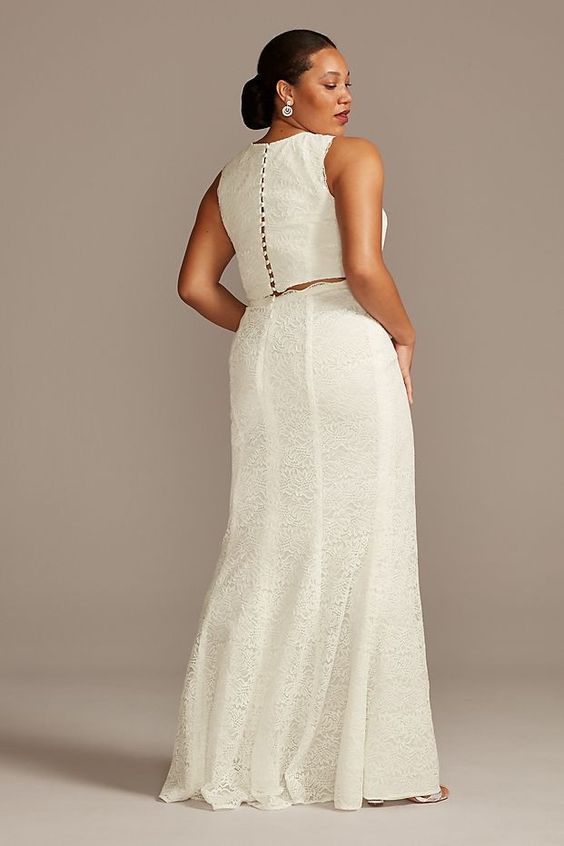 Lace Two-Piece Scalloped Plus Size Wedding Dress via David's Bridal
This two-piece lace wedding dress combines bohemian flair and modern versatility with its sleek, form-fitting silhouette, high-neck bodice top, and long sheath skirt.
Sheer Floral Bridal Topper by Davie and Chiyo via Etsy
Effortlessly balances intricacy and simplicity, the classic shift cut of this top keeps this look feeling modern, while unique trim keeps it romantic and fashionable. (And yeah, it's gonna show off your midriff.)
Aurelia Trousers and Monique Top by Catherine Deane
Elegant layers of pearl beads decorate this top creating a flapper-style outfit that shimmers in the light.
Leroy Top by Tadashi Shoji via BHLDN
With a whisper-thin illusion neckline, a plunging back, and fluttering appliqués, this cap-sleeved top is a romantic complement to a sleek skirt. It's like a wedding dress, cut in half, to make killer wedding separates.
Embellished Blazer via ASOS EDITION
It's a wedding blazer. And it's embellished. (We've been waiting for this one.)
Bay Bodice Bridal Top by Wilderness Brides via Etsy
This simple ballet styled cropped bodice is available in either pink or ivory.
Jacquemus Blazer and Wide Leg Pants via NET-A-PORTER
These wide leg pants with pleats somehow magically seem to lengthen your figure. Paired with a blazer to complete the outfit.
Titania Skirt by Elizabeth Dye
A true ball gown skirt.  Layers of airy tulle draped over a delicate and lightweight circle skirt of silk satin organza.
Veronica Bear Noel Pants via ShopBop
If you want big but not huge, these are the pants for you.
Colorful
The Maristel Two Piece by Fame and Partners
Wearing red at your own wedding? Do It.
The color. The color. Buy this, now. This is why wedding separates were invented.
Empower Velvet Slim Pants by Wild Fang
A velvet suit with expert tailoring and they go up to size 20? Oh yes.
Juliet Body Suit and Skirt by Sweet Caroline Designs via Etsy
This gorgeous bodysuit features a classic and impossibly flattering scoop neck and backline with thin shoulder straps.
Louts Trousers, Crop Top and Caftan by Sahroo Bridal
Very sparkly and slim-cut trouser pairs perfectly with the right caftan will always be a winner in the wedding separates game (in our book).
Nora Ombre Bridal Skirt by Wardrobe by Dulcinea via Etsy
Shown in a dusty powder blue color, this skirt comes nearly any color you'd like (ombre style), but it always makes you glide effortlessly across the floor as you walk. This skirt is what wedding separates dreams are made of.
La Femme Two-Piece Lace Dress via Nordstrom
A stretch-lace mermaid gown in a two-piece design adds siren vibes with its bare midriff, while the train brings a fitting end to the tail.
Lily Trouser Set by De La Vali via NET-A-PORTER
These woven 'Lily' pants have a buckled belt to accentuate the high-rise waist and wide-leg shape that gently skims the ground.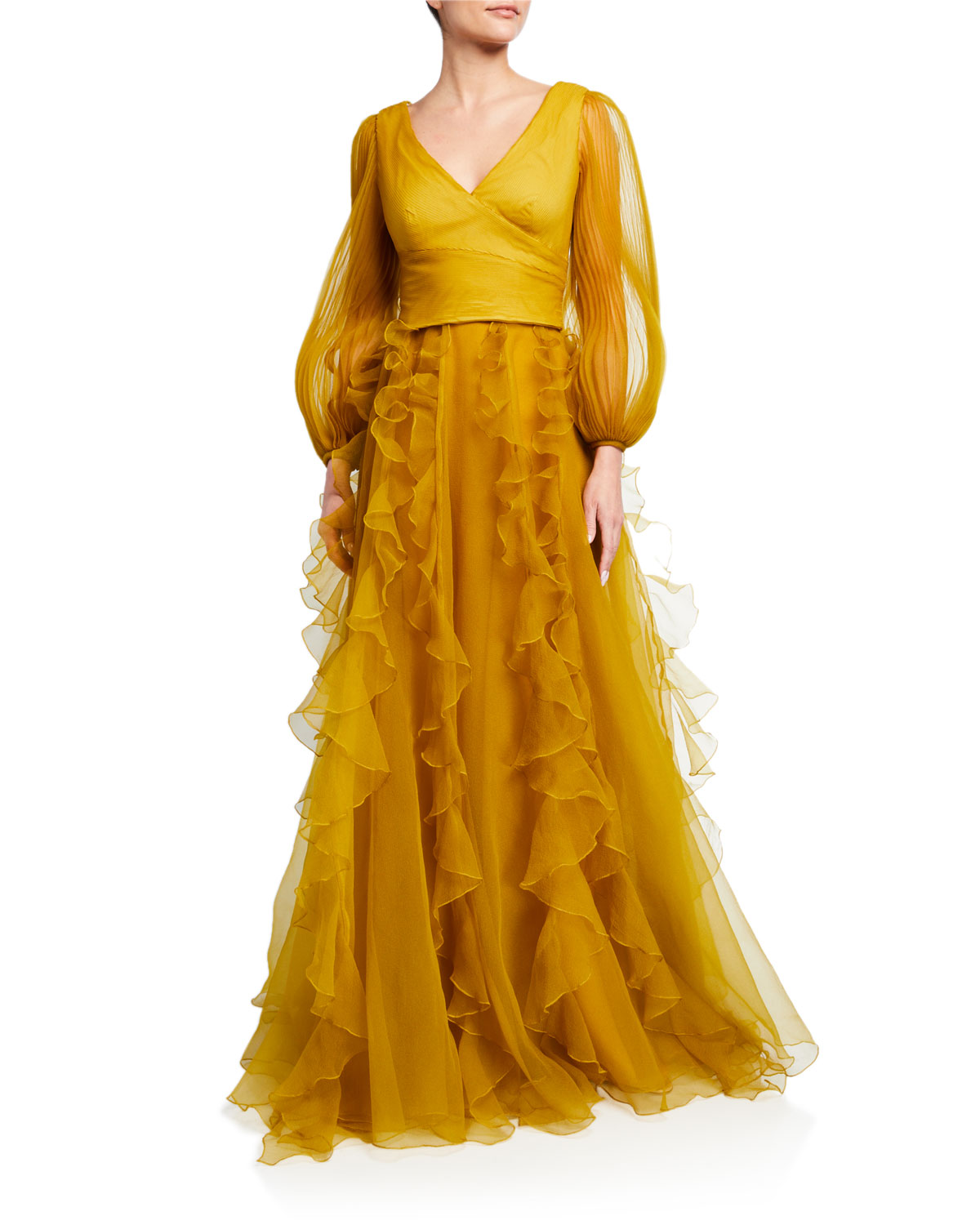 Veracruz Tiered Ruffle Organza Full Skirt by flor et.al via Neiman Marcus
Prepare to dance and move and excite with this ruffled organza skirt in chartreuse.
Black 
Berio Lace and Mesh Capelet by Tadashi Shoji
If you're looking for an airy overlay to complement your gown, this bridal cape is it.
Black Tulle Overskirt by The Lotus Bloom Co. via Etsy
This black flowing tulle overskirt channels your inner goth, with impeccable style.
Anine Bing Tate Blazer via ShopBop
A fresh take on a classic black blazer featuring a sleek, tonal leopard print and tie waist.
Tiered Tulle Skirt by A&M Enterprises via Etsy
A formal style party skirt that doesn't skimp on the fun (or tiered ruffles).
A round neck blouse with fringed shoulders is a perfect contrast to sleek trousers.
How do you feel about wedding separates? Will you try this trend out for your wedding? Send us your photos!