This is a paid post from an APW sponsor. For more about APW and how we make money, please click here.
---
Real talk folx. I have been working with the wedding vendors who advertise on APW, in our vendor directory, front page ads, and now our mastermind TLC, for six years now. Over the years there have been hundreds of wedding vendors featured on the pages of APW and its vendor directory, each of them personally vetted to make sure they support inclusivity, diversity, and are just generally good humans who will treat you well and never pressure you to have the kind of wedding you don't want. We've seen dozens of vendors over the years skyrocket from tiny portfolios and rock bottom prices into thriving businesses that book up a year in advance. And in return, their financial support of APW means we can keep providing free content for its readers.
But those vendors have never just been a pretty portfolio to me—they're real people building tiny businesses (micro-business is a phrase I've learned through all of this, meaning a business with less than 5 employees) by contributing their talents to helping folx like you have amazing, authentic, low-stress wedding days.
The first time I broke down and cried during all of this was the moment it hit me how deeply impacted all these tiny businesses—and the humans behind them—that I love were going to be. The wedding industry is a multi-billion dollar a year industry, but it's mostly made up of those kinds of small businesses. The kind that can't afford to suddenly make half their expected income in any given year and still pay their rent. (And often these creatives, like photographers, supplement their wedding income working on other kinds of events—that also are no longer happening.)
And the first moment I felt true hope was when I heard that clients were still reaching out about 2021 weddings. And then when I started hearing the stories about how vendors were evolving to find new ways to serve their communities during this time with everything from album design, to print shops (go get that gallery wall done!), to postponement planning help, to discounts on future portrait sessions, weddings, and elopements photography and handmade wedding gowns.
So without further adieu, here are some ways wedding vendors are making it easier to work with them both now and later…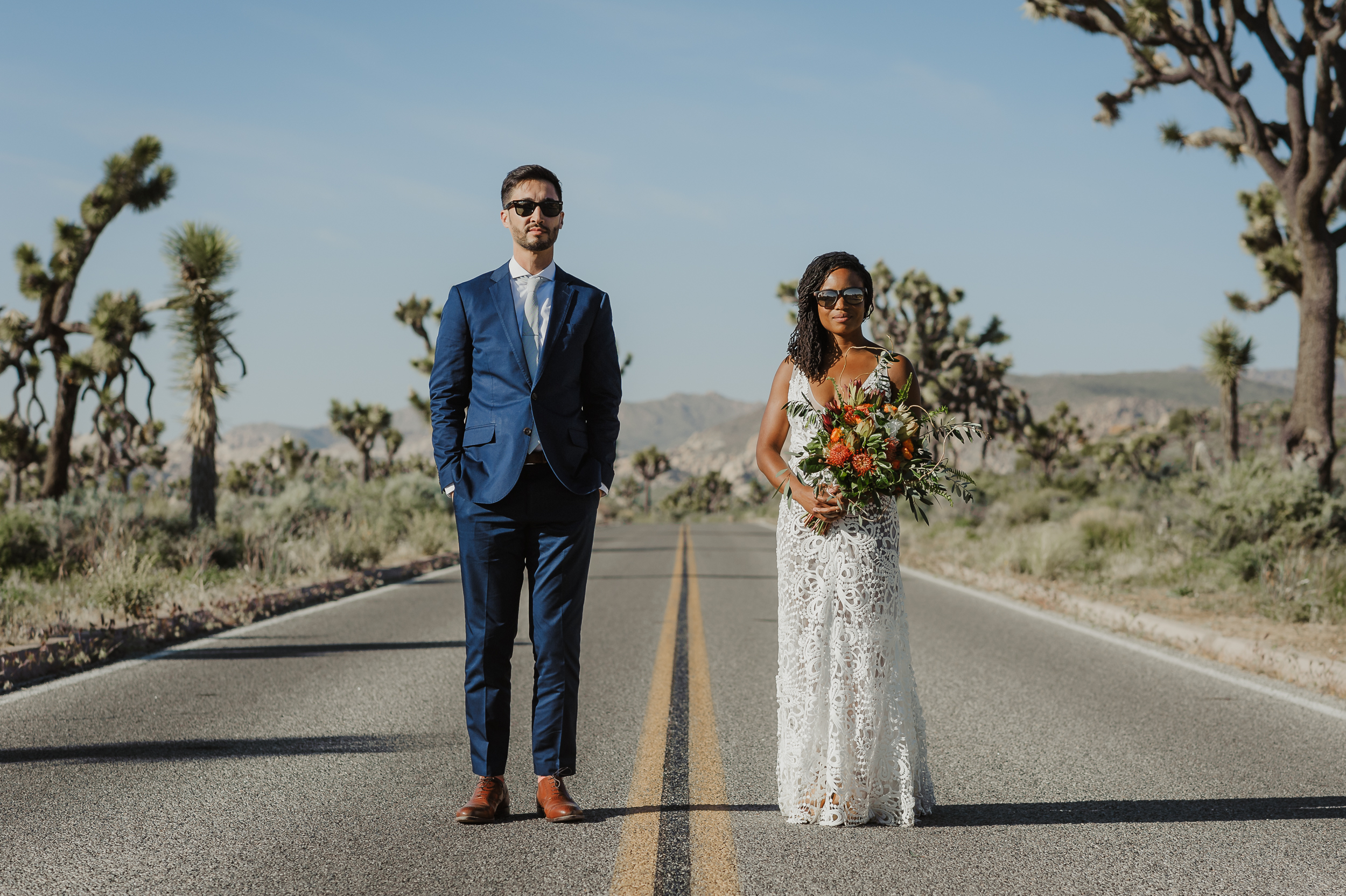 WHO: Vivian Chen Photography 
WHERE: SAN FRANCISCO, CALIFORNIA
IG: @vivianchenweddings
WHAT: In addition to being one of our fave wedding photographers, Vivian is also an incredibly travel and talented landscape and travel photographer. If you've been staring at bare walls and wondering how you can fix that + support an independent artist + give back, Vivian has reopened her photo print shop, which is chock full of gorgeous images for your walls, and will be donating a portion of the profits to No Kid Hungry and the Coronavirus Care Fund for the National Domestic Workers Alliance.
She's also offering an album design service, perfect for the folx who tried to DIY it and then realized they were in over their head. This is priced at $500 for wedding album design or $250 for engagement guestbook design, and is currently buy-one, get-one 50% off, so you can have a guestbook made now and an album later. All the details are here. (And you don't have to be a client of Vivian's to use her design service.)
WHO: Studio A Images 
WHERE: HOBOKEN, NJ + TRISTATE AREA
IG: @STUDIOAIMAGES
WHAT: One of our fave NYC-area photographers is currently offering 10% off all wedding packages—Adena is the master at capturing classic true-to-life candids of her diverse mix of fun couples.
WHO: Jonas Seaman Photography
WHERE: SEATTLE + BEYOND
IG: @americanvirus
WHAT: Longtime APW favorite (and fellow Seattleite), Jonas Seaman is currently offering 15% off all wedding packages booked within 30 days of inquiry. Full 10 hour day packages with two shooters typically start at $4,500, so they are now $3,825, which for a photographer of Jonas's experience, vast talent, and wonderful human being-ness is well worth it.
WHO: Justin McCallum Photography
WHERE: NEW YORK CITY
IG: @JUSTINMCCALLUMPHOTO
WHAT: Another fave NYC photographer (and current APW The LOVE Club mastermind member), Justin McCallum is offering an amazing 50% off all engagement and family sessions that are booked and paid now, to be scheduled post-quarantine. He's also generously offering sliding scale pricing for couples who have sadly had to postpone their weddings due to COVID-19 and can no longer work with their originally booked photographer. Click here for more details.
WHO: Wai Ching Studio
WHERE: SEATTLE + ONLINE
IG: @waichingstudio
WHAT: One of our all-time favorite wedding dress designers (and fellow APW The LOVE Club mastermind member) is offering a generous 20% off any item ordered in April 2020. Chrissy's jaw-dropping dresses are all handmade at her studio in Seattle (we can confirm she is still sewing away), and may be more affordable than you would think—just take a look here.
WHO: Small Shindigs
WHERE: New York + Beyond
IG: @smallshindigs
WHAT: Sarah is a small wedding specialist—as her biz name implies!—who gets that might be just what many need in the coming months. So she's offering 10% off full-service planning for a micro-wedding (up to 30 people) or a small wedding (up to 50 people) $5,000 for 30 people and $6,500—those rates are after the 10% discount.
WHO: Aurelia D'Amore Photography
WHERE: LOS ANGELES, CA
IG: @aureliadamorephotograpHY
WHAT: Los Angeles-based photographer and creative entrepreneur, Aurelia, is doing all she can to keep her business afloat during this challenging time and bring some joy to her community in the form of "Door to Door" portrait sessions, as a way to keep life sort of normal, give us something to look forward to and remember, and to foster connection, communication and joy within our immediate families. Important milestones are still happening and she's be honored to document these occasions for you. "Door to Door" mini sessions are $175 from March 25th-May 21st, 2020 in Los Angeles, CA. (And if you show Aurelia proof of any 501(c)(3) non-profit donation made between now and May 21st, 2020 she will also extend a $25 charitable donation discount. See all the details here on how she's safely and conveniently documenting her clients.
WHO: YouAreRaven
WHERE: Atlanta, GA
IG: @YOUARERAVEN
WHAT: Atlanta's YouAreRaven is offering 20% off portrait sessions. $450 gets you up to 90 mins at three locations, with 11×14 wall art print and digital downloads.
WHO: Shannon Collins Photography
WHERE: PHILADELPHIA, PA
IG: @shannoncollinsphoto
WHAT: This one's for my wedding vendors! Shannon told us,
Personally, I'm trying to strengthen my commitments — like inclusivity — by creating strategic priorities around that. I'm working on building a community of like-minded vendors in the area, so my clients — especially marginalized individuals — can have a space safe to be directed when planning during uncertain times. Whether it's 1:1 consulting with fellow wedding vendors and clients, providing community resources, hosting chats with equality-minded peers, or sharing toolkits that have helped me grow, I plan to make space for people.
So if you're a Philadelphia-area wedding pro looking for support and community during this time, you can connect with Shannon via the links above, her email newsletter, and vendor community.
WHO: evangeline lane
WHERE: Los Angeles, CA
IG: @theevangelinelane
WHAT: Part of what makes us champion our APW vendors so hard is because we know they're the exact kinds of people you want on your team when the going gets tough, and Evangeline Lane's response to make things as easy as possible on her couples is exactly what we mean: For folx getting married in 2020 retainer payments are reduced to $500, there's flexible payment scheduling, a totally transparent booking calendar and Evangeline is donating half of the first five retainers she receives to single mothers to help them pay their bills.
She's also offering a special 2-hour elopement package for APW readers eloping. Normally priced at $3,600, the APW reader-only special is $1,800 for two hours of coverage, planning/location scouting, and bouquet. (And just look at the photo above for the kind of magic eloping with Evangeline can be.)
WHO: Lensy Michelle Photography
WHERE: BOSTON, MA
IG: @lensymichelle
WHAT: Boston's Lindsay Michelle AKA Lensy Michelle, is offering a free engagement (or 1-year anniversary) session for all her 2021 wedding couples. Weddings start at $2900 for 6-hours of coverage (with special pricing available for elopements and intimate weddings).
WHO: LVR Events
WHERE: NEW YORK, NY
IG: @lvrevents
WHAT: NYC/NJ wedding planner Meg is offering in-depth postponement consulting services—details available here. She's also putting the finishing touches on a free email course for newly engaged couples who feel stagnant during this shutdown situation to help get themselves organized and ready to hit the ground running once we're allowed to live regular lives and plan weddings again. Get on the waitlist for that here.
IS a wedding vendor you love offering something special you want to shout out? Tell us in the comments.