Kam, Project Manager  & Ken, Project Manager
sum-up of the wedding vibe: An eclectic, fun, romantic, laid back, informal, genuine, wedding vibe.
Planned Budget: $10,000
Actual Budget: $15,000
Number of Guests: 25 guests
Location: Ace Hotel, New Orleans, Louisiana
photographer: Sharon Pye
Where we allocated the most funds:
Once we tried pricing out a wedding that included all our extended family and friends, we quickly realized we would be paying it off for the entire first year of our marriage. After going back and forth over that decision, we decided an elopement was for us. We wanted a hip location and the Ace Hotel New Orleans's elopement package caught our attention, but what really impressed us was their gorgeous Ace Suite and Barnett Dining Room with its mind-blowing chandeliers. Most of our money went to renting the suite and venue, a huge dinner, premium flowers to set the scene, and our amazing photographer Sharon Pye (honestly the best part). The second line band was a gift and it was amazing.
Where we allocated the least funds:
We opted out of a fancy rehearsal dinner for some casual barbecue in the Ace Suite. We kept the wedding small which really cut down on food costs. We opted out of getting an arch or going big on flowers for the ceremony, which lasted ten minutes at most. We didn't hire a wedding planner and the hotel had some turnaround in their staff, so the whole thing ended up being more hands-on than we expected. We didn't have a photo booth and opted to use the one in the Ace lobby instead. We also decided not to have a wedding party and encouraged people to dress colorfully and have fun with it.
What was totally worth it:
Our photographer Sharon Pye was soooo good. Her photos let us relive the day and she went way beyond her role as a photographer in helping the whole event go smoothly.
What was totally not worth it:
We really felt the results of the staff change at the hotel. The first people we spoke to were so enthusiastic about accommodating us on our special day and the vibe just wasn't the same with the new staff. Because it rained in the morning, they opted not to clean the courtyard where our wedding was to take place. The front desk staff didn't even know there was a wedding that day when we asked about it. It took quite a bit of work to keep everything on course for the day and a lot of pushback on our part when we didn't get what we needed. For example, we had planned on a big family-style meal, but it ended up being a buffet set up in the hallway about an hour too early. The hotel did quite a bit to make up for it, but it was disappointing that we had to deal with that on our wedding day.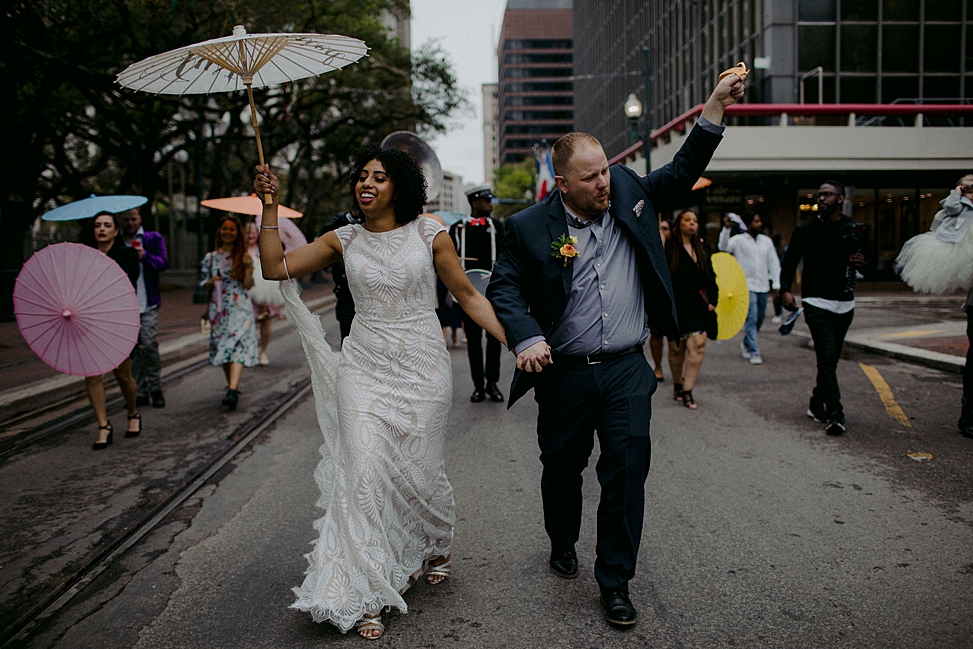 A few things that helped us along the way:
There was some family pushback, and even though it was very frustrating at the time, it ultimately helped us. Viewing lots of wedding blogs, thinking before spending, looking into multiple spaces, and ultimately just narrowing it down to what's important. To us, that was the company of our immediate families, being happy, and getting to marry each other! Simple, but important.
My best practical advice for my planning self:
Don't diet, that's way too stressful when a wedding is already madness. Hire a wedding planner. Understand that everyone has an opinion, so work out what you really want before filling everyone in. Don't spend your first year together too broke to have date nights.
Favorite thing about the wedding:
It's hard to pick one, so we'll list a few. Our casual barbecue the night before really set the tone. Having our family and friends come together to celebrate in a different city felt special. We will always remember the laughs and tears from the wedding vows, our three favorite girls in their flower crowns, watching everyone turn up at the end of the night and our amazing photographer who helped keep everything on track.
Anything else:
Take pause and think about what is most important to you as a couple, not what everyone else expects of you. The day is over before you know it, have fun and enjoy this time together.