The Site and our mobile application may contain links to affiliate websites, and we receive an affiliate commission for any purchases made by you on the affiliate website using such links. We are also a participant in the Amazon Services LLC Associates Program, an affiliate advertising program designed to provide a means for us to earn advertising fees by linking to Amazon.com and affiliated websites.
---
Are you planning on a backyard wedding? Gathering your closest family and friends for a small(er) celebration, this year or next? Just because you've downsized the guest list, doesn't mean you can't make your backyard feel just as special and magical as you'd like.
We've published lots of amazing backyard wedding ideas that you can totally steal. But it's possible you need more guidance (and you know, shopping suggestions on things you can get delivered to your house really fast.) So we rounded up our favorite picks, and you can gather backyard wedding supplies and get to decorating, mask up, and get your party on. (Who would have thought "mask up" would be a wedding planning step in 2020?)
We know how daunting planning even the smallest of celebrations can be, so we've made you a little checklist of all the items you might want to have around. It's a big list, and depending on how many people you're inviting and your budget, you'll be able to decide where you want to spend your money. Of course, you can rent items (like tables + chairs), borrow them from friends, or hire vendors—and you might have a lot of this stuff already on hand. But if you're in the market for some ideas (or need some fast solutions for your "omg we're having a wedding at home in like a second" problem)… we've got you covered from table linens to lighting, and backdrops to bouquets. Let's get to it.
2020 Supplies
Bulk Custom Face Masks by Anitas Accesorios via Etsy
It's 2020, need I say more? These are cute, and personalized. It will be a memory of the exact moment in time when you got hitched.
Grab a few of these, and some bulk hand sanitizer. Again, it's 2020, so let's make hand sanitizer look cute on your wedding day.
Set The Mood
Among The Wildflowers Gold Foil Invitation via Minted
Your backyard wedding deserves all the pomp and circumstance that it would have, had it happened in the old world. Since you'll only need a few invitations for your smaller guest list, lean in and get all the bells and whistles.
Patio Lounge Furniture by Pottery Barn
This might be an opportunity to snag some nice cozy lounge furniture for your backyard (or if it's at your parents house, give them the excuse they've been waiting for). It's 2020 double duty: a refreshed backyard space for when you can't leave the house, and somewhere soft for your Great Aunt to sit after the ceremony.
There's something totally magic about globe lights—we've always listed them as an easy and affordable hack to make your photos look amazing, and they're the closest we come to a must-have on the backyard wedding supplies list. (Pro-tip: order a whole bunch.)
String Light Holder by Pottery Barn
But how do you hang those globe lights? Voila: the solution. If I was planning a backyard soiree right now, these would be at the top of my backyard wedding supply list. Picture this: a long table for your family with string lights hung right above for that perfect sparkle. Bonus, everyone will be able to see their dinner.
Dried and Faux Flower Bouquet by Carolina Rosa Designs via Etsy
I'm absolutely loving the trend of dried florals right now, and it's perfect for this "gotta be ready for a wedding on a moment's notice" year. This bouquet is everything you could ever want, and it's made with all dried and faux flowers, so you'll get to keep it forever.
Dried Floral Boutonniere by Daily Wedding via Etsy
And don't forget some boutonnieres. These beauties are made from dried florals as well so they're preserved and low stress—no need to keep them in the fridge the morning of your wedding.
Balloon Garland Kit via Amazon
Want to add a little pop to your party? Balloon arches are an easy (they just take a little patience) and impressive way to fancy up your space. You can snag yourself one of these kits and your backyard will have that glam party feel really fast. Also, grab one of these electric balloon pumps—thank me later.
Cozy Blankets by Peshtemal Art via Etsy
Snag some cozy blankets (these are towels too) as a way for your family to stay warm, and a favor for them to take home. If you had a huge wedding, this probably wouldn't be affordable, so let's chalk this up to one small upside in this disaster of a year.
Custom Corn Hole Boards by Stars Stripes & Stardust via Etsy
When it comes to backyard wedding supplies, lawn games can be clutch. Keep the party going throughout the night with a round of corn hole for the whole family. Plus, you get to keep them forever for all the future camping and backyard fun.
Custom Giant Jenga by Fulton Craft via Etsy
Take your backyard wedding as your chance to snag all kinds of fun things for that day… and for all the days in the future (many of them, apparently, stuck at home). This giant tumbling block game will be fun for the whole family.
Custom Camp Mug by That's Nice That via Etsy
With a smaller guest list, it can feel more manageable (and affordable) to get something custom for your family to remember the day by. Snag some custom camp-style mugs, let folks use them through the evening, and send them home as a forever reminder of the fun you had.
A way to say thank you to your closest people, and check napkins off your list.
You'll be in your own backyard, you won't have to worry about venue rules, so cue the confetti, the sparklers, the candles… just be sure to have a bucket of water or sand for the spent sparklers when you're done.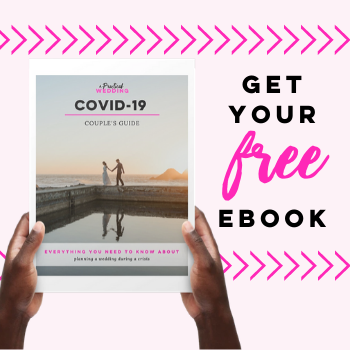 Ceremony Supplies
Gold Metal Hoop Backdrop by Vallari Decor via Etsy
Looking for a way to make your backyard feel magical? Cover this circle backdrop with dried flowers, fresh greens, or balloons for a pop of color behind your ceremony. And it'll make a perfect photoshoot prop after that, for family photos… or just make it a cool art installation in your yard.
White Cone Backdrop by Bober Studio via Etsy
Etsy is my favorite place to hunt for beautiful DIY-style backyard wedding decor that someone else with DIY for you. This simple white cone backdrop is such a perfect example of something that will make your wedding feel custom and special, for not a ton of money, and you'll be supporting a small business.
You may have enough chairs at home for your small guest list, and don't be afraid to mix and match. But, if you need to snag some extras, you may as well make them cute and something you can hang on to for future parties. Meg used these for her anniversary party in pink, and they're still in rotation in her backyard.
Table/Dinner Decor
Faux Linen Tablecloths via Amazon
These faux linen tablecloths look like they belong in my home, and on my backyard wedding tables. They're wrinkle-resistant and inexpensive… but they look fancy and will be a perfect answer for your small party. (Pro-tip: get them floor length for a professional look.) Oh, and we didn't put any tables on this list, but you should ask friends if they already own any of those plastic folding ones—those are what rental companies have a lot of the time anyway.
Wood Planter Boxes by Rustic and Charred via Etsy
As you start to think about decorating tables, be creative. Snag a few of these reclaimed wood planter boxes, and some fresh herb plants. You'll have beautiful and fragrant centerpieces, and an herb garden to keep.
Candles are the most inexpensive and effective way to make a space feel romantic and fancy. Buy them in bulk so you don't have to hold back, they will totally elevate your backyard wedding decor.
Equipment
Not the most glamorous thing on this list, or that you'll buy for your backyard wedding, but I promise it's vital. Grab a few extension cords so you're ready to power the party (lights, music, and more), you'll be glad you have them on hand.
Bose Bluetooth Speaker via Amazon
A party isn't a party without some tunes. Snag one of these Bose speakers, or a few if your backyard is big (they sync together), for a surround sound experience throughout the night. (Another advantage of 2020: your neighbors are likely to give you grace and understanding about the noise… we all just want good things… any good thing… for others right now.)
No one wants to hang out all evening getting attacked by mosquitos, so grab a few of these repellers to help keep everyone comfortable and itch-free all night long.
Are you planning to live stream your wedding? Make sure you have all your ducks in a row and—check out our post on virtual weddings for more information.
What other backyard wedding supplies have you found for 2020 that we shouldn't live without? Let us know about it in the comments.