Here is a thing I've learned in adult life: dates have weird power. I mean, in theory they shouldn't, since they're just numbers on a calendar, but they do. And because of that, I've learned that when significant dates roll around (particularly ones that have a potential to hold disappointment or pain) the best thing I can do is plan for them. Prime example: I had difficult pregnancies that went really long (41 weeks and 3 days TWICE). And the first time around our Doula told us to plan something special on my due date. Most people don't actually give birth on their due date, and still being pregnant on that day is usually not a super fun surprise. So for both due dates I planned ahead, and went to a really nice brunch… and you know, didn't give birth. But that structure and ritual helped mark the day, and make it feel important (or at least acknowledged).
I've been thinking about the rituals of marking dates a lot this year, as I've watched so many couples have to postpone or cancel weddings they deeply wanted to have on dates that were (or had become) meaningful. And I know one thing for sure: it's hard enough to cancel your wedding. You probably don't want to pretend "it's just a day no big deal really" and spend the day you were supposed to be celebrating with your nearest and dearest sitting around… um, crying (if you're anything like me). I mean, crying might happen. Crying is ok. Crying is super necessary right now. But so is acknowledging what should have been a special day.
If you were planning to get married this summer, and now it won't happen (or won't happen the way you planned) we're so so sorry. And you shouldn't have to figure out what to do on your original wedding date all by yourself… that's what we're here for! We are here to do all the wedding research so you don't have to. So the APW team has pulled together all the best ideas for what to do when stuck in quarantine on your original wedding date. (And don't worry, we've got a post coming up soon on how you can help your friends and loved ones celebrate their date, if you have people you need to support.) But today is all about the wedding couple, and what y'all might want to do in the comfort of your own house.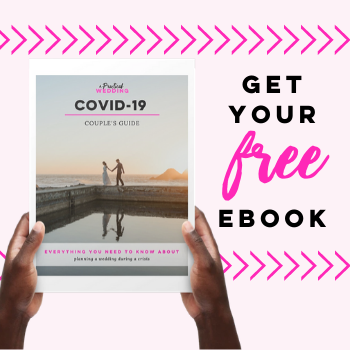 Whether you want to go big or small (or not at all) in your celebrations, we've seen couples celebrating their original wedding date in so many creative ways. From cake and champagne to family filled car parades, and elopements to micro weddings, there are so many options to celebrate your original wedding date that still feel special or significant. We talk a lot about finding joy in the small things here at APW, especially now when things feel so tough sometimes. And in that spirit, we think you may be able to find your own small joy by celebrating your original date in big (or small) ways.
Ways to Celebrate Your Original Wedding Date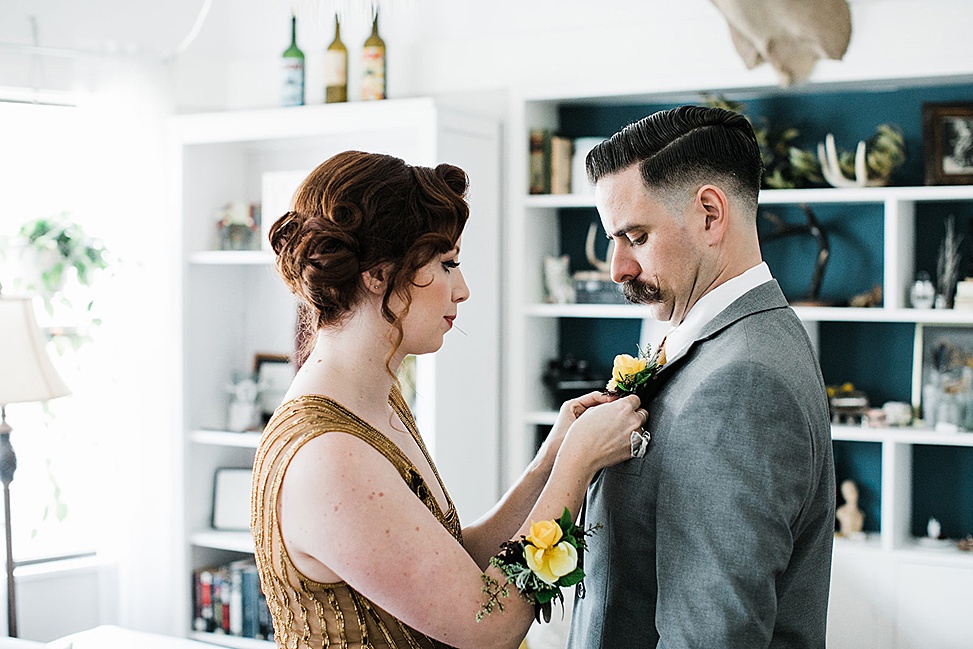 Dress the Part
It seems like lately more often than not, most people can be found in loungewear because, pandemic. Now is the perfect time to dust of a special piece of clothing (or your actual wedding dress if you're up to it, like this bride) to feel extra fancy and set the mood for celebration. Maybe you thought about doing your hair or makeup for your wedding by yourself, you can use this opportunity to take the look for a trial run. Or just say screw it and slap on that neon eyeshadow you've been so patiently waiting to use. What I'm saying is, you don't need permission to go all out!
Eat and Drink The Good Stuff
Order takeout from your favorite restaurant. Get a bottle of champagne (or saber one). Sip on the signature cocktail you plan on serving at your wedding. Eat cake, all the cake. And if you don't want all the fancy stuff, you can make a home-cooked meal with your partner. Or you can skip the bells and whistles and order a large pizza, mmmmm pizza. Whatever your mood is, roll with it.
Have (or Practice) Your First Dance
Turn up the music real loud and dance the night away with your love. No one is stopping you from having that first dance or practicing your wedding choreography until you get it just right. And if you don't want to stick to practicing just one dance, we're not against perfecting your wedding playlist and dancing (or singing) the night away. We all need to break a little sweat on the dance floor or living room, or backyard anyways.
Take Photos (and have some fun)
Since you're looking to celebrate, have some fun and let loose and break out all the props for an at-home photoshoot. A camera phone, instant camera or fancy camera with a tripod will get the job done! You'll be able to get creative and have sweet keepsakes for years to come, or you know, just to share on Instagram for all your folx near and far to enjoy.
Get Married At Home
Maybe you don't want to wait to get married anymore so you've decided to just do the damn thing and get hitched at home on the date you originally planned. Congrats! Have a family member/roommate/friend officiate (or depending where you're located you can get an actual judge via Zoom) and decide whether or not you'll have guests livestream your nuptials. A lot of couples deciding to get married at home have had their guests surprise them with car parades (if you decide to go this route, please remember to practice safe social distancing). Make it your own and make it fun! More tips on how to have a virtual wedding here.
How are you planning on celebrating your original date? Are you choosing to not celebrate or commemorate your original wedding date? Let us know your plans in the comments!