Let's talk about engagement party ideas. Though before we even get started, I can see y'all out there cringing at the idea of more-guest-lists-more-parties-omg. I want to take a moment to hold your hand and say if you are throwing an engagement party, here are your priorities.
Priority number one: Just make it fun. That means not being forced into planning a party fit for the Duchess of Windsor on a Jenny From The Block budget. Not being pressured to do All The Things. Not letting your stress levels overtake your excitement levels.
Priority two: Sparkling wine!
Priority three: Figure out what the heck you want to do. Because really and truly, often picking a theme for an engagement party makes it way easier to plan. Even if that theme is just "pizza and beer and celebrate the newly engaged couple," you'll know what your vibe is and what you're doing, and the rest of
your decisions can flow from there. But hey. We're going to do you one (or thirteen) better on engagement party ideas, to make the planning process easy.
Keep in mind: an engagement party can be as big or as small as you'd like. It can be thrown by the couple or for the couple. And, free pass, it doesn't even need to happen at all. But if you (or the people who love you) want to throw an engagement bash, here are my favorite engagement party ideas right now to inspire the fun.
13 Engagement Party Ideas
Punch Party
Vintage Cocktail Party
Picnic and Bike Ride
Glamour Vibes
Hygge It Up
Beach Cookout
Personalize This Thing
Earth Children
Statement Balloons
Champagne Tower
Food as Entertainment
Popcorn Bar and A Movie
Dessert as Decor
Punch Party
Is punch a theme? It should be. Make a fabulous punch or two, definitely with a decorative ice ring (aka people-pleaser extraordinaire). Or try including ultra-extra details, like garnishing with edible flowers that say, "Someone's getting married and we're not messing around about it."
Vintage cocktail party
We're talking old-fashioned cocktails here. Break out some gorgeous old-fashioned coupe glasses. Put together some old-fashioned appetizers, like cheese fondue or caviar-topped canapés or bourbon nuts. Don't forget the elegant, ostentatious cocktail garnishes. Wear a velvet pencil skirt. Pearls. You get it.
bike ride and Picnic
Pack twee picnic baskets and meet at a bike rental shop, or just arrive at the picnic spot early to set out your red gingham blankets, baguettes, and strategically placed wildflower bundles. This is an easy one to keep the menu simple with bubbly wine, cheese, crackers, and some fresh fruit.
Glamour vibes
Break out the rose gold sequin dress from New Year's Eve, and book the top-floor bar in the city center (the one with the really low mood lighting). You can even request guests wear black and white attire. There's something about engagement parties that leans toward elegant as opposed to the garden party vibe of many bridal showers, and I say: Go for it.
Hygge It Up
Especially in the winter, we all want to get nice and cozy at our social gatherings. Capitalize on those warm feelings with an everything-hygge-themed event. Think: a coffee or hot cocoa bar (spiked!); bonfires outside plus the fluffiest blankets, of course; s'mores; a roaring fire; and hot toddies over good conversation.
Beach Cookout
You don't want to attempt an engagement bash that rivals the wedding itself, so keep it casual. I love the engagement party idea of a chill beach cookout. Bring a few staples yourself, but ask guests to add in whatever they want to throw on the grill. For more fun, toss some volleyballs around, get your sangria on, and stay late enough to watch the sunset.
Personalize This Thing
Did the couple have their first date at a zoo? Do they really love science fiction? Are they constantly traveling to France? Add in some thematic elements that will make people go, "That is so Chris and Malery." Or, include little details about them in the decor, like photos of them as kids suspended on the strings of helium-filled balloons, or notes about why they're a great team scattered on tables.
Earth children
If your couple has more than a couple green thumbs, this could be the perfect engagement party idea. Some versions of this idea include succulent decor, seeds as favors, hanging air plants, or even cookies shaped like ferns. Consider hosting this party in a botanical garden, or even just a particularly lush stretch of public park.
Statement balloons
Say it right with these bubbly, ultra-fun balloons. You can find cursive, metallic ones that say "love," or purchase individual letters to spell out the couple's name or a longer phrase (maybe try "CONGRATS LOVEBIRDS"). Set them over the dessert/food/booze tables, or line the phrase up as a trail from the front door, so that when the couple enters, they'll be greeted with helium cheer ASAP.
Champagne tower
Champagne towers seem to be disappearing from wedding-related events, and, if you ask me, we need to bring them back, fast. They're opulent things, though, so save this engagement party idea for your One Big Thing at the party, and bust it out just in time for the toast for fun. It's a memorable way to congratulate the couple.
Food as entertainment
DIY food stations are fun, but who doesn't like to be a little spoiled? For this engagement party idea, bring in a pro, like a sushi chef, a stellar taco truck, or even a custom cotton candy maker for an indulgent treat that doubles as something fun to do at the party. (In Honolulu, you can hire an amezaiku, or Japanese candy art expert, and they'll whip up lollipops on the spot, shaped as animals, people, and more!)
Popcorn bar and a movie
But okay, DIY stations are also super fun. Popcorn is so easy, and so casual, and has a million ways it can be customized. (Sweet! Salty! Nutty! Spicy!) Then, use a projector play a flick on a sheet in the backyard, a la an old-school drive-in. Make sure you pick a movie that's short and sweet, or keep the volume turned low enough to facilitate mingling and mixing throughout the party.
Tubing
If you've never been tubing before, this is when you and all your friends each get an inner tube, tie them to each other, and either float lazily down a river or hang out in the ocean. It's the best thing ever. It's the engagement party idea to win all engagement party ideas. And it should be the theme of all your next parties.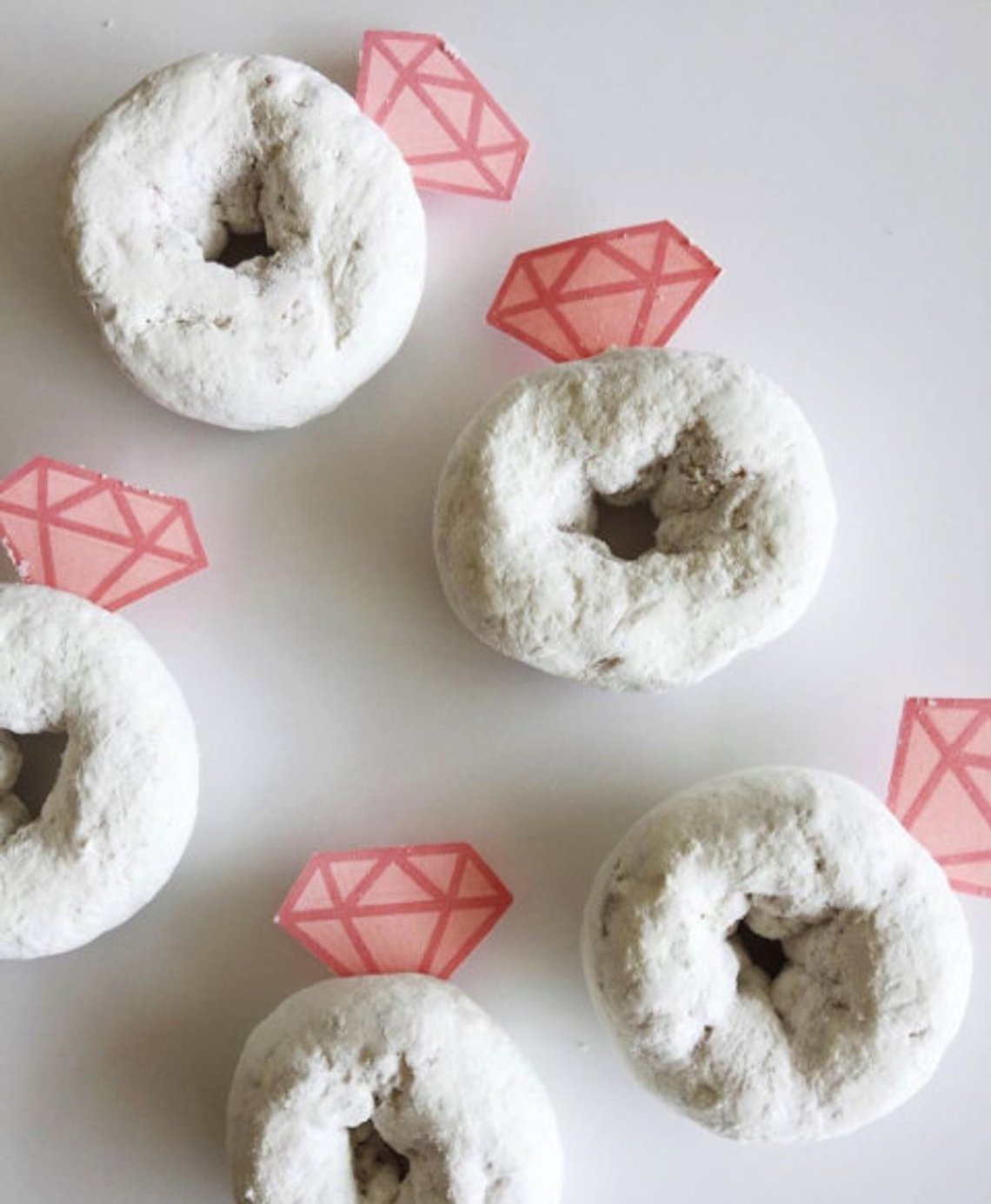 Desserts as decor
Again, there's no need to go All Out In Every Way. Instead, go for one or two sweet touches. For example, opt for shaped, custom cookies, in an image that resonates with the couple (maybe they love hedgehogs, are serious dog people, come from California, or love bikes) or the generic-but-always-cute chunky, stylized engagement ring. Or how cute are these donut engagement rings? Yum!
How did you celebrate your engagement? Did you have a party? What Was your favorite Part? What are your favorite Engagement party Ideas?