This is a paid post from an APW sponsor. For more about APW and how we make money, please click here.
---
When we got to work with Jamie Thrower of Studio XIII Photography on a body positive swimsuit photo shoot a few years back, the whole team basically fell in love with her immediately. Jamie is undeniably one of the warmest, sweetest humans you will ever meet, and yes, we may all have a slight crush on her. And we definitely are in love with her powerful images that overflow with joy and emotion. All of which is why, when we needed someone to photograph our plus-size wedding dress collection last year, Jamie was at the tippy top of our list. Because, I mean: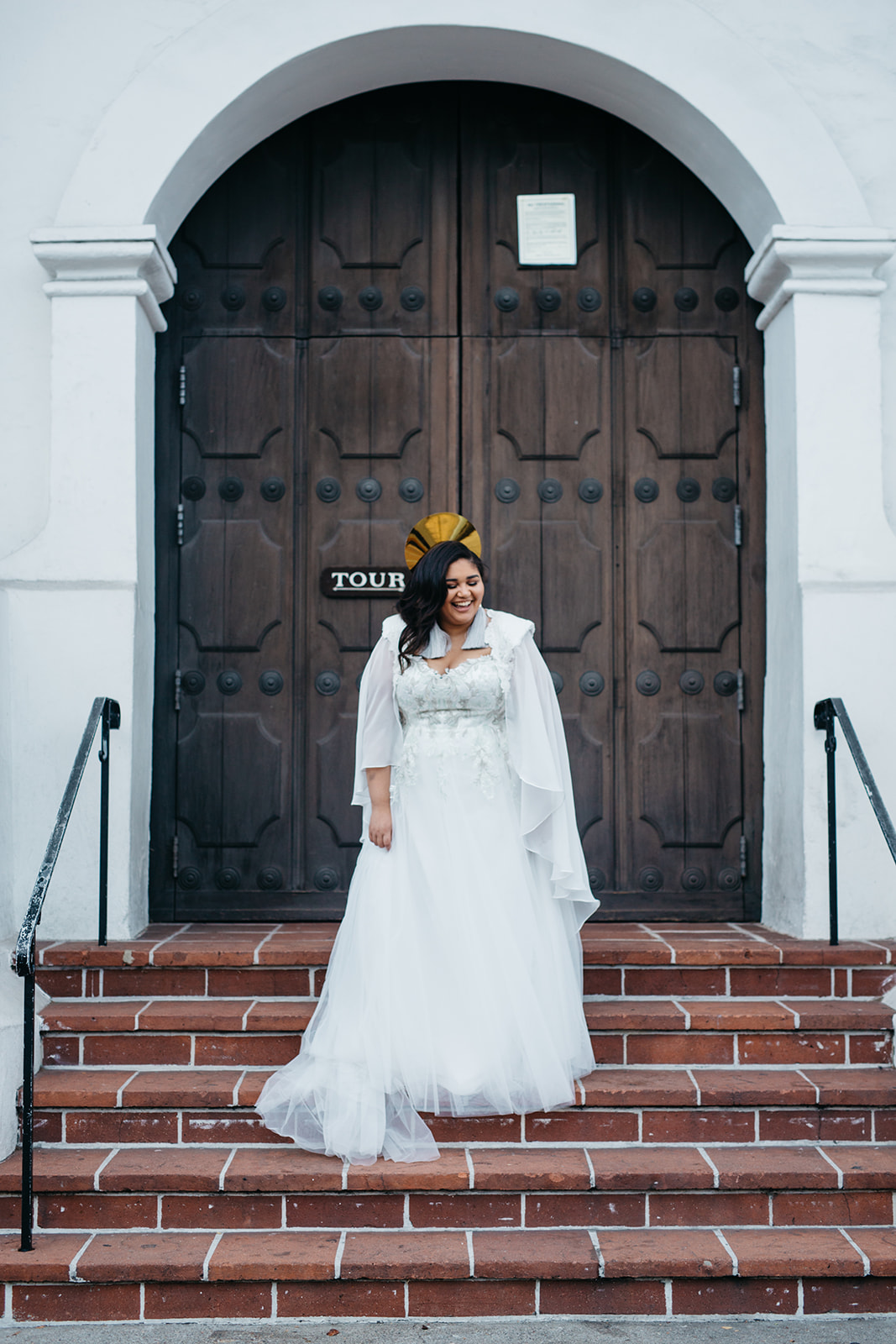 Jamie's affinity for photography began at a young age, and it was nurtured by her parents' own artistic endeavors and travels. After losing both her parents by the age of 28, she found that that documenting the loved ones and lives around her took on a whole new importance. And as a queer woman, photography has naturally become one of her strongest tools of advocacy for social justice. (You may recognize this viral photo from the inaugural Women's March. Yup, it's Jamie's!)
Jamie has built her wedding and family photography business around her passion for supporting the LGBTQ community and creating a space for queer couples' love to shine front and center. So when you work with Jamie, you're truly working with a champion for inclusivity and equality. We talked to Jamie about what brought her to wedding photography, and she had this to say about her amazing mission:
My wedding business was born out of the desire to offer something to my LGBTQ community that I truly specialized in. Not just because I am a passionate photographer, but because as a queer woman, I understand the struggles, triumphs, and labor our community works and lives through every day.

I photograph with pure heart and soul—and this comes from a place of literally feeling too much. I've found ways to channel this heightened awareness through my photography, which is driven by the desire to make people feel. I want to know my couples intimately, and have them trust me enough to reflect back the beauty and rawness and energy that they possess. I spend a lot of time investing my emotional energy in my clients so that when it comes their wedding day, they are family to me, and I photograph them with the same attention, love, and heart that I do when I photograph my own family.

When looking at my photos, I want folks to feel like I reached inside their heart and gave it a big squeeze. Those tiny, little, unexpected moments—I want my couples to remember them forever, whether they are conscious of the beauty of them in that moment or not. When they look at their photos, I hope they don't just remember what that moment looked like, but are able to feel it too—the laughter, the tears, the smiles, the hugs, the quiet moments, and everything in between.
It's easy to understand why Jamie's couples adore her. After spending just a few minutes with her, they find that she's completely opened her heart to them. She prides herself in making couples feel comfortable, and her images clearly reflect authentic, beautiful moments.
Some recent clients had this to say about working with Jamie:
Jamie is one of the most loving, spunky, and trustworthy hearts I know. My first experience with her was a solo photo shoot, and she made it so comfortable and fun, it felt like I was hanging out with a friend that I had known forever. Fast forward to now, we just hired her to do our wedding photography in October 2019, and honestly she was the MAIN priority on our entire wedding list because she is THAT AMAZING. Her photos carry so much emotion and weight because she understands the meaning of these beautiful moments being captured. Not to mention she is one of the strongest voices I know for the Queer community—she always SHOWS UP! She is someone that understands on the deepest level that love has no boundaries and she captures that. Thank you for everything Jamie, we LOVE YOU!
I hired Jamie to photograph a wedding at city hall in San Francisco as a gift to the grooms. The experience was incredible. Jamie manages to capture not just the day or event but the truly beautiful, tiny, subtle moments in between. It's the difference between your standard wedding photo lineup and photographs that live and breathe into the future taking you back to the most precious of moments life has to offer. Jamie is as professional, warm, and friendly as they come. She will likely become your new best friend or a member of your family after working with her, and you'll be glad she is!
Studio XIII's full wedding coverage (including a complimentary engagement shoot) typically ranges between $3,500 and $5,000 depending on hours booked with options for add-ons and a la carte pricing. She also has smaller packages available for elopements.
Jamie has recently relocated to Portland, Oregon but photographs queer weddings and elopements everywhere, throughout the Pacific Northwest to her former hometown of Oakland in the Bay Area, to New York, to Mexico, and she absolutely loves to travel. She will create a custom package just for you depending on where you are, and it will probably be more affordable than you might think, so it never hurts to reach out!
And Jamie would love to connect with her new neighbors in Portland, so she is offering 25% off engagement sessions to local couples.
Jamie believes that all couples should be able to have photography that captures their union. She also understands the hardships that many queer couples face, so she started a scholarship program: Every quarter she offers 50% off wedding coverage to a deserving couple (couples share their stories with Jamie through an application process to be considered.)This has allowed her to further connect with the community and help give back. Find out more about her scholarships and full coverage options here.
Plus, after much demand from her clients, Jamie's recently started offering Studio XIII Stripped sessions, intimate portraits for LGBTQ folx and allies, which are something in-between a creative portrait session and "boudoir". As Jamie says, "Whether you're celebrating the body you're in, documenting scars, wading through grief, or gifting yourself the ultimate "love myself" appreciation gift, I'm here for all of it." More examples of the personal stories these have documented can be found here.
If you, like us, can't get enough of Jamie's amazing work, then click here to see the best of the best photos of the last year on her blog, and find out if you can manage to scroll though the breathtaking wedding portraits juxtaposed with inspiring Pride March shots, adorable babies and puppies, and powerful portraits without feeling a little bit… emotional about you know, the human experience. Then don't forget to follow along on Instagram to see all her latest work, and reach out to find out about having Jamie shoot your wedding because…
STUDIO XIII PHOTOGRAPHY's has a HANDFUL OF dates left in 2019 (with more availability for elopements and small events) and is ALSO booking for 2020.
PORTLAND COUPLES CAN BOOK AN ENGAGEMENT SHOOT FOR 25% OFF TO GET TO KNOW JAMIE!
CLICK HERE TO GET IN TOUCH!