As we all know, some of us more intimately than others, the Coronavirus pandemic has caused major delays and postponements to weddings for 2020. This is so unprecedented in our industry that even the professionals (ahem, us) don't know exactly what to say or do at any given moment. In early March, when this all first started, we felt like super conservative sticks in the mud when we told people that if their weddings were in March, April… and yes even May, they should probably consider moving to the fall. And now, while it's very clear we were right about the "still gonna be happening in May" thing, we were all off base with the idea that things might be back to normal in fall. And now, depending on where you live in the country and your level of risk tolerance, you may already be scrambling to postpone or drastically change your fall wedding.
And as things have continued to unfold, what we've learned is that prediction is the language of fools in 2020, and everything is just straight up unpredictable.
But, in the long tradition of APW, we're going to do what we can to guide you through even this most absurd and difficult of wedding planning seasons. If you're just joining us now, you can hop over to find our stacks of important content on the topic of COVID Weddings, right here. And, if you haven't already, you should definitely get yourself on our mailing list and snag one of our free e-books just for you. We'll keep you updated with all the information and help that we possibly can (and zero junk).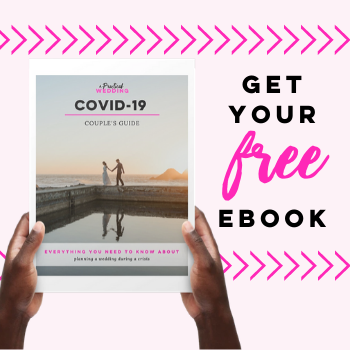 Before we get into the nitty-gritty of what you should be doing right now, in terms of wedding planning, we need to give some disclaimers.
I am not, nor is anyone at APW, an epidemiologist, scientist, or doctor. We can't give you any medical advice.
We are also not privy to any news or information that the rest of the world isn't also privy to. We don't have any top secret insider Coronavirus knowledge (unfortunately).
We are located (mostly) in California. Most of our opinions and guidance is going to come from our lived experience, here, on the West Coast—mixed with a whole lot of reading and listening to the experiences of our friends, readers, and community around the country and world.
You have to do your own research. You must look into the specifics for where you live or where you have a wedding planned. Despite our best efforts, we simply can't know the laws, rules, regulations, and guidance for every municipality in the country and beyond. Again, unfortunately.
You, and only you, can be the decider and risk assessor for your life and your wedding. I can't decide what feels good and safe to you, and you can't decide for me. Facts.
Additionally, I want to share some go-to sources for you for your research. This stuff feels obvious at this point, and it's easy to google, but hey… I'm here to try to make your life easier. So, for your ease and assistance:
Original Date: June-July 2020
Urgency level: (pretty darn) high
Action to take: Postpone anything big (we kind of hope you've already done this), execute on any elopement/celebrations in the meantime.
If your wedding was/is scheduled for June or July, I'm going to work with the assumption that you've likely already made moves to reschedule your event.
It might be most frustrating for folx in this group because parts of the country are starting to open back up. You might find yourself facing feelings similar to buyers remorse, but date-movers-remorse. Let me be a voice of reason here and just say… you did the right thing. Delaying a large gathering was the only choice, it was the best choice, it was the right choice.
But, if you're thinking of pulling together a micro wedding or elopement, we're here to help with that. Or if you're just looking for a way to celebrate your date as you await your new date, we've got ideas for that, too.
Otherwise, just chill, stay safe, and count down and look forward to your coming wedding.
Original Date: August-September 2020
Urgency level: (Also, pretty darn) high
Action to take: Contact your vendors, make some decisions about postponement or plan changes (quickly)
While I know that some states and places have indeed started to reopen and allow for small gatherings and many folks are moving back towards eating at restaurants or shopping like normal… there's still a general sense of concern that goes along with a larger event in the early fall months. Particularly if those events involve travel for any number of your guests.
In California and New York, for example, some regions are starting to open in some ways, and not others. However, large gatherings still just aren't a choice in a lot of places. And given that fact, it feels hard (if not impossible) to plan for when it will feel absolutely safe to gather in larger groups (I mean, I for one would not be able to plan to gather my grandma in a setting with literally anyone yet).
So for now, if you haven't already, you should familiarize yourself with our 'How To Postpone A Wedding' post, and reach out to your vendors. Having close communication with your team is going to be vital. You'll need to know what the venue is saying and doing as things develop, you'll want to chat with the rest of your vendors about their policies for postponing. You'll likely want to make this big decision with all the information you gather—and set yourself a new wedding date. Just remember, this is hard for everyone, so keep an open mind as you reach out to your vendor team. They are struggling, too.
Or, perhaps you've decided that it's all more than you bargained for and you want to plan an intimate affair. That's a choice, too. So, you'll have to decide if you want to elope, have a micro-wedding, or just drastically cut down on your guest list—and whatever adjustments will come with the option you choose.
Hey, we're really sorry you're having to face these big choices and adjust your well-laid plans—this sucks.
Original Date: October-December 2020
Urgency level: medium
Action to take: Contact your vendors, gather information, make backup plans
For folx with weddings planned in the last quarter of 2020, you're in a weird purgatory—a forced waiting. You have to go on, and yet have to just wait. You have to send your invites, but should you?
Here's what we have to say: get in contact, and stay in contact with every single one of your vendors. Specifically, you'll want to chat with your venue. Ask them what their current plans are, how they're handling things moving forward, and if they have any thoughts on your wedding date and the ramifications that may come to be. You'll want to know where your vendors and venue stand as the rules and regulations for your area change.
Additionally, and possibly most importantly, you'll want to do a risk assessment. Think about how many of your guests will need to travel to attend your wedding, how far they'll have to travel, and if you have any older or immunocompromised folx on your guest list. You'll need to assess the inherent risks and decide what changes you may or may not need to make. Perhaps you'll decide to move forward as planned—at least for now, or maybe you'll decide to trim back your guest list, or maybe this will drastically change your plans. We can't decide that for you, but now is the time to think it through, do some research, and make some plans (or back-up plans at least).
And keep in mind, many experts are expecting cases to spike as the weather gets cooler, so you're going to need to think about things, and then re-think, and re-think, and stay on your toes. (You already know it's coming… we're so sorry.)
Keep an eye on local and nationwide data and guidelines, too. Of course.
Original Date: 2021
Urgency level: low-ish
Action to take: Be in contact your vendor team, gather information, be patient
So, you've got your wedding planned for 2021 (or heck, maybe you moved it to 2021 at the beginning of this mess)… now what?
Well, probably a lot of waiting. If you've already got all your vendors locked in, that's great. You should definitely be in contact with them. Nothing urgent, just open lines of communication about what could happen, what their policies are, and where everyone's head is at. Of course, also keep your eye on the news, and continually assess your comfort with the risks that come with the wedding you have planned. Would you be comfortable hosting it as is if there is no vaccine, but the numbers have been dropping and states are re-opened? Or would you still feel uncomfortable and prefer a smaller event? These are things only you (and frankly time) can answer.
If moving forward as planned is the choice, then you'll likely have to just be patient. No one knows the future. I mean, if 2020 has taught us anything, it's that we should be flexible and open-minded and hearted (and have a lot of canned goods in the basement at all times). Things happen, things change, and we are just along for the ride.
Maybe you don't have your full vendor team assembled yet. That's okay, too. This time, while weddings are still not happening as usual around the country, is a perfect time to be contacting vendors. You can meet over Zoom and work out all the details while other parts of their business and your life might be moving slower anyway! Don't forget to review all contracts and make sure you're on the same page about potential changes due to the pandemic (or otherwise)—and get it all in writing.
Recently Engaged (No Date Yet)
Urgency level: low 
Action to take: Assess your risk comfort, make some choices, plan on
Similar to folks with their 2021 weddings planned, my advice is that you continue on planning as you would otherwise.
Well, that's after you assess the risks, and weigh your options. Yes, you could plan for a wedding sometime in 2021 or 2022 and assume (hope) that everything will be back to some version of 'normal.' And frankly, that's what I might do—just with lots and lots of attention to contract details and possibly event insurance (if you can find one that covers pandemic-like issues).
So, if that's your goal, then go forth and plan. Pick a date that feels as safe as possible, and start contacting vendors. Get the plans going. We can't predict the future, but if a wedding is what you want then you should absolutely use this time to get it planned. Imagine how relaxing your next year or two could be (hahaha, well, considering) if your wedding is fully planned just waiting to be executed? Not to mention you'll be giving some job security to industry folx who are in need of that right now. Go you.
And hey, if after you weigh your options and risk assess, you decide that the big wedding you always envisioned isn't right for you anymore? Elope, plan a backyard wedding, or even a virtual wedding if you'd like it to be soon. Your wedding can be whatever you want it to be (within reason—ugh, 2020). Keep an open mind, and try to enjoy the ride.
Where are you in the wedding planning process? Do you have specific questions you need help with? We're here to help, let us know in the comments what kind of help you need.