This is a paid post from an APW sponsor. For more about APW and how we make money, please click here.
---
When I started APW almost twelve years ago, one of the most conservative parts of the (very conservative) wedding industry was wedding dress companies. If you wanted to look like a (thin, white, blond, straight) cupcake in a strapless dress, they had you covered. If that wasn't you, and wasn't the dress you wanted, you were out of luck. And while the wedding industry as a whole has come a long way in twelve years, wedding dress companies by and large have come… less far. Often, the way it works is that you're standing on a pedestal (literally) in front of an entourage of some of your favorite humans, clipped into a sample dress several sizes too small and feeling like you're bending over backward to accommodate the wedding industry, rather than the other way around. The experience isn't designed to fit everyone and a lot of people are left feeling emotionally (and physically) exhausted post-wedding dress fitting.
So when our friends at Maggie Sottero reached out and told us they wanted us to do a shoot with dresses from their size-inclusive Rebecca Ingram line representing all bodies we were like HOLD THE PHONE. Our first question to them was "but do you really mean it?" And they did. Like: THEY DID. They have three lines of dresses: Maggie Sottero, Rebecca Ingram, and Sottero & Midgley—and they all offer dresses in sizes zero to twenty-eight, so we asked them if we could feature a plus-sized woman in the shoot, and they said, "Yes please." Then we went way out on a limb and asked them if we could feature a gender non-conforming man in the shoot, and they said, "Absolutely."
Y'all. I'm still a little bit in shock. Delighted shock. Maggie Sottero may just have my life long allegiance (as many of you know, my oldest is a "gender creative" seven-year-old, so this is very near and dear to my heart).
Our goal for this campaign was to photograph real people, not the fresh-off-the-runway models that you see in all the glossy wedding magazines. What do you do when you know what type of content you want to (and should) see but doesn't yet exist? You go on and create it yourself. We knew we needed a man in a wedding dress, because, hello, there are men out there looking for gender nonconforming wedding options, with no or limited inspiration to pull from. And if I've learned anything from my son's journey, it's that the world is more than willing to provide more "masculine" presenting options for "girls", but almost nobody is repping for "boys" who want to wear a fabulous dress.
And as the team at APW knows all too well, finding fashionable images of plus-size brides is like finding a diamond in the rough. The industry is doing a better job of being more inclusive, but it is just not good enough. But lucky for us, Maggie Sottero is an industry leader and not scared to go outside of the box and was all for us putting a man and a plus-size model in their dresses and letting us roll with it. If you ask us, we did pretty damn good.
Some of you might recognize our models: Cori of A La Code Blog (a fan favorite), and Matthew, whose wedding was recently featured here on APW. When we reached out to Matthew about the possibility of participating in this shoot, we honestly had no idea what he'd say. Ya'll, we are too lucky to have folx like Matthew in our network—here's his response:
You know [it's] a strange world and while I can't say I have ever had a terribly strong desire to be a model for wedding dresses, when you asked me my initial instinct was to say Yes! Yes to the dress (es) if you will… oh dear.

But in more seriousness, being a part of my own wedding, felt to me, to be constructive in breaking down stereotypes when it comes to nuptials… and has since sparked a desire to help reclaim the rite of marriage for all people. [It's] something I do feel passionate about and would love to be a part of the project.
'Liesl Lynette' by Rebecca Ingram
"Reclaiming the rite of marriage for all people" is possibly the best mission statement we've ever heard and pretty neatly encapsulates everything we believe about weddings. Feel free to use it often yourself while wedding planning. Whenever you're being told that a certain dress style isn't "right" for your body type or that you have to wear this or that on your wedding day because of gender constructs or that things simply aren't done that way, just take a breath and intone "Excuse me, but I am reclaiming the rite of marriage!" (Write it on a post-it, put in on your mirror, write it on your hand. Use it as yours.)
While we would have loved to put Cori and Matthew in every single dress from Maggie Sottero, that would have been a six-day photoshoot (they've got a million beautiful options). Here's a bunch of other dresses from the Rebecca Ingram line that we're drooling over. Plus, they are all under $1,200. Can I get an amen?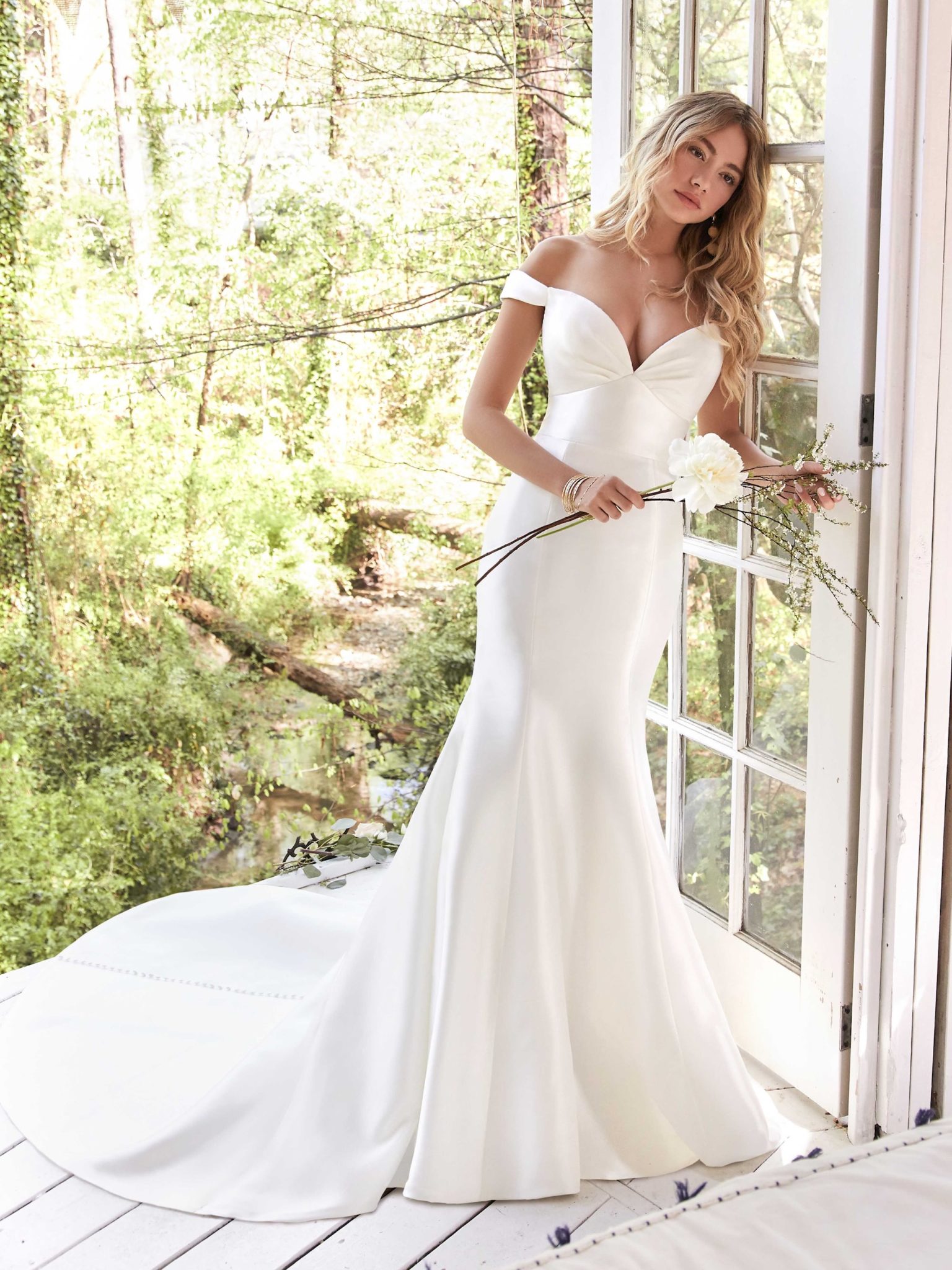 Cindy is for the timeless beauty. We love the romantic neckline, the delicate buttons going down the back, and the way it hugs the body.
'Reggie Jane' by Rebecca Ingram 
We could see a non-traditional bride rocking Reggie Jane at her brunch wedding or courthouse elopement. The adorable peplum is detachable, and if you'd like an extra-flirty vibe this dress has a twin sister named Reggie featuring an unlined skirt.
Who else saw Little Women? This dress reminds us of the youngest March sister, and not just because of the name. A mix of sleek, clean lines and romantic lace detailing come together to create a look that captures the multifaceted beauty of femininity.
It's difficult to take your eyes off the intricately beaded lace motif embellishing the soft tulle of this dress. The low back and deep v-neckline with beaded spaghetti straps add just enough sex appeal.
Your curves will knock them dead in this dress. We love the beaded and sequined embroidery on the bodice and the way it hugs you in all the right places before flowing into that dreamy georgette chiffon skirt.
Another ultra-flattering mermaid silhouette made for the glam bride, the Elsie dress stuns with its shimmering abstract pattern and plunging illusion neckline.
'Valerie Lynette' by Rebecca Ingram 
Make a regal statement in this flattering A-line ballgown designed with a satiny finish and lace detailing. We have one more word to seal the deal: pockets!
Indulge in all of your princess fantasies with the Toni ballgown that includes a beaded belt at the waist and the tiered tulle skirt of your dreams.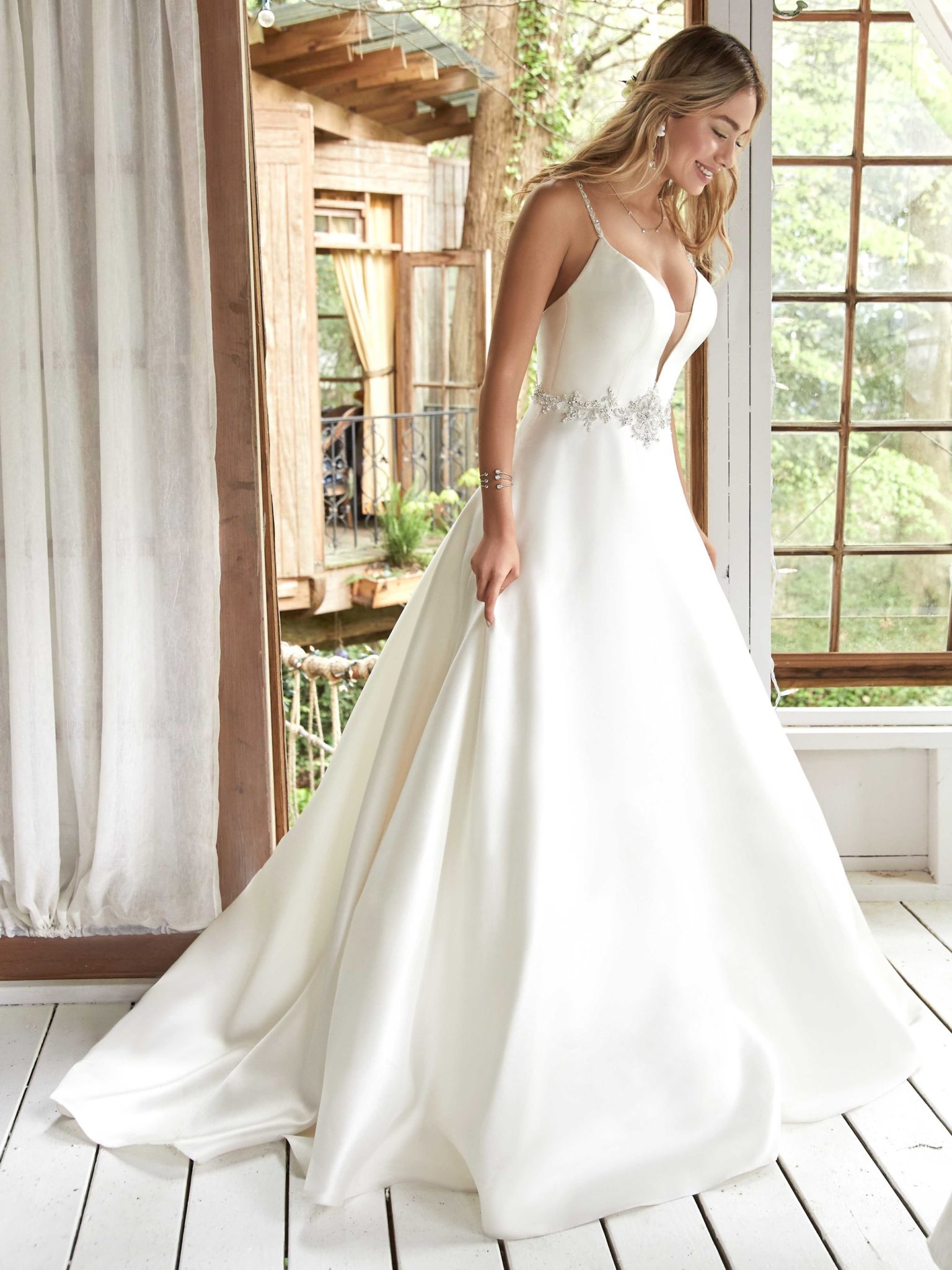 Yara combines elegant simplicity with just enough beaded detailing for visual interest. We also love the plunging neckline and, again: Pockets!
We appreciate a good tulle skirt but the intricately embroidered lace bodice of Nia also truly deserves a closer look. Add the detachable lace off-shoulder sleeves for an unbearably romantic vibe.
We hope you enjoyed drooling over pretty wedding dresses with us! We'd love to hear from you in the comments.
Have you struggled with feeling like you don't fit into the typical bridal mold, during dress shopping or any other aspect of wedding planning? How are you and your partner reclaiming the rite of marriage for yourselves? And just for fun… Which Maggie Sottero dress would you choose?