Kate , Nonprofit fundraiser & Caroline, Web designer
sum-up of the wedding vibe: Our wedding mission statement: An authentic celebration of our happy, feminist love, bringing our people into the life we are building and creating together; also glitter.
Planned Budget: $15,000
Actual Budget: $16,400
Number of Guests: 100
Location: Paris on Ponce | Atlanta, Georgia
Where we allocated the most funds:
Kate plans fundraising galas for work, so she was a stickler for two ideas: 1) we needed a venue that would make it easy to check out and stop feeling like an event planner, and 2) we wanted to make our guests feel as comfortable, respected, and celebrated as possible. We also wanted to have the ceremony and reception in the same space to save on transportation hassle and costs. Our chosen space fit the bill perfectly: the venue's event manager was an amazing resource who saved us tons of wasted money and hassle with advice and recommendations, and the eclectic decor with sequin-clad mannequins and a speakeasy vibe in the reception space allowed us to save big on decor by just adding a few small, strategic personal touches. We also spent much more on the suit than the dress. From experience, finding a suit for a not-cis-dude-shaped person in a tux rental shop or off the rack wasn't going to happen, so we got a custom-made suit from a tailor that specializes in working with gender-nonconforming people. It was not cheap, but totally worth it to have something that truly fit.
Where we allocated the least funds:
Kate's dress was 75 percent off at a going-out-of-business sale at a big box bridal store, so that was a great cost-saving find! We spent months perfecting playlists so our DJ cost was $0.99 (the cost of a 3-month trial subscription to Spotify Premium). We skipped major floral arrangements for decor. For Kate's bouquet, we went to the farmer's market on the morning of the wedding and picked out a few bundles of seasonal blooms that Caroline's younger sister assembled into a beautiful bouquet.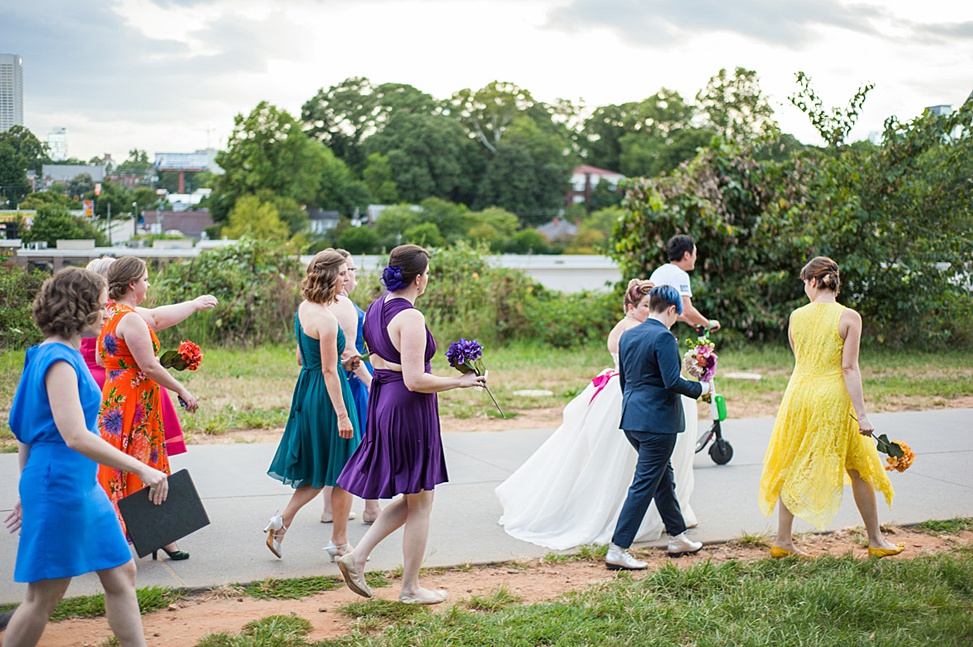 Our six attendants each wore a dress in a different color of the rainbow, so we got fake hydrangea stems in the corresponding colors from a craft store. We had a taco bar catered by a local restaurant, which worked out to about $13 per person before fees, half of what we would have paid a traditional caterer. We used the servingware and paper plates that came with instead of renting china and flatware, and added a touch of formality by creating faux place settings from paper doilies, napkins, and tiny flowers leftover from the farmer's market run. Our beer and wine came from Costco. That membership fee paid for itself. We got professional-quality design and planning services for free by, well, being a professional designer and event planner.
What was totally worth it:
Small DIY projects to make our wedding personal! We printed facts and trivia about ourselves and put them in paper glitter frames scattered around the reception space, and guests had fun running around trying to read all the different facts. We also included part of Caroline's huge collection of pins and buttons as favors and enjoyed seeing our guests pick their favorites and even wear them during the reception.
Originally, we were planning to save on photography, but when we booked a colorful and dramatically lit (read: dark) venue, we knew we needed to adjust our budget. Raven was worth every damn penny, and her talent and wonderful attitude allowed her to capture our happiness as it was—overwhelming and glitter/rainbow/queer/punk AF.
The cake. It was vanilla cake with a lemon curd filling layer, and the buttercream icing was an ombre fade from vanilla (white) to hibiscus (naturally hot pink) with edible gold leaf glitter. We originally picked the bakery because Kate worked with them to raise money for the local Planned Parenthood affiliate, but as it happens, it was also the most delicious cake ever made in the history of taste buds.
What was totally not worth it:
The crying. For a while, it felt like every decision we struggled with was a referendum on our love and readiness to get married, and the stress was crushing. We would have liked to have let ourselves off the hook during the first six months of our engagement. But at the wedding itself? All the planning and work paid off. No regrets, no budget woes. We loved every bit.
A few things that helped us along the way:
We built a comprehensive wedding timeline which included a few scheduled date nights, sweet love reminders, and even a weekend getaway when we were not allowed to talk about the wedding. That helped us stay grounded and stopped Kate from getting event-planning tunnel vision. Also, no kidding? The A Practical Wedding Planner. That thing was our bible, and we sent it to our best friends, too. The book was a great source of sensible, non-judgmental advice, and it constantly reminded us what's most important—our people and our love.
My best practical advice for my planning self:
Your guests are there because they love you and want to be happy with you, not to judge the napkin quality. There are three things you can use to solve any given wedding-planning problem: money, time, and "not gonna bother." You will have limited amounts of the first two, so decide early what your priorities are so that you don't get sucked under by a ton of little things that don't matter.
Favorite thing about the wedding:
Our two officiants were a pair of friends (who are married to each other), one of whom is currently in seminary school and the other a family law attorney with an internet ordination who could legally pronounce us married. They put a lot of care into creating a simple, genuine ceremony with the right balance of sacred and sweet that felt perfectly us. Also, the vows. 😍😭
Other things We'd like to Share:
From Kate: I had a lot of feelings about being a plus size bride. I chose not to try to lose weight for the wedding because I knew that buying into that mindset would be toxic to my confidence, but I still feared that I would regret it. It helped to see representations of people like me online, and I started writing to photographers with diverse portfolios to thank them. I know that for others, like people of color, trans folx, and people with disabilities, it's even harder to see yourself through the wedding industrial complex. On the day of my wedding, my weight didn't even cross my mind because I was immersed in love. Caroline says I'm the Kate-shaped womxn they love, and they don't need me to change. Try, if you can, to see yourself the way your partner sees you. You both deserve it.
From Caroline: I'm a thorough introvert who hates public speaking and can't dance, so I was worried that being the center of attention for the whole night was going to be a problem and I'd need to plan some escape routes. Once we were there, being surrounded by friends and family who were all happy for me and Kate wasn't nearly as bad as I'd thought. That said, one of the best things the venue's event manager did was to steal us away right after the ceremony and hide us in an undisclosed location elsewhere in the building so we had time alone as a couple to process and talk to each other (and, y'know, eat some food) before we had to go be "on" again for the reception. That couple-only time was incredibly valuable.